2023: Babatope Speaks On Tinubu, Adeleke and G-5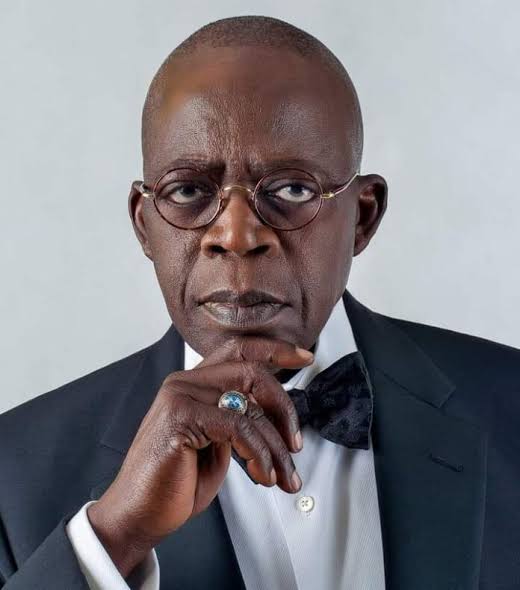 2023: Babatope Speaks On Tinubu, Adeleke and G-5
Chief Ebenezer Babatope, a former Minister of Transport and chieftain of the Peoples Democratic Party (PDP) marked 80 years of his existence on earth last week. In this exclusive interview with TEMIDAYO AKINSUYI, he shares his thoughts on his life and developments in the country ahead of the 2023 general elections. Excerpts:
Last week, President Muhammadu Buhari and other eminent Nigerians congratulated you on the occasion of your 80th birthday. How do you feel at 80?
I feel good at 80 and thank God Almighty because I never knew I would live this long. I am very grateful to God who has kept me this far. My life has been an eventful one because of the time I spent with Papa Obafemi Awolowo in the Unity Party of Nigeria (UPN). Papa Awolowo gave leadership and inspired us as youths to lead Nigeria and used our privileged position for the common good and advancement of humanity. That is the legacy that Papa Awolowo left behind for us. That is the path I have followed all my life and I am grateful to God who has kept me this far. I am very happy to have been appointed the National Director of the Organisation of the Unity Party of Nigeria (UPN) by Papa Awolowo at that time, and it was a glorious thing to have served under Papa Awolowo because I was lucky that Papa chose me as an official of his party at the time when people who were better than me politically and ideologically were all over the place. And for that, I would ever be grateful to him. So, it was a pleasure to serve the party and to rekindle the energy of Papa Awolowo's ideological life. Thank God for it, and it was a good reflection, very good memory. I would forever thank my God for making that possible and for making it something I would live with.
In a country where life expectancy is below 60 years, what is the secret of your longevity?
It is because of the fact that I believe that life is one thing that must be handled with care. You do so by loving the people and doing everything they want as you are enabled to do. The reason why God blessed you is for you to be a blessing to others. That has been my philosophy. The people have the power and that is one of Papa Awolowo's teachings.
What are your regrets?
I have many regrets. The Nigeria Papa left has been compromised; it has been destroyed because Papa taught us all the principles that would make the nation great. We never thought we would have this kind of thing whereby elections would be hopelessly rigged by those who are in power to ensure they have political dominance in power and in government. I never knew, now I know better. Suppose you want to win an election in Nigeria. In that case, you must pray to God Almighty and you must pray to God to help you solve the problem of the Independent National Electoral Commission (INEC). INEC is a terrible organization now; they manipulate elections at will; they are never afraid of God Almighty and, therefore, the Nigerian people are held at the mercy of those who do not want Nigerians to have the freedom to elect those who would govern them. The best option one can have, Chief Awolowo said, is a democracy, that democracy is the last option for mankind. Mankind can only progress if we enthrone proper democracy. Fela Anikulapo-Kuti, I will share his view in all my interviews. He gave a proper definition of democracy when he was alive. He said, 'Democracy is a demonstration of craze, crazy demon.' And he was right. When you have a democracy that was not guided by rules, that has estranged government from the people, then you have 'demon crazy.' Not democracy, but 'demon crazy,' 'crazy demon.' Well, we pray to God Almighty that INEC will, one day, change its mind and give the people of Nigeria the right to elect those who would govern them, and when they do that, they would enable Nigeria to stabilize democracy.
However, my major regret is my unjust dismissal from the University of Lagos (UNILAG) by General Olusegun Obasanjo without any retirement benefit to date. Obasanjo dismissed me from the services of the University of Lagos in 1978 as a result of the "Ali Must Go" demonstrations of Nigerian students in 1978.I was accused of supporting students against the government when the late Segun Okeowo led the students for reforms in Nigeria's educational system. The Governing Council of the university later met in November of that same year to turn my dismissal to retirement.
The university later sent my papers to merge my services with the then Ministry of Establishment which was then under the late Brigadier-General Solomon Kikiowo Omojokun. I am not blaming Omojokun but today at 78, I served my country meritoriously as a public servant but today, I have no established mark from the federal government to say this is what I have done. I am still bitter because nobody has paid me a single kobo after my services to the university as retirement benefits.
Former president Olusegun Obasanjo wrote a letter few days ago where he endorsed Peter Obi, the presidential candidate of Labour Party. Do you think his endorsement carries any weight?
Obasanjo can do anything he wants to do but I know people also have the power to also undo things with their votes. Obasanjo can write any letter, in fact, he can endorse anyone he wants. He has freedom and constitutional rights to do that but I know that on election day, Nigerians will decide who they want as their leaders in the next four years.
What is your take on the concept of Emilokan in Nigerian politics?
Emilokan is Bola Tinubu's style. When I hear him say that, I began to laugh because he is just wasting his bloody time. I don't know the conception of Emilokan in the minds of Tinubu but all I know is that Emilokan which literally means 'It is my turn' is all about self-interest. Emilokan does not take cognizance of the fact that the people have the power to do things for themselves and choose the leaders they want. Nigerians must choose their leaders and they must be given the opportunity and freedom to do so in an unfettered manner. Emilokan can only become meaningful when you grant the rights and freedom to the people to elect the leaders they want to govern them.
Do you think the controversy trailing the redesigning of the Naira should be addressed by the FG?
I think we should give the government the chance to succeed. The government has a motive on why it keeps insisting that we must redesign the naira notes and vowed not to extend the January 31st deadline for usage of the old notes. We should respect the decision of the government because the moneybags want to use the Naira. They have stored to frustrate the wishes of Nigerians. So, let's give them a chance to succeed. By the grace of God, we are going to see the back of the money marauders.
The Osun State Election Petition Tribunal has sacked Ademola Adeleke as the state governor and declared Gboyega Oyetola as the winner of the governorship election. As a chieftain of the PDP, were you shocked at the outcome of the ruling?
It is a very funny judgment. I know that by the grace of God, the will of the people of Osun who freely gave their mandate to Governor Ademola Adeleke will prevail. The tribunal is not the last, we still have the Court of Appeal and the Supreme Court. I am confident that they will reverse the ruling of the tribunal and uphold the wishes of the people. The Osun people rejected the APC and chose Ademola Adeleke as their governor and nobody can in a cavalier manner make nonsense of that wish. Those who gave the judgment will be very sorry for themselves because the people have shown to them that they are irrelevant when it comes to who really has the power to determine things for the people of Nigeria.
The presidential election is just less than a month away and the G-5 governors led by Nyesom Wike are still adamant on not supporting Atiku Abubakar. Do you think any solution is in sight?
We have tried our best to placate them. At this stage, if they want to go, goodluck to them. If they want to remain in PDP, the better for all of us. Governor Wike and his allies must not arrogate powers that they don't have to themselves. If they do so, they will make mistakes and may regret it. We all love Wike for his courage but when you arrogate powers to yourself, then you may lose the support of the people.
Our Mission To  Rebuild Kebbi State Remains Sancrosant—Aminu Bande, PDP Guber candidate Tells Voters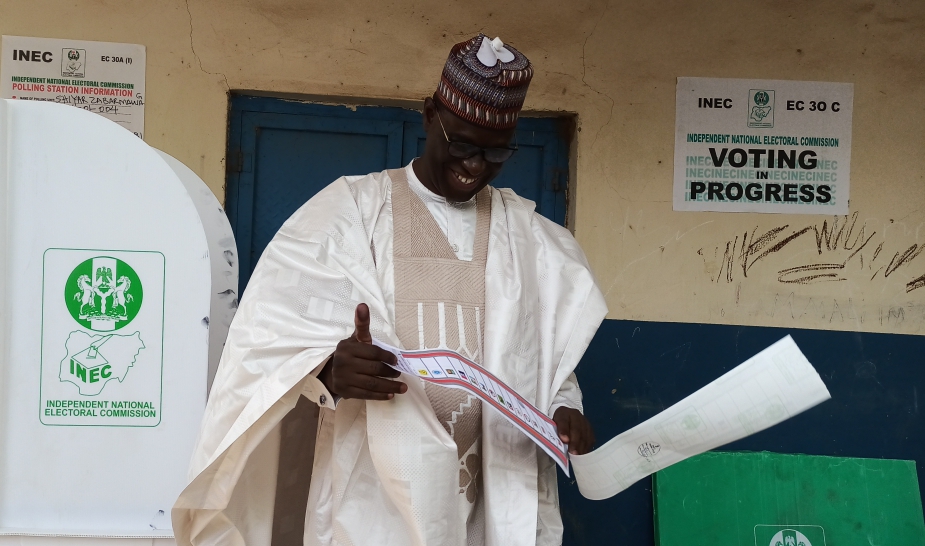 Our Mission To  Rebuild Kebbi State Remains Sancrosant—Aminu Bande, PDP Guber candidate Tells Voters
Despite the inconclusiveness of the March 18 governorship election in Kebbi State, the Peoples Democratic Party, PDP candidate, General Aminu Bande, ret'd, has, once again, told the people of Kebii State to vote out the All Progressives Congress, APC, saying the party has taken the State backward by liquidating her potential.
Bande who spoke Monday morning with journalists after the Independent National Electoral Commission, INEC, declared the State guber contest "inconclusive," lamented the manner APC has squandered the prospects of the State on the alter of selfish and personal interest.
He explained that before the March 18 election, he had intelligent information about the planned rigging across the state.
According to him, the anti-democratic elements actually got involved in electoral malpractices, serious ballot box snatching and stuffing with ballot papers, manipulation and intimidation on March 18. 
"We discovered a day before the election, a grand plan and a paper written by APC on how to manipulate the election. We got this information from our own intelligence.
So, what we did was to safeguard our votes. And we did the best we could but unfortunately,  it turned this way and INEC declared the election inconclusive.
However, Bande emphasized that INEC action has further inspired him and the PDP family to ensure that Kebbi is rescued from APC.
He stressed that "Our PDP government will involve our traditional rulers and fathers in our administration and ensure they play vital roles in our overall developmental plans.
"We will revamp our institutions of learning for our young ones to develop skills and  run an open administration where critical stakeholders including civil servants will have the opportunity to make inputs."
Aminu Bande added that past administrations especially the APC have taken Kebbi State backward in great measure and in several ways.
"Our health sector will be revamped and agricultural potential re-activated. The infrastrustructural deficit in Kebbi has partly been a discouraging factor to investors and we are going to tackle that frontally," he promised
Adaobi Alagwu Blasts Tunde Ayeni, Berates Him for Insisting on DNA Test for Love-Chil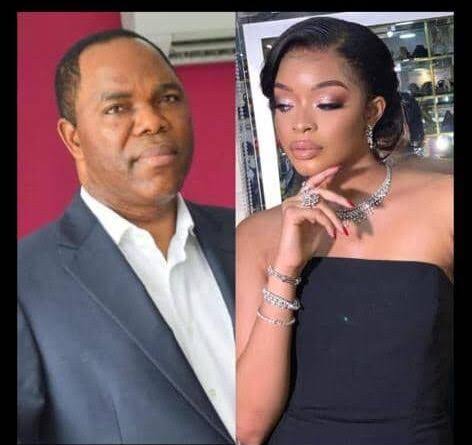 Adaobi Alagwu Blasts Tunde Ayeni, Berates Him for Insisting on DNA Test for Love-Child
Go To Hell! Tunde Ayeni's Side-Chick, Adaobi Alagwu, Berates Him for Insisting on DNA Test for Love-Child*His Plot to Warm His Way to Tinubu's Govt Through Timbo Ayinde Unveiled Deflated. Defeated. Distraught. These adjectives aptly describe what has become the present status of the former chairman of the now-defunct Skye Bank, Tunde Ayeni.
Still smarting from the callosal electoral loss of Atiku Abubakar, with whom he pitched his tent in the just held presidential election, the businessman is presently being cut to sizes by his side-chick, Adaobi Alagwu, who once worshipped the ground on which he walked. The basis for this embarrassing upbraiding and confrontation he is facing from Adaobi emanated from his decision to surreptitiously carry out a DNA test on their love child, whom has become a subject of controversial paternity. Against all known facts, Tunde Ayeni has suddenly chosen to deny the child he had with Adaobi; while Adaobi has decided to take the battle to him in equal measure.Sources privy to the ongoing imbroglio between the estranged lovebirds reveal that Adaobi, an Abuja-based lawyer who happened to be a classmate of Ayeni's daughter, has dared Ayeni to come close to her and her daughter if he would not be disgraced. When she got wind of Ayeni's plan to disentangle himself from the child as it has become worryingly difficult for him to take care of certain responsibilities based on the present parlous state of his finances, Adaobi berated him, called his bluff, then ask him to "go to hell with whatever test he is planning to conduct." 
In a letter, she wrote to him Adaobi was unsparing, acerbic, and direct in calling him unprintable names. She let him know in unmistakable terms that she would not let go of the property and that she knew he has become flatly broke and desperate, which was why he was looking for anything to cling unto.Adaobi has also vowed to drag Ayeni through the mud until he took full responsibility for the baby girl. "She is ready to drag him through the mud if he continues to deny the paternity of her daughter. She said he was the one who encouraged her to get pregnant and many witnesses can attest to it. According to her, early last year, she was a constant face at his Solween house as she lived with him in his Rhine street address."Ada also told us that many times in the past, she had actually walked out of the relationship with Ayeni only for him to run to her mother and other family members on bended knees to beg," a source revealed. 
According to the sources, Ayeni has been running from pillar to post to salvage what is left of his diminishing resources and has therefore chosen to go the DNA test route to determine the girl's paternity in the hope that the test would return negative. Adaobi, when she heard of this, was said to be furious and battle ready for Ayeni over the matter. Adaobi was quoted to have told Tunde to go rue his losses and steer clear of her child, as he is too flatly broke to be embroiled in any paternity tussle at the moment. Tunde Ayeni has since recoiled to his shell; though sources say he has really fallen on bad times and has been struggling to keep up with his lifestyle of luxury for which he was hitherto known. He is said to be left with the hard option of retrieving some of the properties he bought for Adaobi, including an office building he reportedly gifted her.Meanwhile, Adaobi's mother has advised those close to Tunde Ayeni to warn him to desist from making dirty moves against her daughter, as she would not intervene when he comes back to Adaobi begging for forgiveness, as he is in the habit of. According to Adaobi's mother, Ayeni was only seeking unnecessary attention which he does not have enough strength of character to see through. "This is not his first time of embarking on such frivolous moves. He always comes back begging. If you know him well, warn him to stop this childish behaviour. I would not beg on his behalf this time around when he reaches out to me to beg Ada," she said.
It will be recalled that Ayeni's tales of woes started when he outsmarted his friend, Greg Nwanseru, to poach Adaobi from him. Adaobi was Greg's former babe before Ayeni lured her with expensive gifts and money. Adaobi was about 24 when she fell for Ayeni's antics. Ayeni even had send his daughter, who was Adaobi's friend, to the Lagos campus of Nigeria Law School, so she would not be a clog in the wheel of his romantic whirlwind with Adaobi, who was posted to Abuja like his daughter. Not that Adaobi was a saint before meeting Ayeni; in fact, reports have it that he already had a child and was crusing G-Wagon in Abuja, as she rolled with big-time politicians and rich corporate dudes. There are reports that she was older than she claimed. She contested the Most Beautiful Girl in Nigeria (MGBN) 2014, and it has been revealed she got into modelling in 2007.
 Well, Ayeni might have found a worthy company in Atiku Abubakar who also has made a mess of the marriage institution with his divorce case with Jennifer who is far younger than Atiku's first five children. Ayeni was once close to the powers that be and wielded huge influence in the nation's socio-economic milieu so much that he could get whatever he desired. Unknowing to him, he was embarking on a journey of perdition that has seen him record huge losses and collateral damage that has plummeted his wealth. Not only has he lost a huge chunk of his estate, as AMCON and EFCC are on his neck trying to recover huge debts he is owing; he has also gone ahead to make enemies of people who were once his friends, family, and support structures. He has reportedly confided in few of his friends that he knew Adaobi has been a bad luck to him since their ways crossed. He was reported to have said that Atiku's loss at the poll might not be unconnected to Adaobi's ill-luck.Ayeni's once-upon-a-time closely knit family has since become a shadow of its old self. His dutiful wife, Biola, was not only heartbroken by Tunde's betrayal and his lecherous ways, but also turned a prayer-warrior when Tunde almost sniffed life out of her. His kids were deeply saddened by the harrowing experience he made them and their mother go through.
 Overtly clever and covetous, besides being instrumental to bringing Skye Bank to its knees through his sleight of hand, his records of fraudulent deals to dispossess his business partners (alive and late) and shareholders in companies in which he was a stakeholder of their hard-earned monies remain subjects of rave reviews in the conventional media as well as the new media. From late Captain Idahosa Okunbo to late Dipreye Alamiesiegha, Ayeni was brutal in his attempts to take over their estates and even continues to fight them in their respective graves. Recently, Ayeni reportedly entered a plea bargain with the Economic and Financial Crimes Commission over the N25.4 billion corruption case it filed against him and the Managing Director of defunct Skye Bank, Timothy Oguntayo. According to reports, the EFCC entered into a secret settlement with Ayeni and Oguntayo that might have involved the forfeiture of N15 billion in cash and assets.The EFCC under the leadership of Ibrahim Magu had on March 7, 2019 arraigned him, Oguntayo, and two other companies before Justice Ijeoma Ojukwu of a Federal High Court, Abuja on 10 charges bordering on money laundering to the tune of N25.4bn. One of the counts had read, "That you, Tunde Ayeni, whilst being the Chairman, Board of Directors of the defunct Skye Bank Plc, between the 1st of January, 2014 and 31st December, 2014 at Abuja within the jurisdiction of this honourable court did commit an offence, to wit: converting the aggregate sum of N17,415,080,000 taken in cash from defunct Skye Bank Plc Suspense Account and delivered to you by the staff of the defunct Skye Bank Plc, which money you reasonably ought to have known forms part of the proceeds of an unlawful act, to wit: fraud and thereby committed an offence contrary to and punishable under Section 15(2)(b) and (3) of the Money Laundering (Prohibition) Act, 2011 (as amended).
"Nemesis might be catching up with Ayeni, as his underhand dealings at one point or the other have fleeced thousands of depositors and shareholders of their monies. Karma, they say, bides its time, and can be unforgiving when it is payback time. After all, the evil that men do live after them.In the meantime, Ayeni has been perfecting plots to warm his way into the imminent Asiwaju Bola Tinubu-led government, now that he has lost out in his miscalculation that Atiku would win the presidential election, which he had hoped to use as a launchpad back to reckoning and the corridors of power. He was said to have boasted that he would use his suspicious relationship with a popular city lady named Timbo Ayinde (who is reputed to have dated many powerful men in the corridors of power and is well-connected in the oil sector) to gain access to the Tinubu-led administration. Timbo is reported to be close to Tinubu. It is not clear how Ayeni intends to do creep into Tinubu's government but people in the know claim that he sounded so confident that he would win over Timbo's heart and use her for his ulterior motive. It is yet to be seen how he intends to achieve this, with the methodical and strategic Tinubu who knows how to ward off the activities of bad luck and saboteurs like Ayeni.While he wielded influence in the corridor, Ayeni was notorious for using state agencies to threaten and intimidate his perceived foes and even friends who attempted to stand up to him. He was one of those fingered to have compromised the professionalism of many men of these agencies through inducements and coercion. He recently boasted that he would "deal with a lot of people, especially in the media," a source said. The source said he had a list of Nigerian journalists to clamp into jail for "maligning him" if Atiku won the election. His now estranged side-chick is also culpable of using state agents to intimidate people. Not too long ago, she ordered the arrest of a journalist.
 The arbitrary arrest was roundly condemned by the media and well-meaning Nigerians. Meanwhile, the National Alliance of Media Practitioners (NAMP) has condemned the arrest of the journalist instigated by Adaobi. In a strong-worded media release by the body, Adaobi was warned to desist from using state agencies to harass journalists again, as "doing so would incur the wrath of its members who go to any length to get justice." The statement also admonished the Nigerian Police and other law enforcement agencies to stop being willing tools in the hands of some Nigerians. "There are fair and just ways to address issues relating to media practice in Nigeria; Nigerian law enforcement agencies should also educate this group of Nigerians about exploring these laws, rather than being willing tools in their hands," the statement read.
2023 Election: Speaker Obasa Thanks Lagos Electorate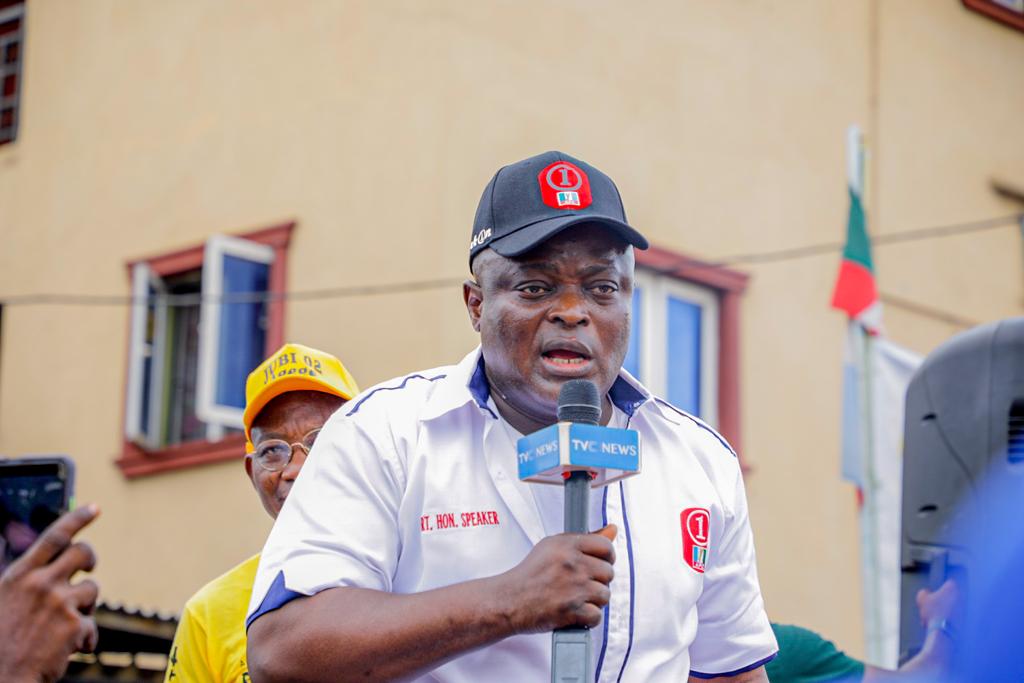 2023 Election: Speaker Obasa Thanks Lagos Electorate
– Promises more Vibrant House of Assembly
The Speaker of the Lagos State House of Assembly, Rt. Hon. Mudashiru Obasa, has commended residents for their participation in the governorship and House of Assembly elections in the State saying the exercise is a further call to duty.
Dr. Obasa said this in a 'thank you' message to residents of Agege for returning him to the State legislature as lawmaker representing Agege Constituency 1 and for electing Jubril Abdulkarim, a former local government council chairman, to represent Agege Constituency 2 at the 10th House of Assembly Lagos.
In the message released by Eromosele Ebhomele, his Chief Press Secretary, Dr. Obasa also commended residents of the State for the love they showed the All Progressives Congress (APC) during the period leading to the election and while the exercise lasted.
He noted that the victory recorded by the APC in the election was proof that the residents of the State had confidence in the party to deliver more dividends of democracy in the next four years.
"We give glory to the Almighty Allah for the success of our party in this election just like He made us victorious in the presidential election.
"The victory which has recorded by the APC in Lagos State is proof of the trust and confidence our people have in us. The victory is a further challenge on the incoming government and all of us who are elected to work more for the benefit of the people.
"To the good people of Agege, 'thank you' for your love and active participation as well as your support for our great party. I also commend Lagosians for voting to return Governor Babajide Sanwo-Olu for a second term.
"Now that the elections are over, it is time for all of us to come together to work in unity and achieve greater positive results for our State.
"We remain committed to the collective desires of our people to sustain the tempo of development and progress of our dear State.
"At the House of Assembly, we will continue with laws, motions and resolutions to meet the needs of our constantly changing society. There are better days ahead," the Speaker said.
Eromosele Ebhomele
Chief Press Secretary to the Speaker of the Lagos State House of Assembly.