8 People killed in Edo over ₦100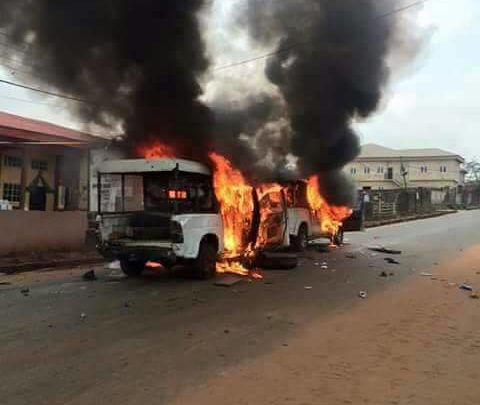 Sadly, according to report, the sleepy town of Ikhin in Owan East Local Government Area of Edo State is in a state of mourning following the senseless killing of eight youths over a political booty, having initially participated in a rally at Afuze.
Information at our disposal has it that, penultimate week, a political rally had taken place in Afuze Local Government Headquarters in which case, both the indigenes and the Igbira settlers participated.
At the end of the rally, a huge sum of money was said to have been given to some youth to share as part of their efforts in making the rally a success.
Shortly after, there were disagreements over the sharing formula of the money. The Ikhin youth agreed to share the money by giving out 100 naira to each participant while the Igbira youth said it had to be ₦200…
The disagreement over the sharing formula was said to have degenerated as frayed nerves could not be easily calmed. Consequently, the Igbira youths on the other hand claimed that the Ikhin youths sharing formula was an affront and consequently declared a showdown with the Ikhin youths.
The free-for-all fights that ensured saw three Ikhin youths killed and two others injured. The injured were later taken to Iris Specialist Hospital for medical attention.
The warlike scenario also claimed the life of five Igbira youths and those victims were said to have been mindlessly burnt to ashes by the Ikhin rampaging youths.
An eyewitness account has it that, the seeming reprisal attack by the Ikhin youths led to the damaging of some properties which include houses and farms belonging to the Igbira people. "The Igbira settlers fled the community shortly after", it was said.
The matter was also said to have attracted the police who rushed to the scene of the incident but were reportedly chased away with sticks, stones, and other dangerous weapons by the Ikhin youths.
"The police came but were chased away by the hostile youth who made the community a theatre of war. The youths burnt tires and danced around the corpse of the killed Igbira youths. It was like a cult war", intoned the eyewitness who pleaded that her name should not be mentioned in the press for fear of attack.
Meanwhile, stone-eyed security personnel drafted from various units which include armed mobile police have painstakingly been patrolling the town.
In the same vein, covert homicide detectives have also been let loose to fish out the masterminds of the dastardly act.
As at the press time, elders from both Igbira communities and Ikhin were mobilising with a view to settling the impasse at Otuo town considered as a neutral ground as the traditional rulers of the warring town demands Justice.
An independent check by our correspondent revealed that Ikhin shares forestry with Ikpele and Ishua in Ondo State, while Okpella shares a boundary with Igbira communities on the other hand