All Primate Ayodele Prophesied About Nigeria's Woeful Economy That Have Come To Pass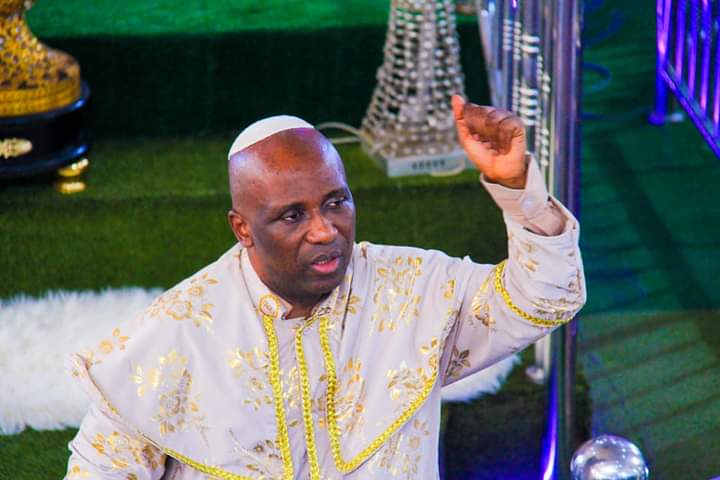 All Primate Ayodele Prophesied About Nigeria's Woeful Economy That Have Come To Pass
The economic situation of Nigeria has continued to collapse since the administration of President Muhammadu Buhari began, especially his second term.
Since his second term administration that started in 2019, Nigeria has been experiencing tough times that have affected every sector of the country including economy, education, politics, governance, security and several others. Unfortunately, it keeps on getting worse by the day and this makes it difficult for many Nigerians to live comfortably.
Sadly, all that has been happening since President Buhari emerged for his second term in office were foretold by popular prophet, Primate Elijah Ayodele as far back as 2018.
In an interview which he granted on Tribune newspapers in 2018 before the presidential election held, Primate Ayodele stated that president Buhari's second term in office will be a total waste of time for the country. He mentioned that Nigeria will have a 40-year set back and that God is not with President Buhari to rule the country for a second term.
These were his words
"President Buhari's declaration to contest for a second term in office is a waste of time. God is not with Buhari any longer to rule Nigeria. He should vacate the presidency. His followers may be telling him a lot of things, but Buhari's second term in office will cause Nigeria another 40 years' setback. I am not his enemy but I am talking as a prophet. They may take it or leave it. I have no apologies. Nigeria will collapse under him. They are deceiving him. In fact, the international community will fight against him. Buhari is just going to waste Nigeria's resources if voted in again. The bloodshed will continue. (https://tribuneonlineng.com/buharis-second-term-will-cause-nigeria-40-years-setback-primate-ayodele/).
When Primate Ayodele made this statement, many who didn't see beyond the present situation thought the man of God hated the president but little did they know that they were being warned against a future calamity. Unfortunately, the second term of President Buhari has taken Nigeria backward, there is nothing working in the country and all that Primate Ayodele said in 2018 have manifested already.
Again in a later interview still on Tribune Newspaper in 2021, Primate Ayodele revealed that more economic hardship will face Nigeria in 2022. These were his words '' "Nigerians will face more hardship in 2022. There will be more austerity. Nigeria's economy will continue to somersault'' (https://tribuneonlineng.com/more-economic-hardship-awaits-nigerians-in-2022-primate-ayodele/).
As it stands, even the blind knows that the economic situation of Nigeria is nothing to write home about. Just as the man of God has said, the economy of Nigeria has continued to somersault.
Furthermore, in March 2022, Primate Ayodele was quoted on punch newspapers talking more precisely on the economic woes that will face Nigeria. Primate Ayodele noted that there will be an economy disaster that will make Nigerians revert back to the days of austerity measures. He revealed that diesel will sell for N800 and petrol will become scarce and will sell for N300/Litre at the end of the day. He also said the country will be in debt and in a financial mess that will make some state government unable to pay salaries.
These were his words
"An economic disaster is coming very soon, before the end of this year. It will be so grave that we will revert back to the days of austerity measures. Diesel will sell for as high as N800 to N1000 per litre. Petrol will become scarce and, at the end of the day, it will move up to N300 per litre. Things will become extremely difficult for Nigerians. The truth is that Nigeria's reserve''
"The country will be in such a big financial mess that some state governments will not be able to pay their workers. Governors and Honourables will be stoned and there will be several protests.Even the police will go on strike if care is not taken. Things will get so bad that they will not be able to pay those protecting us their stipends.'' (https://punchng.com/economic-hardship-therell-be-protests-govs-will-be-stoned-primate-ayodele-prophesies/)
It is not even news that diesel now sells as high as N850/Ltr, there is still fuel scarcity and in some places, it sells between N250-N300/Ltr. The economic disaster in the country is so evident that Nigeria now borrows money to pay for debt. Things have become extremely difficult for Nigerians and it's becoming unrealistic to feed well. The essential commodities like food have become unaffordable for the common Nigerian, all of these fulfil the prophecy of Primate Ayodele which he has been saying since 2018.
Again in March 2022, Primate Ayodele spoke again and called the government to immediately work on the economy of Nigeria as he foresees a dollar exchanging for N650 soon.
These were his words
"I see CBN rushing to print more money to salvage the economic situation of Nigeria, it will be very serious if the government doesn't act now. The dollar cannot go back to 200 or N350 again, it will soon rise to N650."
Just three months after this prophecy, the naira has crashed so much that it now exchanges for N710 as Primate Ayodele prophesied. It has never been this bad in Nigeria and it doesn't look like this will subside anytime soon.
Of course, Prophetic warnings always come with prophetic solutions and this is why Primate Ayodele has never given the government a warning without telling them what to do to salvage the situation but do they listen? The answer is NO and that's why Nigeria has become unbearable for the common man.
31 Pioneer Empowerment Project Trainees Graduate From Dominion Cares Foundation of RCCG Region 19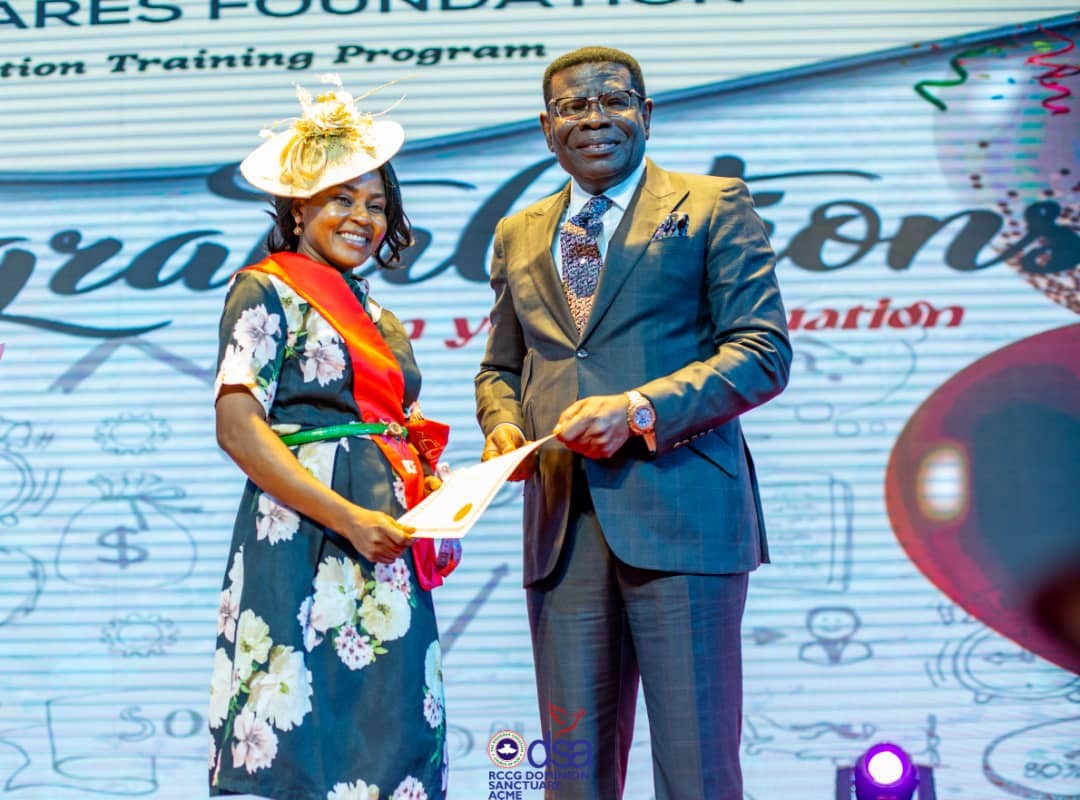 31 Pioneer Empowerment Project Trainees Graduate From Dominion Cares Foundation of RCCG Region 19
The Redeemed Christian Church of God, Region 19 headquarters, Dominion Sanctuary, Ikeja recently graduated the first set of graduates from the empowerment programme of Dominion Cares Foundation (DCF). This is in addition to what the CSR department is doing to reach out to the Ikeja, Agidingbi, Ogba, Iju Communities.
The special event took place recently at the church auditorium located on Acme road within the central business district of Ikeja, Lagos,
Charging the 31 specially equipped trainees to go out and succeed, the Pastor in charge, Pastor Brown Oyitso demanded that they dig deep to expand their sphere of influence as pioneer ambassadors of Dominion Cares Foundation (DCF). "I want to hear in the next 2 or 3 years that your businesses have expanded within Africa to Europe and even to the USA. This is the kind of news we are expecting to hear from you" Pastor Oyitso Stressed.
Speaking later in an interview, on what motivated the Dominion Sanctuary to embark on this charity project, DCF Pastor Oyitso explained that the humane ministry of his General Overseer, Pastor E. A. Adeboye in this area were the biggest factor that motivated him. "Daddy G.O. as we fondly call him instructed us to embark on CSR initiatives to help the marginalized people of the society. Daddy G.O. saw the huge needs in the society and realized that government can't meet all these needs. He therefore instructed the Pastors of the RCCG to embark on these CSR initiatives to help humanity.
The RCCG's CSR, Christian Social Responsibility initiatives seek to positively effect changes in society by working with people, corporate bodies, NGOs, and Government to improve the overall socioeconomic status of both people and communities.
"In that project, our primary scope and focus is on external interventions in tandem with the RCCG National framework and objectives initiatives subdivided into eight pillars – Social, Health, Education, Media, Business, Art/Entertainment, Government and Sports.
'' The CSR programmes are on and quite active in our region here. Just as our General Overseer saw that vacuum, we were motivated to look around and we saw a lot of spaces we need to fill. In addition to what we do through our CSR department, which is outward looking, we had to set up the Dominion Cares Foundation to look after the needs of our members within the church. The foundation is headed by Babatunde Savage, former Chairman of Guinness Nigeria Plc.
"In this area of skills acquisition programmes that we are starting with, we expect there will be multiplier effects. This first group will employ and train apprentices who in turn will also become manufacturer and entrepreneurs someday.
Commenting on his involvement as chairman of Dominion Cares Foundation, Mr. Babatunde Savage revealed that he felt highly privileged to lead a committed team dedicated to meeting societal needs through the demonstration of love that positively impacts individuals in the church.
He explained that at Dominion Sanctuary, CSR objectives are in tandem with that of the National Headquarters, however, for DCF, Savage explained that the foundation has identified and extended its scope, and the focus presently is to provide financial independence for indigent church members. He also explained that the project is built on 3 pillars- skills acquisition, job creation, and business networking.
On the initial challenges the foundation faced, a member of the DCF, Dr Chidi Okpaluba who mentored the trainees for one year, revealed that it took a lot of efforts to convince people who were always looking for jobs that they can start something on their own. "We had to go deep and motivate them and the result is the can-do spirit we can see now. Already, 28 persons have been interviewed and they are on the line to resume as the second batch of this impactful project," Okpaluba explained.
The 31 pioneer beneficiaries were trained in seven areas- fashion design, digital/ social media marketing, catering, driving, videography, shoe making, and Igele /make-up services. The church is finalising the establishment of a micro-finance bank that will facilitate loans and grants for trainees.
During the event, all the colourfully- dressed 31 beneficiaries came out to collect their certificates from the regional pastor.
In a chat, Olufunke Umoren who graduated in Fashion- design/ dress-making was full of praises for the pastor and the church for the capacity-building opportunities provided. "For six months that we trained, the foundation provided everything from clothes even to the needles we used. It was so seamless and we were treated like queens', Umoren stressed,
For Adedayo Olabunmiji who lost his banking job some years ago, his training in digital/Social media marketing was like a new beginning and he is ready to explore the digital world massively. Felicia Esazebor and Austin Ogechukwu Benson, trained as a make-up artist and shoemaker respectively, were full of excitement at their graduation. Some trainees exhibited their products, smiling home with quality sales.
RCCG Dominion Sanctuary is passionate about its vision for all members to make heaven. The congregation has grown massively over the years. The church has a uniquely built edifice which gives a captivating look to viewers. They also have a beautiful choir with songs always beautifully rendered to inspire and engage all attendees in profound worship.
Youth Aflame Conference: Olawande, Oyemade, Other Keynote Speakers Enlighten Young Nigerians 
Youth Aflame Conference: Olawande, Oyemade, Other Keynote Speakers Enlighten Young Nigerians
The National Stadium, Surulere, Lagos, came alive yesterday under an atmosphere of spiritual conviviality as thousands of young Christian professionals and worshipers converged to commemorate the 2022 "Youth Aflame Conference".
The well-attended conference with the theme "Mountain Climbers", was planned with great emphasis on focus, growth and development strategies for the youth as well as how to stay the course in the face of daunting challenges and distractions.
Not surprisingly the organisers assembled a well-experienced array of speakers to address various topics that would keep the mind on the goals of building a successful future, working for God and enriching humanity with leaders and great talent.
Among the speakers were Pastor Poju Oyemade, Pastor Tunji Adeboyejo, Debola Deji-Kurunmi, Lanre Oyegbola, Pastor Bisi Akande, Laju Iren, Pastor Kola Oyeneyin, Nifemi Olanwande, Onyeka Ogwu, Pastor Yemi Davids and Tomi Arayomi. While declaring the conference open, the convener of the Youth Aflame Conference and RCCG National Youth President and Youth Evangelist, Pastor Daniel Olawande, fondly called PDaniel, explained that the conference was put together for young professionals who would actualize the great vision of the transformative power of breaking barriers and planting success wherever they serve.
"The cycle of revival is not complete until it brings about societal transformation. The time has come to raise young apostles in the marketplace; the time has come to raise kingdom gatekeepers who will represent God with high moral rectitude, high effectiveness, character, excellence with God's fire in the marketplace. Hence the need for the Youth Aflame Conference.
"Youth Aflame Conference YAC is that training, building and equipping platform for this emerging generation of global kingdom ambassadors", he said. One of the speakers, Pastor Tunji Adeboyejo, who is also the chairman of the Youth Evangelism Team of the RCCG, spoke on the "DNA of Mountain Climbers". According to him, people who want to get to the peak of the mountain. (success) must have vision, Drive, resilience, focus, and courage. He noted that no man could climb above his level without courage.
Another speaker who is also the Pastor in charge of RCCG Youth Province 1, Lagos, Pastor Bisi Akande, spoke on 'The Secrets of Mountain Climbers". He extolled the youth to have clean hands, pure hearts and Godly conversations if they must know the secrets of mountain climbers. Pastor Yemi Davies challenged the youth to be determined to reach the top of the mountain by carrying their home in the morning so that their evening would be devoid of hardship.
Speaking on the youths in politics Pastor Lanre Oyegbola mentioned " It is important to know that you are not climbing alone, the fact that we are climbing through different routes doesn't mean we are not going to the same place. There are no permanent enemies, there are only permanent interests"
Mr Oyegbola gave four keys in the structure of governance that the youths would need in the political space, the keys include People, Prayers, payments (money) youths must pay now so they don't pay later , and Participation, emphasizing that every youth must be a member of the political party.
Pastor Poju Oyemade speaking on the topic "Responding To Adversity through the power of Joy" told the youths "To be a mountain climber, you must have access to divine intelligence. Who the king are leaning onb, should be you. It is beyond having a dream for a better Nigeria. The question is HOW?
He gave his closing remark to the youths with words of encouragement to take action with the mindset that of knowing " You can change anything" .
The conference also featured financial literacy sessions where bank representatives explained their products and services to the congregation.
The young professionals were advised to embrace the savings culture as well as plan and employ financial planning to build wealth and prosperity.
Pastor Adeboye Announces Major Changes In The RCCG Such As Retirement Age Of Church's Pastors At 70, And Others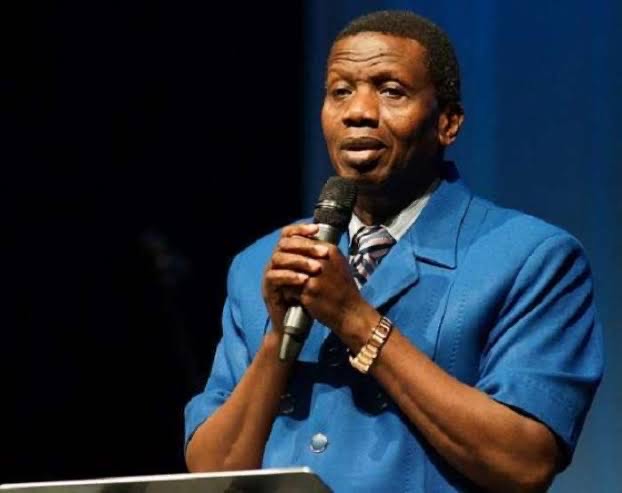 PPastor Adeboye Announces Major Changes In The RCCG Such As Retirement Age Of Church's Pastors At 70, And Others
Pastor AdeboyeThe General Overseer of the Redeemed Christian Church of God (RCCG), Pastor Enoch Adeboye, has announced some major changes in the Church.
The changes include the retirement of the Church's National Overseer, Pastor Joseph Obayemi.
Adeboye made the announcement while addressing RCCG Ministers on Sunday, 7 August, 2022.
He hinted also that the person that would take over from him as the General Overseer will be a young man.
The RCCG which is currently celebrating its 70th anniversary was established in 1952 by Rev. Josiah Olufemi Akindayomi who passed on in 1980.
Adeboye has served in the position of General Overseer for more than 40 years and still counting.
In December 2016, Pastor Adeboye appointed Pastor Obayemi as the church's Overseer in Nigeria. Obayemi was given an additional portfolio to serve as the Overseer of the RCCG in North Africa in 2021. He was also addressed as an Officer-in-charge of Nigeria.
But Pastor Adeboye announced his retirement along with some others during the Ministers' Conference. Obayemi is in his 70s.
Adeboye disclosed that the retirement age for all RCCG pastors will now be pegged at 70 years. He said however that some of them may be given lesser roles after retirement.
Pastor Sunday Akande is to replace Obayemi as the RCCG National Overseer. He will serve for a period of two years while Pastor Kalu Ndukwe will serve as the Overseer of the Africa Continent.
Adeboye said the position of the National Overseer of the church will now be on a two-year tenure basis while the pastor occupying the position will operate from the redemption camp.
All churches in the camp would henceforth report to him. He will also represent Pastor Adeboye in special assignments.
Also affected by the changes is Pastor Johnson Odesola who had been in charge of the Administration and Personnel of the Church. He was relieved of the two portfolios. Two pastors were appointed to handle the portfolios.
The new pastor in charge of Personnel is Julius Olalekan while Pastor Dele Balogun was appointed to take charge of Admin. It is not yet clear the new designation of Pastor Odesola who also serves as the Overseer of the RCCG in the Middle East.
The Redemption Camp according to Pastor Adeboye will henceforth carry the tag of a city just like the Vatican City.
He banned hawking and selling of goods along the roads in the camp saying such practice will no longer be tolerated. Offenders will be prosecuted while their goods will be confiscated. Indecent dressing in the camp environment will no longer be tolerated according to him.
Adeboye who clocked 80 early this year also named the ring road on the camp after the founder of the church, Pastor Josiah Akindayomi. Some other roads were named after some retired pastors of the church.