CDHR Remembers Beko Ransome-Kuti, Calls For Unity Against Democratic Tyranny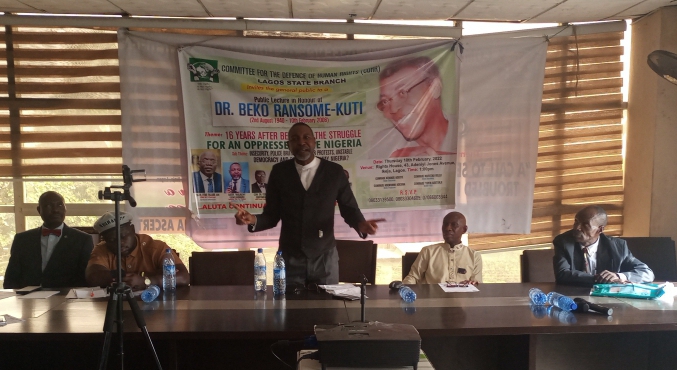 CDHR Remembers Beko Ransome-Kuti, Calls For Unity Against Democratic Tyranny
The Committee for the Defence of Human Rights, CDHR, Thursday, remembered Dr Beko Ransome-Kuti who died on February 10, 2006 at the age of 65.
Dr Beko, a Nigerian medical doctor, was a foremost human rights activist who was a thorn in the flesh of military and civilian ruling class for many years.
In a well attended event themed "16 Years After Beko And The Struggle For An Oppressed Free Nigeria," various speakers, who spoke on insecurity, Police brutality, labour protest, unstable democracy and 2023 as sub themes, extolled the intrinsic worth of the late activist who was CDHR first national president and lived his entire life fighting for a better Nigeria.
In his welcome address, the chairman, Lagos State branch of CDHR, Comrade Kehinde Adeoye, described the annual memorial theme as " Very timely and appropriate."
He noted that 16 years after Beko's death, nothing has changed in the country adding that what currently defines the landscape are " Insecurity, Police brutality against innocent citizens, labour protests, students' unrest, ASUU strike and unstable democracy."
Comrade Adeoye called on CDHR Comrades including the National Association of Online Security Reporters, NAOSRE and other journalists to unite and continue the fight against democratic tyranny "Until Nigeria becomes totally free from all forms of human rights violation."
On his part, the national secretary, Comrade Yinka Folarin reminded the distinguished audience of the prevailing problems in the country and requested for redoubled efforts to chase away anti democratic elements
"Who is safe in Nigeria? There are huge problems. The problems are no longer about North East. Lagos-Ibadan road is no longer safe and Buhari does not have any solution," he lamented.
As a remedy, Folarin called on all activists to immediately embark on radical voters' sensitization in their respective enclaves to avoid wrong choice in the 2023 general elections.
The chairman of the occasion and CDHR past President , Comrade Malachy Ugwummadu admonished fellow comrades to be disciplined and methodical in the face of molestations and other forms of challenges.
He challenged comrades to learn how to gather information and evidence at any unsavoury scene so that whenever issues arise, there would be enough evidence to fight against injustice.
He noted that Beko's spirit was inspiring, resolute and sacrificial and urged members to be disciplined as worthy ambassadors of the association.
"We must be disciplined in character and avoid dubiousness so that we can attract people to our struggle," he advised.
Why Two-year-old Boy Was Sentenced To Life Imprisonment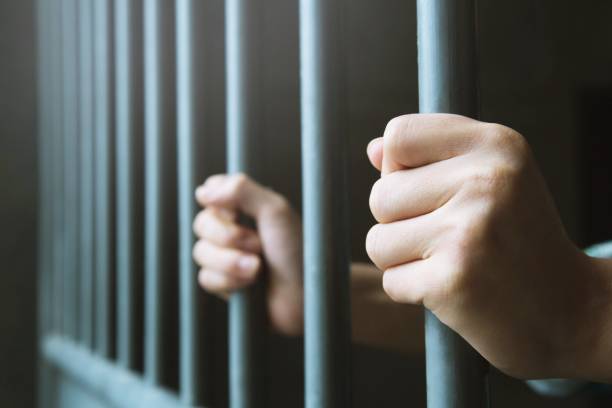 Why Two-year-old Boy Was Sentenced To Life Imprisonment
A two-year-old Boy has been reportedly sentenced to life imprisonment in North Korea over possession of the Holy Bible.
The toddler is said to have been sentenced to life in a North Korean prison camp after his parents were discovered with a Bible in their home
The shocking tale was revealed by the US State Department's International Religious Freedom Report.
It claimed the two-year-old and his entire family were locked up for their religious beliefs.
Several other cases of North Koreans being killed for being Christian were also included in the report, including the firing squad execution of a woman and her grandchild in 2011.
Other believers faced "pigeon torture", where they were suspended with their hands tied behind their backs, unable to sit or stand for days on end.
Some were tortured with sleep deprivation including one woman in solitary confinement who was driven to suicide in 2020 after prison guards refused to let her sleep.
According to report, as many as 70,000 Christians have been imprisoned for their faith under the Kim Jong-un regime, out of a possible population of 400,000.
The new publication said several North Korean Christians hid their faith from their children.
It cited the finding of one NGO, Open Doors USA (ODUSA), which said: "A Christian is never safe.
"Children are encouraged to tell their teachers about any sign of faith in their parents' home."
Another NGO, Korea Future, said children were taught in school about the "evil deeds" of Christian missionaries, including " rape, blood-sucking, organ harvesting, murder, and espionage"
Emmanuel fadipe….the face of humanity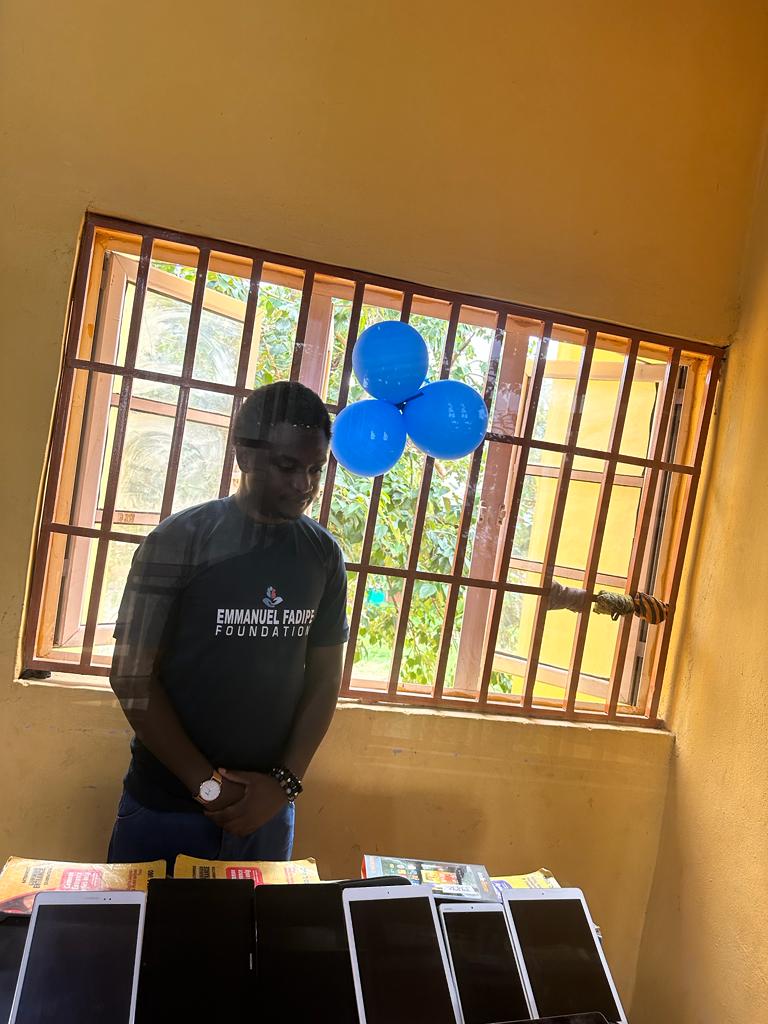 Emmanuel Fadipe…..the face of Humanity.
Sahara Weekly Reports That Emmanuel Fadipe the CEO of Emmanuel Fadipe Foundation whose personality over the years have been a great motivation to alot of young people all around the world have once again shown his selflessness through his interstate ICT project which he titled " 'Expanding the academic and career horizon of students through technological advancement, scientific growth and skill acquisition". The foundation once again made history through this project by donating high quality technological gadgets ranging from iPads, laptops etc. for the collective use of all the students in the institutions selected. The two day event covered four schools in Lagos state and these schools include Temidire Primary School, Oke Odo, Alimosho, AanuOluwapo Primary School Alimosho, Community Primary School Oke Odo, Alimosho and Community Secondary School, Akowonjo. Asides the donation of these gadgets to the above mentioned schools, the two day event also included academic ,capacity building and career development sessions which was well handled by professionals in different disciplines.
Emmanuel Fadipe who have won a lot of international awards in Academics,leadership and humanitarian endeavours is known characteristically for his humility, quietness and cultural values. His exceptional leadership when he led different organisations in diaspora recorded outstanding achievements and established great legacies which have structurally reinforced the organisations till date. His led administrations in different organisations experienced numerous historic achievements which include ensuring the discharge and acquaintance of wrongly sentenced Nigerians in diaspora is achieved, timely rescue of mentally depressed individuals at the edge of committing suicide, passionately discovering and promoting talents among Africans in diaspora, providing prioritised privileges for Nigerian students in government agencies, improving the general welfarism of Africans in diaspora;among many others
The Germany based doctorate researcher whose research discipline focus on Livestock infectiology and Environmental hygiene is reportedly planing to replicate the ICT project in other schools across the federation in the coming weeks. Report equally gathered that his foundation is set to ensure the sustainability of this project by providing solar energy power generation in most of the schools listed for the outreach. This and other value adding projects intended by the foundation will bring about immense development to Africa as a continent and the world at large.
The CEO of the foundation through his altruistic nature daily ensure that the objectives of the foundation is daily achieved and sacrificially pursue the course of humanity at the expense of his personal convenience and comfort.
Children's Day: Polaris Bank urges Parents to teach their kid's savings culture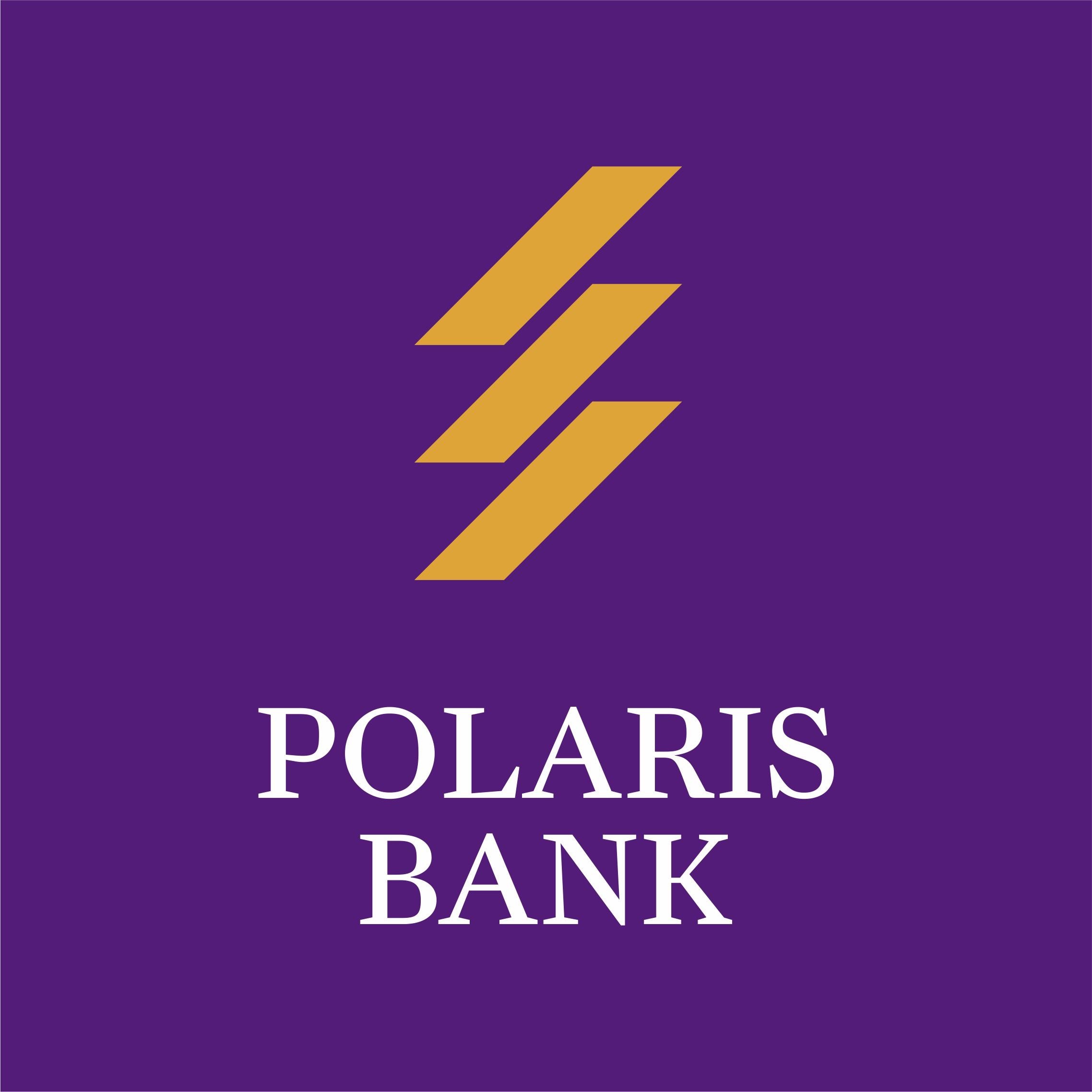 Children's Day: Polaris Bank urges Parents to teach their kid's savings culture
Sahara Weekly Reports That Lagos, Nigeria – May 26, 2023 – As the world commemorates 2023 children's' day celebration, Polaris Bank has urged parents to imbibe in their kids, the art of saving by opening Polaris Rainbow Account.
To encourage savings amongst kiddies, Polaris Bank offers its customers a specialized savings account, Polaris Rainbow Account, for kids between zero and 12 years. The account is part of a range of products designed by the Bank to ensure that, from infancy to adolescent, and to adulthood, there is a financial solution for everyone".
Polaris Rainbow Account, managed by parents or guardians, provides an opportunity for children to gain financial literacy from an early age. It also offers competitive interest rates on savings, as well as access to e-channel platforms. Polaris Rainbow Account provides automatic migration to the Polaris Young Achievers account (a specialized savings account designed for teenagers), once a child clocks 13.
Commenting on the value of Polaris Rainbow Account, the Bank's Group Head, Brand Management & Corporate Communication, Nduneche Ezurike said, "We are extremely passionate about children and believe in the importance of savings in creating a successful future and helping them achieve their hopes and dreams. Our Polaris Rainbow Account has been created to support parents in establishing a solid foundation for their children."
Customers and prospects can sign up to the product at any Polaris Bank branch, nationwide. It is also available for activation through SurePadi agents in their respective neighbourhoods or online, through the Bank's account opening portal at
https://accounts.polarisbanklimited.com/opening/.
For additional information on Polaris Bank's products and services, please contact Polaris Bank's 24/7 Multilingual Yes Centre on 0700-POLARIS(0700-767-2747)  or via email at yescenter@polarisbanklimited.com
Polaris Bank is re-defining banking products that meet the needs of individuals and businesses. The Bank was adjudged Digital Bank of the Year 2021 and 2022.