CHIEF FFK'S DEFECTION TO APC IS A MYSTERY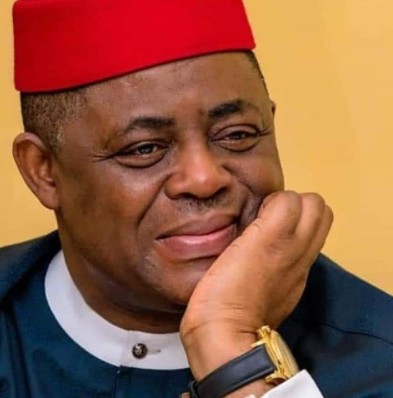 CHIEF FFK'S DEFECTION TO APC IS A MYSTERY, ONLY THOSE WITH SPIRITUAL EYES CAN FATHOM IT
Sahara Weekly Reports That Chief Ffk Fani Kayode is a political analyst and a courageous fellow who speaks truth to powers at all levels. FFK is a strong voice of the voiceless and indigent members of our country.
FFK is an answer to the political situation of our country and the forthcoming political Messiah of our time.
Building bridges is one of the assignments God has given Chief Ffk Fani-Kayode in Nigeria, no one can build the bridge of peaceful coexistence, social justice and equal right of citizens across Nigeria outside the government, *Nehemiah in the Holy Scripture did it with the permission of the government, you can't be opposition and expect to build bridges across Nigeria.
The high level of insecurity bedeviling this country calls for urgent attention in rebuilding the broken walls and bridges across Nigeria, in the past 6 years, I heard  God looking for a MAN in whom He can(God) can ride upon to build the broken walls and bridges across Nigeria, No one seems to answer that clarion call until Chief FFK answered and said God "Here am I, use me, ride on me", I see no reason why anybody should raise eyebrows on this great response of Chief FFK to join the ruling APC to carry out this great task of building bridges and broken walls across our beloved country Nigeria.
I wish every member of this platform will have the understanding of times like children of Issachar who had an understanding of times so we can rally around Chief Ffk Fani- Kayode to team up with him as co-laborers in this building project.  
Remember, what we are talking about has to do with thousands of lives that are dying on daily basis due to ethnoreligious and political sentiments orchestrated by hatred among citizens of this country.
I, therefore, call on members of this platform and other supporters of Chief Ffk worldwide to have a rethink on the misconceptions trailing the defection of Chief FFK to the ruling APC. 
I pray we would not join the enemies of Nigeria's unity in their quest to bring down the great Chief FFK and his God's given assignment, bearing in mind that whoever God blesses, no man can curse.
Remember:
1- The same mouth that says I won't do this and that in the past can decide to change and say I will do this and that now. *Change is the only constant thing in life*
2- Politics is not a religious belief that needed not to change at ease.
3- There's neither permanent friend nor permanent enemy in politics.
4- Everyone including you is entitled to his or her fundamental human right especially the right to freedom of speech and that of association.
5- in the past you chose to serve and work for the devil but now you said no to the devil and chose to serve God, nobody says why are you serving God now, so pls keep your mouth shut on issues that bother someone else's decision. The political decision for that matter.
6- I've overheard some people saying "My concern is *FFK's integrity*", they seem to be worried about FFK's integrity, *the case of taking panadol on another person's headache*. My people, hope you know that *No one can cry more than the bereaved, not even on this matter*
 May God through the power of the Holy Spirit bless us all with the divine understanding of this great mystery in Jesus' name.
Evang Simon Timothy Nasso
Chief Admin and Convener,
FFK POLITICAL PLATFORMaa