CHIKE OKOLI FOUNDATION STAGES 16th GALA NIGHT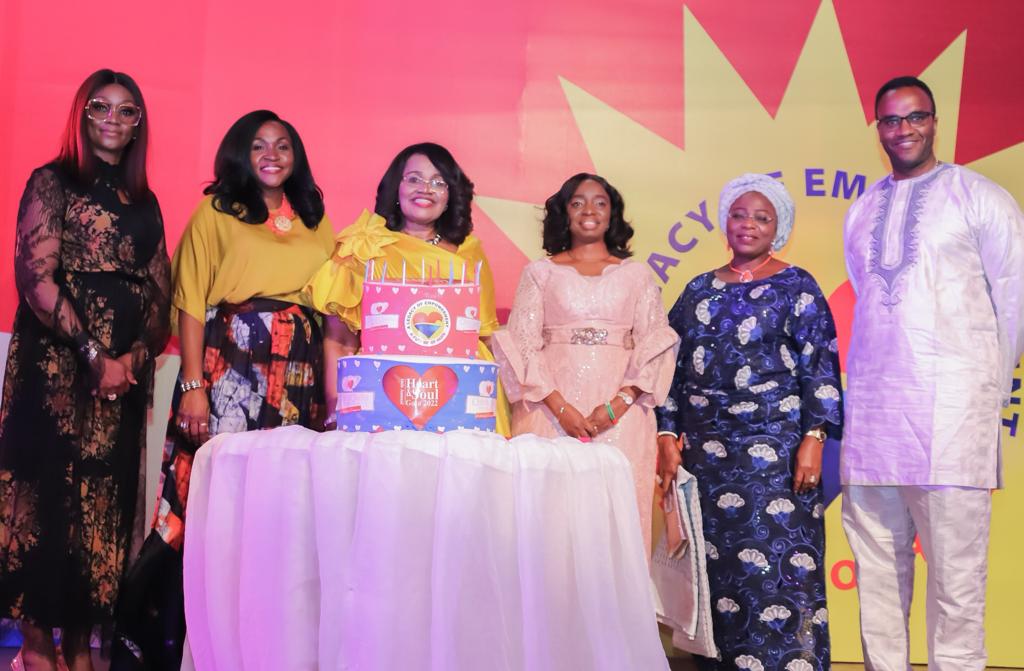 CHIKE OKOLI FOUNDATION STAGES 16th GALA NIGHT
Chike Okoli Foundation (COF) celebrated its 16th Heart and Soul Gala in grand style on Saturday, June 18, 2022 at the Shell Hall Muson Center, Onikan Lagos.
Chike Okoli Foundation, named after the Late Chike Edward Okoli, is a non-profit organisation founded in May 2006 to fight poverty and disease while fostering the spirit of entrepreneurship among Nigerian youths.
In the last sixteen years, the Foundation has reached over I.5 million people across Nigeria and sensitized them on the dangers of cardiovascular disease and how to make lifestyle interventions.
In 2011, COF completed and opened the CHIKE Okoli Centre of Entrepreneurial Studies (COCES) at Nnamdi Azikiwe University, Awka Anambra State, to provide entrepreneurship training.
The centre runs a two-year Diploma Programme on Entrepreneurship. This programme has trained over 2,000 entrepreneurs and also runs the University general course on entrepreneurship for every 200/300 level undergraduate student irrespective of discipline.
COCES is also the Enterprise Development Centre partner for the Pan Africa University and serves as the training centre for the South/East zone in Grooming Enterprise Leaders (GEL) and the YOU Win program projects of the Federal Government.
The Main objectives of the Chike Okoli Foundation are;
• To use all proper and culturally acceptable media to draw attention to CVDs, working closely with various youth development organizations/institutions.
• Publication and distribution of health information materials on cardiovascular diseases for public enlightenment.
• Partnership with leading health institutions to provide free screening, consulting and referral services to members of the public who require such services.
The Heart and Soul Gala night, is an annual event organised by Chike Okoli Foundation to reflect on its activities, celebrate the short but eventful life of Chike Edward Okoli as well as raise funds to support the principle and ideals for which he lived.
NNKAN, A UNIQUE MUSICAL REVELATION WITH CREATIVE ARTISTRY, VELVET VOICE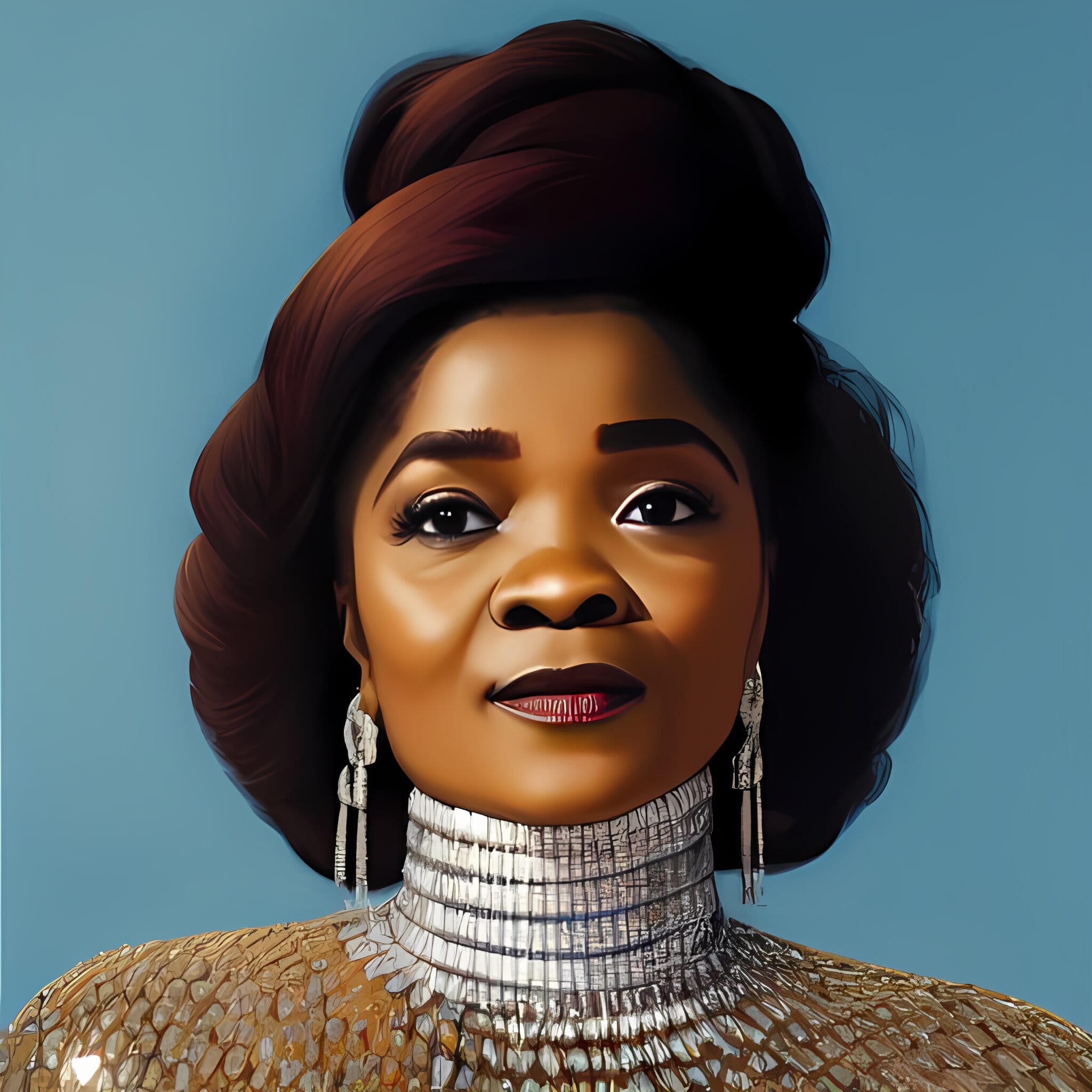 NNKAN, A UNIQUE MUSICAL REVELATION WITH CREATIVE ARTISTRY, VELVET VOICE
Oluwakemi Otekaiye Collorassi is artistically known as Nnkan Eleduwa or her stage name Nnkan which rings a very loud bell in the Nigerian entertainment sector.
Nnkan is the leader of Ditoko Band and she is a lady endowed with multiple talents in the artistic entertainment space, who skilfully chants, sings, acts and dances on stage. She is an epitome of complete creative entertainment. She has been doing this since her growing up years as a child and she is still immensely talented in arts till date.
Nnkan discovered very early in life that she was gifted but she did not know the channel which to pass through.
However, she was motivated into the arts as a child when one of her neighbours, a woman sang a beautiful song, she immediately fell in love with it. She sang the song and one other person told her she will make a music star in the future.
Fast forward, Nnkan joined a group called Black Image where she was really discovered and anchored any music that came with the stage drama whenever the group has a performance.
On her parents supporting her career at the beginning, her father was actually a good dancer who challenged the King of world beat himself, King Sunny Ade when Nnkan was just five years old. So, obviously her father was very supportive of her music career because he was always playing the likes of Comfort Omoge, KSA, Ebenezer Obey's music and he even go further by inviting his friends to come watch his daughter Nnkan dance to Comfort Omoge or King Sunny Ade's song where she will come out behind the curtain and danced herself to stupor because she did not see that as a performance then.
She was then called 'kokoro' by her admirers, majority of whom were her father's friends who admire her dancing talents so much. Though, Nnkan lost her father at a relatively young age of around 10 to 11, he supported her talents very strongly giving her enough confidence.
Nnkan also acknowledged her father's support after her performance at the Silverbird Most Beautiful Girl in Nigeria Pageant many years back. She remembered his support after performing for a very large crowd at the event. She also acknowledged her mother's supportive roles as well. So, her two parents have being there for her and even though they are no more but they are still there with her in spirit because she knows she can't be where she is today without God and with them, her parents being her guiding angels, watching over her and propelling her forward.
Nnkan learnt music and entertainment through the process of her long years on stage. She never went to any musical school to learn. It was an inborn thing and all she had to do is stay focused in the sector to be more knowledgeable about it all. Her stay with the Black Image and being the lead vocalist really helped and she is also highly talented. She picks her key easily and begin to learn the more she performs and the more she finds herself on stage.
Its a process here and there, learning the keyboard and others.
Currently, Nnkan is a Nurse practitioner but she is an OND holder in Business Administration from a higher institution in Nigeria and she also did several professional courses in Marketing. She is also taking some prerequisite classes in Nursing currently. Nnkan, came from a family of five and she was in the middle of the pack having two elderly ones and two younger.
Unfortunately however, Nnkan is the only living soul of her family generation and automatically became mother to all the children left behind by her late siblings. One of those children is graduating from the University while the others are doing great in their own academic rights. Like I said earlier, her father influenced her into singing though, she has this natural instinct and passion for singing in her and also her artistic director, Paul Uwagbae who was also the artistic director of Black Image then, for more than 20 years ago, he has always been encouraging Nnkan alongside the CEO of Black Image then. "So, I can only say that my dad encouraged me a lot and with the fact that music is an inborn thing with me, I have always loved to sing and that is what I know how to do best. I have been in the game for years, though I have to take some break to take good care of the kids my siblings left behind. I took over this responsibilities over a decade ago so that they can be well structured." She was quoted as saying.
If Nnkan is not into music today, she would have been a medical doctor which her father had planned for her to be right from her childhood, so, she would have been in the medical line as a nurse if not for music.
Nnkan is a beautifully married lady who has quite a lot of men flocking around her with some of them opting for a relationship, but as a married lady, she knows her boundary with them and she maintains an artiste/fan relationship with everyone of them.
For her, a star must know how to manage anyone that comes around her, Nnkan has done one album produced by Kayode Samuel way back, Music of Our Ancestors and the next one coming out soon is called Broda.
Broda is a song that ministered a lot to Nnkan, inspired by when she was going through a process of healing after a surgery and the part that her husband did really means a lot to her and she decided to did that song written by Baba T who said she is the only one that can give a good voice to that song. So, she has done one album and four singles. 'Music of our Ancestors' produced by Kayode Samuel in 2005 was her first album, her first single was 'Revolution' and the second one was 'Get More' which she didn't release until after 11 years, that was after ensuring she took good care of her siblings' children and make sure that they can stand on their own. Get More was actually a gospel song she did during a convention themed with the same name and had great impacts on the people. Next was 'Mr. DJ' and after that is the latest one 'Broda'. Its a song that is dedicated to all men and its going to be released on father's day. Nnkan realized that the only musician that appreciates men is Luther Vandross. She sees her husband as her brother, as her partner, gist partner and indeed, partner in everything. She also sees him as a father figure who advises her and she listens to him, so she dedicates the song to all wonderful men outside there.
Men who stood by somebody they love, somebody they cherish. So, for now my husband influenced me because after we got married, he was the one that propelled me that the world wants to hear my music and that is why we had to go back to the studio and he encouraged me to release 'Get More' which I have done a long time, then he pushed me again to do 'Mr. DJ' and now he is pushing me again to do another one. So, he's really influencing me into getting back to my shape and into my musical career back and that is why they say, get married to the right person. So, I will say am very grateful to him because he influenced me to getting back to music.
Fuji Star, Saheed Osupa's Daughter, Suliat Bolanle Okunola, Graduated From School Of Nurse In New Jersey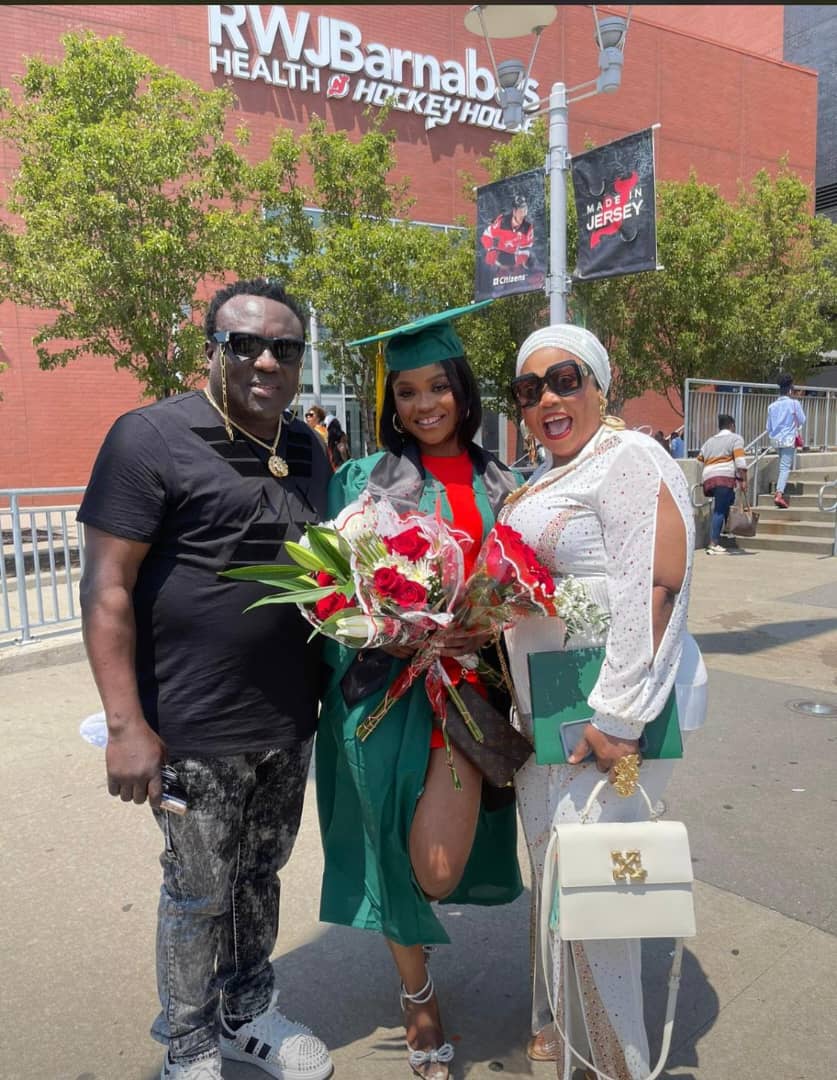 Fuji Star, Saheed Osupa's Daughter, Suliat Bolanle Okunola, Graduated From School Of Nurse In New Jersey
This is a very happy moment for the mega super star King Doctor Saheed Akorede Okunola famously known as Saheed Osupa, as his beautiful daughter, Suliat Omobolanle Okunola graduated from school of nursing in New Jersey, United States of America today.
Suliat studied nursing at Essex County College in New Jersey and very beautiful lady of substance graduated with a very good grades. The graduation ceremony was well attended by Suliat's mother and her siblings.
Big congratulations to Olufimo 1 and his entire family from all of us at 1steleven9jatv.com
Legendary Act, King Dr. Saheed Osupa Live in Toronto, Canada: A Spectacular Musical Extravaganza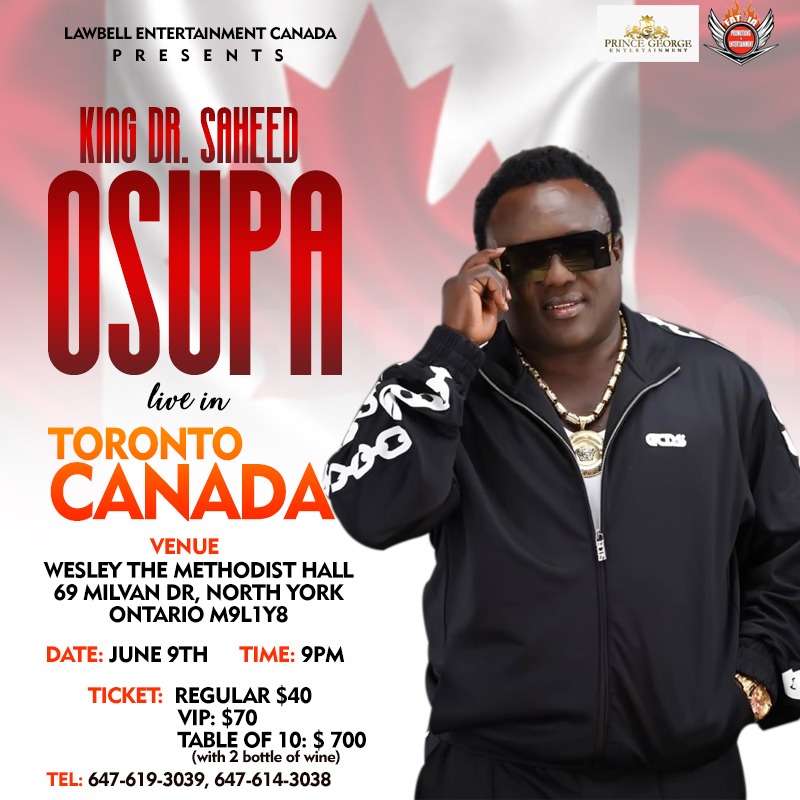 Legendary Act, King Dr. Saheed Osupa Live in Toronto, Canada: A Spectacular Musical Extravaganza
Toronto music lovers, get ready to experience an unforgettable night filled with mesmerizing tunes and rhythmic beats as the legendary King Dr. Saheed Osupa graces the stage at the Wesley the Methodist Hall on June 9, 2022. Presented by Lawbell Entertainment Canada, this highly anticipated concert promises to be a musical extravaganza like no other.
With a career spanning several decades, King Dr. Saheed Osupa has solidified his position as one of Nigeria's most celebrated musicians. His unique blend of Fuji and Juju music has captivated audiences around the world, earning him a massive fan base and numerous accolades. Now, for the first time ever, Toronto fans will have the opportunity to witness his mesmerizing performance up close and personal.
The Wesley the Methodist Hall, located at 69 Milvan Dr, North York, Ontario M9L1Y8, provides the perfect setting for this grand event. Known for its acoustics and comfortable seating, the venue ensures that every attendee will have an exceptional experience. Whether you choose to immerse yourself in the vibrant atmosphere of the regular seating area or opt for the VIP section to enjoy enhanced privileges, the night is guaranteed to be one filled with incredible music and memories.
Lawbell Entertainment Canada, a reputable event management company, takes pride in presenting world-class performances to Canadian audiences. With their expertise in organizing memorable events, they have chosen to bring King Dr. Saheed Osupa to Toronto, recognizing the immense popularity and demand for his music among the Nigerian diaspora and music enthusiasts.
The concert is scheduled to begin at 9pm, allowing attendees to fully indulge in the magic of the evening. King Dr. Saheed Osupa will showcase his exceptional talent, captivating the audience with his soulful vocals, skillful instrumentation, and energetic stage presence.
Tickets for this much-anticipated event are now available for purchase. General admission tickets are priced at $40, offering access to the concert and an opportunity to enjoy the sensational performance. For those seeking a more exclusive experience, VIP tickets are available for $70, providing premium seating, closer proximity to the stage, and a chance to get up close and personal with the artist.
If you're planning to attend the concert with a group of friends or colleagues, Lawbell Entertainment Canada offers a special Table of 10 package for $700. This package includes a reserved table for ten people and two bottles of wine, allowing you to enjoy the show while relishing the company of your loved ones.
To secure your place at this unforgettable event, reservations can be made by calling 647-619-3039 or 647-614-3038. As the concert is expected to draw a large crowd, it is advisable to book your tickets early to avoid disappointment.
The King Dr. Saheed Osupa Live in Toronto, Canada concert promises to be an evening of pure musical bliss. Whether you're a longtime fan of his music or simply appreciate the beauty of live performances, this show is not to be missed. So mark your calendars for June 9, 2022, and get ready to be transported on a melodic journey unlike any other. Experience the magic of King Dr. Saheed Osupa's music, right here in Toronto, Canada.