ECOWAS Youth Council Decorates Seyi Tinubu as an Ambassador…Honour Him with Nelson Mandela Leadership Award
Success is like wildfire that cannot be covered, this is another one coming to the stables of energetic and hardworking Chairman of Loatsad Promomedia, Seyi Tinubu as he was these past days visited in his Lekki, Lagos office in a two in one honour by the president of the Economic Community of West African States (ECOWAS) Youth Council, Ambassador Seun Williams and his team, in recognition of his mission to give the youths an opportunity.
During the visit, Seyi was presented with Nelson Mandela Leadership Awards for Excellence, he was also conferred with and decorated an Ambassador of the council.
It is no secret that he has been working assiduously to better the lives of teaming Nigerian youth through one project or the other through his Loatsad Company Corporate Social Responsibility (CSR) drive as well as through the Noella Foundation, an NGO he co-founded with his wife Layal to give back to the needy in the society, and since good works is difficult to remain hidden, accolades and awards has been coming in droves.
The award which is a move to encourage young West-Africans who are doing well in their respective works to do more has before now been given to other Nigerians like Kingsley Moghalu, the political economist who presidential candidate of the Young Progressive Party (YPP) to the 2019 presidential election, Mrs Juliet Ibekaku-Nwagwu, the Special Assistant to President Muhammadu Buhari on Justice Reform and many more Nigerians doing well in their respective field of work.
Receiving the award at the premises of his Loatsad Promomedia office, Seyi promised never to deviate from the qualities seen in him that made him deserving of such honour and encourage youths never to stop challenging themselves.
Aare Adetola Emmanuel-King Celebrates Akarigbo of Remo on 61st Birthday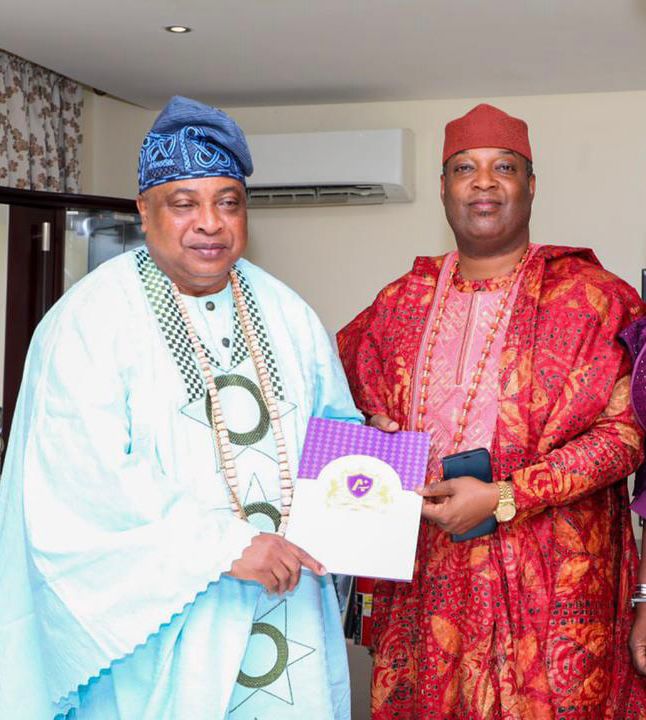 Aare Adetola Emmanuel-King Celebrates Akarigbo of Remo on 61st Birthday
The Group Managing Director of Adron Homes and Properties; Aare Adetola Emmanuel-King Has congratulated and celebrated the Akarigbo of Remo and the Paramount ruler of Remo Land, HRM Oba Babatunde Adewale Ajayi CFR (Torungbuwa II) on his 61st birthday today.
In a statement signed by his Senior Special Adviser on Media; Oladapo Sofowora, Aare Adetola described the Kabiyesi Alayeluwa Akarigbo as a King of many parts whose reign has been beneficial to all Remo sons and daughters across the globe. Aare Adetola further described him as a man of peace who is also forward-thinking and always ready to stand for what he believes in.
"Kabiyesi Alayeluwa Akarigbo of Remo is a father I hold in high esteem and I appreciate his fatherly love always. I marvelled at his approach to issues and his repertoire of knowledge in resolving crises. He is highly cerebral, cosmopolitan, peace-loving, considerate, knowledgable, and intelligent. Kabiyesi Alayeluwa Akarigbo carries the throne He occupies with so much prestige, which all sundry in Remo are proud of."
"Under his reign, it has been from one greater height to the other. We have witnessed unprecedented success and growth rates across Remo land. I want to wish Kabiyesi Alayeluwa Akarigbo a long life in good health and wealth on the throne of his forebearers. I want to wish him more wisdom and the ability to steer the Remo Ship without sinking to the promised land. I also want to wish him hitch hitch-free reign on the throne of his ancestors. On behalf of me and my wife, Olori Aderonke Emmanuel-King, I want to wish you a happy birthday and many more years Kabiyesi Alayeluwa Akarigbo."
Lagos Speaker Receives ANAN President, Charges Members On Integrity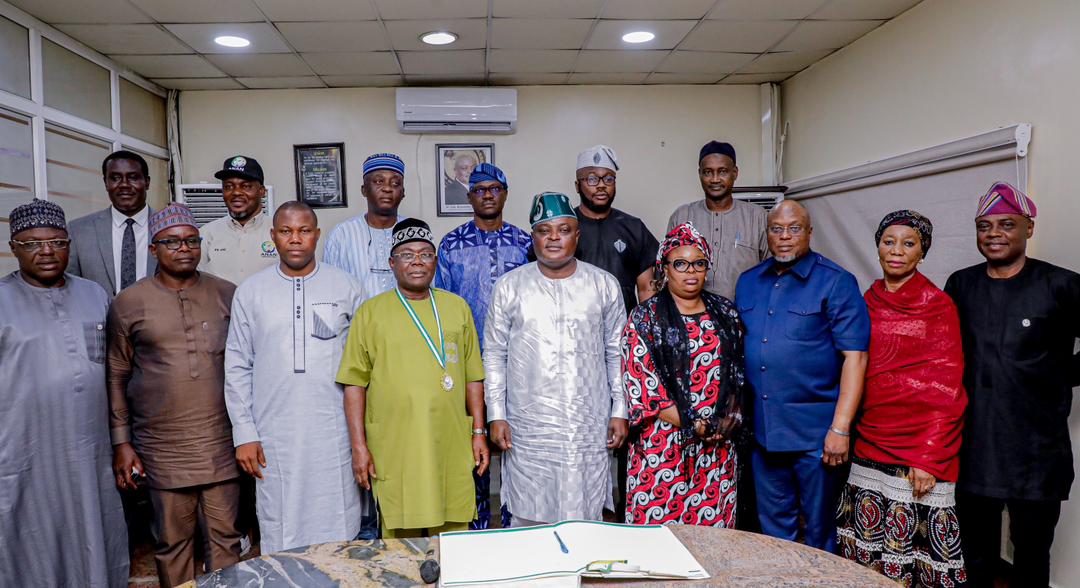 Lagos Speaker Receives ANAN President, Charges Members On Integrity
– Obasa says accountants must do more to help Nigeria
– ANAN president praises Lagos Assembly for achievements
The Speaker of the Lagos State House of Assembly, Rt. Hon. Mudashiru Obasa, has charged members of the Association of National Accountants of Nigeria (ANAN) to always uphold the virtues of honesty, integrity and trust as components of their practice.
Dr. Obasa said these three virtues, if practised with a deep sense of patriotism, would contribute to making Nigeria greater and having a more positive global image.
The Speaker gave the advice when he received the executive members of ANAN led by its president, Dr. James Ekerare Neminebor, at the State Assembly complex.
"I congratulate you for the level you have taken your association to make your members capable of favourably competing with their counterparts across the world. Training people alone is a major task. It is an exercise we embark on regularly at the Lagos State House of Assembly.
"I want to urge you to continue to sustain the practice of learning, because learning does not have an end.
"Without people of your profession, there is hardly an organisation or institution including this House of Assembly that can stand in Nigeria. This is because records of transactions must be kept.
"However, we must all be ready to address the issues of honesty, integrity and trust. I am very sure that with your association, this can be achieved.
"Where your people carry out their duties with honesty, integrity and trust, they would assist Nigeria tackle what confronts us in this nation. We have been labelled to the extent that when you mention Nigeria, what people think of is corruption.
"With your association, we can change the tide and send positive signals to the rest of the world. You know nothing can happen in any organisation without being noticed by an accountant," Obasa said.
He expressed joy that the association chose Lagos for the last leg of its training programme for its members saying the State remains open and receptive.
Earlier, Dr. Neminebor, who said they were at the House to inform the Speaker of their training programme holding in Lagos, commended the Assembly for helping to advance the growth and progress of the State through its legislative activities.
"I came to Lagos first in 1985. I have also visited in the recent past. But, I can see the wonderful things happening, because, you, a good man, decided to offer your service. Some of us who feared to come to Lagos in those days are now struggling to come.
"A colleague once said if a neck sits fine for a good head to stand on, the head will always succeed. The governor is working very hard because the House of Assembly provides him the ambience to succeed, thank you sir," he said while commending the House for the safety currently enjoyed by visitors and residents of the State.
Eromosele Ebhomele
Chief Press Secretary to the Speaker of the Lagos State House of Assembly.
JUBILATION GALORE AS SCOAN HOLDS 2023 THANKSGIVING SERVICE IN GRAND-STYLE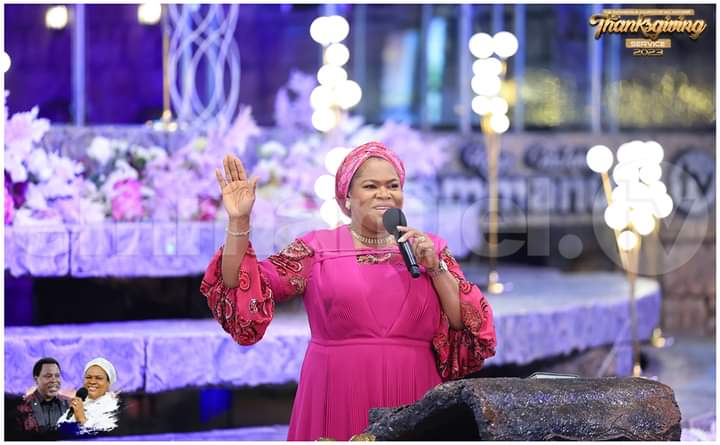 JUBILATION GALORE AS SCOAN HOLDS 2023 THANKSGIVING SERVICE IN GRAND-STYLE
It was a jubilation galore on Sunday as members of the Synagogue Church of All Nations (SCOAN), including well wishers across the globe gathered to celebrate God's faithfulness and grace upon the church at the 2nd thanksgiving anniversary.
The event which was to commemorate the reopening of the ministry after the glorious passing of its founder, the God's General Senior Prophet TBJOSHUA on June 5, 2021 and to celebrate the great and mighty works of God still heralding the ministry under the new leadership of Pastor Evelyn Joshua.
The colourful event witnessed a huge turn out of members, well wishers, guest artistes and invited guests from all over the world with an array of kaleidoscope of group members in scintillating colours of different attires.
The elated Evelyn Joshua, cladded in a simple but elegant pink attire in her speech expressed gratitude to God, ministers and members of the church who have stayed with the church even in the time of challenges.
She promised that the church's new administration would continually strive to preserve the legacy of the church's founder, Prophet TB Joshua.
"The legacy of Prophet TB Joshua shall live forever" she said
Quoting from the book of Psalm 107:1 Pastor Joshua enjoined the people to give thanks to God "for He is good and His mercy endureth for ever".
She also expressed profound gratitude to Emmanuel TV Partners for their unquantifiable support.
Highlighting various activities undertaken by the SCOAN in the year, Pastor Joshua mentioned the ministry's including special meetings at The Prayer Mountain, outreaches in Ghana, Spain, Zambia and Kenya, and numerous charity events in Spain, Turkey, Malawi, Ukraine, Kenya and other parts of the world. The woman of God also commended the different groups in the church for their faithfulness and steadfastness making the church to continue to move forward in God's grace.
High profile Gospel artiste including Christina Shusho from Tanzania performed at The SCOAN Shusho sang beautifully in Swahili language the popular southern and east African tongue to the excitement of the mammoth overflowing audience.
Guest artiste Akintayo Akinwande performed a medley of Nigerian praise songs while SCOAN youth deployed choreography to offer a dance offering to God and to illustrate a message by Prophet TB Joshua.
The Congregants also watched clips highlighting God's goodness in various amazing dimensions.
De creme de la creme from all works of life including Bishop Micheal Fleming of Church On The Street, a charity based in the United Kingdom graced the earth-shaking thanksgiving service.
Foreign visitors from all over the world, different groups of the church danced to the altar with their thanksgiving offering as the SCOAN Chorister sang like never.
All who attended the service were richly blessed and filled with joy. The church has continued to wax stronger under the leadership of Pastor Evelyn Joshua.