Ejigbo Devt. Council honours CSP Okuwobi for professionalism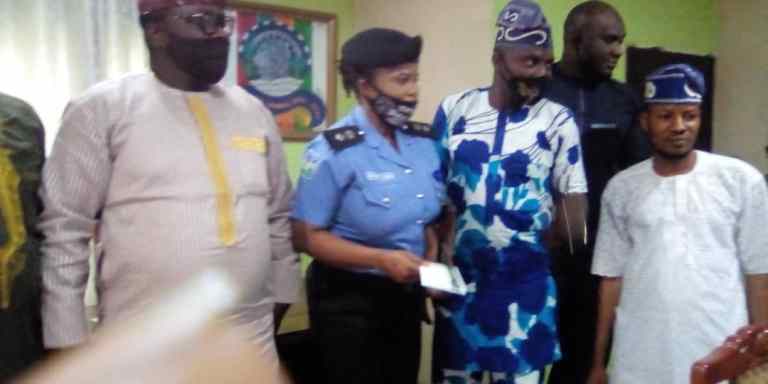 By Ifeoma Ikem
A handworking and courageous police officer of Ejigbo division, CSP Olabisi Okuwobi, was honoured for her performance and professionalism she attached to her job by the legislative arms of the Ejigbo Local Council Development Area, Lagos state.
She was honoured by her commitment in protecting lives and properties within Ejigbo and its enivorns through community policing scheme of the state.
Presenting the award, the Council Chambers Ejigbo Local Council Development Area, Rt .Hon. Olanrewaju Akinbowale, noted that the Council has been watching the activities of the DPO in Ejigbo since she took over the station especially her response through protection of lives and properties in the area.
"We noticed her performance compared to the past officers posted in Ejigbo over the years .
"Hence, the Council decided to honour her by giving her award for Outstanding Performance in her duty with the promise of providing 50 litres of petroleum every month for Police patrol vans."
He said the award was also to show appreciation and to thank the DPO with her officers because Ejigbo and its environ can now sleep with their two eyes closed and the Division responds promptly to emergency calls.
While handing over the award to her, at the Council's Parliamentary Chambers, the leader of the House, Akinbowale, described the CSP as a very hardworking, visionary, dedicated, and peace-loving officer whose character is worthy of emulation by other men of the police force.
He also reiterated that the Council and its administration had watched keenly her activities and that of the Division since she assumes the position as the DPO of the Division.
Noting that the Council has observed the high level of peace and crime-free areas in Ejigbo which is attributed to her high level of performance.
"And this, and other notable achievements by her led the Council to honor her, by presenting her with this award for Outstanding Performance in her line of duty.
"The Council will provide 50 liters of petrol every month for Police patrol vans, to enhance the effectiveness of policing in the area.
CSP Okuwobi Olabsis thanked the Honorable House for finding her worthy of such a prestigious award and saying that the award will motivate her to put more effort and dedication to her job more than ever before.
She promised that protection of lives and properties is one of her major priorities as far as she is working with the Nigeria police force not only in Ejigbo but the center point of her administration.