FIDELITY BANK BEGINS INTERNATIONAL EXPANSION DRIVE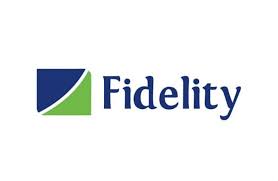 FIDELITY BANK BEGINS INTERNATIONAL EXPANSION DRIVE
With its half-year 2022 results showing a 20.7 per cent rise in profit after tax year-on-year, Fidelity Bank Plc, which last week announced the planned acquisition of Union Bank UK, is leaving no one in doubt with its readiness to avail itself of the tremendous gains of international presence.
In response to their peculiar needs and ever-changing business environment, commercial banks in Nigeria have continued to raise their scale through deliberate acquisitions and business combinations.
This is because, unlike in the past when the Central Bank of Nigeria (CBN) had to raise the capital threshold, forcing banks to either opt for public offers to raise additional funds or merge with operators with similar visions, it is the competition for the sphere of influence that is driving most mergers and acquisition these days.
Analysts attribute the development to the shrinkage of business opportunities amid the current global economic challenges.
Banking industry watchers said with the keen competition by fintech companies and the rising appetite of consumers of banking products for innovations and risks, there are pressures on banks to leave their comfort zones and respond to these growing needs.
Consequently, banks decided to go for options that are best suited for them including the option of a holding company where they bring their non-banking operations under one umbrella. Others decided to go for acquisitions to create a niche for themselves.
It is under the latter category that Fidelity Bank Plc falls as it announced a business combination with a United Kingdom bank last week.
The bank disclosed that it has entered into a binding agreement for the acquisition of a 100% equity stake in Union Bank UK Plc for which the central bank has issued a letter of no objection.
The move is seen as an opportunity for Fidelity Bank to optimise its international banking licence and take advantage of the planned business combination with Union Bank UK, which has been offering competitive banking services including personal banking, trades finance, treasury management, and structured trade and community finance, which offers to individual and corporate clients for as far back as 1983.
Although the transaction is subject to the approval of the Prudential Regulatory Authority of the United Kingdom, Fidelity Bank officials said they hope to leverage the gains of the acquisition to improve the bank's returns to its shareholders and to add value to its current and prospective customers.
Improved Half-Year Result
The news of the planned acquisition came the same week that Fidelity Bank's half-year result for 2022 made its way to the public domain.
Analysts said with the impressive results, Fidelity Bank has demonstrated the capacity to be competitive in the Nigerian banking industry.
According to the unaudited half-year results, the bank posted a profit after tax of N23.307 billion for its 2022 half-year results, representing a growth of 20.72% year-on-year.
In the financials submitted to the Nigeria Exchange Group Limited (NGX), the bank also made significant improvements across key performance indicators.
The results indicate that the bank's gross earnings rose by 37.87% to N154.843 billion from N112.304 billion reported in 2021, driven by a 50% growth in net interest income.
Profit before tax stood at N25.079 billion from N20.628 billion posted in 2021, representing a growth of 21.57%.
Interest and similar income using the effective interest rate method rose by 48.45% from N85.090 billion recorded in the first quarter (Q1) of 2021 to N126.348 billion in the period under review.
Based on the result the Board of Directors under the powers vested in it by Section 426 of the Companies and Allied Matters Act (CAMA 2020), proposed an interim dividend of 10 Kobo per share amounting to N2,896,258,569.20 from Retained Earnings as of 30 June 2022.
The Register of Shareholders will be closed on September 13, 2022. The qualification date is September 12, 2022.
On September 20, 2022 dividends will be paid electronically to shareholders whose names appear on the Register of Members as of September 12, 2022, and who have completed the e-dividend registration and mandated the Registrar to pay their dividends directly into their bank accounts.
The planned acquisition of Union Bank UK signposts the final transition of the former Union Bank of Nigeria Plc to new separate owners. In December 2021, Union Bank's core investors – Union Global Partners Limited and Atlas Mara –reached a Share Sale and Purchase Agreement (SSPA) with Titan Trust Bank (TTB) for the sale of 89.39 percent of Union Bank's issued share capital.
The agreement came a decade after the initial investment by the core investors in 2012.
Commenting on the bank's performance in March, the MD/CEO, Fidelity Bank Plc, Nneka Onyeali-Ikpe, said: "Digital Banking gained further traction driven by new initiatives in our retail business and the enhancement of existing digital banking products.
We now have 56.0% of our customers enrolled on the mobile/internet banking products and 90.0% of total customer-induced transactions done on digital platforms with digital banking business contributing 27.6% to net fee income."
Fidelity Bank is described as a highly capitalised bank with a Capital Adequacy Ratio (CAR) of 19.8% in H1 2022. It successfully acquired and integrated two operating commercial banks (FSB and Manny Bank).
The bank boasts of a strong trade and export business with a diversified portfolio across sectors and market segments. It also has a wide distribution network serving over seven million customers. Today, Fidelity Bank is the only bank of its size in Nigeria with no business operation outside the shores of Nigeria.
Value Addition
At an interactive session with some financial journalists in Lagos last week, the bank's Executive Director in charge of Operations and Information, Mr. Stanley Amuchie, explained that the acquisition aligns with the bank's short to medium-term aspirations and international expansion drive.
Interestingly, UBUK's competitive range of banking services includes Personal Banking, Trade Finance, Treasury Management, Structured Trade, and Commodity Finance which it offers to individual and corporate clients.
Listing the attraction in the UBUK, Amuchie said the bank offers a robust range of banking services to customers doing business from and into Africa, including trade finance, personal banking, business banking, treasury services, and commercial lending.
It is going to be a plus for Fidelity Bank to combine business with the UBK which provides extensive trade financing to businesses or individuals, that includes secure tracking of physical risks and events in the chain between importers and exporters.
Amuchie explained that up till now, what Fidelity Bank does when it needs to satisfy the demand of its Nigerian customers with banking needs in the UK is to work with other banks.
However, with the ongoing acquisition, the bank will not only meet the needs of its customers with ease, but it will also be able to conserve fees that it would have paid to another bank.
"Union Bank UK provides extensive trade financing to businesses or individuals that includes secure tracking of physical risks and events in the chain between importers and exporters," he stated, adding that the bank provides transaction and liquidity management services to individuals and businesses, helping clients trade across borders and ensuring timely delivery and collection of payments.
Enhanced Product Offering
According to him, a significant captive business opportunity exists in Fidelity books as well as enhanced product offerings, bundled services, and cross-selling.
Other low-hanging fruits from the acquisitions include the offer of international banking service support, especially for HNIs in Nigeria, trade finance, and a corresponding banking relationship with Fidelity Bank.
In terms of operation, there is the prospect of cross-border collaboration in sales and client services, while the possibility of shared services will be considered.
Amuchie also talked about workforce transformation and integration of performance culture by the time the acquisition is fully consummated.
The acquisition also raises the prospect of significant captive business opportunities for UBUK from Fidelity Bank's existing foreign currency transactions in Nigeria.
Fidelity Bank is also looking at the possibility of revenue and cost optimisation through cross-selling and shared services.
It is also believed that complementary business operations will enable strong value creation for shareholders and clear benefits for customers, staff, and other key stakeholders.
Throwing more light on the expectations from the acquisition, Amuchie pointed out that "UBUK will service other subsidiaries of Fidelity Bank under the proposed Holdco structure.
He added that there is potential for stronger customer loyalty and stickiness through integrated financial services and bundled products for diaspora customers and corporate banking clients, etc.
The bank was recently recognised as the Best SME Bank Nigeria 2022 by the Global Banking & Finance Awards. It has also won awards for the 'Fastest Growing Bank' and 'MSME & Entrepreneurship Financing Bank of the Year' at the 2021 BusinessDay Banks and Other Financial Institutions (BAFI) Awards.
Commenting on the agreement, Onyeali-Ikpe said: "This transaction aligns with our strategic plan of expanding our services touchpoints beyond the Nigerian market and providing straight-through services that meet and exceed the needs of our growing clients.
The diverse bouquet and business model of Union Bank UK offer a compelling synergy and we hope to build on the existing capacity to create a scalable and more sustaining service franchise that will support the wider ecosystem of our trade businesses and diaspora banking service
ZENITH BANK SIGNS MOU WITH THE FRENCH GOVERNMENT TO ESTABLISH A SUBSIDIARY IN FRANCE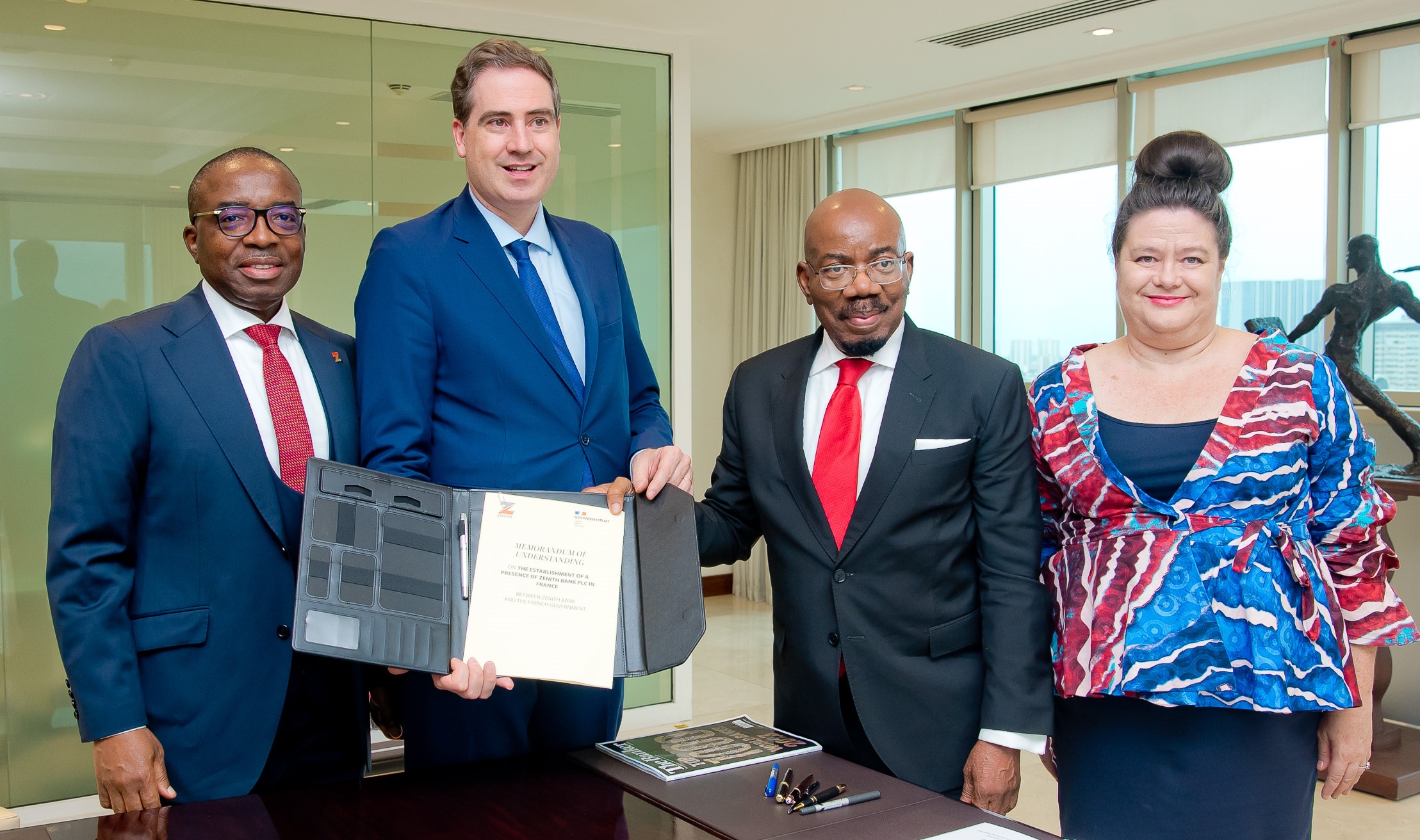 ZENITH BANK SIGNS MOU WITH THE FRENCH GOVERNMENT TO ESTABLISH A SUBSIDIARY IN FRANCE
Sahara Weekly Reports That Zenith Bank Plc has signed a Memorandum of Understanding (MoU) with the French Government to establish a subsidiary of Zenith Bank Plc in France. The MoU, which was signed by the Founder and Chairman of Zenith Bank Plc, Jim Ovia, CFR, and the French Minister for Trade, Attractiveness and French Nationals Abroad, Mr. Olivier Becht on Friday, November 24, 2023, will enable Zenith Bank, through its wholly owned subsidiary, Zenith Bank (UK) Limited, to seek and secure the requisite regulatory approval from the Autorite' de Controle Prudentiel et de Resolution (ACPR) to establish a strategic presence in France.
Speaking during the signing ceremony, the Founder and Chairman of Zenith Bank Plc, Jim Ovia, CFR, said, "It gives me great pleasure to welcome you to Nigeria and Zenith Bank. I am indeed very delighted about the signing of this MoU with France. For me, it is an honour to do this on behalf of the bank, and we look forward to securing the licence and starting operations in early 2024". He thanked the French Ambassador to Nigeria, Emmanuelle Blatmann and her colleagues at the French Embassy in Nigeria for their efforts towards improving French-Nigerian business relations.
Also speaking during the ceremony, the French Minister for Trade, Attractiveness and French Nationals Abroad, Mr. Olivier Becht, said: "I want to thank you very much for your decision to open a branch of Zenith Bank in Paris. We are thrilled to welcome in France Zenith Bank's first office inside the European Union. For us, that's a very good signal, and it is undoubtedly a demonstration of mutual confidence. No doubt also that your vision on international finance guided you to decide to open this branch and this decision in many respects can also be regarded as a milestone in French-Nigerian economic relations and an illustration of our friendship". He noted that the government of President Macron had adopted a pro-business agenda in order to make France more attractive by undertaking several reforms in labour law, simplifying a lot of procedures and cutting business taxes, corporate taxes and production taxes by more than 25 billion Euros, adding that "we hope that the opening of the branch of Zenith Bank in France will also be an occasion to boost the French-Nigerian business in order to have more French companies investing in Nigeria and also to have more Nigerian companies investing in France".
Zenith Bank has continued to distinguish itself in the Nigerian financial services industry through superior service offerings, unique customer experience and sound financial indices. The bank remains a clear leader in the digital space, with several firsts in deploying innovative products and solutions and an assortment of alternative channels that ensure convenience, speed, and safety of transactions. Zenith Bank also has subsidiaries in Ghana, Zenith Bank (Ghana) Limited; Sierra Leone, Zenith Bank (Sierra Leone) Limited; The Gambia, Zenith Bank (Gambia) Limited. The Bank also has a Representative Office in The People's Republic of China.
FIRSTBANK REWARDS CUSTOMERS WITH 170,000,000 WORTH OF CASH PRIZES IN ITS WIN BIG PROMO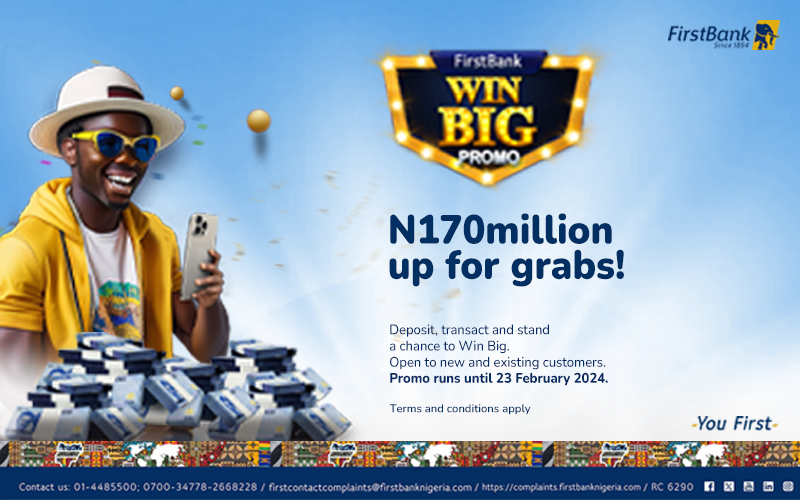 FIRSTBANK REWARDS CUSTOMERS WITH 170,000,000 WORTH OF CASH PRIZES IN ITS WIN BIG PROMO
Sahara Weekly Reports That FirstBank, Nigeria's premier financial institution and leading financial inclusion services provider, has launched the Win Big promo to reward and delight its valued customers. The four-month promo, which started on 23 October 2023 and will run till 23 February 2023 will reward several new and existing customers of the Bank with a total cash reward of 170,000,000.00 naira.
At the end of the four-month promo, 1,240 new and existing customers would have been rewarded with N100,000.00 each as each month will have 310 new and existing customers winning N100,000. Up to 40,000 customers who reactivate their dormant account stand a chance to win free airtime as 10,000 customers will be rewarded with free airtime monthly for reactivating their dormant account.
6 customers will emerge lucky winners of N1,000,000 each in the grand finale draw. The promo is open to new and existing savings and current account customers.
To open a FirstBank account dial USSD code *894*0# and follow the prompt or visit the Bank's website and click on "Open Account". You can also visit any FirstBank branch near you to open account.
To qualify for the N100,000 monthly draw, customers will have to deposit and maintain a minimum amount of 5,000.00 in their account monthly and transact a minimum of 5 times transactions on any of the Bank's digital channels: FirstMobile, LIT App, USSD, First Online as well as Debit Card transactions.
Customers who are eligible to win N1,000,000 must have a deposit of N50,000.00 monthly for four consecutive months or maintain a minimum deposit of N200,000.00 for four months and transact a minimum of 5 times on any of the Bank's digital banking channels; FirstMobile, LIT App, USSD, First Online as well as Debit Card transactions to qualify for the grand finale draw.
Customers who reactivate their account(s) are also eligible to win. For reactivating their account, the first 10,000 customers to deposit N1,000.00 and transact on any of the Bank's digital channels: FirstMobile, LIT App, USSD, First Online and Debit Card transactions will be rewarded with free airtime. Customers who reactivate their dormant account could also qualify for the monthly draw when they deposit and maintain a minimum amount of N5,000 monthly and transact a minimum of 5 times on any of the Bank's digital channels. They could also emerge winners of N1,000,000 in the grade finale draw if they meet the criteria.
To reactivate account, the customers will have to dial USSD code *894*7# and follow the prompt to reactivate Tier 1 accounts or visit any nearest FirstBank branch for Tier 2 and 3 account reactivation.
"We are thrilled to launch this promo in appreciation of the patronage, trust and loyalty our customers have shown us over the years," said Ms. Folake Ani-Mumuney, Group Head, Marketing & Corporate Communications, FirstBank Group. The exciting modalities of the promo reflect our commitment to enhancing the banking experience of our customers across any or all of our digital banking services."
This is the season when FirstBank provides opportunities and platforms for the yearly memorable homecoming experience from across the world. The promo is an enabling opportunity for customers, their friends, and families to have exciting, fun-filled, memorable experiences. We encourage our customers to seize this opportunity and participate actively' she concluded.
For more updates on the promo and other exciting offerings from FirstBank, follow the Bank's social media handles on – Facebook: First Bank of Nigeria Limited, Instagram: @firstbanknigeria and X (formerly twitter): @FirstBankngr.
GTCO Plc Releases Q3 2023 Unaudited Results……..Reports Profit Before Tax of ₦433.2billion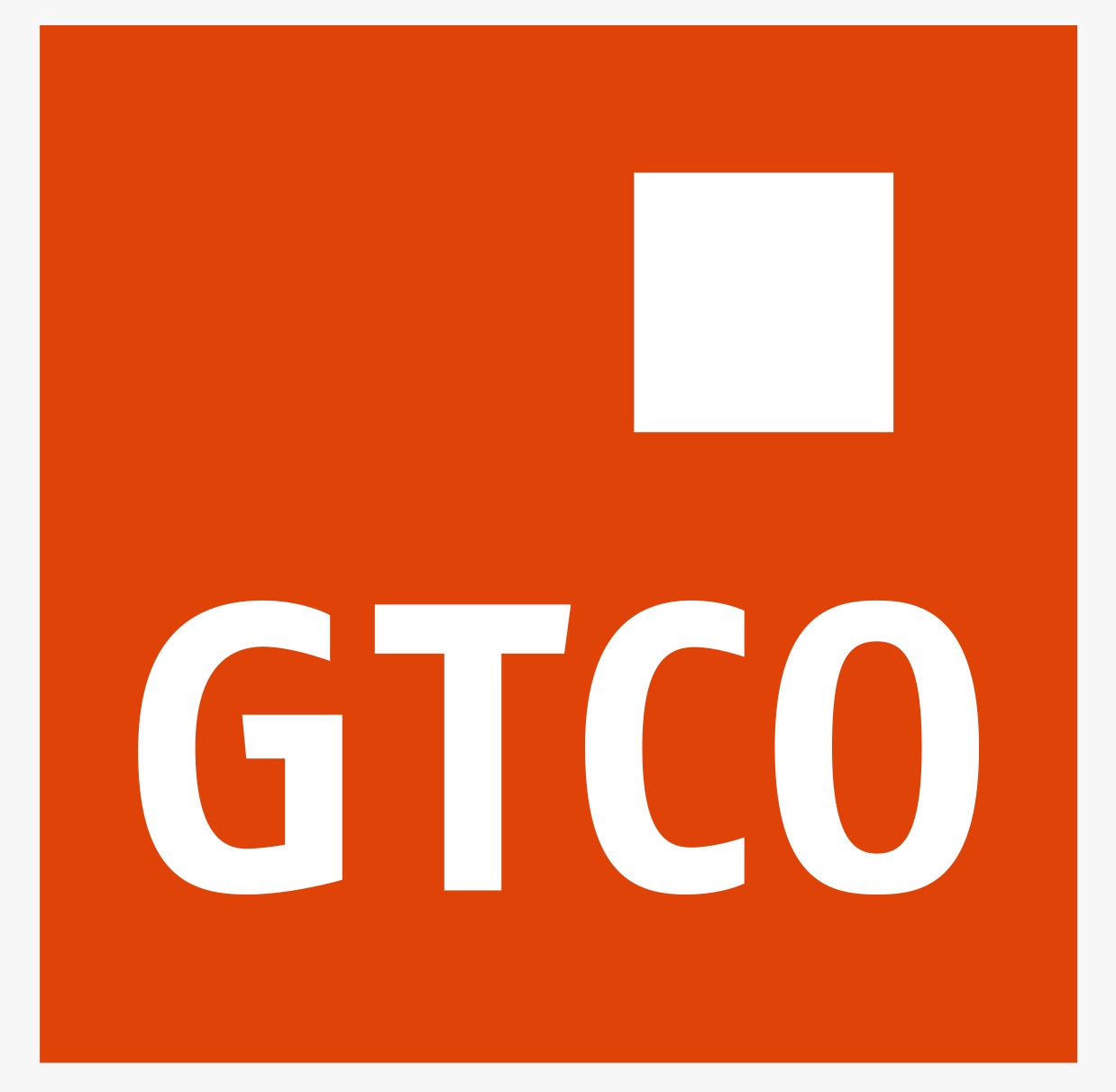 GTCO Plc Releases Q3 2023 Unaudited Results……..Reports Profit Before Tax of ₦433.2billion
Guaranty Trust Holding Company Plc ("GTCO" or the "Group") has released its Unaudited Consolidated and Separate Financial Statements for the period ended September 30, 2023, to the Nigerian Exchange Group (NGX) and London Stock Exchange (LSE).
The Group reported profit before tax of ₦433.2billion, representing an increase of 155.2% over ₦169.7billion recorded in the corresponding period ended September 2022. The Group's loan book (net) grew by 17.7% from ₦1.89trillion recorded as at December 2022 to ₦2.22trillion in September 2023, while deposit liabilities increased by 37.9% from ₦4.61trillion in December 2022 to ₦6.36trillion in September 2023.
The Group's balance sheet remained well structured and resilient with total assets and shareholders' funds closing at ₦8.6trillion and ₦1.3trillion, respectively. Full Impact Capital Adequacy Ratio (CAR) remained very strong, closing at 25.1%, while asset quality was sustained as IFRS 9 Stage 3 Loans improved to 3.8% in September 2023 from 5.2% December 2022, however, Cost of Risk (COR) closed at 4.1% from 0.6% in December 2022 owing to Management's conservative stance on provisioning as macros worsened y-o-y, weighing negatively on the ECL variables.
Commenting on the results, the Group Chief Executive Officer of Guaranty Trust Holding Company Plc, Mr. Segun Agbaje, said; Our 3rd Quarter performance underpins our strategic positioning as a leading Financial Holding Company and reaffirms our strong capabilities to successfully navigate the challenges in our operating environment. Going into the final quarter of the year, we will continue to leverage the strengths within our growing financial services ecosystem to improve our products and service offerings, enhance customer experience, and maximise shareholder value."
He further said; "We are proud of our work towards Promoting Enterprise across the African continent over the years and remain committed to helping indigenous small businesses thrive through our consumer-focused fairs. The 6th Edition of the GTCO Fashion Weekend is scheduled to hold in Lagos, Nigeria, on 11/12 November 2023, and will give entrepreneurs in the Nigerian fashion retail space a free-business platform to showcase their diverse talents and creativity to a global audience."
Overall, the Group continues to post one of the best metrics in the Nigerian Financial Services industry in terms of key financial ratios i.e., Pre-Tax Return on Equity (ROAE) of 52.4%, Pre-Tax Return on Assets (ROAA) of 7.7%, Full Impact Capital Adequacy Ratio (CAR) of 25.1% and Cost to Income ratio of 29.7%.
GTCO is a leading financial services group with banking operations in Nigeria, West Africa, East Africa, and the United Kingdom alongside new businesses in Payment, Funds Management and Pension Fund Administration. Its leadership in the banking industry and efforts at empowering people and communities has earned it many prestigious awards over the years. Recently, Guaranty Trust Bank was recognized as Nigeria's Best Bank and Best Bank in CSR at the 2023 Euromoney Awards for Excellence, Best Banking Group in Nigeria by World Finance, and Best Bank in Nigeria by Global Finance. GTCO's Guaranty Trust Bank is featured in the Top 1000 Banks in the World and Top 100 Banks in Africa rankings by The Banker