French Montana Donates 500 Canoes to Makoko Community Where he Shot 'Wish U Well' Video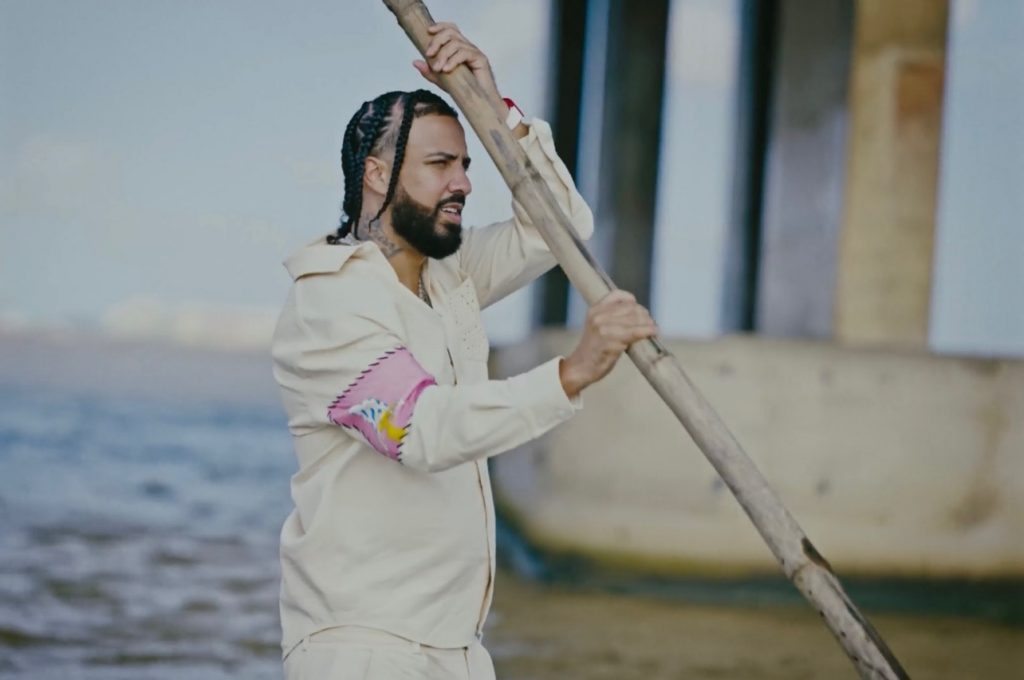 French Montana Donates 500 Canoes to Makoko Community Where he Shot 'Wish U Well' Video
Three times Grammy-nominated, Diamond-certified recording artist, humanitarian, and entrepreneur French Montana announces a generous donation of 500 canoes to the community of Makoko, an impoverished community built atop coastal waters in Yaba, Lagos Mainland. Makoko served as the site location for Montana's latest music video "Wish U Well," which was released last Friday.
His decision to employ local craftsmen in his donation of 500 canoes will boost the local economy and support the livelihood of the community members. This continues Montana's journey of giving back to communities in need after deeply connecting with the people, the culture, and understanding what is necessary to support the local ecosystem.
Six years ago in Uganda, alongside the release of the diamond record "Unforgettable," Montana embarked on a vision with the local community while filming the music video with Swae Lee to build the Suubi Health Center.
His financial contributions, matched by others, opened the door to maternal healthcare for thousands of underserved mothers, women, and children across 55 remote villages accomplished in partnership with Global Citizen and Mama Hope. This still rings true today as Montana continues his global humanitarian and advocacy efforts giving back to those that don't have the proper funding or resources.
Makoko serves as the backdrop for the "Wish U Well" music video, capturing the resilient spirit and vibrant culture that thrives within the city. The visuals serve as a love letter to Makoko for Montana and Swae, who spent time together there learning about the way of life and connecting with the people.
But looking beyond its captivating visuals and resonant lyrics, the release of "Wish U Well" marks the catalyst for a groundbreaking philanthropic initiative that underscores Montana's unwavering commitment to driving positive change.
Montana's impact resonates profoundly as he collaborates with Swae Lee, gamma., and SALXCO to donate 500 wooden canoe boats to a community of 200,000 people who are endangered by critical flooding threats on a regular basis. Makoko, a suburb in Lagos, Nigeria, was once a vibrant "fishermen's village" with homes built on stilts along the Lagos Lagoon, but now the community faces significant challenges due to pollution and sewage drainage complications.
The lack of adequate sanitation systems adds to the challenging situation, but amidst these hardships, innovative projects are emerging to revitalize the community and strengthen its ability to cope with the impacts of climate change. To ensure the success of this initiative, the partners have outlined a clear plan with Montana at the helm: The large financial contribution for the project will fund the production of the 500 boats.
With a production rate of approximately 6 boats per week, per contractor, the delivery of all 500 boats is projected to conclude within four months, by December, just in time for Christmas.
"I witnessed firsthand how water is both a lifeline and an obstacle in Makoko. These boats are essential tools transporting the residents of Makoko and goods and services," said Montana. "As an immigrant from Morocco, giving back to communities in Africa, the place that raised me is so important.
When I was filming, I met local leaders who talked about the daily struggles and aspirations of the wider community. I was moved by their spirit and positivity, which inspired me to get involved and to help impact change."
Earlier this summer, Montana announced a partnership with "gamma.", a multimedia platform that prioritizes artists, offering a range of creative and business services spanning various artistic and commercial mediums. In conjunction with the partnership came the release of Montana's latest single and video for "Good Summer", which blends the timeless allure of Wayne Wonder's iconic hit "No Letting Go" with the irresistible groove of Nuskie's "New Orleans Bounce."
Real Reasons Glo Unveiled Kizz Daniel, Asake, And Chike As Brand Ambassadors
Real Reasons Glo Unveiled Kizz Daniel, Asake, And Chike As Brand Ambassadors
Three Nigerian music acts, described by Globacom as "role models who have gone through the grind to stand on the highest pedestal of their dreams", signed an agreement as Glo brand ambassadors at a colourful ceremony at the company's corporate headquarters in Lagos.
They include Ahmed Ololade, globally known by his brand name, Asake, is a graduate of the Obafemi Awolowo University, Ile Ife, Osun State, while Oluwatobiloba Daniel Anidugbe, the Buga exponent, generally known as Kizz Daniel, has a degree in Water Engineering from the Federal University of Agriculture, Abeokuta, Ogun State.
The third new Glo ambassador, Chike as he is called by his fans, was born as Chike Ezekpeazu Osebuka.
He is a graduate of Computer Engineering, from Covenant University, Ogun State.
The company, which marked its 20th anniversary in August stated that it "is celebrating this with the endorsement of these new ambassadors to project the power of youth and enterprise and how much they can achieve with the right focus, passion and dedication that can come from seeing others who have succeeded. This is very much part of our tradition as we believe the strength of a nation lies in the ability and potentials of its youth".
It explained that the engagement of the new brand icons "is meant to project the best Nigerians as models for younger people who are tirelessly aspiring to succeed. This is more important in an era where positive heroes and mentors are scarce and hard to come by. The intention is not just to promote the growth of music, Nollywood and sports where we have been very prominent, but also to encourage our teeming youths to aspire toward realizing their dreams by looking up to these ambassadors as mentors".
Globacom, which since inception has always sponsored major events and supported talented as well as enterprising young Nigerians by making them Glo ambassadors, explained that this innovation has become a practice for which Globacom has always led the way in Nigeria.
Congratulating them, Glo which stated that "having these stars as ambassadors of is our way of inspiring a whole generation of young people with vision who can do better and achieve more without losing hope along the way, even when confronted with challenges," pledged to continue to promote the sector as it held great prospects to promote Nigeria to the world and also transforming lives.
On their part, the new ambassadors promised to represent the Glo brand by projecting the ideals of the company at all times.
They thanked the founder and Chairman of Globacom, Dr Mike Adenuga Jr., for considering them worthy of being appointed as the company's brand ambassadors.
Serie A: Oliseh advises Osimhen to quit Napoli over TikTok video
Serie A: Oliseh advises Osimhen to quit Napoli over TikTok video
Former Super Eagles head coach Sunday Oliseh has advised Victor Osimhen to leave Serie A champions Napoli.
Napoli mocked Osimhen in a TikTok video posted earlier this week after he missed a penalty in the 0-0 draw at Bologna.
The forward reacted by deleting all of Napoli's pictures and videos from his social media handles, with his agent threatening to take legal action against the club.
The 24-year-old snubbed a number of his teammates on his arrival at the team hotel ahead of Napoli's Serie A clash with Udinese on Wednesday.
Commenting on the issue, Oliseh wrote on his X handle:" Forever proud to be Nigerian; One must show personality, work hard & refuse to be intimidated. let Racists and ingrates talk! That's why they are eternal losers who secretly wish they were created like you! Osimhen needs to leave Napoli as soon as yesterday!!."
The forward has scored four goals in six league appearances for Rudi Garcia's side this season.
Top Gospel Singer, Mama Soni Set To Release Super Single, Sowaji
Top Gospel Singer, Mama Soni Set To Release Super Single, Sowaji
kemi Adeniyi-Babalola (KAB), popularly known as "Mama Sioni" or Segan mi D'ogo was born into the family of Elder and Deaconess Augustine and Lucia Adeniyi at Lawanson, Surulere – Lagos on May 1st, 1967.
As a Lagos-born Nigerian Soul, Highlife Gospel Singer, and Song Writer, she attended Municipal Primary School, Obele-Odan, Surulere, Doherty Memorial Grammar School, Ijero Ekiti, Lagos State Polytechnic, and University of Lagos respectively.
Her first debut DANSAKI RE, IN 1990 was a Hit, which got her signed into a EMI Record aka Ivory Music and Remdel Music for Ten Years, where she released DANSAKI RE, I HAVE JOY(another super hit), ROSE OF SHARON AND SHOUT IT LOUD. Shortly after completing her 10-year contract, she released another Great Hit titled Segan mi D'ogo which earned her that stage name. Another album followed in 2006 Sioni Npe Mi which was yet another super hit that changed her stage name once again to Mama Sioni.
Her other Albums include Ilekun Ayo, Eri Nla, Iwe Orin I & ll, Dara Funmi, My Halleluyah, and Sowaji ( heartbeat and Prayer for our dear Motherland).
KAB worked at different corporate offices before resigning to Music., but aside from music, she is an Evangelist of the Word and Marriage Counsellor.
She is happily married to Engr and Pastor Adeolu Babalola. She has three lovely children: Oluwanifemi, Oluwadabira, and ObabiOlorunkosi! (In case you find the names tongue-twisting, simply call them Precious, Promise & Praise😇)
KAB is a spirit-filled Gospel Maestro dedicated to song evangelism and pure Gospel music.
Kemi Adeniyi Babalola is set to release a single on the 1st of October 2023, Titled SOWAJI on Audiomac, Spotify, Boomplay and Youtube