FrieslandCampina WAMCO beats the odds, announces 35% revenue increase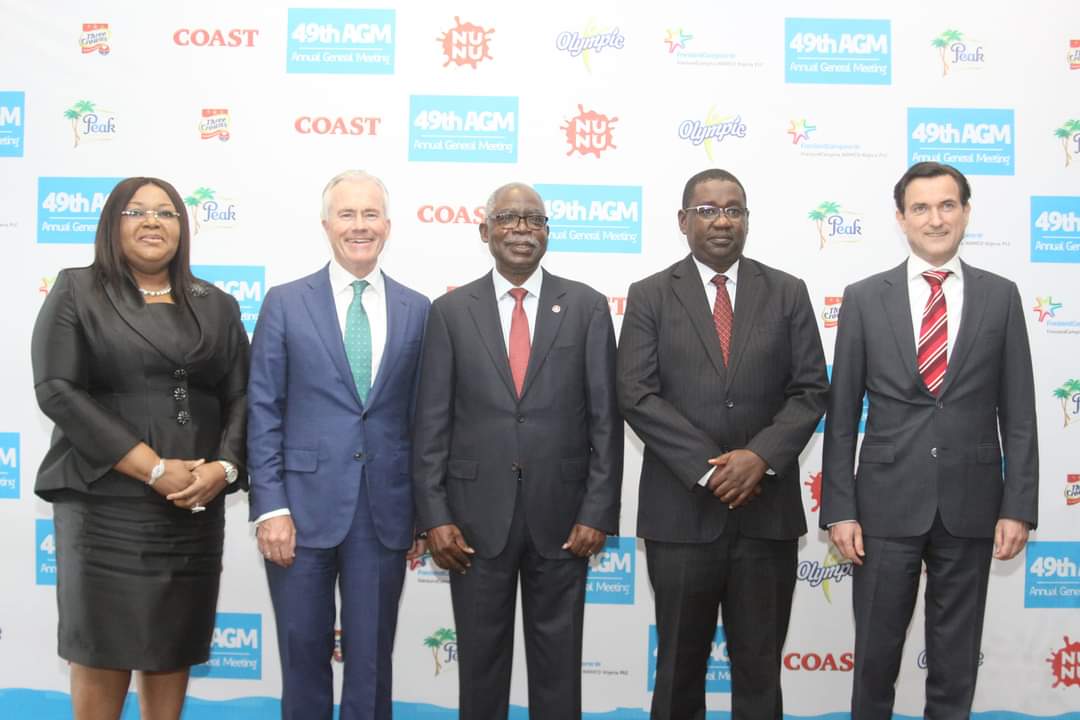 FrieslandCampina WAMCO beats the odds, announces 35% revenue increase
Dairy leader and maker of Peak, Three Crowns, Coast, Olympic and Nunu brands of milk FrieslandCampina WAMCO Nigeria PLC has announced 35% revenue growth and 1-for-1 bonus at its 49th Annual General Meeting held recently at the Sheraton Hotel, Ikeja, Lagos.
*Operating Results and Performance:*
The Company achieved strong volume and value growth compared with the previous year despite the difficult operating environment characterised by increased competition and influx of substitute propositions. As a result, Turnover increased by 35% from N199.5 billion in 2020 to N268.4 billion in 2021. Operating Profit increased by 13% from N19.4 Billion in 2020 to N22 Billion in 2021. High Finance costs due to Naira devaluation led to a decline in Profit Before Tax (PBT) by 15% from N14.9 billion in 2020 to N12.7 billion in 2021.
Ben Langat, Managing Director FrieslandCampina WAMCO Nigeria PLC and Sub-Sahara Africa Cluster, explained: "In the year under review, we made excellent progress in strengthening our business strategies. We scaled up investments in brands and optimized physical availability. The combination of solid brands, operational excellence and expanded route-to-market (RTM) distribution strategy sustained our leadership position and delivered significant top-line growth. Likewise, our sustainable Dairy Development received a boost through significant initiatives including collaboration on the Value4Dairy Consortium, investment in a new mobile yoghurt factory to scale up fresh milk processing, expansion to new states; all modelled towards delivering and accelerating backward integration of the dairy sector in Nigeria."
In accordance with the company's dividend policy, the Board of Directors proposed a total dividend of N5.83 per N0.50 ordinary share. An interim dividend of N1.10 was paid in 2021, and a final cash dividend of N4.23per N0.50 share was approved by the shareholders at the Annual General Meeting plus a bonus share to be issued to existing shareholders on a one-for-one basis i.e., one ordinary share with a nominal value of N0.50 for each share owned.
According to Mr. Moyo Ajekigbe, OFR, Chairman, Board of Directors, "Our achievements in 2021 were the result of concerted efforts by various stakeholders, and I would like to express my appreciation to them for their valued contributions. The Board recognises the formidable leadership, resilience and professionalism of the Management Team, which delivered the strong performance recorded in 2021; and our greatly valued employees at all levels for their hard work, dedication and continued commitment. Despite the severe headwinds in our business environment, our Company was able to sustainably grow the business across the board."
*2022 Company Outlook*
The country's GDP is expected to grow by 3-4%; however, the outlook remains clouded by uncertainty surrounding oil price trajectory, scarcity of FX, rising inflation, high unemployment, security challenges and social tensions across the country. Both the supply and demand sides of our business would be under immense pressure. The expected volatility and uncertainty in the business environment not withstanding, the Board and Management remain confident about the future of the Company and are committed to its success and sustainability. We are confident that the Company's brands, which are leaders in the dairy sector, will continue to leverage our optimised route-to-market. We will continue to aggressively pursue our backward integration and product diversification strategies with vigour to ensure the long-term sustainability of our business.
INEC remain problematic institution in Nigeria -Barr. Agbonwannegbe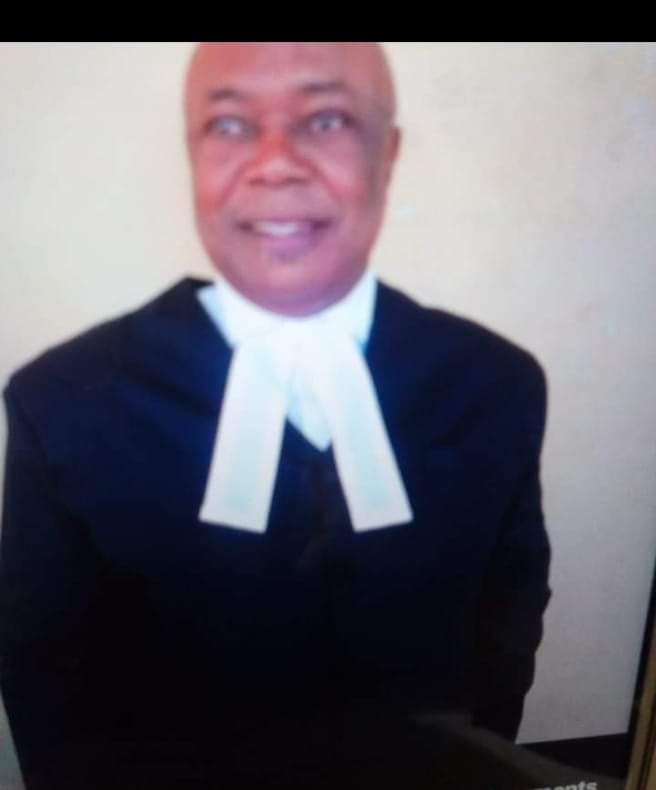 INEC remain problematic institution in Nigeria -Barr. Agbonwannegbe
By Elvis Omoregie
A chieftain of the Peoples Democratic Party (PDP) and former Commissioner of Agriculture in Edo State Hon. Barr. Chris Agbonwannegbe, yesterday, berated the Independent National Electoral Commission (INEC) on roles played in the just concluded general elections in the country.
Agbonwannegbe said due to what played out on the Presidential, National and States Houses of Assembly elections, it clearly shows that INEC remains a problematic institution in the country.
The former Commissioner made the assertion while speaking with journalists in Benin City, the State capital on the overview of the general elections.
According to him, while the deployment of materials to voting centers were early this time but the conclusion through the length and breadth of the country including Edo State was not good because INEC allowed thugs to steal ballot boxes and papers at the collations points without having solutions.
"INEC remained a problematic institution in this country. The deployment of materials to voting centers was very early this time around but their conclusion through the length and breadth of the country including Edo State wasn't very good because they allowed thugs to be stealing ballots papers and collations papers at the collations points.
"You see, those collations are supposed to be manned with BVAS but those who new they were losing at every level, they must try to destroy it so that you don't see it to compare and INEC allowed it to happen and they don't have a solution for what happened if that situation happened."
"There were very low turnout of voters particularly in Edo State on the House of Assembly elections arising from on the 25th of February elections people were thinking their votes will count at the beginning not knowing reverse will be the case so they feel there was no reason going out to vote again only the traditional voters came out to vote. What I mean by traditional voters, are those who are in politics rarely came out he said."
He used the opportunity to thank Edo people for rally round their governor, Godwin Obaseki on the state assembly elections and for giving him victory over the threat of impeachment.
He also urged the governor to get more closer to the people because the power is with the people now that the people have saved him from the rantings of Adams Oshiomhole.
Contempt: Fresh trouble for Bawa as over 250 Constitutional, human rights lawyers ask NJC to direct all courts to reject EFCC cases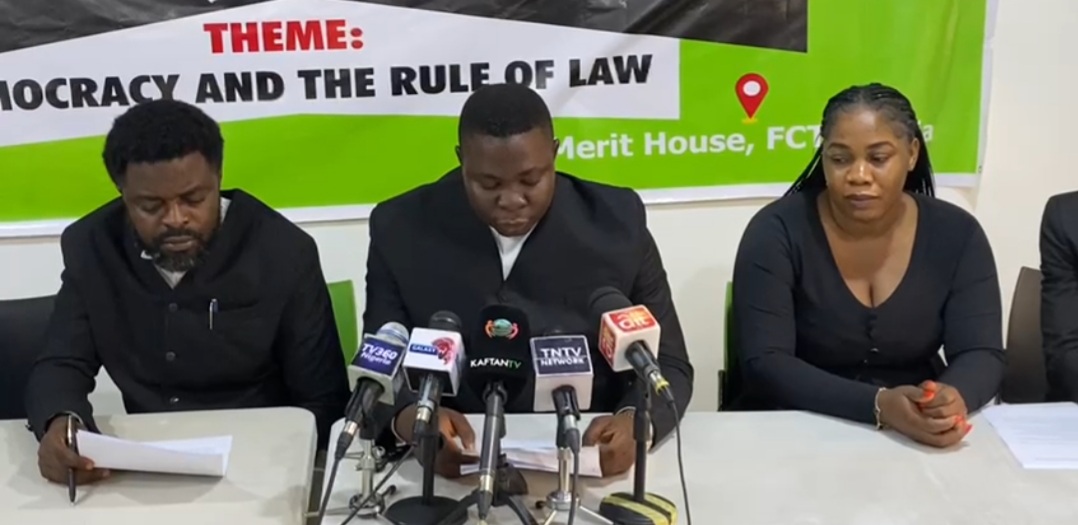 Contempt: Fresh trouble for Bawa as over 250 Constitutional, human rights lawyers ask NJC to direct all courts to reject EFCC cases
.Say he can't enforce anti-corruption laws as a convict
.Urge aggrieved parties, candidates in 2023 polls to seek judicial redress, avoid sponsoring crises
The Chairman of the Economic and Financial Crimes Commission, Abdulrasheed Bawa, may be in for fresh trouble as over 250 Constitutional and Human Rights lawyers have called on the National Judicial Council to direct all courts in Nigeria not to entertain cases brought before them by the EFCC.
The lawyers, who said this was part of the resolutions reached at the end of their Annual Conference, with the theme: "Democracy and the Rule of Law", held in Abuja between March 20 and 21, 2023, said it would only be appropriate for Nigerian courts to entertain EFCC cases when Bawa must have purged himself of contempt by obeying all subsisting Court orders binding on him.
They made the call during the presentation of their annual communique on Tuesday just as they called on political parties in Nigeria and their candidates to be conscious of the need to preserve Nigeria's democracy by adhering to the provisions of the law guiding post-election matters.
Reading the communique, the newly elected President of the Judicial Integrity Lawyers (JILAW), Barrister Idoko Godwin, said, "Politicians were advised against sponsoring crises across the nation to demonstrate their grievance as sponsoring post-election crisis will negate the supremacy clause of our constitution as stated in Section 1(2) of the 1999 Constitution.
"Rather, every aggrieved individual or groups of individuals who which to govern nigeria or any part thereof should give total consideration to  Section 1(2) of the 1999 Constitution and anything to the contrary will amount to subversion of the supreme law of the land. Thus any aggrieved individual should seek judicial redress as enshrined in the constitution."
The lawyers observed that the timing of the conference was of great importance, considering the fact that the nation was still battling with the fallout of the various elections, adding that many salient issues regarding the place of the rule of law in Nigeria's "struggling democracy" had been thrown up.
They noted that the persistent abuse of power by public officials in Nigeria was an aberration, which had attained notoriety as part of the fabric of the Nigerian society, insisting that equality before the law was the only true protection against the spectre of oppression and undue influence that those in positions of authority would otherwise dangle over the heads of ordinary Nigerians.
About 25 lawyers, representing the six geopolitical zones of Nigeria jointly presented the communique on behalf of the over 250 lawyers in JILAW.
The communique stated, "You will recall that it took the direct intervention of President Muhammadu Buhari for the Governor of the Central Bank of Nigeria to obey a lawful judgement of the Supreme Court, the highest Court in the land, on the naira redesign policy of the CBN. This was after the flagrant disobedience to the preliminary judgement of the same Supreme Court before the presidential elections were held.
"Even now, our meeting agreed that the Federal Government has not fully complied with the judgement with regard to other aspects of the policy, which has continued to put Nigerians through untold hardship."
On the EFCC boss, the lawyers maintained that an official whose conviction was made by an order of a Court or Courts of competent jurisdiction, was not considered fit to continue presiding over the affairs of a law enforcement agency, especially one constitutionally set up to fight corruption.
"Our over 250 members have therefore urged President Muhammadu Buhari to, within the limited time left in the life of his administration, urgently address the dangerous culture of disobedience to the rule of law, assault on our Judiciary and ultimately ensure appropriate sanctions for the violators of the dictates of our constitution," they said.
The Communique read in part: "In conclusion, we are stating that a country that has no regard to the decisions of its court is heading toward anarchy. Hence, we call on the National Judicial Council to direct all courts in the country to henceforth not entertain any cases brought before them by any agency of the government that disobeys court orders, especially EFCC, until the Chairman of EFCC, Mr. AbdulRasheed Bawa, has purged himself by obeying all subsisting Court orders binding on him.
"As an official whose conviction was made by an order of a Court or Courts of competent jurisdiction, we do not consider him fit to continue presiding over the affairs of a law enforcement agency, especially one constitutionally set up to fight corruption. You cannot use the corrupting influence of power to enforce anti-corruption laws.
"We consider it a ridiculous aberration that a convict would be in charge of getting others convicted when he should be serving time for contempt of Court and when there has been no superior judgement against the conviction."
The lawyers seized the opportunity to announce the constitution of a new leadership thrown up after the JILAW election held on Monday.
They are: Barrister Idoko Godwin, President; Barr. Suleiman Gwamba, Vice President; Barr. Gaius Inalegwu, Secretary; Barr. Genesis John, Publicity Secretary; and Barr. Ann Ikwuta Onyeke, Welfare Officer, among others.
2023 general* *elections is a shame, a national*disgrace – Dr Akinyemi Bolaji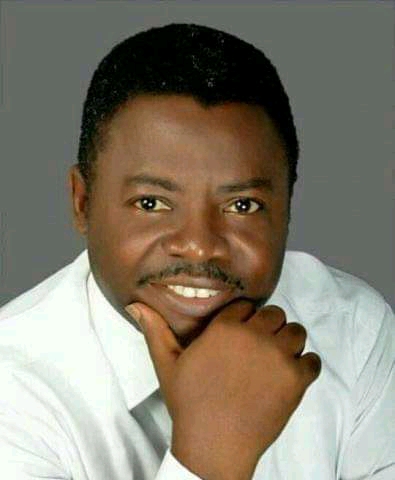 *2023 general* *elections is a* *shame, a national* *disgrace -* Dr Akinyemi Bolaji
By Ifeoma Ikem
The recent 2023 presidential and governorship general elections have been described as very shameful and disgraceful to a country like Nigeria!
The convener Apostolic Round Table (ART), Dr Bolaji Akinyemi, who made the assertion in an online interview with the Sahara weekly correspondent on Sunday said the elections were marred by violence experienced across the nation.
"I am deeply pained by the event leading to the general elections in Nigeria, the level of violence that we witnessed!
"My pain is not on those who are not believers but those who are in Christ and join in perpetrating this level of ignorance of bigotry!
Akinyemi said that the outstanding scripture when he first got born again was the teaching of Apostle Paul in Ephesians 2 from verse 11 which talked about the oneness that we have in Christ!
"This one new man was lost in the church! We saw Yoruba Christians and igbo Christians divided along the line of unbelievable political hatred!
"Whatever resurrected the enmity that Christ slew I cannot explain!
Whatever took over our minds to fail to understand that we were made to be one in Christ is unexplainable!
"I saw sons and daughters of God calling each other unprintable names in the name of politics!
"I remember when I first got saved and went to join a church verse 19 of that scripture was sang as a song which is always emotional whenever it is being sang"!
Akinyemi said that he saw Nigerian citizens and saints who took back strange identities and failed to see what God needed to do through the oneness of the church in Nigeria!
"I can only pray that God will bring them to the understanding that a child of God is beyond politics! It is all about the kingdom of God.
All the same, we still have steps to take to bring about healing and champion oneness that is needed at this time for nation building, he therefore advice all Nigerians to look out for ATS- After The Storm.
"I presume democracy supposed to be free, fair, and transparent but it is the other way round and when elections are not fair, open, and transparent, it is disenfranchising and shatters citizens' faith for nation building.