FrieslandCampina WAMCO reports N199.5 billion turnover at 48th AGM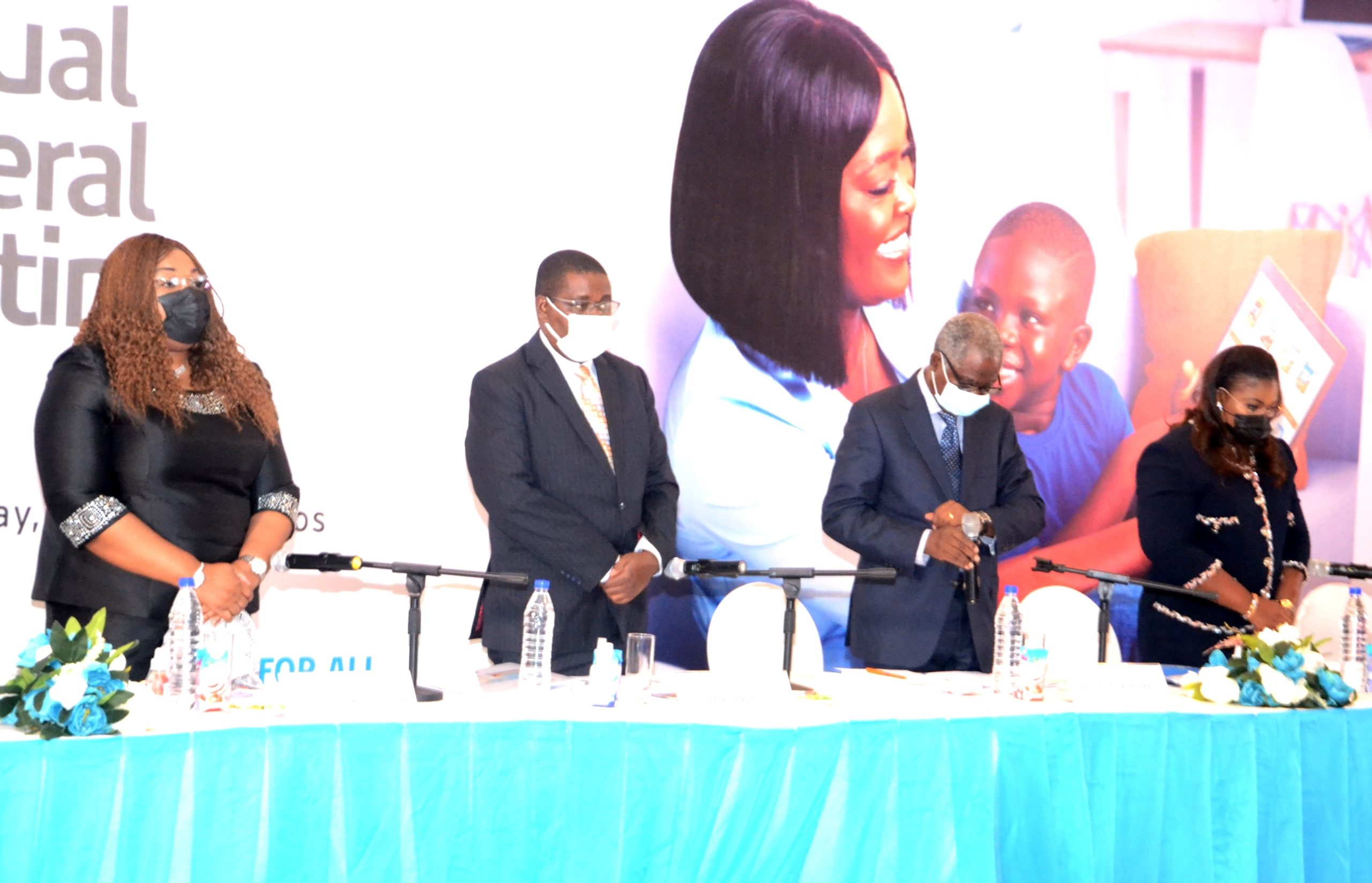 FrieslandCampina WAMCO reports N199.5 billion turnover at 48th AGM
Top dairy company, FrieslandCampina WAMCO Nigeria PLC, makers of premium milk brands – Peak, Three Crowns, Coast, Nunu and Olympic has reported a turnover of N199.5 billion. This was announced at its 48th Annual General Meeting held Thursday, 6 May 2021, in Lagos.
Speaking at the AGM, the Chairman, Mr. Moyo Ajekigbe, OFR said, "the challenging operating environment in 2020 notwithstanding, the Company's commercial and financial performance for the year showed considerable improvement compared to the previous year. Turnover increased by 23% in 2020 to N199.5billion from N161.8billion in 2019. This was due to a combined effect of organic and inorganic growth following the acquisition of Nutricima's dairy business. Profit Before Tax however decreased by 20.3% from N18.8 billion in 2019 to N14.9 billion in 2020 as a result of high input costs and naira devaluation impact."
The meeting was held in compliance with COVID-19 pandemic protocols, ensuring the health and safety of all stakeholders involved. The meeting was broadcast live for shareholders and other relevant stakeholders to participate in the proceedings in line with the "Guidelines on Holding of Annual General Meetings (AGM) of Public Companies Using Proxies" as established by the Corporate Affairs Commission.
All the resolutions submitted for shareholder approval were adopted, including the approval of a total dividend payout of N6.74 per N0.50 share.
As underlined by the Managing Director, Mr. Ben Langat, during his presentation on the financial results, "2020 was shaped by the Company's continued focus on sustainable business processes. We leveraged our brands and superior commercial expertise to deliver impressive volumes during the year. FrieslandCampina WAMCO continues to be committed to nourishing Nigerians with quality dairy nutrition. Our Board and Management will continue to take necessary steps to ensure that the growth momentum is sustained."
Explaining the Company's response to COVID, Mr. Langat said, "From the very first signs of the Covid-19 pandemic, our Company defined three absolute priorities; protecting the health and safety of our employees; doing all that is necessary to ensure business continuity; and supporting Nigeria to manage through the crisis, therefore, a donation of N500 million was made to the COVID Relief Fund while over N100 million worth of products were donated to low income communities during the lockdown."
Following its expansion drive, FrieslandCampina WAMCO acquired Nutricima factory in Ikorodu during the year under review. The acquisition underlines FrieslandCampina WAMCO's continued commitment to contribute to the development of the Nigerian dairy sector and satisfies the need for additional production capacity for FrieslandCampina WAMCO to meet the growing consumer demand for locally produced dairy.
Under its backward integration strategy, the business aggressively expanded its activities to
strengthen the dairy value chain in Nigeria. Significant to this was the establishment of the Center for Nigerian Dutch Dairy Development,  Nigeria's first national expertise Center for dairy, committed to unlocking and developing homegrown dairy expertise across the value chain. The business also established the Value4Dairy Consortium, a formidable partnership of FrieslandCampina WAMCO, URUS, Barenbrug and Agrifirm, committed to accelerate self-sufficiency in Nigeria's dairy sector.
A look at Q1 2021 activities indicates continued economic headwinds in a volatile and uncertain business environment. However, FrieslandCampina WAMCO remains positive about the future of its business in Nigeria. The business is confident that our brands, which are well known, will continue to grow on the back of our strong business fundamentals and unique route-to-market strategy to achieve our business ambition.
Mayor of Houston Texas endorses Fidelity Bank's Trade Expo (FITCC)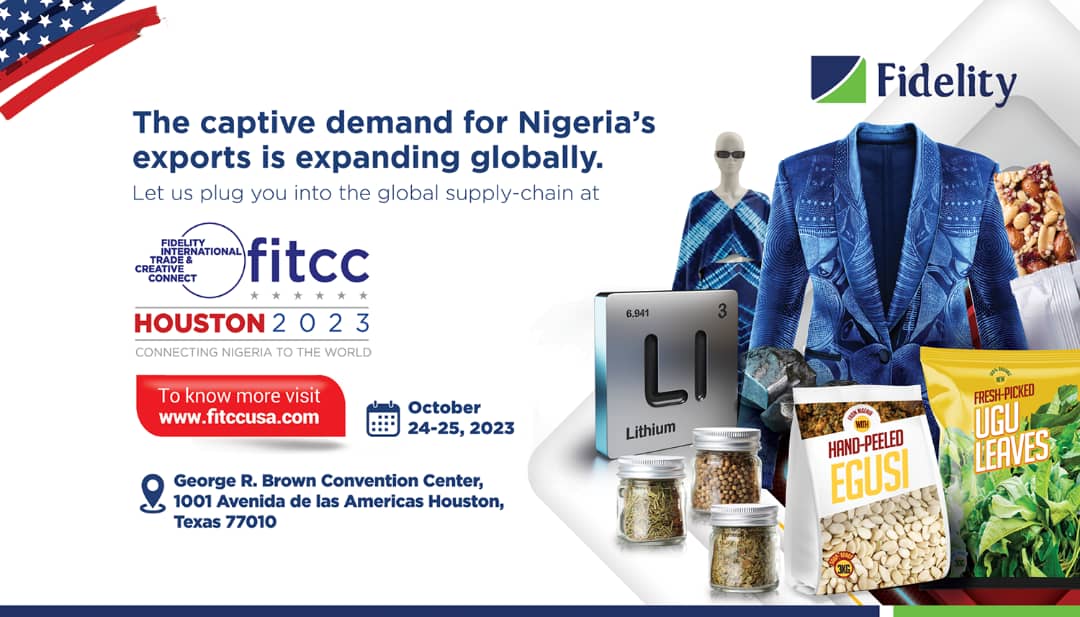 Mayor of Houston Texas endorses Fidelity Bank's Trade Expo (FITCC)
Fidelity Bank's upcoming trade expo tagged, the Fidelity International Trade and Creative Connect (FITCC Houston), has received a major boost as the Mayor, City of Houston, Sylvester Turner, has termed it, "A catalyst to support bilateral trade between Nigeria and Houston; and an opportunity for the Houston community and the diaspora to explore emerging trends, forge new partnerships and unlock new possibilities".
This was made known in a video message recently issued by the mayor. In the one-minute clip obtained by our journalist, the Mayor Turner highlighted the several side attractions scheduled for FITCC Houston and encouraged businesses to take advantage of the expo to expand their businesses beyond borders.
The event is scheduled for Tuesday, 24 and Wednesday, 25th October 2023 at the George R. Brown Convention Center, 1001 Avenida de las Americas, Houston, Texas 77010. The bank will be hosting exporters, leading businesses, entrepreneurs, investors and regulators operating in the commodity, service, creative, fashion and FinTech sectors in Nigeria and the United States with the view of promoting Nigeria's non-oil exports and facilitating integrations to global supply-chain networks.
Watch Mayor Turner's video here:
Register to attend the event at www.fitccusa.com
Shaping the PR Landscape: Media Intelligence Consultancy Gears Up for 24th #EvaluatePR Event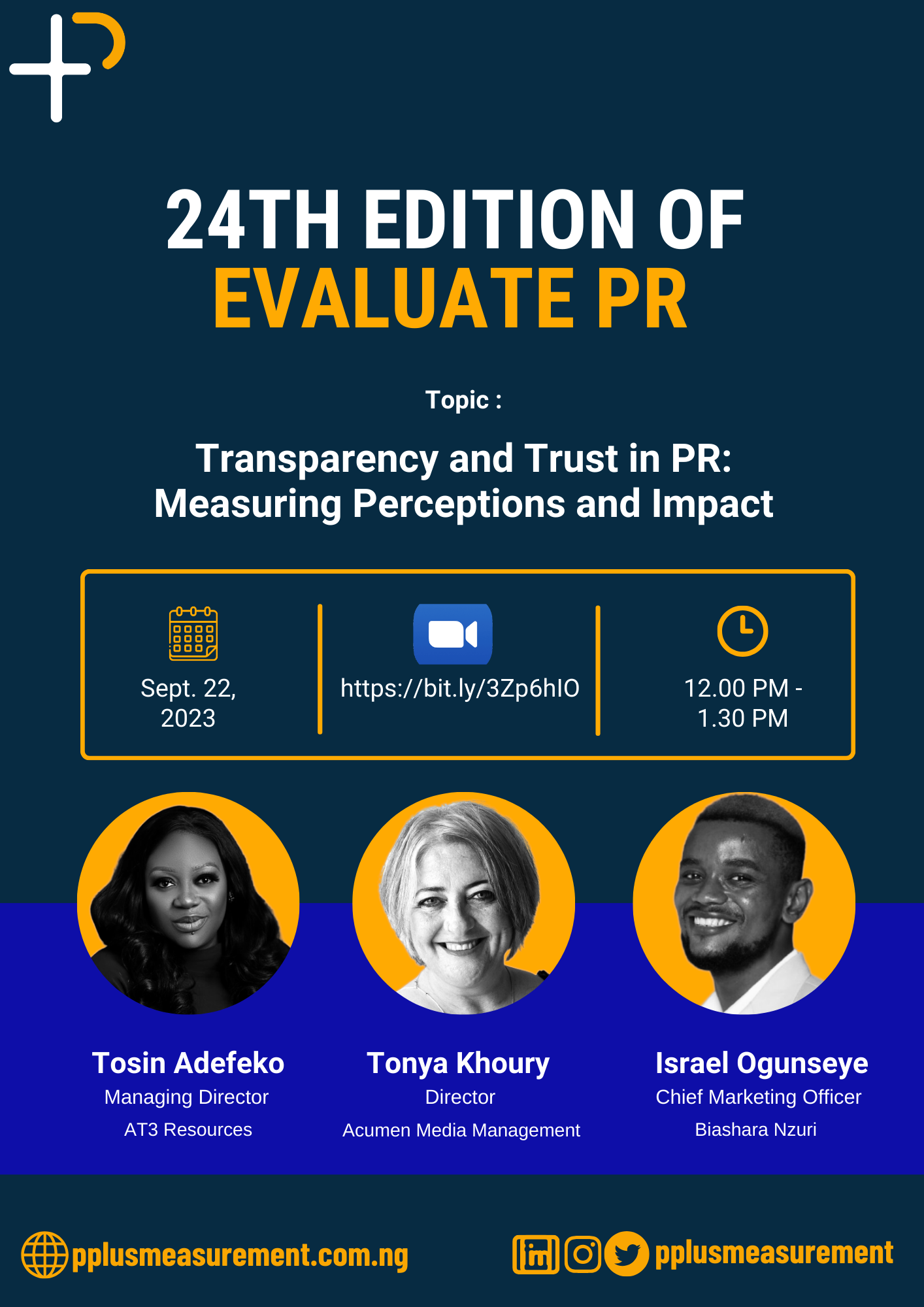 Shaping the PR Landscape: Media Intelligence Consultancy Gears Up for 24th #EvaluatePR Event

P+ Measurement Services, a leading Media Intelligence Consultancy, is excited to unveil the anticipated 24th edition of #EvaluatePR. This landmark event, held quarterly, will take place virtually on September 22nd, 2023, from 12:00 to 1:30 pm (West African Time). Designed to foster enriching discussions, offer invaluable insights, and keep industry professionals updated on the cutting-edge trends, #EvaluatePR remains a pivotal point for PR practitioners worldwide.
#EvaluatePR has firmly established itself as a foremost global platform, uniting PR professionals, industry experts, and academics to explore the evolving landscapes of public relations, communications, and media intelligence.
This edition is set to thrill participants with its distinguished lineup of guest speakers. Among them are Tonya Khoury, Director at Acumen Media Management; Tosin Adefeko, Managing Director of AT3 Resources; and Israel Ogunseye, Chief Marketing Officer at Biashara Nzuri.
With their extensive experience and profound insights, they will explore the theme "Transparency and Trust in PR: Measuring Perceptions and Impact," providing participants with practical strategies to navigate complex PR scenarios while emphasizing the critical aspects of transparency and trust. In a world where public perception and reputation can influence in an instant, understanding these skills is vital.
To participate in the discussion, use the Zoom meeting link below;
HACKAHOLICS DIGITAL SUMMIT 2023: WEMA BANK LAUNCHES AFRICA'S LARGEST GATHERING OF INNOVATORS, DISRUPTORS, REGULATORS, POLICYMAKERS, INVESTORS & CUSTOMERS IN THE DIGITAL SPACE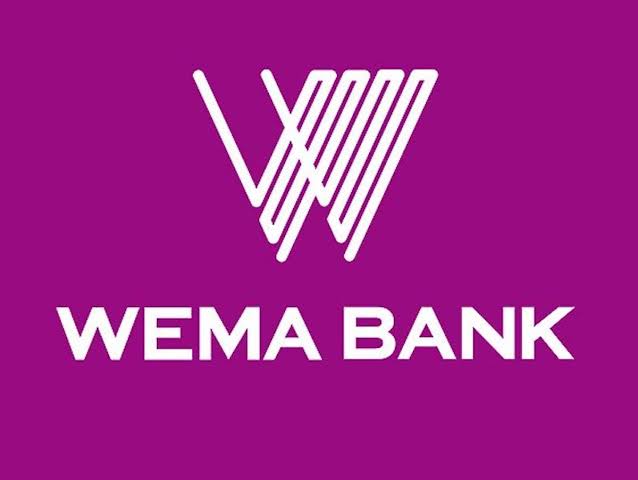 HACKAHOLICS DIGITAL SUMMIT 2023: WEMA BANK LAUNCHES AFRICA'S LARGEST GATHERING OF INNOVATORS, DISRUPTORS, REGULATORS, POLICYMAKERS, INVESTORS & CUSTOMERS IN THE DIGITAL SPACE
Wema Bank, Nigeria's most innovative bank and pioneer of Africa's first fully digital bank, ALAT, has announced the launch of the Hackaholics Digital Summit 2023, Africa's largest gathering of innovators, disruptors, regulators, policymakers, investors & customers in the digital space.
This groundbreaking summit will serve as a hub for sharing cutting-edge insights, trends, and best practices in the tech industry towards the positive transformation of technology and innovation not just in Nigeria but across the African continent.
In 2019, Wema Bank introduced Hackaholics, a dedicated initiative targeting youth and startups. Its mission is to provide a stage for entrepreneurs and innovators with transformative, tech-driven concepts to bring their ideas to fruition and refine their skills. The 4th edition of Hackaholics, launched in April 2023, involved several months-long journey to top Nigerian universities to identify and nurture talented students with creative ideas. These students were afforded the opportunity to collaborate, enhance their skills, and actualize their unique concepts through technology. The Hackaholics Digital Summit will host both the grand finale of Hackaholics 4.0 and the inaugural edition of the digital summit.
The Hackaholics Digital Summit 2023 is scheduled for October 6, 2023, in Lagos, Nigeria, under the theme "Re-Imagine: Disrupting the Ecosystem for Scale." This multifaceted event commences with the launch of the Hackaholics Digital Summit and concludes with the exciting grand finale of Hackaholics 4.0. During this grand event, the standout teams from the competition will showcase their innovations, contending for the prestigious titles of Hackaholics 4.0 winners.
Notably, the winning team will receive a grant of N10,000,000 worth of prizes, the first runner-up N7,000,000 worth of prizes, the second runner-up N5,000,000 worth of prizes, while a special N3,000,000 grant is reserved exclusively for a female-led team. Additionally, a N15,000,000 grant will be allocated to University STEM endowment.
The Digital Summit will further encompass an array of simultaneous master classes, providing attendees with the opportunity to witness the emergence of Africa's technological future while gaining invaluable insights from renowned experts. These masterclasses will delve into topics such as "The Future of Financial Services," "Venture Capital and Funding Viable Innovation for Scale," and "Strategic Technology for Impact & Societal Change: Transforming Today & Tomorrow's World."
Attendance to this prestigious event is by invitation only; however, interested customers and technology enthusiasts can secure a spot at the Wema Bank Hackaholics Digital Summit 2023 by registering at https://hackaholics.wemabank.com/digital-summit.
Don't miss the chance to be part of this exceptional gathering, charting the course for the future of technology in Africa.