FRSC CORPS MARSHAL DECORATES NEWLY APPOINTED DEPUTY CORPS MARSHAL BISI KAZEEM WITH HIS NEW RANK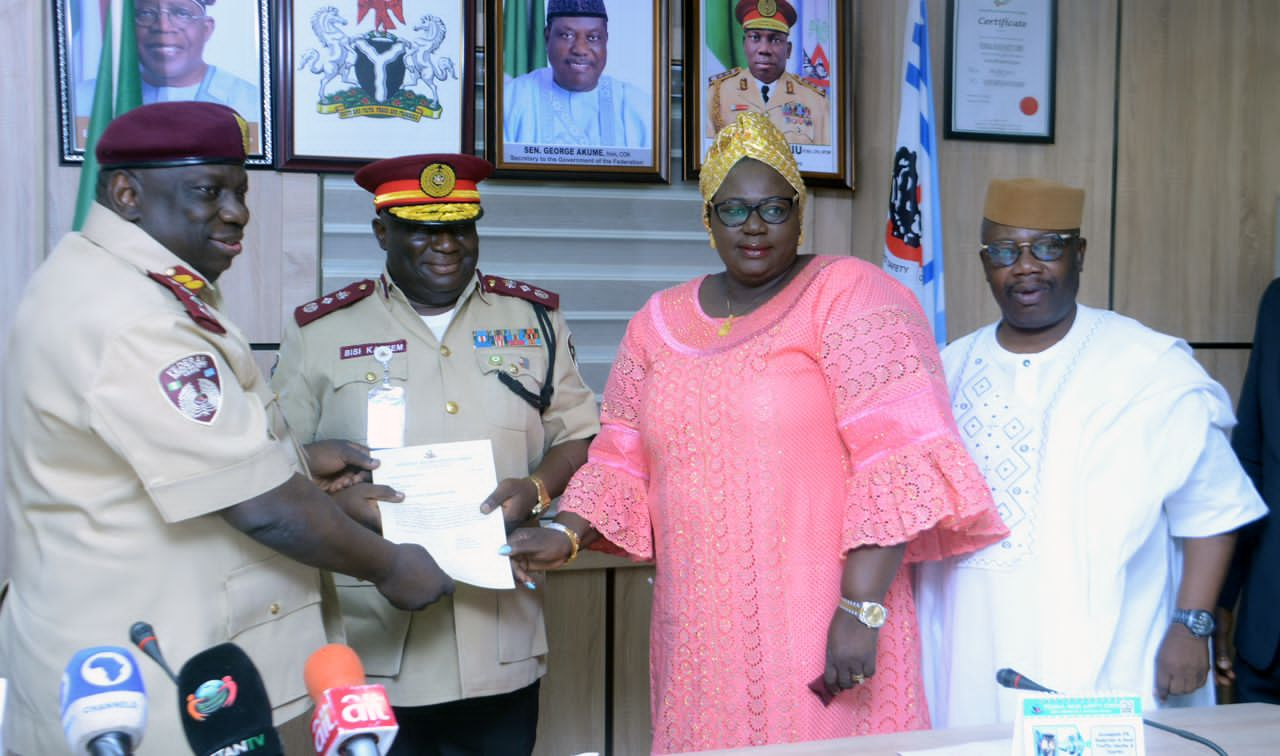 FRSC CORPS MARSHAL DECORATES NEWLY APPOINTED DEPUTY CORPS MARSHAL BISI KAZEEM WITH HIS NEW RANK
Sahara Weekly Reports That Pursuant to the appointment that saw erstwhile Assistant Corps Marshal Bisi Kazeem promoted to the rank of Deputy Corps Marshal, the Corps Marshal, Federal Road Safety Corps, Dauda Ali Biu has successfully adorned the appointed Officer with the new rank during a decoration ceremony that held at the national headquarters of the Corps in Abuja.
The newly appointed Officer who was decorated by the Corps Marshal and assisted by the Chairman, Senate Committee on Petroleum Down Stream Sector, Distinguish Senator Ipinsagba and the wife of the celebrant, Alhaja Ajoke Bisi Kazeem is now the Deputy Corps Marshal representing the southwest geopolitical zone of the country.
Prominent among the dignitaries that attended the glamorous event were the Chairman of, Senate Committee on Petroleum Down Stream Sector, Distinguish Senator Ipinsagba, Chairman House of Representatives Committee on FRSC, Honourable Derin Adesida, Chairman House Committee on Public Accounts, Honourable Bamidele Salam, and the Vice Chairman House Committee on Pensions, Honourable Laide Muhammed.
Others who attended are the former Speaker, Ondo State House of Assembly, former Commissioner for Works and Board Member Code of Conduct Bureau Rt Honourable Wale Abdulsalam, Legal Adviser and Secretary, Central Bank of Nigeria, Mr. Kofo Abdusalam as well as the immediate past Chairman of Akoko North East Local Government Council, Ikare, Prince Lekan Bada amongst others.
Speaking before the decoration, the Corps Marshal re-emphasized the height of transparency that heralded the exercise and charged the newly appointed Officer to rededicate himself to service to the nation.
While giving words of appreciation at the end of the decoration exercise, Deputy Corps Marshal Bisi Kazeem expressed his deepest gratitude to the President and Commander in Chief, Bola Ahmed Tinubu GCFR, the Secretary to the Government of the Federation as well as the Corps Marshal and the entire Management team for the honor to serve in a higher position.
Charles Edem
Corps Commander
Deputy Corps Public Education Officer
FRSC Headquarters
Abuja.
4 November, 2023.
Dangote Refinery Receives Its Maiden Crude Cargo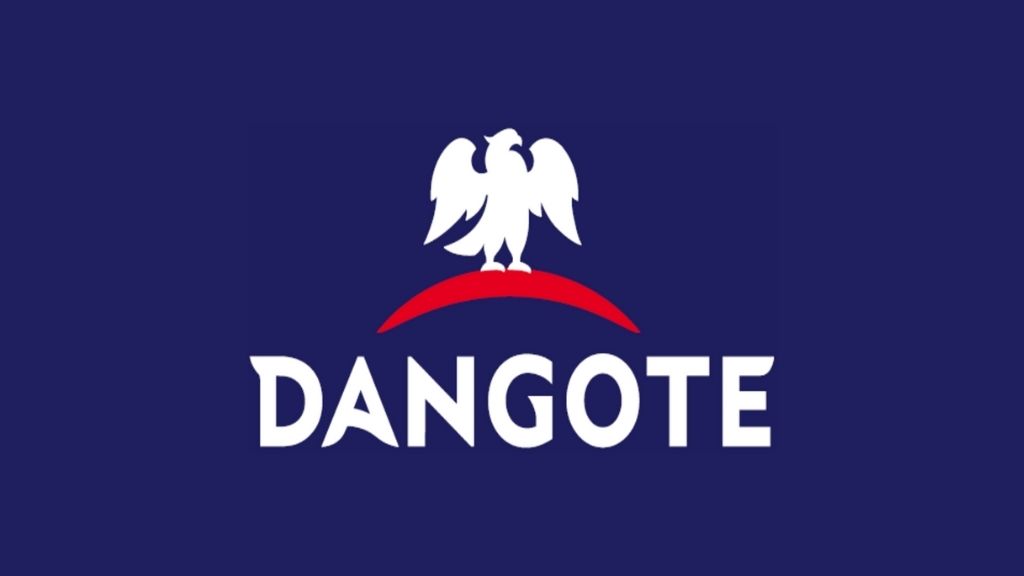 Sahara Weekly Reports in a major step towards boosting Nigeria's domestic refining capacity and attaining energy security (self-sufficiency), Dangote Petroleum Refinery and Petrochemicals plant has purchased 1 million barrels of Agbami crude grade from Shell International Trading and Shipping Company Limited (STASCO), one of the largest trading companies in Nigeria as well as globally, trading over 8 million barrels of crude oil per day.
The STASCO cargo contained 1 million barrels from Agbami and sailed to Dangote Refinery's Single Point Mooring (SPM) where it was discharged into the refinery's crude oil tanks.
The maiden 1 million barrels, which represent the first phase of the 6 million barrels of crude oil to be supplied to Dangote Petroleum Refinery by a range of suppliers, should sustain the initial 350,000 barrels per day to be processed by the facility. The next four cargoes will be supplied by the NNPC in two to three weeks and the final of the six cargoes will be supplied by ExxonMobil.
This supply will facilitate the initial run of the refinery as well as kick-start the production of diesel, aviation fuel, and LPG before subsequently progressing to the production of Premium Motor Spirit (PMS).
This latest development will play a pivotal role in alleviating the fuel supply challenges faced by Nigeria as well as the West African countries.
Designed for 100% Nigerian crude with the flexibility to process other crudes, the 650,000 barrels per day Dangote Petroleum Refinery can process most African crude grades as well as Middle Eastern Arab Light and even US Light tight oil as well as crude from other countries.
Dangote Petroleum Refinery can meet 100% of the Nigeria's requirement of all refined products, gasoline, diesel, kerosene, and aviation jet, and also have surplus of each of these products for export.
The refinery was built to take crude through its two SPMs located 25 kilometres from the shore and to discharge petroleum products through three separate SPMs. In addition, the refinery has the capacity to load 2,900 trucks a day at its truck loading gantries.
Dangote Refinery has a self-sufficient marine facility with the ability to handle the largest vessel globally available. In addition, all products from the refinery will conform to Euro V specifications.
The refinery is designed to comply with US EPA, European emission norms, and Department of Petroleum Resources (DPR) emission/effluent norms as well as African Refiners and Distribution Association (ARDA) standards.
President of Dangote Group, Mr. Aliko Dangote stated: "We are delighted to have reached this significant milestone. This is an important achievement for our country as it demonstrates our ability to develop and deliver large capital projects. Our focus over the coming months is to ramp up the refinery to its full capacity. I look forward to the next significant milestone when we deliver the first batch of products to the Nigerian market."
Country Chairman of Shell Companies in Nigeria, Mr. Osagie Okunbor stated: "We welcome the startup of a refinery that is designed to produce gasoline, diesel, and low-sulphur fuels for Nigeria and across West Africa and are happy to be enabling it."
Ibogun celebrates 6th year coronation in grand style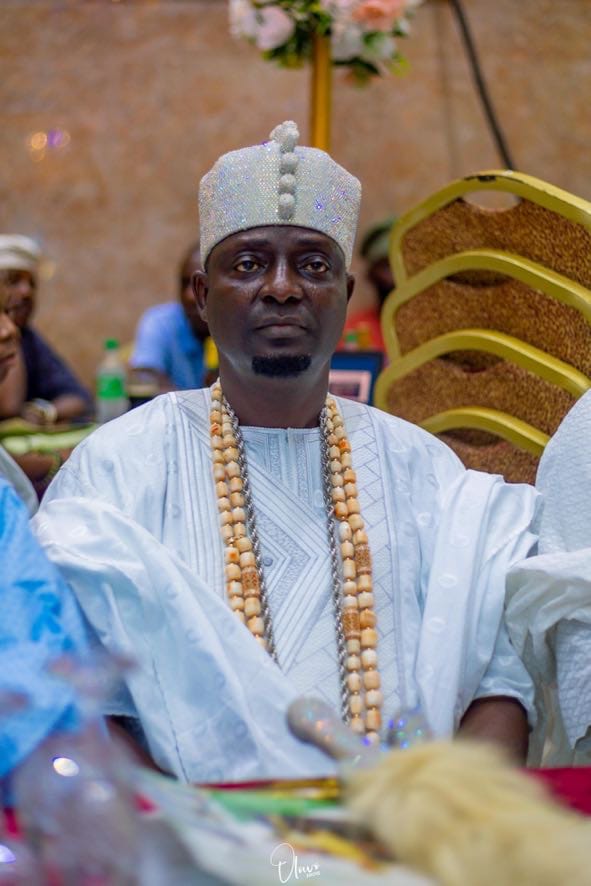 Ibogun celebrates 6th year coronation in grand style
Sahara Weekly Reports That As part of the 6th year coronation anniversary of his HRM Oba Adesina Fakayode Faluade, Anikinnikun Oluoba of Ibogun Balogun Kingdom of Abeokuta, he decided to build an untra modern civic center for the benefit of Ibogun kingdom.
Speaking with our correspondence was the Kabiesi during the lunch of the ultra modern civic center last Wednesday, the Kabiesi express his profound appreciation to God and those who came to celebrate with him.
He said "there is need to develop our community and as the royal father of Ibogun Balogun Owu kingdom, I took it upon myself to build this great edifice to bring development required to my community."
"We have other projects already excuted since I immerged as the king, one of it is the central mosque that will be commission during the ground finally of our anniversary.
We tend to impact lives in our own little way and give back to the community who has been supporting all we do in the community.
The chairman anniversary and lunching committee, High Chief Dr. Sulaimon Akinyele , Aro of Ibogun Balogun Owu kingdom said, "the king proposed to build a world class civic center, and we are all here to support his good works in order to make his aims and objectives come to pass.
He notes that there are many companies within Ibogun, there are so many degnitries that came from Ibogun Owu, including the former president Olusegun Obasanjo, who can also support this great project.
They hereby call on the governor of Ogun State, Mr. Dapo Abiodun to synergies with the Kabiesi to bring development to Ibogun Balogun by giving them good roads.
Also at the event was Engr. Adeleke Sogbesan (Chief Okanlomo)who came in from United States to show support to the Kabiesi. He notes Oluoba Ibogun is an hardworking man who has brought lots of development to Ibogun, in view of this he came in to also show is support towards the construction of the civic center.
Financial crimes in public, private space now national embarrassment – President CRAN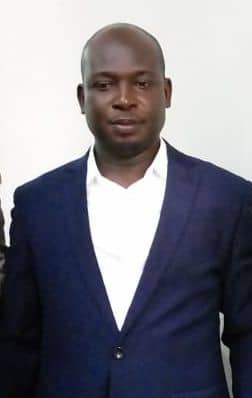 Financial crimes in public, private space now national embarrassment – President CRAN
Earlier, in his welcome remarks, the President of the Crime Reporters Association of Nigeria (CRAN), Mr. Lekan Olabulo, has frowned at the rate at which crime is increasingly committed in public and private space, insisting that the act is now becoming a thing of embarrassment to the nation.
Olabulo who lampooned corrupt public office holders, noted that those involved in syphoning the common wealth of the nation should remember that they are not insulated from being probed.
The President of CRAN, disclosed that the annual lecture cum.award series, which he said started about 30 years ago, has become a veritable platforms through which suggestions are made on how best relevant agencies and other stakeholders could tackle the menace of insecurity, bedeviling the nation.
" Outside the corridor of governance, many Nigerians particularly the youths are engaged in financial crimes such as internet fraud commonly referred to as Yahoo, Yahoo and other illicit financial businesses
" Inspite of the existence of laws to check crime in Nigeria, more youths are enlisting in the Yahoo Yahoo business with such conviction that what they are doing is illegal.
"Yahoo, Yahoo or cybercrime has come to be generally accepted by most parents as if it is a legitimate business and many communities are now in competition over the number of youths who have acquired humongous wealth through Yahoo, Yahoo", CRAN President beamoned.
Olabulo hinted that the annual lecture cum.award series started about 30 years ago has become veritable platforms through which suggestions are made on how best the relevant agencies and other stakeholders could tackle the menace of insecurity, bedevilling the nation.