Fury As Liverpool concedes late penalty, draws 1-1 at Brighton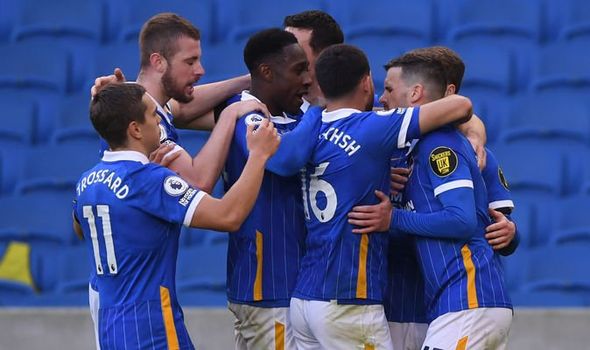 Liverpool conceded a stoppage-time penalty to draw 1-1 at Brighton in the Premier League on Saturday, with the contentious call incurring the wrath of Jurgen Klopp as he made his frustration clear to match officials.
Diogo Jota's eighth goal in his last eight games for Liverpool looked like it would be leading the champions to victory at the Amex Stadium, only for Andrew Robertson to kick the outstretched foot of Brighton forward Danny Welbeck after the first of five minutes of added-on time.
The penalty was awarded only after the referee checked the incident on the pitchside monitor — it looked much worse after being replayed in slow motion — and Pascal Gross converted Brighton's second spot kick of the game, after one was missed by Neal Maupay in the first half.
Klopp, who came into the game unhappy at Liverpool being scheduled to play on Saturday lunchtime after a game on Wednesday night in the Champions League, showed his disgust at the decision by sarcastically applauding the assistant referee after Gross scored. Klopp then spoke to officials coming off the field after the game.
In his post-match TV interview, Klopp didn't want to discuss the call at length, saying it was a penalty "because the ref whistled it."
"You try to create, again at my cost, a headline. That's how it is," he said.
Liverpool captain Jordan Henderson said "four or five" Brighton players told him the penalty should not have been given.
"For me, to overturn the decision, it has to be clear and obvious," Henderson said. "Is that a clear and obvious penalty?
"You'd rather get beaten by two or three (goals) than draw a game like that."
On a day when Liverpool lost another player — James Milner — to injury, Jota continued the brilliant start to his career at the club since his move from Wolverhampton by taking on a short pass from Mohamed Salah, cutting across the area and shooting low into the corner in the 60th minute.
The draw ensured Liverpool will finish Saturday back on top of the standings, with Tottenham able to reclaim first place by avoiding defeat at Chelsea on Sunday.
Liverpool had two goals disallowed by VAR, a first-half effort by Salah after he was played through by Roberto Firmino — the replay put the Egypt forward millimeters offside — and a header by substitute Sadio Mane that proved to be a much clearer offside.
Brighton will have its own regrets, with Maupay missing a penalty in the 20th minute before going off with a suspected hamstring injury moments later. Milner and Adam Lallana — a former Liverpool player now at Brighton — also went off injured, adding to the increasing number of muscle problems being picked up in a packed schedule.
Klopp ended up playing three players at right back in the match. Neco Williams, who gave away the penalty for a foul on Aaron Connolly, started there but was substituted at halftime and replaced in the full-back role by Milner.
Milner's injury meant Curtis Jones came on to play there for the final minute
BREAKING: Ogun wins first medal in Asaba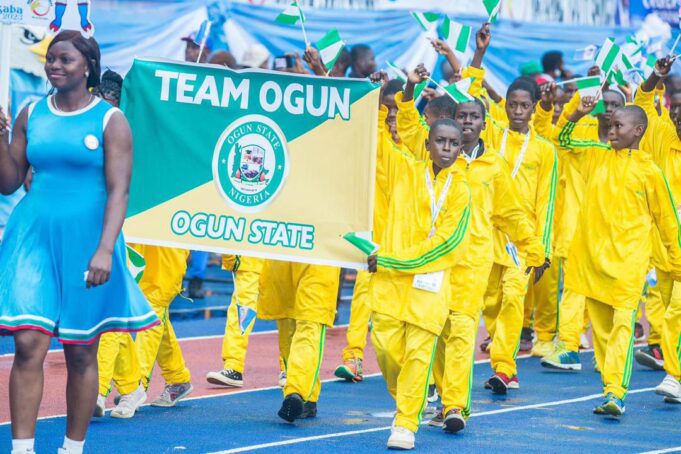 BREAKING: Ogun wins first medal in Asaba
Team Ogun has recorded its first medal at the ongoing National Sports Festival in Asaba, Delta State.
Mojeed Rilwan won Bronze in the 40kg Boys after a very hard-fought encounter against his rugged Edo State opponent.
A fight of 3 minutes for junior categories couldn't end until 34 minutes in a straight fight without any break.
#Asaba2023 #NationalYouthGames #TeamOgun #BuildingOurFutureTogether #ISEYA #DapoAbiodun
Megan Rapinoe's X account still active, claim of Elon Musk ban is false | Fact check
Megan Rapinoe's X account still active, claim of Elon Musk ban is false | Fact check
The claim: Elon Musk banned Megan Rapinoe from X
A Sept. 15 Facebook post claims an outspoken female athlete was banned from a popular social media platform.
"Breaking: Elon Musk Banned Megan Rapinoe From Twitter," reads the post. "Full story in the first comment."
It was shared more than 50 times in six days.
Our rating: False
Rapinoe's account on X, formerly Twitter, was still up as of Sept. 21. The story in the comment below the post claims the supposed ban happened after a back-and-forth exchange between Musk and Rapinoe on X, but there are no records of any such interaction.
No evidence of any X interactions between Rapinoe, Musk
Rapinoe's X account, a formerly verified account under the handle @MPinoe, was still accessible as of Sept. 21.
A review of archived screenshots of the account did not indicate it had recently been banned.
Though the article linked in the comments claims a ban came after an argument between Rapinoe and Musk on X, there is no evidence of any such exchange. A search of both Musk and Rapinoe's X accounts found no posts about or to the other.
Fact check: No, CNN did not announce EU citizens no longer need to work; it's a deep fake
Rapinoe is an outspoken advocate for various issues, including race, gender equality and LGBTQ rights. She has referred to herself as a "walking protest" and has knelt during the U.S. national anthem in protest of police brutality, as reported by CNN.
In various X posts, Musk has decried what he calls the "woke mind virus" that he claims is infiltrating institutions such as higher education and the media. He has also criticized what he described as an "anti-American self-destructive element in … elite circles within the U.S.," Fox News reported.
Musk has banned various users since buying the social media platform in October 2022. They include journalists who tweeted or reported on Musk's ownership of the company, comedian Kathy Griffin and Kanye West. The accounts have since been reinstated.
USA TODAY has previously debunked claims that Rapinoe stomped on an American flag, that Musk admitted to being a flat earther and that Musk intends to buy Meta.
USA TODAY reached out to the user who shared the post for comment but did not immediately receive a response.
Our fact-check sources:
Thank you for supporting our journalism. You can subscribe to our print edition, ad-free app or e-newspaper here.
Our fact-check work is supported in part by a grant from Facebook.
Giants vs. 49ers highlights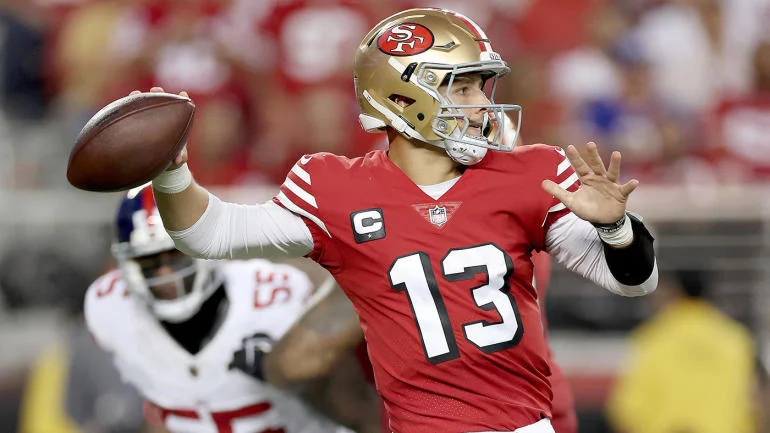 Giants vs. 49ers highlights
Week 3 of the NFL season kicked off Thursday with the San Francisco 49ers taking down the New York Giants (1-2) at Levi's Stadium in Santa Clara, California.
Daniel Jones and the Giants were coming off a wild second-half comeback over Arizona in Week 2 that arguably saved their entire season, seeing as they had been outscored 60-0 in six quarters to open the season prior to the narrow win.
On the other side, Brock Purdy & Co. remain undefeated atop the NFC West. Both teams were without a key offensive catalyst, as Giants running back Saquon Barkley (ankle) and 49ers wide receiver Brandon Aiyuk (shoulder) were out due to injury.
Here are the top moments!
3s on the board
San Francisco methodically brought the ball down the field and got into the red zone to open the game, but it was held to a 28-yard field goal from Jake Moody. New York then moved the ball on its first drive but settled for a 44-yard field goal from Graham Gano.
Nobody blocked him
49ers star defensive end Nick Bosa got his first sack of the season late in the first quarter when he had an open lane to Jones and took the Giants quarterback to the ground.
Just DPOY things 🤷‍♂️ @nbsmallerbear#NYGvsSF on Prime Video
Also available on #NFLPlus https://t.co/qDMTitTfP0 pic.twitter.com/hIX3NRBgsy

— NFL (@NFL) September 22, 2023
Getting 'em down in bounds
A pair of screen passes on two third-and-longs to wide receiver Deebo Samuel and running back Christian McCaffrey — which combined for 47 yards — helped the 49ers get into the red zone early in the second quarter. Then on a third-and-5 from the New York 9-yard line, Purdy hit wide receiver Ronnie Bell, who got his feet in bounds near the pylon for the San Francisco touchdown.
San Fran doing what it does
Faced with a third-and-12 on the Giants' 20-yard line, Purdy hit tight end George Kittle, who maneuvered his way through the defense for another 49ers first down; Giants defensive lineman Leonard Williams was flagged for roughing the passer, putting the ball on the 4-yard line. On the very next play, McCaffrey ran in a 4-yard score.
Giants steal 3
A 17-yard completion from Jones to wide receiver Darius Slayton got the Giants in 49ers territory on the ensuing possession, helping them get in range for Gano, who connected on a 57-yard field goal with 13 seconds remaining in the first half.
HALFTIME – 49ers 17, Giants 6
The 49ers controlled the first half, maintaining possession for 20 minutes and outgaining the Giants 242-88 in total yards. McCaffrey made NFL history in the first half. According to FOX Sports Research, McCaffrey's rushing score made it 12 consecutive games that he has reached the end zone (including the playoffs). If he scores next week, McCaffrey will break a tie with Jerry Rice (1987) for the most consecutive games with a touchdown in 49ers history.
Giants take advantage
The Giants and 49ers each punted on their first possessions of the second half. Then a fair catch interference penalty on Shemar Jean-Charles put the ball on the San Francisco 37-yard line for New York.
On the second play of the drive, 49ers defensive back Deommodore Lenoir was penalized for pass interference. One play later, Matt Breida powered in an 8-yard touchdown run for the Giants. They failed to convert a two-point conversion, though.
Deebo keeps going
On the first play of the ensuing drive, Samuel somehow evaded four tackle attempts en route to a 40-yard pickup. The drive ended with a 21-yard field goal from Moody. San Francisco led 20-12 with 4:08 remaining in the third quarter.
They just won't go down
After forcing a Giants three-and-out, the 49ers put together another field-goal drive, which was set up by a 29-yard completion from Purdy to Kittle — who put a stiff-arm on safety Xavier McKinney and kept going through the New York secondary on the play.
Finding Deebo
San Francisco forced another New York three-and-out, and then it took a three-score lead. On the eighth play of the next drive, Purdy hit a contested Samuel for a 27-yard touchdown. The 49ers led 30-12 with 5:58 remaining in the fourth quarter.
INT for good measure
Jones had his pass tipped multiple times, and 49ers safety Talanoa Hufanga ultimately came down with the interception.
Brock Purdy finds Ronnie Bell to give the @49ers the lead! 🔔💥

(via @49ers)pic.twitter.com/uDU2O7gtf8

— FOX Sports: NFL (@NFLonFOX) September 22, 2023