Giants vs. 49ers highlights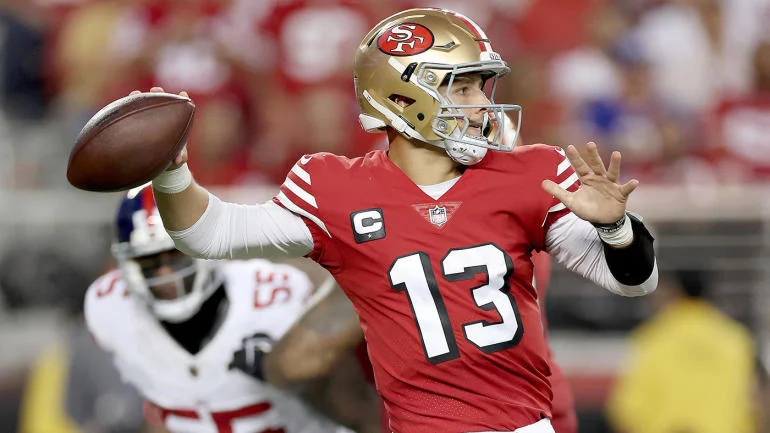 Giants vs. 49ers highlights
Week 3 of the NFL season kicked off Thursday with the San Francisco 49ers taking down the New York Giants (1-2) at Levi's Stadium in Santa Clara, California.
Daniel Jones and the Giants were coming off a wild second-half comeback over Arizona in Week 2 that arguably saved their entire season, seeing as they had been outscored 60-0 in six quarters to open the season prior to the narrow win.
On the other side, Brock Purdy & Co. remain undefeated atop the NFC West. Both teams were without a key offensive catalyst, as Giants running back Saquon Barkley (ankle) and 49ers wide receiver Brandon Aiyuk (shoulder) were out due to injury.
Here are the top moments!
3s on the board
San Francisco methodically brought the ball down the field and got into the red zone to open the game, but it was held to a 28-yard field goal from Jake Moody. New York then moved the ball on its first drive but settled for a 44-yard field goal from Graham Gano.
Nobody blocked him
49ers star defensive end Nick Bosa got his first sack of the season late in the first quarter when he had an open lane to Jones and took the Giants quarterback to the ground.
Just DPOY things 🤷‍♂️ @nbsmallerbear#NYGvsSF on Prime Video
Also available on #NFLPlus https://t.co/qDMTitTfP0 pic.twitter.com/hIX3NRBgsy

— NFL (@NFL) September 22, 2023
Getting 'em down in bounds
A pair of screen passes on two third-and-longs to wide receiver Deebo Samuel and running back Christian McCaffrey — which combined for 47 yards — helped the 49ers get into the red zone early in the second quarter. Then on a third-and-5 from the New York 9-yard line, Purdy hit wide receiver Ronnie Bell, who got his feet in bounds near the pylon for the San Francisco touchdown.
San Fran doing what it does
Faced with a third-and-12 on the Giants' 20-yard line, Purdy hit tight end George Kittle, who maneuvered his way through the defense for another 49ers first down; Giants defensive lineman Leonard Williams was flagged for roughing the passer, putting the ball on the 4-yard line. On the very next play, McCaffrey ran in a 4-yard score.
Giants steal 3
A 17-yard completion from Jones to wide receiver Darius Slayton got the Giants in 49ers territory on the ensuing possession, helping them get in range for Gano, who connected on a 57-yard field goal with 13 seconds remaining in the first half.
HALFTIME – 49ers 17, Giants 6
The 49ers controlled the first half, maintaining possession for 20 minutes and outgaining the Giants 242-88 in total yards. McCaffrey made NFL history in the first half. According to FOX Sports Research, McCaffrey's rushing score made it 12 consecutive games that he has reached the end zone (including the playoffs). If he scores next week, McCaffrey will break a tie with Jerry Rice (1987) for the most consecutive games with a touchdown in 49ers history.
Giants take advantage
The Giants and 49ers each punted on their first possessions of the second half. Then a fair catch interference penalty on Shemar Jean-Charles put the ball on the San Francisco 37-yard line for New York.
On the second play of the drive, 49ers defensive back Deommodore Lenoir was penalized for pass interference. One play later, Matt Breida powered in an 8-yard touchdown run for the Giants. They failed to convert a two-point conversion, though.
Deebo keeps going
On the first play of the ensuing drive, Samuel somehow evaded four tackle attempts en route to a 40-yard pickup. The drive ended with a 21-yard field goal from Moody. San Francisco led 20-12 with 4:08 remaining in the third quarter.
They just won't go down
After forcing a Giants three-and-out, the 49ers put together another field-goal drive, which was set up by a 29-yard completion from Purdy to Kittle — who put a stiff-arm on safety Xavier McKinney and kept going through the New York secondary on the play.
Finding Deebo
San Francisco forced another New York three-and-out, and then it took a three-score lead. On the eighth play of the next drive, Purdy hit a contested Samuel for a 27-yard touchdown. The 49ers led 30-12 with 5:58 remaining in the fourth quarter.
INT for good measure
Jones had his pass tipped multiple times, and 49ers safety Talanoa Hufanga ultimately came down with the interception.
Brock Purdy finds Ronnie Bell to give the @49ers the lead! 🔔💥

(via @49ers)pic.twitter.com/uDU2O7gtf8

— FOX Sports: NFL (@NFLonFOX) September 22, 2023
Unknown Gunmen attack Sunshine Stars team as players, officials sustain injuries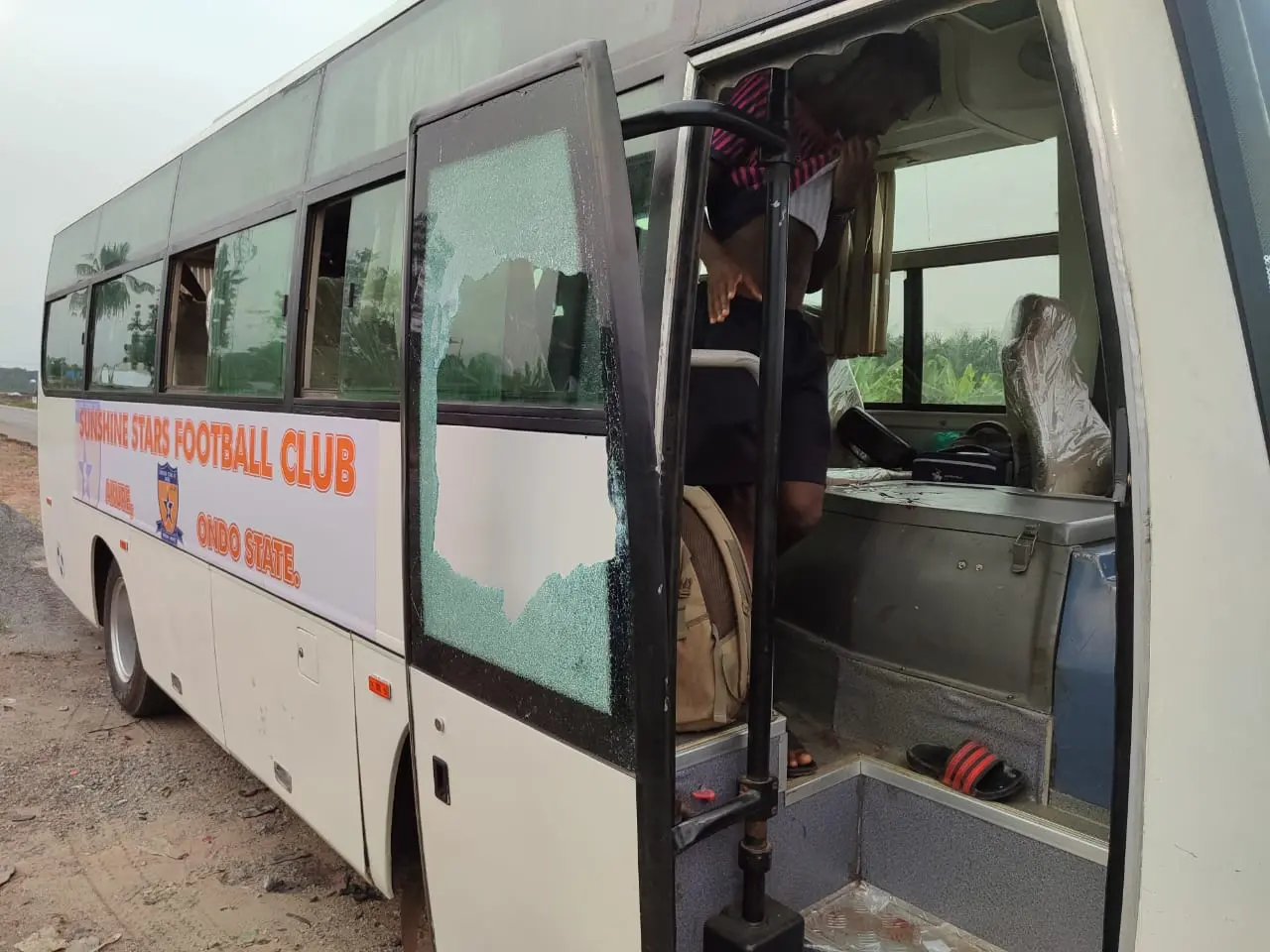 Unknown Gunmen attack Sunshine Stars team as players, officials sustain injuries
Sadly, the team bus of Sunshine Stars Football Club of Akure, Ondo State has been ambushed by unknown gunmen with players and several officials sustaining injuries.
In a statement, the club's media officer, Michael Akintunde, confirmed the attack and claimed it happened on Thursday, December 7, 2023, at approximately 5:30 p.m. along the Benin-Ore expressway in Ondo State.
According to Akintunde, the attack happened when the team was on their way to honour match day 13 of the Nigeria Premier Football League match with Bendel Insurance of Benin.
He stated: "It saddens our hearts to inform Nigerians, especially football lovers that our team was attacked few minutes ago along Benin-Ore Expressway.
"The horrible incident happened to the team as they were on their way to honor an Elite League tie against Insurance of Benin, scheduled for this weekend.
"Our ball boy was shot in the horrible attack.
"Also, our team manager and other club officials including players are seriously injured."
The Sunshine Stars official noted it took the intervention of the Federal Road Safety Corp (FRSC) officers, who rescued and took the injured officials and the individual shot to a nearby hospital.
Akintunde called on Nigerians and football lovers to join them in prayers at "this sad and trying times" for the football club.
2026 WCQ: Oliseh Reacts To Super Eagles' Disapointing Draw Against Lesotho
2026 WCQ: Oliseh Reacts To Super Eagles' Disapointing Draw Against Lesotho
Former Super Eagles head coach, Sunday Oliseh, has expressed disappointment following the team's 1-1 draw against Lesotho in Uyo on Thursday.
Jose Peseiro's side were expected to run over their 153rd-ranked opponent but only rallied to earn a share of the spoils in the encounter.
Oliseh, a member of the Super Eagles side that won the 1994 Africa Cup of Nations in Tunisia, took to social media to express his frustration over the result.
"Haba, This nightmare go ever end? Woke up to this shocker this morning. Our homebased suppose dey beat Lesotho na! dem even first us score!!!! The painful part be say, no consequences for these national embarrassments sef!" the former midfielder wrote on his X handle.
The Super Eagles will hope to bounce back when they take on the Warriors of Zimbabwe on Sunday.
The encounter at the Huye Stadium, Butare, will kick off at 2 pm.
I Am The Most Successful, Decorated Football Player In Nigeria Says Mikel Obi
I Am The Most Successful, Decorated Football Player In Nigeria Says Mikel Obi
I'm still Nigeria's most successful, decorated footballer – Mikel Obi
Chelsea and Super Eagles legend, John Mikel Obi has bragged that he is "still the most successful and decorated football player in Nigeria".
He said despite all his achievements he was never ranked number 8 in the world by the Ballon d'Or like Nigerian youngster, Victor Osimhen.
Speaking in the latest episode of his podcast, The Obi One, which had Osimhen as a guest, Mikel said the Napoli striker has raised the bar high for Nigerian footballers.
He said, "I am still the most successful and decorated football player in Nigeria. But he [Victor Osimhen] got an award that I never got. He was ranked number 8 in the world by Ballon d'Or. That's absolutely amazing. I must say congratulations. The season you had, it was fantastic and I never got to that stage. You've raised the bar so high."
Responding, Osimhen reckoned that Mikel "is more than a legend" to many Nigerian footballers, adding that the former Super Eagles captain inspired him and others on and off the pitch.
On his Ballon d'Or success, the Napoli striker said "I just kept on doing my job, doing what I love so much and God just crowned my efforts."