Give it to Muda at 50, from grassroots mobilizer to political titan By Bolatito Adebola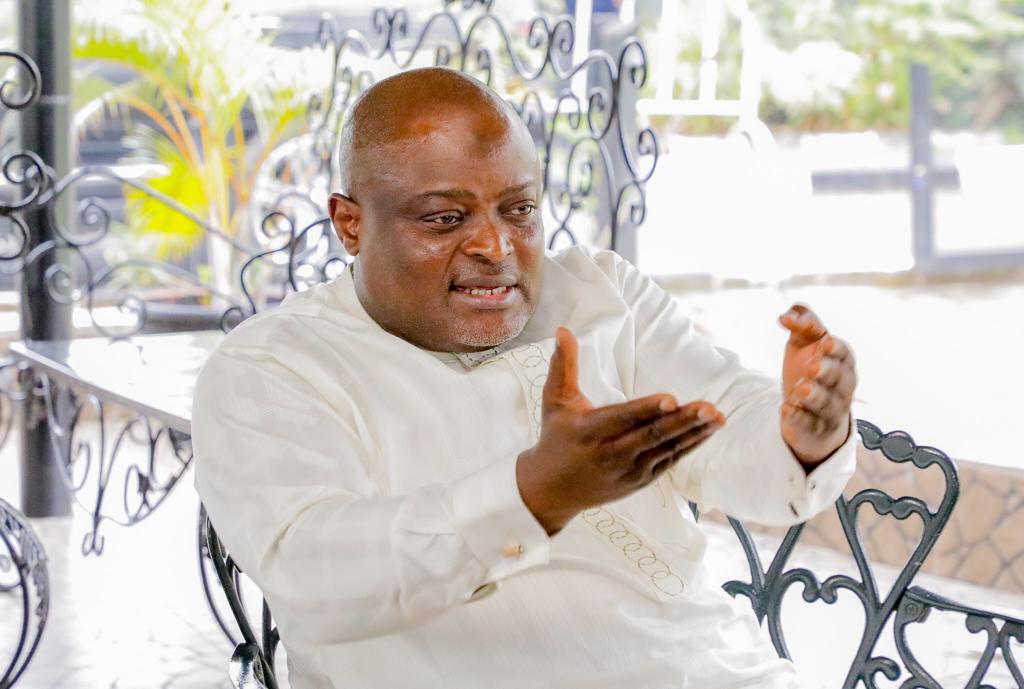 *Give it to Muda at 50, from grassroots mobilizer to political titan By Bolatito Adebola
Without doubt, a gregarious man and versatile lawmaker is an example and testimony of God's grace, who rose from nothing to something, from peasant politician to political titan/warlord. The potent statement aptly describes the mercurial rise of Lagos State House Assembly, speaker, Rt. Hon. Mudashiru Ajayi Obasa, the astute politician with many unruffled political feathers and undeniably and arguably Nigeria's most versatile and dynamic speaker of House of Assembly by all calculation and math.
Obasa, obviously reveling in the grace of his new attain age, is a man that does his things in very eloquent ways; and as a long-standing and oldest serving member of the vibrant LSHA, Mudashiru Obasa has risen above all odds to make a golden name for himself as a lawmaker, legislator and political marksman, despite all the oddities in politics.
The indisputable man of the people, who does not make it an issue or bat and eye leave to give to his beloved and much cherished constituents, what they want and how they deserve it at any given time; the fifth-term lawmaker, Obasa who is presently wallowing in his attaining the milestone age of 50.
Obasa has a pedigree that no politician in his ilk can match. He has given the leadership of the house a penchant that other House of Assembly members are copying and hoping to emulate.
For many reasons, this extra-ordinary politician on the Lagos turf is a quintessential politician and consummate grandmaster of murky-water politics in Lagos State at 50.
Despite that having been in the thick political storm of the volatile political terrain of the Center of Excellence state, Lagos, for years and survived many travails and oddities in the dirty waters of politics, by the grace of God and his wisdom; Obasa could aptly be described as the proverbial 'cat with nine lives,' having also traversed virtually all known vicissitudes in politics and yet came out unscathed, and still not waning in his quest to make the Lagos State Legislature the leader in the pack.
For years, many have been wondering about how the pragmatic and sagacious politician, Obasa has repeatedly been proving cynics wrong on all fronts as a performing and foremost principal officer of the most vibrant state assembly in the country in his last two consecutive term as a Speaker.
He has no doubt kept the wheel of governance moving at a steady pace and he has remained undaunted, albeit meritoriously, despite all the gamut of difficulties, travails and the traducer he has faced, and the many battle he has fought from within and outside his party.
The intelligent man of honour and simply grassrooted politician remains unhindered and still goes on in his political adventure selflessly, as if nothing ever happened to cow him. This is because the political titan of sort has continued to hold his state's legislative arm as one, thus making the LSHA a reference point for other states' Houses of Assembly in the country, just even his fellow members in the House have attested to this by passing a vote of confidence on him by assuring him of their total support in the remaining years of the 9th Assembly, all other things being equal.
Notwithstanding the difficulties he has faced and the battle he has fought within his party, the politician remains un-rattled and unshaking, and still goes about his political adventure without minding whose ox is gored.
At 50, the deeply grass-rooted politician still enjoys so much favour and preference for the plum post across all divides in his party. The sagacious, pragmatic and politically-astute lawmaker has mastered the ropes so well that he is now very instrumental in any decision-making process at both his constituency and the House, nay the Executive arm of the government in Lagos State.
Today, Obasa has stealthily emerged as an unfolding force in the political firmament of Lagos politics, and this is no hyperbole, as he is virtually a recurring decimal in most decisions taken at his party, APC. Rt. Hon. Mudashiru Obasa has also been amplifying via his intensive leadership of the party under his watch, on account of his largely unassailable road to an unprecedented fifth term as Honourable member, and foremost principal officer of the LSHA.
To boot, it is very clear that this man with an uncommon political mien and zeal has gained so much power and influence within the party and even the House which he supremely and qualitatively superintends and wields so much authority without fear or favour. Obasa is now fully in power and the party dares not take any decision without his input or consent.
Give it to Muda, at 50, the sky is obviously the starting point for esteemed Rt. Honourable, as he surely still has more in his political kitty to unleashed in many more years to come, God helping not to derailed in his much avowed positive political mission.
Voice Of Influence Foundation Presents Christmas Outreach For widows, Elderly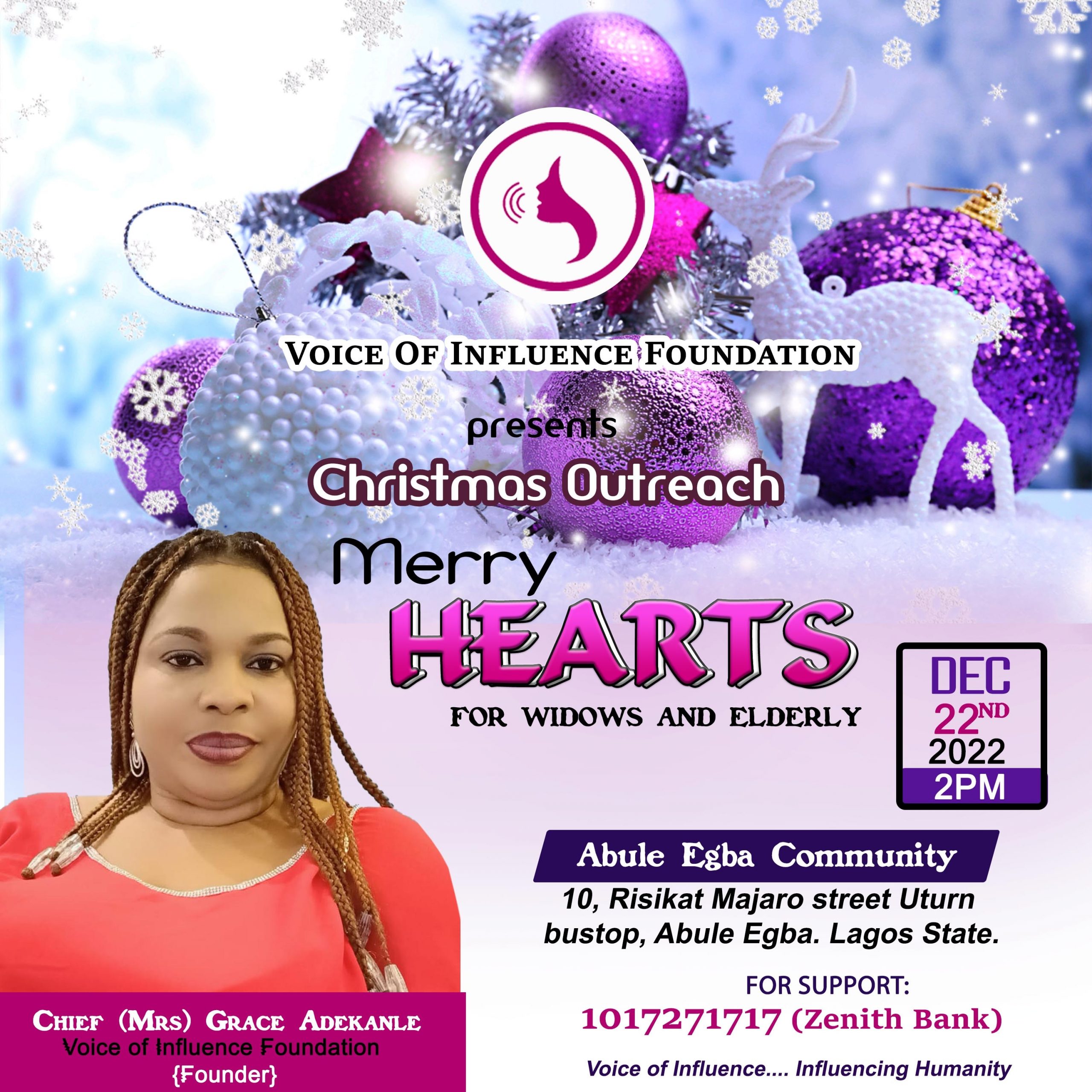 Voice Of Influence Foundation Presents Christmas Outreach For widows, Elderly
He who takes care of the widows and elderly is blessed! The voice of Influence Foundation has decided to put smiles on the faces of the widows and the elderly in Abule Egba, Lagos axis on the 22nd of December, 2022.
According to the founder of Voice Of Influence Foundation, Chief ( Mrs) Grace Adekanle, the move is to make comfort them and also to be a channel of joy to the widows and elderly ones who are mostly neglected by the society during the festive periods. She also stated that the foundation is a haven of love for the less privileged.
Olori Esther Benson, who is among the volunteers for the lofty project reaffirms their decision to make the Christmas outreach a merry hearts for widows and the Elderly. She urged everyone to support the foundation with gifts and cash for the project and be a blessing to the widows and elderly.
Why Seyi Tinubu is not your usual silver spoon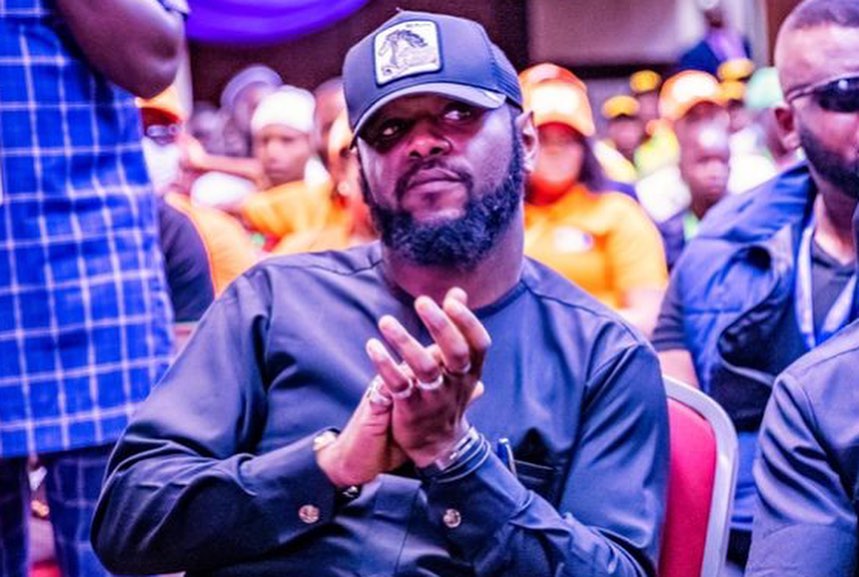 *Why Seyi Tinubu is not your usual silver spoon* By Mohammed Funsho Abdullahi.
I hate praise-singing or flattery because I believe they are traits and habits of sycophants. But every writer is also, by nature, a reporter; we always love to document our experiences, either good or bad. Hence, this piece is about my encounter with
Seyi Tinubu
, son of APC Presidential candidate, Asiwaju
Bola Ahmed Tinubu.
It is about what stood out for me and, of course, my general impression of the young, successful businessman.
Economist and author, Tope Fasua once narrated how Asiwaju Bola Tinubu sought him out after reading some of his commentaries on the article he (Asiwaju) had written about some economic policies. My path to Seyi followed a similar pattern. I had written an article in which I observed that Seyi was doing a good job of upholding his father's legacy of human cultivation which, for me, has been the biggest secret of Asiwaju's humongous political network and powerbase.
I sent a link to the writeup to one of the closest guys around Seyi Tinubu, who also happens to be a personal friend. He obviously shared the article with Seyi and requested him to see me when next he was in Abuja. He granted his request and when, on Tuesday, my friend confirmed that he was in town, he asked me to come with him to the 'Youth House' to meet a man I had always admired for his breathtaking and compelling entrepreneurial success in marketing communications, a sector I also happen to have more than a passing interest.
I am, by nature, an observer rather than a researcher. Most of my writings are personal commentaries on events and people. And having observed how deeply invested Seyi Tinubu had been in his father's campaigns for the country's topmost job, the Presidency, I had initially planned to write about how his active involvement in the electioneering process is changing the almost established narrative of children of politicians not joining political struggles.
With captions such as "Seyi Tinubu inaugurates youth campaign office in Kano," "Seyi Tinubu leads one million man march for Tinubu," "Seyi Tinubu plans youth engagement forum for Tinubu," etc dominating newspaper headlines; then you know that when the story is written about those who make Asiwaju's victory possible, none would arguably deserve more praises and commendation than his own son. Possibly for the first time in our nation's political history, the biological son of a politician is joining the campaign fray, jettisoning  the 'Ajebota' practice of having children of political candidates hide away while others work their hearts out for the victory of their parents.
But beyond what is being reported in the media, what I saw on Tuesday at The Youth House clearly validated the claims Seyi made in some of his interviews, about working hard to be his own man, and how he was determined to create his own legacy and not tie himself to his "father's apron." I now know that those were not just mere talks. On that Tuesday, as I saw Seyi Tinubu working his hearts out, subjecting himself to a most hectic and grueling schedule and enjoying the thrill of the struggles of life which must have made his father into the accomplished political enigma he is today; I concluded that it would be most unfair for anyone to belittle the achievements of this hardworking man simply on account of his surname.
I am sure many of us must be familiar with stories of rich kids who are totally disinterested in their own progress, not to talk of those of others, parents or not. But Seyi is one of the few exceptions, he has shown that he has a large dose of fighting spirit in him, and he is working  hard to take charge of his life, fully secure in the knowledge that he is not responsible for what happened before he was born. He must have resolved not to let the judgements of others, about whether or not his success was a consequence of his family name, get him down.
In one of his recollections of the lessons he learnt from his parents, Seyi once told a reporter: "That's how my dad raised us to be. We were all told from day one: once you are done with school, that's all we can give you." But in truth, Seyi did get more than a good education from his father, the Jagaban. He learnt the secret of loyalty cultivation and the benefit of investing in people.
As every good student of business and management should know, the best investment, one which yields the greatest return, is in people. This is the skill that is hardest to cultivate, but one which represents the greatest source of strength for every powerful individual; and one whose core foundation is the exclusive focus on what matters which, to most people, is their welfare and wellbeing.
It is said that for a leader to earn the loyalty of his followers, he must be able to show that if they (the followers) are ready to die for him, he would at least also be willing to faint for them. A leader focuses not so much on what matters to him as a person, but rather on what matters to those who follows him. By showing concern about the wellbeing of his followers, a leader is able to cultivate loyalty and dedication. This is one secret Seyi Tinubu has mastered.
I visited him the same day he arrived Abuja, so the crowd of people I saw was quite expected. There were quite a number of groups waiting to see him, aside those with individual appointments. The Youth House witnessed a beehive of activities on the day in question, and Seyi was obviously looking very tired and overworked. When it was my turn to see him, he first explained why the meeting would have to be brief, almost apologizing that he was filling sick. But in spite of the 'crazy' schedule he had ran for the day and the telling effect it was having on his physical appearance; Seyi still remember to ask me, after we were done talking, whether "everything was fine with me." I couldn't believe someone that stressed out, and who still had a lot of people waiting to see him, would care to know how someone was faring at that busy moment. I was impressed!
I left The Youth House with the impression that Seyi is, indeed, an unusual silver spoon kid. While most rich kids are brash and arrogant, Seyi is courteous, polite and friendly. He also has one of the strongest work ethics I have seen in any young man of my generation. No doubt, beyond his success as a politician, I believe Jagaban has done a wonderful job in the home front as well, raising a man like Seyi who treats every man with dignity while living a life of inspiration and meaning.
SCOAN HOLDS FIRST THANKSGIVING CHURCH SERVICE ON SUNDAY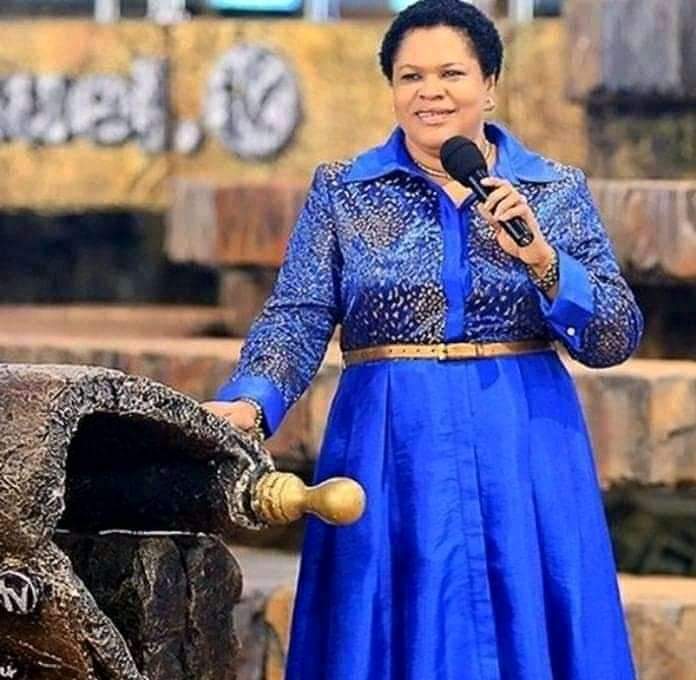 SCOAN HOLDS FIRST THANKSGIVING CHURCH SERVICE ON SUNDAY.
The first thanksgiving church service commemorating the reopening of SCOAN for local and international members for worship after the passing of its founder, Senior Prophet TB Joshua holds on Sunday, December 4, 2022.
The founder passed on last year June 5, 2021 and the church did not reopen till December 5,2021 when the church commenced its usual Sunday services.
Though the church was not in operation as at the time the founder passed on, the man of God had insisted he would not reopen the church after the relaxation of Covid-19 pandemic insisting unlike other churches which started operating that he would wait for God's directive regarding SCOAN reopening.
This Sunday, SCOAN members from different countries and continents are gathering to celebrate what the SCOAN leader Pastor Mrs Evelyn TB Joshua described as "God's faithfulness, love, blessing, favour, mercy, salvation and triumph of His mission for mankind as given to His departed servant, Prophet TB Joshua.
Part of the activities lined up for the Thanksgiving Service, include a weeklong reaching out to the underprivileged, the sick, widows, disabled and motherless homes and the hungered in diverse forms being crowned with the Sunday Thanksgiving service.