Gov. Abiodun Receives Governor Of The Year 2020 Award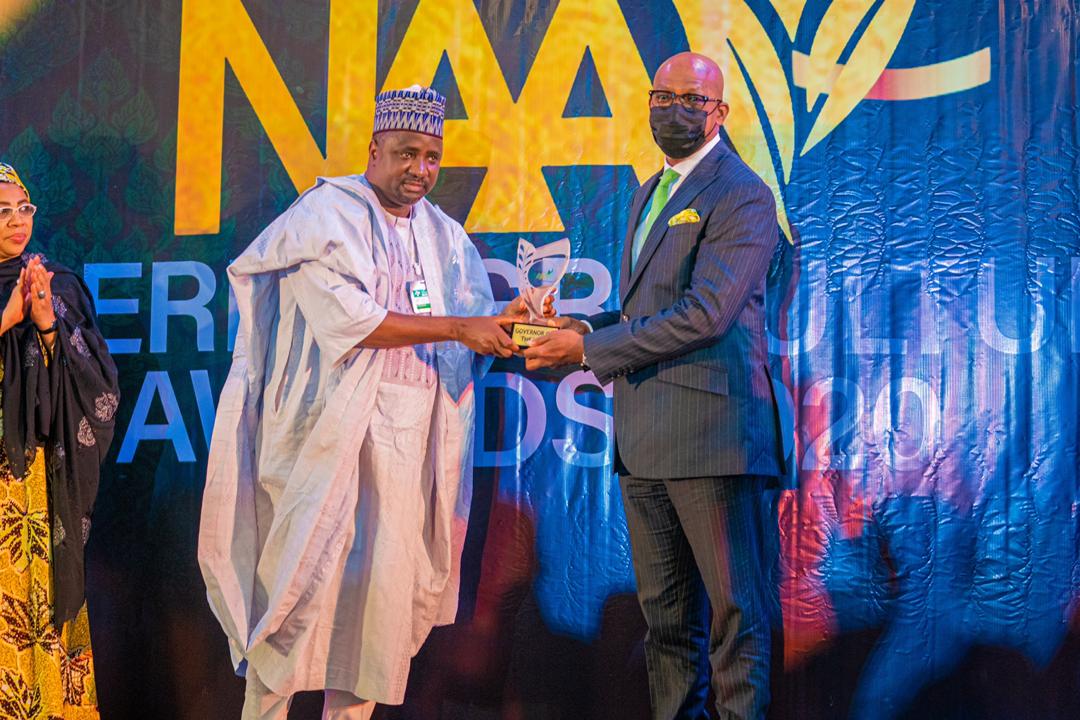 Arguably a line crosser and a barrier breaker, Governor Dapo Abiodun has bagged another award as the Governor of the year 2020.
The ever working Number one citizen of Ogun State received the prestigious award as Governor of the Year 2020 from the Nigeria Agriculture Awards, NAA in Abuja yesterday..
We reliably gathered that for his landmark achievements in the major sectors in the state amidst all limitations, he won the awards. It would be recalled that he also won the best Governor on education in Nigeria recently.. The award was organized by the National Parents Teachers Associatio.
Prince Adedapo Oluseun Abiodun, MFR, Governor of Ogun State, Nigeria, was born on Sunday, 29th May, 1960 into the family of Dr. Emmanuel and Mrs. Victoria Abiodun of Iperu-Remo, in Ikenne Local Government of Ogun State.  Both parents are teachers.  He attended Christ's School Ado Ekiti in 1972, St. Joseph's College, Ondo in 1977, and later Ondo High School, in 1978. His education followed the movement pattern of his parents who served in different parts of the then Western Region. Dapo Abiodun proceeded to the prestigious University of Ife (now Obafemi Awolowo University), Ile-Ife, Osun State, where he studied Civil Engineering but later transferred to the Kennesaw State University in Atlanta, Georgia, United States where he graduated with a BBA in Accounting in 1986. Dapo began his career with Glock Inc. USA as Cost Accountant and worked between 1989-1991.  Thereafter, his passion for the motherland made him return to Nigeria and he immediately embarked on an entrepreneurship voyage. He founded a number of successful businesses.  Until his assumption of office as Governor of Ogun State in May, 2019, he was Chairman and / or
Chief Executive of several reputable companies which included Crestar Hydrocarbons Limited, OMS-Heyden Exploration and Production Limited, Heyden Petroleum Limited, Alarmnet and Innovative Ventures Limited, and First Power Limited. As a result of his vast wealth of experience in boardroom activities, corporate governance and finance, Prince Abiodun became a regular face at Board Meetings of several blue-chip companies. His experience transcends the private sector. He also served as a member of various Presidential Committees like the Presidential Think Tank set up by President Olusegun Obasanjo in 2001. He was appointed Chairman, Oil and Gas Committee of Ogun State in 2009 and served as Chairman of Depot and Petroleum Product Marketers Association (DAPPMA) from 2012 till 2019.  Prince Abiodun, in 2018, was appointed Chairman of Corporate Affairs Commission (CAC) by President Muhammadu Buhari and led a number of reform initiatives that standardized and improved the business registration process in the country, leading to a higher ease-of-doing-business ranking for the country.  In 2014, he was honoured by President Goodluck Ebele Jonathan with the prestigious National Award of Member of the Order of the Federal Republic of Nigeria (MFR).
In 2018, he was awarded a Doctor of Science in Business Development and Administration (Honoris Causa) Degree by the Adeleke University, Ede, Osun State and another Doctor of Finance (Honoris Causa) Degree by the Ekiti State University, Ado-Ekiti, in recognition of his significant positive impacts and immense contributions to the development of the nation and humanity.
Political Antecedence
On his return from the U.S.A and in line with his commitment to the development of the State, and love for his people, he contested and won the Ogun East Senatorial seat way back in 1998 on the platform of the defunct United Nigeria Congress Party, emerging as the youngest senator-elect in the country. The victory was, however, truncated by political developments in the country that aborted the Third Republic and the assumption of office of the elected political office holders.
He later joined the Peoples Democratic Party in 1999 as a founding member on which platform he contested in the primaries for the governorship ticket in Ogun State in 2002. He emerged as the runner-up to the winner of the ticket, who eventually became the winner at the general elections.
Undaunted, he threw himself into the Ogun East Senatorial race as the flagbearer of the All Progressive Congress (APC) in 2015 losing narrowly to the winner. Whilst his previous political journey might have been a mixed bag, his love for his people, commitment to serve them and passion for the development of Ogun State never waned. Therefore, in 2018, he made a comeback and contested for and won the governorship ticket of the APC in Ogun State in what was arguably the most celebrated governorship contest in the 2019 general elections.
His message of Building our Future Together resonated and was well received across the State and energized the people resulting in a resounding victory at the 2019 polls, thus emerging as the 5th elected
AdeDimeji Lateef, Dele omo Woli , Bash , Other A-list Comedians storm ijebu for Mc Baffy's Ijebu Go Laugh '23 Edition*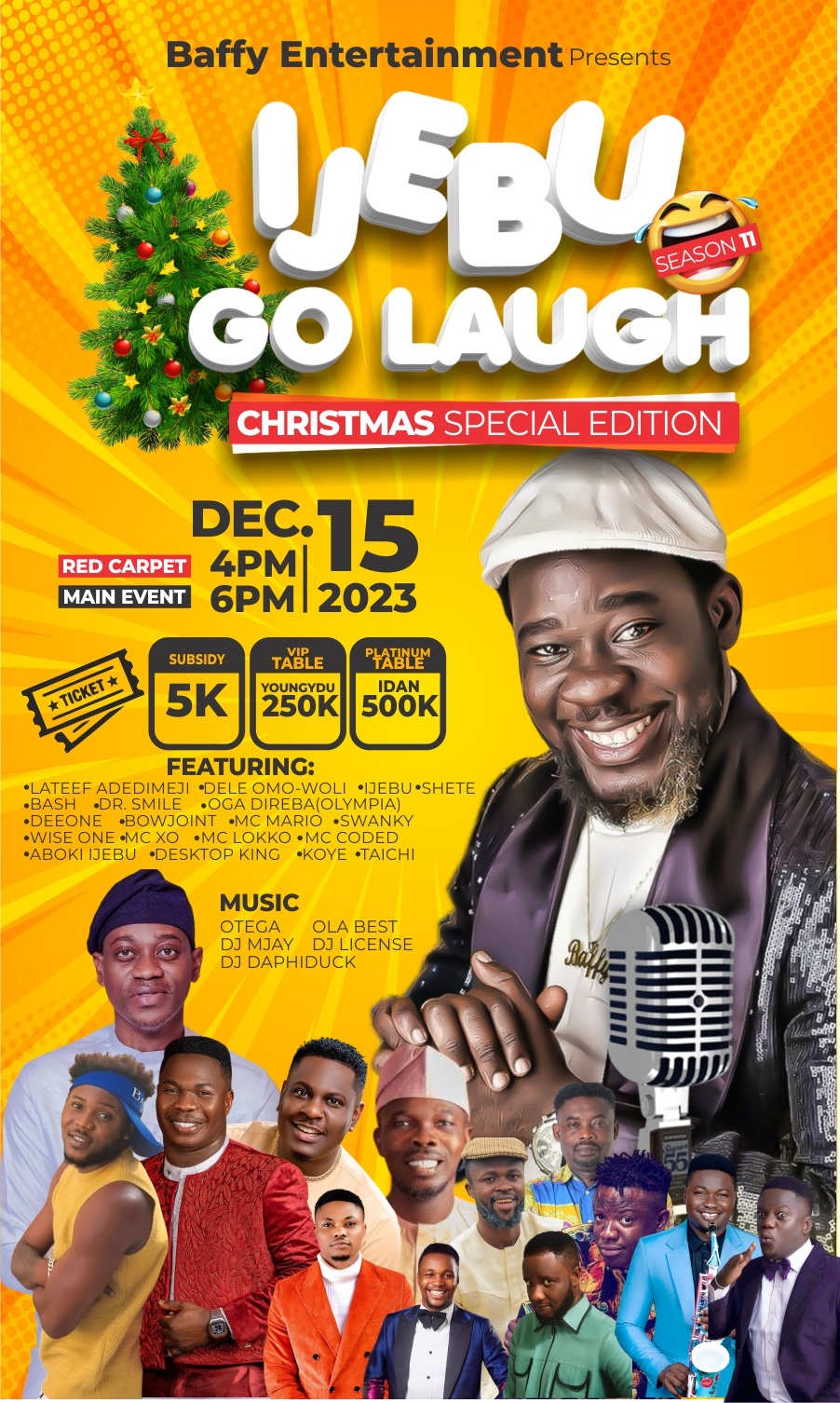 AdeDimeji Lateef, Dele omo Woli , Bash , Other A-list Comedians storm ijebu for Mc Baffy's Ijebu Go Laugh '23 Edition*
Fast-rising comedian and Master compere, Ayodeji Atanda prominently known around town as Baffy De Comedian will in few days time bring the AY Live experience to Ijebuland.
The grand event which promises to be a hit will hold on Friday, December 15, 2023 at the upscale Rolak Hotel and Suites, Imowo road, Ijebu Ode, Ogun state, starting from 4pm.
The annual comedy concert which has gathered momentum in recent years will have A-list comedians and artists like Lateef Adedimeji, Dele Omo-Woli, Ijebu, Dr Smile, Bash and Mc Mario in attendance.
Others music artistes and Nollywood celebrities expected are Olabest, Otega, Hephta, Koye, Shete, Mc Coded, Dj License and many others.
According to the convener of the award-winning programme, Mc Baffy, the comedy concert has been holding successfully in the last 11 years. We are out to thrill the audience with a breathtaking performance. I am bringing an AY LIVE experience to ijebu for ther first time and I am sure my people will be impressed.
DSS Raid: Igboho Denies Turning Into Cat To Escape Arrest
DSS Raid: Igboho Denies Turning Into Cat To Escape Arrest
Sunday Igboho, a Yoruba Nation activist, has finally spoken out about rumours that he transformed into a cat during a midnight raid on his home by the Department of State Services (DSS) in July 2021.
In an interview, Igboho refuted the report, saying that nothing like that occurred during the DSS raid.
He added that the DSS fired sporadically during the raid, killing multiple cats.
According to the activist, the DSS wanted to either kill or arrest him during the raid.
He said, "It is true that some cats were killed during the attack. Because the DSS just kept firing bullets in all directions. I was rearing cats as pets, and I had many of them in my house. So, anything or movement attracted sporadic gunshots.
"Their mission was to either kill me or arrest me and take me to an unknown destination, but the Almighty God is greater than anybody in this world, including the despotic ex-President Muhammadu Buhari."
Igboho added that he does not know whether the DSS brought three herbalists during the raid.
Yoruba Movie Gist Awards To Hold At RM Place Magodo Lagos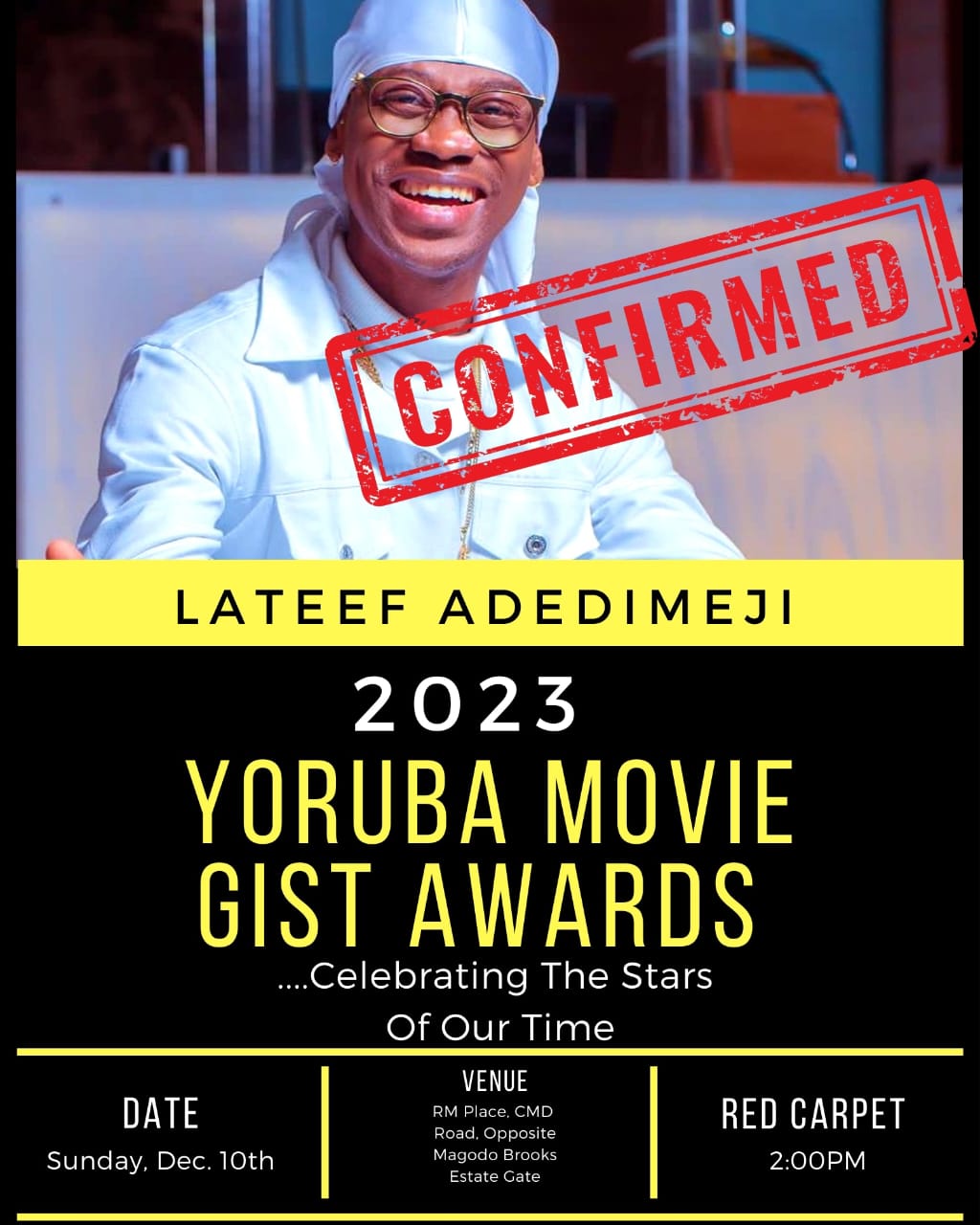 Yoruba Movie Gist Awards To Hold At RM Place Magodo Lagos
Olakiitan Adetutu Communications, spearheaded by Gbolahan Adetayo, the brains behind the esteemed Yoruba Movie Gist Awards, has disclosed RM Place, Opposite Brook Estate, CMD Road, Magodo, Lagos State, as the designated venue for the much-anticipated 2023 edition of the awards.
The prestigious ceremony is set to commence with a glamorous red carpet session at 2 pm, strictly adhering to a punctual schedule, and the main event will follow suit at 4 pm. The organizers emphasize a strict "No African time" policy, ensuring a timely and seamless experience for attendees.
This star-studded occasion promises the presence of top-tier Nollywood personalities, including the likes of Lateef Adedimeji, Ayo Olaiya, Yinka Salawu, Wumi Toriola, Omowunmi Ajiboye, Biodun Okeowo, and an array of other luminaries from the Yoruba movie industry.
Save the date, as the 2023 Yoruba Movie Gist Awards at RM Place, CMD Road, Magodo, Lagos, is destined to be an evening of glamour, recognition, and celebration within the vibrant landscape of Nollywood.