GUIDE TO BUYING REAL ESTATE IN NIGERIA 2022: TIPS TO CONSIDER BY DENNIS ISONG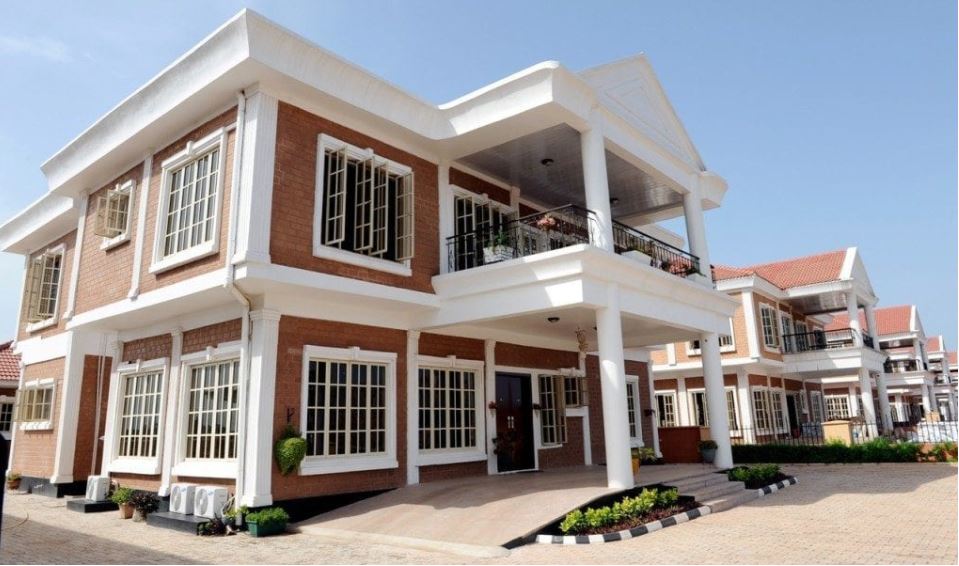 GUIDE TO BUYING REAL ESTATE IN NIGERIA 2022: TIPS TO CONSIDER BY DENNIS ISONG
Buying real estate is the biggest, safest, longest-lasting, and greatest investment one can make these days while still young, energetic, and active. When one is old and unable to work, no one wants to be homeless or helpless. Also, investing in a property that will provide you with a high return on investment is dependent on the location or type of the property.
Purchasing a home in Nigeria has a number of legal regulations and procedures that must be followed. The first step in buying a house in Nigeria is to consult with a lawyer who can verify the property you want to buy. Only a lawyer can assure that one does not run into legal issues with their property title after purchase, and only a lawyer is statutorily entitled to prepare legal documentation for the transfer of an interest in any property for a fee under Nigerian law.
STEP-BY-STEP GUIDE TO BUYING A HOUSE IN NIGERIA
For any property purchase in Nigeria, the following stages are critical and must be carefully followed:
⦁ All applicable property title documents must be demanded and collected by the buyer from the seller.
⦁ The buyer can then hire a lawyer to look into the seller's title as well as do due diligence on the house being sold.
⦁ The buyer will do a land registry search and have his or her solicitor investigate the property's title properly.
⦁ If the property's title is authentic, a seller or buyer may proceed to draft a contract of sale that both parties will sign. At this point, the buyer has the option of making a deposit or paying the entire property price.
⦁ Following full payment, the seller or buyer may draft and sign a deed of assignment or conveyance, which conveys the seller's or buyer's interest in the property.
⦁ The buyer may go ahead and register the property's title with the appropriate land registration.
REQUIREMENTS FOR BUYING A HOUSE IN NIGERIA
Several necessary documents are required from the seller as part of the land purchase procedure in order to efficiently convey a good title to the buyer. These documents are necessary since they tend to prove the seller's ownership interest. In Nigeria, there are many sorts of property paperwork to be aware of. The following documents are included in this collection:
The Certificate of Occupancy (CofO): It confirms the legal ownership of any land or property in Nigeria, regardless of its usage. It is frequently given to a landowner by the government as proof of the owner's interest in the property, provided that such interest is in accordance with the applicable laws. It is a legal document indicating that the governor of the state has awarded an individual who has acquired an interest in land a statutory right of possession. The CofO isn't always appropriate for all properties. It is mainly provided to people who had a property in Nigeria before the Land Use Act of 1978 was enacted, or to people who are receiving direct property allocation from any government.
Approved survey plan
This is an important document that reveals the exact location of a property as well as its limits. It will also reveal whether or not the property is subject to government acquisition.
Deed of Assignment
This is a very significant document that should be created by either the seller or the buyer of the land once any land transaction is completed. It is a legal document that is used to transfer a property interest from one person to another. If the seller previously purchased the house to be sold from another seller, the prospective buyer should obtain a copy of this paperwork so that he or she may trace the house's history.
Letter of Administration
If the owner fails to complete the deal, the buyer must request a grant of probate or letter of administration for the property. Any documents personally owned by a deceased person in respect of his or her property before death are no longer valid to convey title to the property after his or her death. In the case of any land or house owned by a deceased person, the award of probate or letter of administration will function as a legal title. The document will name Executors or Administrators, as the case may be, who will be able to sign any Assent instrument transferring the property's interest.
Governor's Consent
This is not a document of itself. Any property transfer requires the approval or attestation of a state governor, either directly or through an appointed commissioner. Any transaction involving the transfer or transferring of any property interest from one person to another requires the consent of the governor of a state under the Land Use Act of 1978.
Excision document
When a Certificate of Occupancy (C of O) is not accessible, this sort of paperwork comes in handy. You must ensure that the land is not a government acquisition or is not on the government's future use plan. An acceptable land document will result from excision that has been duly gazetted and verified by the Ministry of Land.When you buy land from a family via Excision, you'll need to fill out Form 1c, which you'll submit to the government to establish that the family sold you the land.
ANOTHER TIP TO CONSIDER – LOCATION
Location is another tip to consider when buying Real Estate in Nigeria. Before buying land in Nigeria, there are a few things you should know, and it's always a good idea to think about location when investing in real estate. This is because, when it comes to real estate investing, location plays a significant role in determining your return on investment. Whether you are a first-time real estate investor or have done so previously, you should consider price appreciation of the property while assessing location before purchasing land and homes.
Here are several profitable neighborhoods in Lagos, for example, where you may expect a good return on your real estate investment.Sangotedo, Ibeju
Lekki and Epe.
However, while you may be anxious to purchase land/property in Lagos, you may ignore several obvious and easy-to-detect indicators of forgery and fraud in your eagerness to own property in Nigeria's famed business city. As a result, you'll need to take some precautions to safeguard your property using the tips listed in this article.
Dennis Isong Helps Individuals Invest Right In Real Estate.For Questions On This Article Or Enquiring About Real Estate .Follow him on Youtube https://www.youtube.com/LandPropertyNG/ or Whatsapp/Call +2348164741041
Costfromi Big Apple Restaurant Birthed In Benin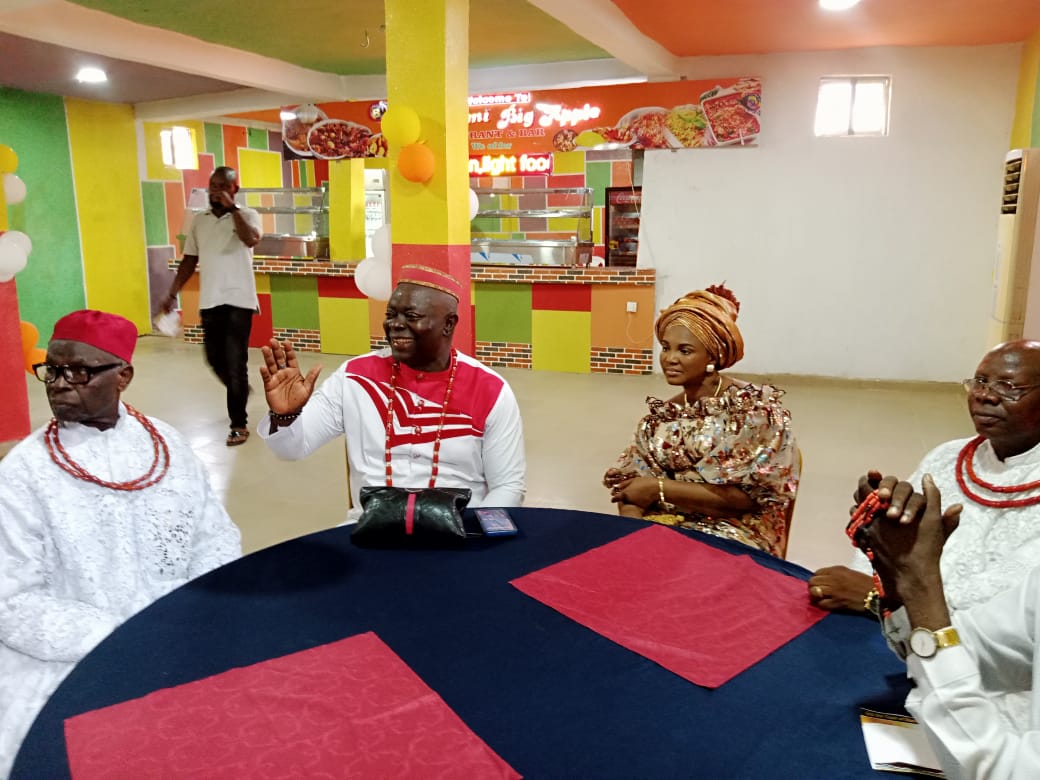 Costfromi Big Apple Restaurant Birthed In Benin
By Elvis Omoregie
An Ultra Modern Restaurant '
Costfromi
Big Apple
Restaurant
and Bar': a division of Costfromi Nigeria Limited, has joined restaurant business in the ancient city of Benin, Edo State capital
Costfromi Big Apple Restaurant situated at Suit G 17, inside Vegetable Market, No. 27, Airport Road, Benin City is owed by one of the prominent Chiefs in Benin Kingdom, Chief Ambrose Osuan, the Osuan of Benin Kingdom.
In an interview with newsmen after the commissioning, Chief Osuan opined that for constant healthy living, good food is what someone needed as medicine to the body. "If you eat good food according to balance diets, it would be difficult for you to get ill or sick.'
The Benin Chief added that people from the age of 40 and above should watch the type of food they eat or consumed for good healthy life which every family home needs.
"What motivated my aim and mission for the business is to create healthy meals for our customers. It has always be a premonition in my mind from those days, when I was in my infant stage. Even to open a restaurant, when I grow up I need to calculate the cost of production of the trade.
"So based on that thinking, I started embarking on research and interacting with the nutritionists all over the world, both in USA and United Kingdom. From my own findings, they all are the same to us. I also discovered that, from the past 100 years, people have been consuming too much of Omega 8 and Omega 6 into their body system, destroying their body mechanism on a gradual process.
"I felt the way to checkmate this much intake of Omega 8 and 6 is to create a restaurant that would not be too expensive, but for food that would be obtainable for the six geo-political zones in the country.
"We put all mechanism in place, that is how we got to this place we are now. But the main fact is that you have to eat according to your blood group. That is what it means, anything short of that, the person at the age of 50 years will be running from one hospital to the other."
Going further, Chief Osuan added, "Costfromi Big Apple Restaurant is set to provide good and healthy foods according to individual's body diets. We prepare dishes to match individual's body chemistry for optimal health results.
"We are using this forum to create a clarion call to the government to create the awareness to see how people can get more of the Omega H3, in order to checkmate the excessive of H3, as a result of bad oils that are rampant in every markets. Government have not been able to suppress it, but, there are many ways to do such things.
"Food that will give you high level of cholesterol is not enjoyment. A lot of people have money in this country, but they didn't know the type of food they are suppose to eat. There are certain blood group that certain food especially on the aspect of breakfast, launch and dinner because so many people are dying as a result of the food they eat," he posited.
Earlier in his address, the chairman of the occasion, Senator Roland Owie commended the initiator for setting up the food business to solve the problem of unemployment in the state.
He advised that good food promote good health and healthy living and appealed that everyone should always watch the kind of food they eat to remain healthy in life.
Highlight of the event was the commissioning of the CostFromi Big Apple Restaurant and Bar by the Chief launcher and the Father of the day, His Royal Highness, Chief Uyinmwen Okungbowa, the Duke of Imokpe Imue Dukedom.
''My Wife Is Responsible For My Glowing, Transformed Look'' – Prophet Joshua Iginla  As He Celebrates Her (Video)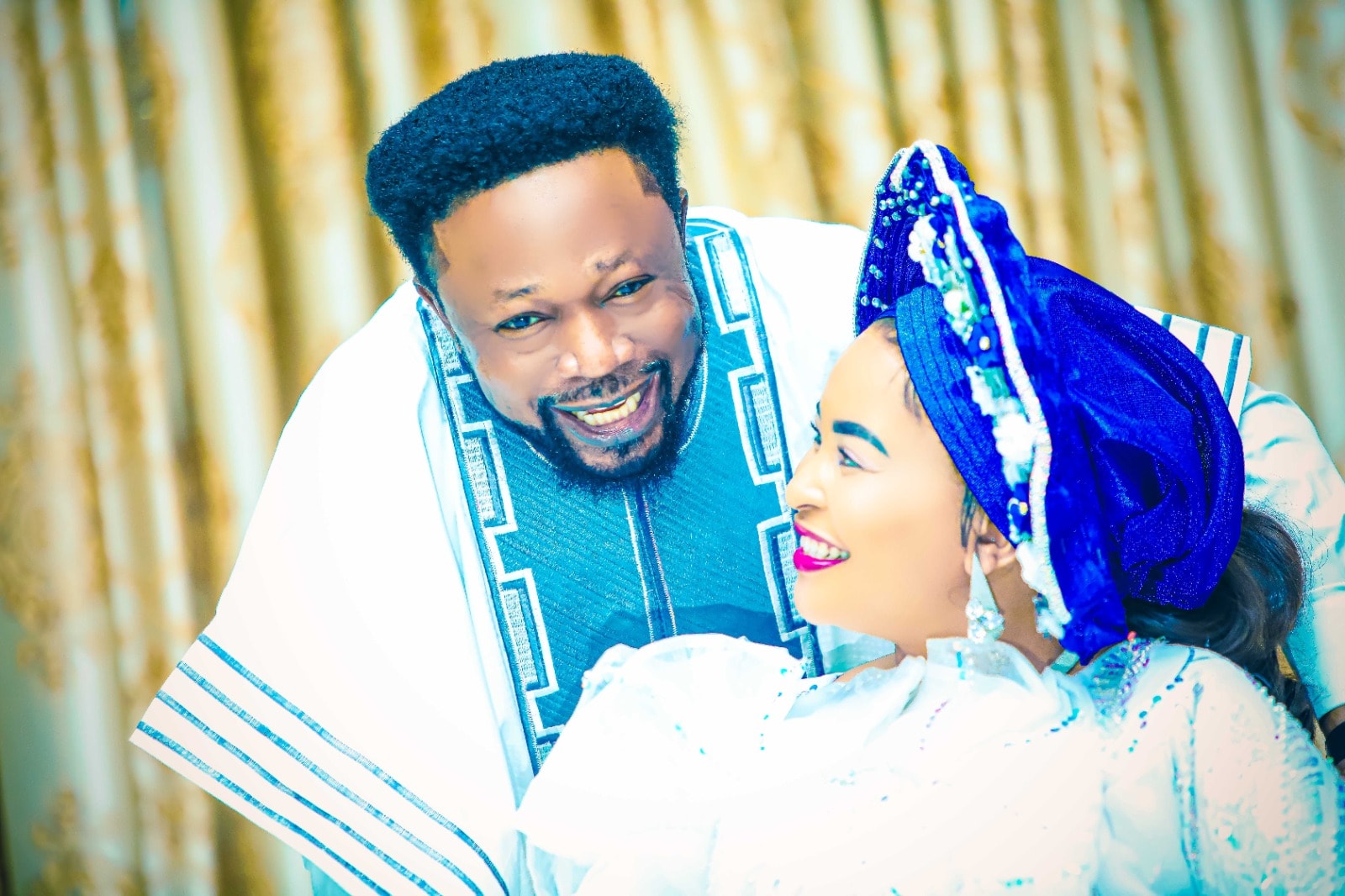 ''My Wife Is Responsible For My Glowing, Transformed Look'' – Prophet Joshua Iginla  As He Celebrates Her (Video)
The General Overseer of Champions Royal Assembly, Prophet Joshua Iginla has revealed that his wife is responsible for the transformation in his physical appearance.
In an exclusive interview session in commemoration of his birthday ceremony coming up today, Prophet Iginla, who has set tongues wagging with his new look, acknowledged the positive impact and the aesthetic value his wife, Prophetess Stella Iginla has added to his life and ministry.
He explained that Prophetess Stella has been wonderful and it will only be fair that he appreciates her for the tremendous transformation, reception, and comfort he has been enjoying in marriage.
''The secret is nothing else but God, he makes everything fine in his own time and of course, God has given me a wonderful wife. She has been so awesome and if you used to know me before 2019, you can see the changes. If I appreciate what God has done and I don't appreciate what my wife has done Prophetess Stella, and the tremendous transformation from her touch, reception, and what I have as a married man, I will not be doing justice''
Surprisingly, Prophet Joshua Iginla will be celebrating his birthday alongside his wife, Prophetess Stella who was born on the same day as him. Speaking on how he feels about this, Iginla described it as destiny considering the fact that his wife isn't a Nigerian but from South Africa.
''I will call it faith, fate and destiny. I call it destiny because we were born on the same day. All the way from South Africa to here in Nigeria, I'm from Ekiti and her birthday is tomorrow, hence this birthday celebration. The celebration means a lot because it's not just about me, it's about me, my wife and my family, and of course my son, He was born on May 9''
Also, Prophet Joshua Iginla when asked about the journey so far in marriage, made it known that God gave him his life partner in Prophetess Stella because it has been nothing short of perfect. He mentioned that it's been unique and interesting for him as he is running the race effortlessly.
''It's interesting that God gives you your own life partner and I would say the journey has been so perfect, unique, easy, no burden, and sweet. So many years ago I may not be able to say this but it's so easy to say I'm running the race effortlessly. There is nothing as unique as working with your dream partner in whatever you do; for me, it's unique.''
Celebrities That Own Customized Mercedes Benz Sprinter VIP Van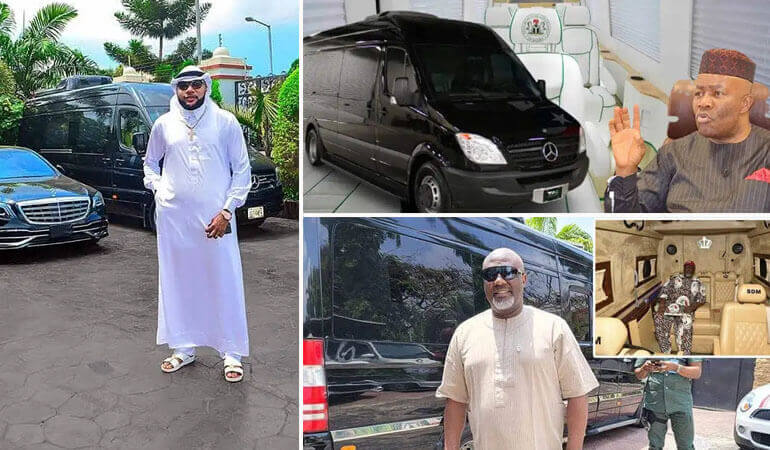 Celebrities That Own  Customized Mercedes Benz Sprinter VIP Van
Mercedes Benz Sprinter VIP Van has gained prominence in becoming the vehicle of choice for many celebrities and various wealthy people who need larger than usual average vehicles for their travel needs, luxury, or business engagements. The starting price of a Mercedes Benz Sprinter Van is nothing less than 18,000,000 NGN. Of course, the price gets higher depending on how celebrities want it customized. This implies you need to have a fat account to avoid the luxury of a Mercedes Benz Sprinter Van
The Mercedes Benz Sprinter is often regarded as a boxy vehicle on four wheels. This classic van with high end features has a dizzying array of body styles, engine choices and customization options. The fact is, whoever you are or whatever your travel needs are; there is always a Mercedes Sprinter that perfectly meets your itinerary. Mercedes-Benz Sprinter is a full-size van available in cargo, passenger and crew configurations. All vans come in 144-inch and 170-inch wheelbase lengths, and the longer-wheelbase versions are also available in extra-long cargo and crew configurations.
Due to its versatility, various celebrities are opting for the Mercedes Benz Sprinter Van. It provides space and comfort, and can easily be customized to fit the desires of whoever needs it and can pay for it. Below are popular celebrities who own one or more customized Mercedes Benz Sprinter Van.
E-MONEY
Emeka Okonkwo, popularly known as E-Money was born in Ajegunle, Lagos State on the 18th of February 1981. The young billionaire lives an extravagant life. This is no surprise because some quarters also call him Arab Money. He is the CEO of Five Star Group and Emy Cargo Limited.
He established Emy Cargo in 2007. This company is one of the best freight forwarding and shipping services companies in Africa. The company also sells both new and used American cars.
E-money is KCee's brother. This guy's got some wealth and is not afraid to spend it. Amongst his fleet of exotic vehicles is a customized Mercedes Benz Sprinter van. E-Money takes a lot of leisure cruises with his friends in his beautifully-styled Mercedes Benz Sprinter Van. The starting price for the customization specs used by E-Money in his sprinter van begins from 100,000,000 NGN
Godswill Akpabio
Godswill Akpabio  is the current Minister of Niger Delta, a former Senator of the Federal Republic of Nigeria and the Senate's Minority Leader. The veteran governor has wealth and affluence and doesn't hesitate to spend it on enjoying luxurious vehicles. In 2013, barely a few months after acquiring a $45 million private jet, Godswill Akapabio got himself several customized bulletproof Mercedes Benz Sprinter Vans.
The luxury vans were acquired from US-based Texas Armoring Corporation (TAC). Godswill Akapabio had his Sprinter Van customized by the Texas Armoring Corporation. Part of his customizations includes making the van bulletproof to enhance security. He also customized the seats white with a line of green and also had the Nigerian coat of arms imprinted on the headrest of the seats. His customized Sprinter van costs him several millions of dollars.
DINO MELAYE
Once a member of the House of Representatives, Dino is a politician, lawmaker and former senator of Nigeria. Serving as a senator, Dino Melaye represented the Kogi West Senatorial District under the People's Democratic Party. Senator Dino Melaye is one of the few senators who has stirred controversy in Nigeria with his attitudes and words. He is often referred to as the 'singing senator'.
Dino Melaye is a wealthy man. He is a busy man and travels a lot. Dino Melaye is the proud owner of a customized Mercedes Benz Sprinter van which he uses for most of his itinerary. For a wealthy politician, Dino Melaye can afford to have his Mercedes Benz sprinter van customized at a starting price of 130,000,000 NGN
PASTOR CHRIS OYAKHILOME
Popularly known as Christ Embassy, he is the president of LoveWorld Incorporated. Born on the 7th of December 1961, Pastor Chris Oyalkhilome is a pastor, televangelist and philanthropist. He is a graduate of the prestigious Ambrose Alli University, Nigeria.
Being a wealthy and successful pastor, Pastor Chris Oyalkhilome has a fleet of exotic cars and the Mercedes Benz Sprinter Van is one of them. This vehicle is customized to fit well the touring needs of the Man of God. Customized specifications of Pastor Chris Oyakhilome are that the van has armoured features and other advanced technology and safety features. Pastor Chris Oyalkhilome has not disclosed how much he spent on customizing his sprinter van.
Ayiri Emam
Ayiri Emami is a Nigerian activist and highly influential Niger Delta youth leader. He was the former chairman of the Delta Waterways Security Committee.
Wealthy and famous, Ayiri Emami is a versatile young man. Reports have it that he is a lover of expensive and exotic cars. Notable among his fleet of cars are Jeep Wrangler, Mini Cooper, BMW X6, Jaguar XJ, Bentley Mulsanne, Toyota Venza, Cadillac Escalade, Range Rover Sport, Lexus LX 470, Mercedes Benz G-Class etc.
He also owns a customized Mercedes Benz Sprinter Van. Very often, Ayiri Emami can be found cruising around town in his customized sprinter van with his wife and kids. His customized Sprinter Van costs him between 60,000,000 – 80,000,000 NGN.
Friday Ossai Osanebi
Friday Ossai Osanebi, born October 7, 1980, is a Nigerian and a member of the Delta State House of Assembly. He is the Lawmaker representing Ndokwa East Local Government Constituency in the State House of Assembly. He is the youngest legislator in the Delta State House of Assembly. The young lawmaker owns a customized Mercedes Benz Sprinter van which he used mostly during his campaign tours to be a lawmaker. Friday Ossai Osanebi has not revealed how much he bought his Sprinter van.