Heritage Bank: 9years of driving food sufficiency via bridging Agric value-chain finance gaps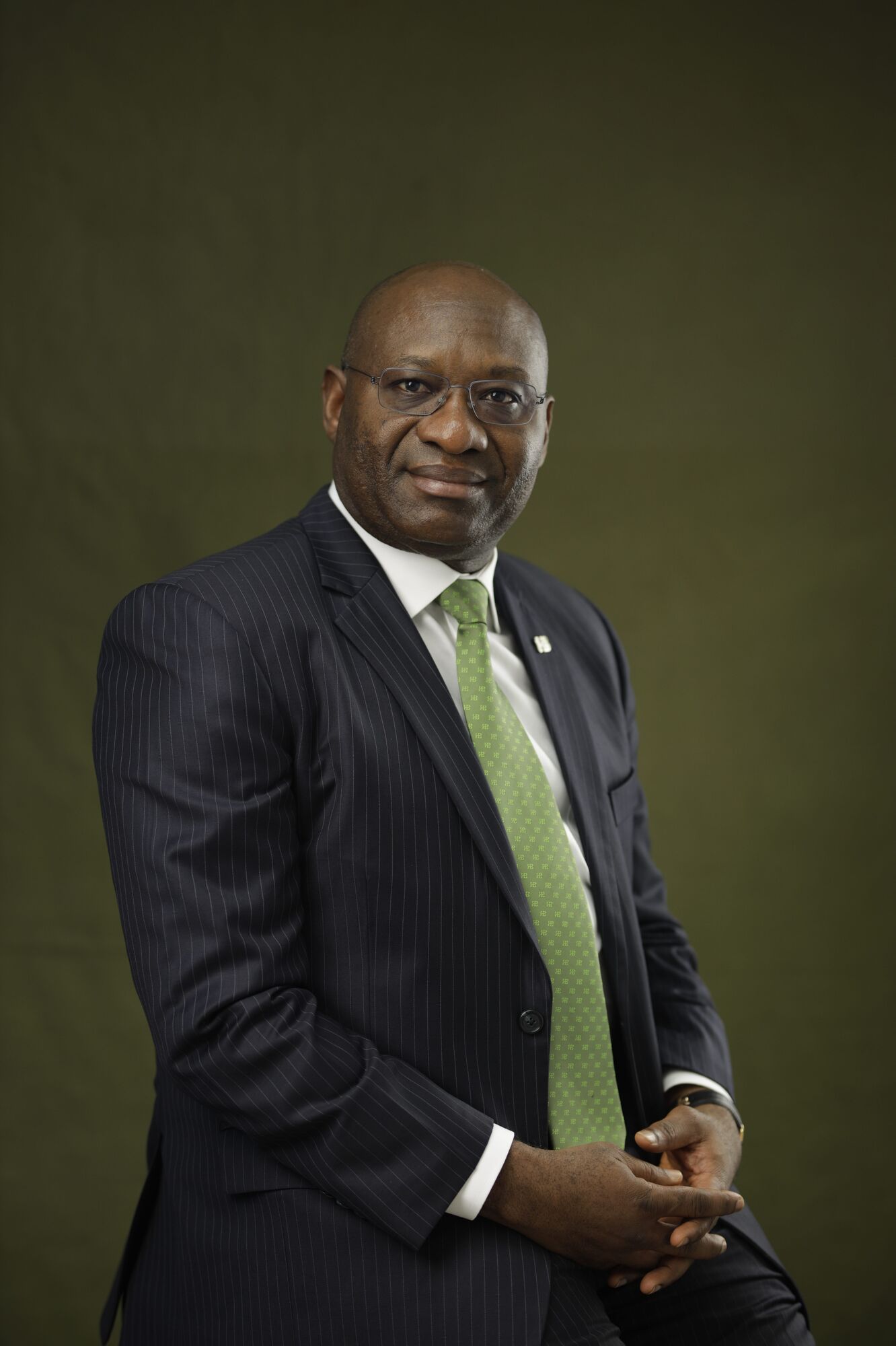 Heritage Bank: 9years of driving food sufficiency via bridging Agric value-chain finance gaps
HERITAGE BANK–  Nigeria's agriculture sector over the years has experienced myriad of challenges ranging from sub-optimal yields, shrinking resources, post-harvest losses, fluctuating commodity prices and poor adaptation to changing climate systems, among others.
There are also problems at different stages of the value chain: scarcities in quality of inputs and varieties, inadequate funding, slow adoption of mechanisation, and a high reliance on subsistence production techniques which have hindered scaling, limited processing opportunities with direct impacts on output and value generation.
As the world population is projected to increase to 9.5billion by the year 2050, there is critical need to rev up food production and enhance value addition across the value chain segment of key agriculture food products, especially as the development of Agriculture continues to remain a critical issue for Nigeria's economic growth, poverty reduction and in ensuring food security of the country, as over 70 percent of rural households depend on agriculture as their principal means of livelihood.
All of these have contributed to an underdeveloped commodity marketing system. The outbreak of COVID-19 added extra layers of challenges to the above-mentioned issues.
Measures put in place to manage the spread of the virus led to restrictions in the movement of people and goods, which in turn made access to critical inputs unavailable and increased costs in the few places where they were found.
These developments impacted smallholder farmers who make up the bulk of players in the industry across the country.
Given this development, many Nigerian financial institutions started investing in the agricultural sector. Heritage Bank is one of the banks that has taken pride in the past nine (9) years of its operations to bridge the agriculture value chain financing gaps.
Today marks its worthy milestone in the banking landscape, as Heritage Bank celebrates nine years of entrenching   seamless service delivery in the business of banking, it has also remained resilient in hastening the transition of agriculture from traditional, low-productivity models toward a modern, high-productivity agricultural sector.
This has been made possible through its strategic collaboration with key stakeholders like the Central Bank of Nigeria (CBN) and Federal Government to prioritise the agricultural sector to attract sizable investments that has continued to help drive expansion and achieve competitiveness as well as increase financing to key parts of the value chain, particularly small-holder farmers in a bid to modernize their practices and increase outputs.  Under the various intervention agricultural schemes: Anchor Borrowers Programme (ABP), the Nigeria Incentive-Based Risk Sharing System for Agricultural Lending (NIRSAL),
Commercial Agriculture Credit Scheme amongst others, Heritage Bank has made huge success of the schemes by making funding available to both small holder farmers and SMEs (Prime Anchors) in their efforts to increase agricultural output especially rice and wheat production.
Heritage Bank's Exemplary Intervention
Heritage Bank Plc, by every instrument of measurement has distinctly and evidently made funds available to both individuals and corporate organisations in their efforts to increase agricultural output in line with governments policy and CBN intervention strategies.
The bank has palpably financed critical agricultural projects in the country and, in the process, supported many farmers.
Since the nine (9) eventful years, the bank has opened its doors to its teeming customers, the showpiece of its operations is a full gamut of completed, on-going and nascent people-oriented programmes designed to create, preserve and transfer wealth across generations in the country.
This line of operation is steadily yielding great results as the nation continues to move its economic base towards the direction of the future, with a robust emphasis on thoughts about diversification of the county's economic base.
For some period of operation, Heritage Bank is being positioned into a bigger and stronger financial institution that is placed to play a significant role in the much-envisaged transformation of the nation's financial sector in line with the country's stature as one of Africa's largest economies.
With the increasing recognition of agriculture as the 'beautiful bride' of Nigeria's economy, Heritage Bank's unfaltering energy and commitment in agricultural financing which is fast gaining new interests and more attention within the business circles is helping to rebalance the sector such that Nigeria would soon become the food basket of the African continent.
As agriculture continues to be business, financing provides tremendous opportunities for lenders and borrowers, either at small or large scale.
Heritage Bank has not only encouraged governments, corporate and individual (including young people to embrace optimal productivity and greatness in this sector), it has taken the front seat in the drive to support them in the attainment of noble agricultural virtues by funding various agricultural projects in several states in the country
Promoting Agriculture Value Chain
The Bank is also not relenting in its efforts at boosting the agricultural base of the nation by make farming profitable to stakeholders and attractive to the youth.
It has continued to create market linkages between smallholder farmers and Anchors/Processors, creating an ecosystem that drives value chain financing, improve access to credit by the smallholder farmers by developing credit history through the scheme and much more.
MD/CEO of Heritage Bank, Ifie Sekibo affirmed that the institution is committed to promoting development of agriculture and ensuring that all levels of its value chain can be financed profitably.
According to him, the bank's involvement in the sector dated back to many years ago and it has always been at the forefront of ensuring overall growth and development of commodities products in Nigeria. For these feats, the CBN's Governor, recently announced the apex bank's N41billion intervention in wheat production in Nigeria for commodity associations and anchor companies. Heritage Bank has continued to work with CBN and other stakeholders such as wheat farmers association of Nigeria, wheat farmers, processors and marketers' association of Nigeria, Lake Chad Research Institute and other development partners, flour mills of Nigeria and several seed companies and others to support over 100,000 farmers in wheat production. Also, Heritage Bank further factored consideration of value addition of financial services and products flowing to and/or through value chain participants to address and alleviate constraints to growth that have distorted product financing, receivables financing, physical-asset collateralization, risk mitigation products and financial enhancements.
According to sekibo, with its assigned position Heritage Bank would play a pivotal role in ensuring that there would be an effective and readily available platform for market linkages among players in the agribusiness value chain, involving FMCGs, warehouse operators, collateral managers, processors, farmers' cooperatives to transact in a seamless way that guarantees quality, quantity, payment and delivery.
Partnerships As Growth Strategy
The Bank believes in teamwork and that is why partnership with various critical stakeholders and institutions remain a major pillar in its strategy to realise these objectives.
These partnership over the period brought about the support of small holders' farmers and Anchors in Oyo, Ogun, Niger, kebbi, in various communities in Kaduna and Zamfara State in food crop cultivation, cash crop/horticulture, and food processing (in rice, maize, palm oil, casava etc) under NIRSAL and Prime ABP.
Meanwhile, in line with its collaborative initiative Heritage Bank Plc entered a partnership agreement with the Nigeria Incentive Based Risk Sharing System for Agricultural Lending in a bid to improve the agriculture value chain by increasing financing to the sector.
The partnership aims at identifying and securing financing of impactful agribusinesses within all the segments of the agricultural value chain.
The financing was designed to cover segments from primary production of raw materials and sustaining the processing industries to exportation of the produce.
Ifie Sekibo, the Managing Director of Heritage Bank, offered a wonderful explanation as to the reason for the partnership.
To him, the partnership will avail credits at very low interest rates to commercially viable agricultural projects that have been packaged and fully de-risked.
Before then arrangements have been concluded by the bank to revolutionise the agricultural sector by widening and deepening the participation of digital generation in agribusiness.
Sekibo was convinced that support of NIRSAL would help the bank develop a digital agribusiness platform that will strengthen distribution of human capital that meet parameters of agribusiness.
NIRSAL, agreed to serve as a catalyst for national agricultural revolution by boosting commercial agricultural productivity, competitiveness, value addition, market access and enhancing food security and will deploy a mechanism of de-risking the agricultural value chain in order to encourage investment by banks and the entire financial sector.
Divisional Head, Agribusiness, Natural Resources & Project Development, Heritage Bank, Olugbenga Awe said that the bank has strategically put in place measures to ensure fidelity to contract agreements and adherence to fair trade in making sure that farmers earned decent profit for their efforts, which is critical to the sustainability of the programmes.
According to him, "the bank's participation in the programme has paid off as we currently have a rich pool of farmers' data to support grains production. "The registered farmers in our database can easily be identified and trained with the support of extension services to plant any grains as the season demands. This flexibility provides continuous cash flows to the famers and ensures that more farmers are enlisted to join the programme," he said.
The Divisional Head, further disclosed, "In our quest to participate in the rice value-chain through the ABP, we supported hundreds of small holder farmers in various communities in Kaduna and Zamfara State."
"The sector is driving the next set of entrepreneurs and we are committed to the development of the sector using appropriate technology and modern farm practices. We walk the talk in Heritage Bank as demonstrated in our portfolio allocation to agribusiness," he said. He noted that the large-scale operators are enabled to expand existing capacities and industrialise for local consumption and export.
This scheme, however, informed Heritage Bank partnership with the Oyo State government in a multi-billion-naira project to give agriculture a boost in the state.
Under the initiative, the bank is supporting the Oyo State Agricultural Initiative, OYSAI, a programme designed to revive agriculture, boost agro-allied businesses and create a massive empowerment programme for both youths and women across the state through the creation of thousands of jobs in the sector.
This huge and laudable project that is spread across 3,000 hectares of land in 28 of the 33 Local Government Areas of Oyo State, is in three stages: food crop cultivation, cash crop/horticulture, and food processing.
Poultry farming in Oyo State – N29million received from NIRSAL and disbursed to farmers Maize cultivation in Ogun State – N157million received from NIRSAL and disbursed to farmers for cassava cultivation in Kebbi State – Transaction size is about N500million approved by CBN.
Heritage Bank Plc signed a N232 million pilot phase of the out-growers agreement with Biase Plantations Limited (BPL), and its joint venture partner, PZ Wilmar Limited to produce best-in-class palm oil, using the ABP model.
Heritage Bank is supporting agro investors involved in this initiative with funds and advisory services and indications are that the programme has already led to more than 50 per cent increase in food production in the state.
Partnering the CBN
Heritage Bank's partnership with CBN over the years has revolutionised the agricultural value-chain with consideration to value addition, marketing and other backward and forward linkages. Recently, the Bank in partnership with CBN set up plans in disbursing a whopping sum of N41billion to farmers from 14 states for the expansion of the wheat production project.
As part of bridging the Agric Value chain financing gap, the Bank, however, registered the wheat farmers with the Lagos Commodities and Futures Exchange (LCFE) for successful disbursement, as the farmers are expected to cover about 111, 025 Hectares of land to attain huge milestones in wheat production.
Meanwhile, being the pioneer Bank to finance the first-ever large scale rain-fed wheat production in Nigeria and also a participating financial institution (PFI) under CBN's Anchor Borrowers' Programme scheme, Heritage Bank has taken adequate steps to create an enabling environment for sustainable growth in wheat production; thereby partnering with LCFE for all value-chain stakeholders to interact and trade ownership titles to specific quantities of wheat by registering members for their clients on the commodity exchange platform. Speaking at the media briefing engagement with the pressmen, the MD/CEO of Heritage Bank, Ifie Sekibo stated that the partnership is basically to consummate Wheat Seed Multiplication Project under the CBN's Brown Revolution Initiative, in order to ensure due diligence on loan administration, monitoring and recovery, which would bring about increase in the domestic production of wheat and close the wide supply gap in the Nigerian agricultural space.
Also, Awe explained that via the strategic partnerships Heritage Bank has achieved vast footprints in agribusiness.
"For example, through our partnership with Triton Aqua Africa Limited and on-lending support from CBN, Heritage Bank has provided N2 billion for aquaculture to reduce our heavy reliance on fish import.
"Nigeria's current annual demand for fish is estimated at 2.7 million metric tonnes and we currently produce about 800,000 metric tonnes.
"With support from CBN through Commercial Agriculture Credit Scheme CACS, Triton is now producing about 27,000 metric tonnes and their projection is to reach 100,000 metric tonnes in five years.
"From recent forecast, they will meet that projection easily. The bank is also supporting rice farmers under the ABP in Bakolori, Zamfara, Sanga in Kaduna and Soyabeans farmers in Rijana, Kaduna. Heritage Bank also has ongoing projects across the country," he said.
On Heritage Bank's involvement in ABP, the Bank provides on-lending funding to aggregated farmers to grow various products that will serve as raw materials to the processors, thereby ensuring market linkages and access to the market as well as reduce importation and conserve Nigeria's external reserves.
In 2016, the sums of N54,892,728.00 and N248,413,350.00 were sourced from CBN and disbursed as loans to 185 rice farmers and 414 soya bean farmers respectively in Kaduna State.
In 2016, N37, 995,300.00 was disbursed to 259 rice farmers via 11 cooperatives in Zamfara State.
This line of action has readily compelled young and vibrant minds into getting involved in providing affordable financial solutions that can help agribusiness investors in various aspects of agriculture.
Presently, the bank is practically involved in preparing a good future for the youth, which is imperative, while recognizing the need to expand the horizon of young people, broaden their options and increase their choices.
The institution realized that the youth are needed as solution providers, incubators of ideas, promoters of innovations and implementers of positive change through agriculture and entrepreneurship.
Recognitions
No doubt Heritage Bank's unswerving lending to the agricultural sector has earned it a deluge of accolades.
To its portfolio Heritage Bank Plc, earned the Nigeria's Most Innovative Banking Service Provider in 2017 that was bestowed at the inaugural Nigeria Sustainable Banking Award convened by the CBN "For Sustainable Transaction of The Year in Agriculture."
The Nigeria Agriculture Awards (NAA), at its annual event convened by AgroNigeria (The Voice of Nigeria's Agriculture), to appreciate immense efforts of those who have contributed to the success of the agriculture sector in the country, announced Heritage Bank as the Agric Bank of the Year.
According to NAA, Heritage Bank was selected in recognition of its footprints in the Agric space, especially the Triton Aquaculture Project. Heritage was adjudged best SME Bank for 2018 by Capital Finance International and Agriculture Bank of the Year 2018 by Nigeria Agriculture Awards, MAA.
The Bank also won "For Sustainable Transaction of The Year in Agriculture," in the inaugural Nigeria Sustainable Banking Award convened by the Central Bank of Nigeria (CBN).
The financial institution was adjudged Banker of the Year 2021 under SMEs and Agric category, which was awarded to the MD/CEO of the Bank, Ifie Sekibo during the prestigious award at the New Telegraph 2021 Awards in recognition of its leadership position in delivering sterling development and growth of the agricultural sector and the Small and Medium Enterprises.
Also, Heritage Bank Plc which has been adjudged the lead settlement bank for Gezawa Commodity Market (GCMX), has collaborated with key stakeholders to revolutionise the agricultural value-chain.
The collaboration was aimed at providing a fully integrated ecosystem for commodity Exchange.
Heritage Bank was appointed the Lead Settlement Bank and Transaction Adviser to GCMX and a memorandum of understanding (MoU) was signed between the two firms, whilst over 10, 000 farmers in 3000 cooperatives in the 44 local governments of Kano States were hosted.
The partnership between Heritage Bank and the Exchange has continued to facilitate the ease of agro commodity trading in a more structured way, especially with the closeness to the Dawanu, the largest grain market in Africa.
Sekibo, who was a panelist at the second GCMX Farmers' Cooperative Forum in Kano said the partnership was to de-risk the sector and bring about structured and enhanced agro-business and attain food security that leads to economic development.
Sekibo explained that the partnership which would help bridge the huge gap associated with risk, would fast track effective price discovery mechanisms and traceability and enhanced trade settlement services.
Specifically, he stated that under the Central Bank of Nigeria's Anchor Borrowers Programme (ABP) and the Nigeria Incentive-Based Risk Sharing System for Agricultural Lending (NIRSAL), Heritage Bank would provide on-lending funding to aggregated farmers in the farming season to grow various products that will serve as raw materials to the processors, thereby ensuring market linkages and access to the market as well as reduce importation and conserve Nigeria's external reserves.
Because the challenges are daunting, Heritage Bank Plc is also calling on governments at all levels and deposit money banks to increase support to agriculture, as it is the most resilient and important sector of the Nigerian economy, despite underwhelming investment in the sector.
The Bank believes that increased focus on the agricultural sector would contribute to the job creation objectives of the Economic Recovery and Growth Plan (ERGP), as its labour intensive process across the value chain has the potential of creating multiple jobs, create wealth, and increase the sector's contribution to GDP and foreign exchange earnings
Heritage Bank observes that the under-performance of the sector is closely tied, amongst other factors, to poor credit access from banks.
The Bank also observes underfunding of Nigeria's Agricultural research institutes that are established to drive the sector's business.
It is in the Bank's opinion that successful implementation of the Government's Recovery Plan provides significant opportunities for entrepreneurs, investors and financiers particularly in the Agro-allied Sector.
Also, investments in infrastructure (energy and transportation) are supportive of the Agric-led growth and to explore options for de-risking and unlocking bank lending to the Agric sector so as to develop and position the sector for increased contribution to the Nigeria's GDP and revenues, there is need to continue regulatory driven intervention funds to increase access to credit at single digit rates and long tenors, Improve knowledge of Banks and Bankers on Agric finance and Agricultural Risk Management through focused capacity building and many others, said the Bank in its submission for a better agriculture driven economy.
ZENITH BANK MAINTAINS POSITION AS 'BEST CORPORATE GOVERNANCE FINANCIAL SERVICES' IN AFRICA FOR THE FOURTH CONSECUTIVE TIME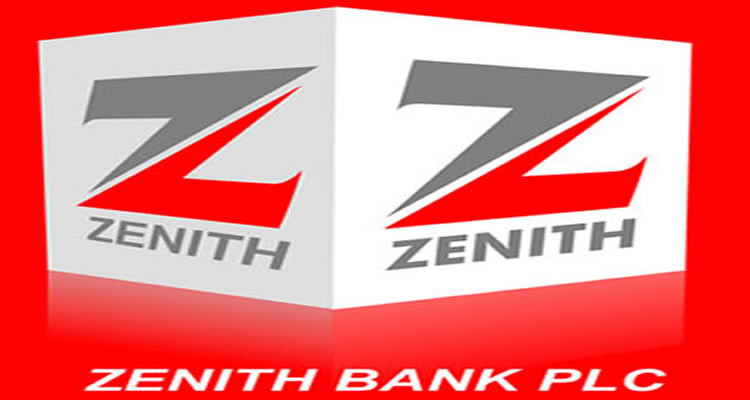 ZENITH BANK MAINTAINS POSITION AS 'BEST CORPORATE GOVERNANCE FINANCIAL SERVICES' IN AFRICA FOR THE FOURTH CONSECUTIVE TIME
For the fourth consecutive year, Zenith Bank Plc has been named as the Best Corporate Governance 'Financial Services' Africa 2023 by the Ethical Boardroom. The award, which was published in the Spring 2023 edition of The Ethical Boardroom magazine, is in recognition of the bank's adherence to global best practices and institutionalization of corporate governance, setting an industry-wide example of best practices in that field.
Speaking on the recognition, the Group Managing Director/Chief Executive of Zenith Bank Plc, Dr. Ebenezer Onyeagwu, said: "I am extremely pleased that Zenith Bank has been awarded the Ethical Boardroom Corporate Governance Award as a regional governance champion for the fourth year running. No doubt, the bank's board has pioneered the exemplary governance culture for which we are now renowned. Indeed, this recognition reflects our steadfast commitment, discipline and high ethos in the conduct of our business and dedication to the principles of good corporate governance. This award will motivate us to strengthen this culture internally and advocate for good governance at every forum".
He dedicated the award to the Founder and Group Chairman, Jim Ovia, CFR, for providing the template for an enduring and very successful institution; the Board for their vision and outstanding leadership; the staff for their dedication and commitment; and the bank's customers for their unwavering loyalty to the brand.
Ethical Boardroom is a trailblazing and leading international magazine that delivers in-depth coverage and critically-astute analysis of global corporate governance issues to help boards stay ahead of the governance curve.
Zenith Bank has been generally adjudged a Corporate Governance compliant bank by the Nigerian Exchange (NGX) hence its listing on the Premium Board of the Exchange. The bank continues to sustain this reputation and reappraise its processes to ensure that its business conforms to the highest global standards at all times.
The bank's track record of excellent performances has continued to earn it numerous awards including being recognised as the Number One Bank in Nigeria by Tier-1 Capital, for the 13th consecutive year, in the 2022 Top 1000 World Banks Ranking published by The Banker Magazine; Bank of the Year (Nigeria) in The Banker's Bank of the Year Awards 2020 and 2022; Best Bank in Nigeria, for three consecutive years from 2020 to 2022, in the Global Finance World's Best Banks Awards; Best Commercial Bank, Nigeria 2021 and 2022 in the World Finance Banking Awards; Best Corporate Governance Bank, Nigeria in the World Finance Corporate Governance Awards 2022; Best Commercial Bank, Nigeria and Best Innovation In Retail Banking, Nigeria in the International Banker 2022 Banking Awards. Also, the bank emerged as the Most Valuable Banking Brand in Nigeria in the Banker Magazine Top 500 Banking Brands 2020 and 2021, and Retail Bank of the year, for three consecutive years from 2020 to 2022, at the BusinessDay Banks and Other Financial Institutions (BAFI) Awards. Similarly, Zenith Bank was named as Bank of the Decade (People's Choice) at the ThisDay Awards 2020, Bank of the Year 2021 by Champion Newspaper, Bank of the Year 2022 by New Telegraph Newspaper, and Most Responsible Organisation in Africa 2021 by SERAS Awards.
UBA Revitalises Alumni Network, Ex-staff to Enjoy Debt Restructuring, Product Offerings, Airport Protocol, Other Benefits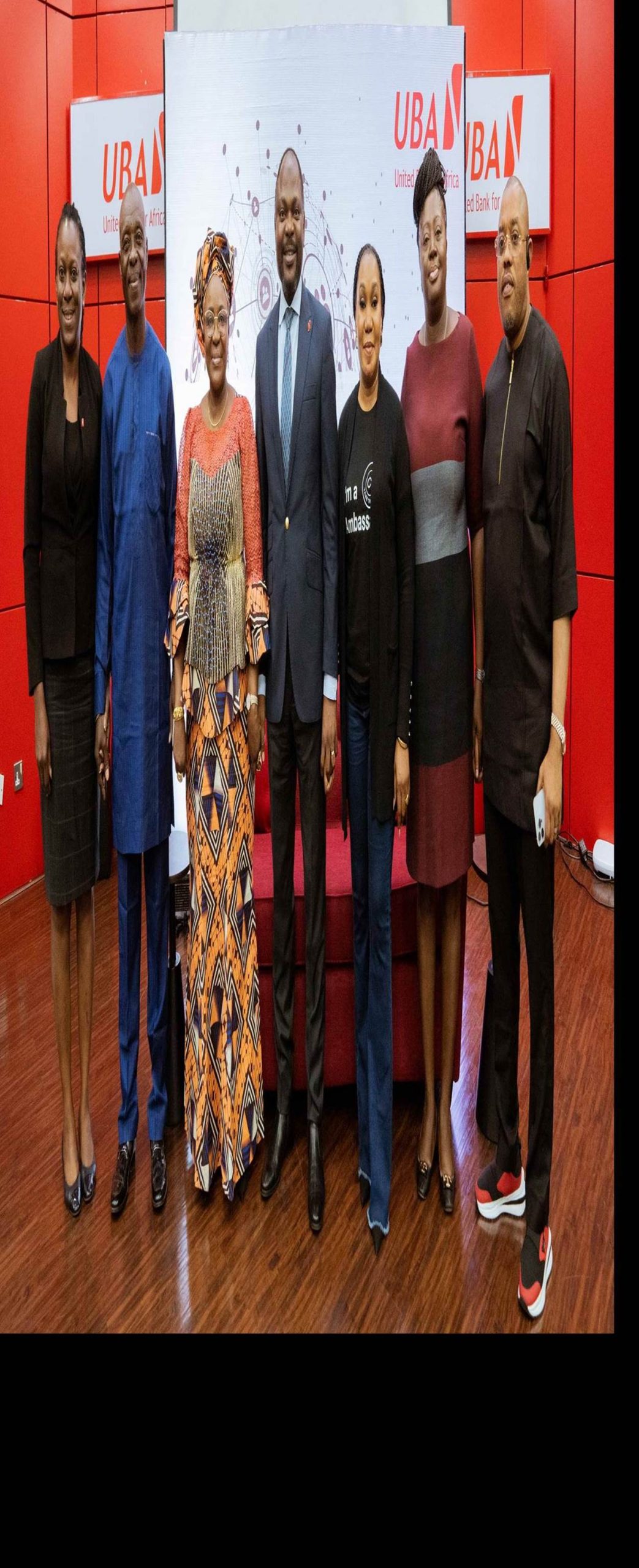 UBA Revitalises Alumni Network, Ex-staff to Enjoy Debt Restructuring, Product Offerings, Airport Protocol, Other Benefits
Africa's Global Bank, United Bank for Africa (UBA) Plc, has relaunched the UBA Alumni Network Program, aimed at fostering stronger connections and providing exclusive benefits to its esteemed former employees.
Improving upon the services it promised when it was first launched two years ago, the revamped UBA Alumni Network will now offer a wide array of advantages designed to empower and engage ex-staff members throughout their journeys.
UBA's Group Managing Director, Oliver Alawuba, who welcomed the Ex-staff during the UBA Alumni relaunch in UBA House on Friday, expressed the bank's commitment to reposition the alumni to do more to ensure that ex-staff remain comfortable ambassadors of the brand.
He said, "I understand that this very key network was launched in 2021, and we have come here today to assure all the members of our alumni that UBA, which is over 75 years old, will continue to play the role of becoming a beacon of hope to our Ex-staff.
Continuing Alawuba said, "As a bank that is interested in the welfare of both staff and ex-staff, we are going to roll-out products that are specifically tailored to suit the needs of all our alumni."
At the event, which saw a lot of former staff attended both physically and virtually, UBA's Deputy Managing Director, Muyiwa Akinyemi, noted that the bank is where it is today because of the sacrifices made by its ex-staff several years ago, as he added that this is the driving force behind the bank's desire to support them.
"Today, we are here, but tomorrow, we might be somewhere else, and it is therefore essential for us to bond with our former employees who we recognise as ambassadors that have contributed to the bank's legacy in various sectors over the years," Akinyemi stated.
He explained that with 35 million customers and over 25,000 staff, the bank remains committed to fostering a vibrant alumni community, adding that "We will continue to rely on this all important network to help us to know how to serve you better, in the four continents and 24 countries that UBA currently operates in."
UBA staff, Wale Esan and Nnenna Chikezie, were on ground at the event to reel off some of the new offerings and benefits to be enjoyed by members of the UBA alumni, which include: Debt restructuring and moratorium for staff who left while still servicing loans; top-up loans, CoT concessions, access to senior citizens loans; fast tracking of banking services.
Other benefits are assisted airport protocol services for international travels including check-in and departure services; end to end VIP travelling services for ex-staff. The bank will also assist any staff who has challenges with the airport authorities for quick and easy resolution.
The Chairperson of the UBA Alumni Network, Mosunmola Yusuf, who was a former staff with the Employee Experience unit, explained that UBA aims to harness the wealth of knowledge and experience of its former employees, creating a powerful network that extends far beyond the continent.
"We see this as an innovative effort to build a strong bond of human community; because we believe human connectivity is necessary to promote cordial living and will assist to achieve the individual and collective goals that we plan to attain," she stated.
UBA alumni were encouraged to send their enquiries to the email: UBAAlumnicare@ubagroup.com for quick resolution.
United Bank for Africa is one of the largest employers in the financial sector on the African continent, with 25,000 employees' group wide and serving over 35 million customers globally.
Operating in 20 African countries and in the United Kingdom, the United States of America, France and the United Arab Emirates, UBA provides retail, commercial and institutional banking services, leading financial inclusion and implementing cutting edge technology.
LAGOS GOVT, FIRST BANK PARTNER TO BOOST HEALTHCARE DELIVERY IN IJE-ODODO COMMUNITY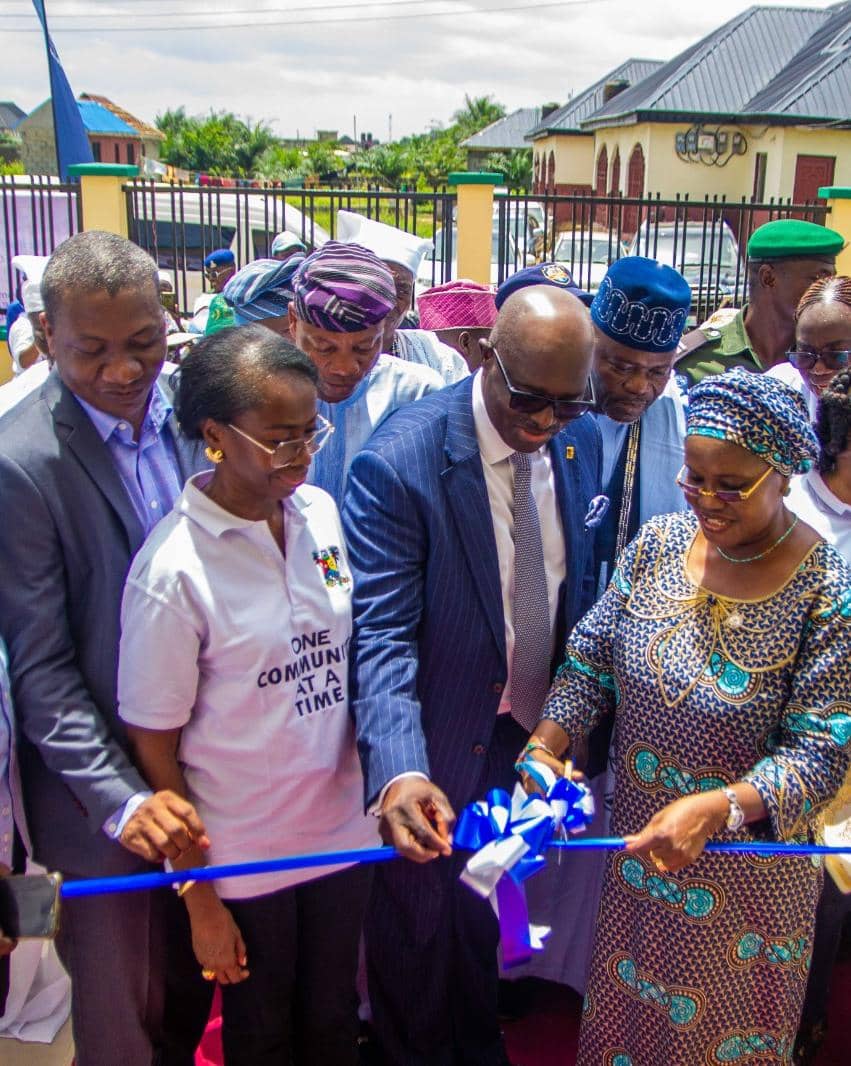 LAGOS GOVT, FIRST BANK PARTNER TO BOOST HEALTHCARE DELIVERY IN IJE-ODODO COMMUNITY
…Over 10,000 residents to benefit from new primary healthcare centre
BY EDU ABADE
In a bid to boost healthcare delivery to thousands of residents, the Lagos State Government has built and unveiled a new Primary Healthcare Centre (PHC) in Ije-Ododo Community, Iba Local Council Development Area (LCDA), under the Ojo Council Area of the state.
The facility, which has been under construction since 2021 in partnership with First Bank of Nigeria Limited, was unveiled in the community in an opening ceremony attended by the Lagos State Governor, Babajide Olusola Sanwo-Olu, representatives of the state government, the state Primary Health Care Board, community leaders, as well as traditional rulers of Iba, Ije-Ododo and Ijagemo, among others.
In his welcome address, the governor, who was represented by Secretary to the State Government (SSG), Mrs. Folashade Sherifat Jaji, said the opening of the health facility under the SSG's One Community At A Time (OCAAT) initiative, formed part of activities to herald the inauguration of his second term in office on Monday, May 29, 2023.
Maintaining that the attention being paid to the healthcare sector was deliberate to ensure a healthier populace, he said the state government under his watch would deploy more resources to the health sector for easier access to health services, especially in underserved communities.
He enjoined members of the community to take full advantage of the health benefits that will be provided in the facility and charged them to take ownership and protect the assets and the facility at all times.
Speaking, Permanent Secretary, Primary Healthcare Board, Dr. Ibrahim Mustapha, commended First Bank of Nigeria Limited and the contractor for completing the project within the stipulated time frame, but also requested more assistance to make the facility functional by providing equipment and other necessary medical gadgets.
On his part, Chief Executive Officer of FirstBank, Dr. Adesola Adeduntan, who was represented by Mr. Seyi Oyefeso, expressed satisfaction at the successful completion of the project, adding that it was gratifying to know that no fewer than 10,000 residents of Ije-Ododo and neighbouring communities will have access to primary healthcare services in the facility.
He said as a responsible corporate social organisation, the bank's intervention in the primary healthcare sector aligned with its Corporate Social Responsibility (CSR) approach anchored on citizenship, impact management, strategic education, as well as the health and welfare of the immediate and remote communities of Lagos State and other parts of the country.
In his words: "The completion and opening of the primary healthcare centre is to ensure that Ije-Ododo community will become healthier and wealthier since health is wealth."
In his goodwill message, the Baale of Ije-Ododo, Dr. Abu Jelili Ododo, who spoke in company of the Oba of Iba and Baale of Ijagemo, applauded Governor Sanwo-Olu for the timely completion of the healthcare centre and appealed for the construction of the Ijegun-Ije-Ododo-Abule-Ado road to link the Badagry Expressway, adding that it was high time the Ije-Ododo Community was provided with a motorable road to ease the sufferings of residents.
Responding to the request for the road, Jaji assured that the Lagos State government under Sanwo-Olu was poised to build the road but that the project suffered some setback due to agitations by some members of the community over the location of the project, adding however, that as soon as the governor settles down for his second tenure, construction work will begin on the road.