Honourable Princess Folashade Olabanji-Oba congratulates veteran journalist, Bayo Osiyemi as he clocks 70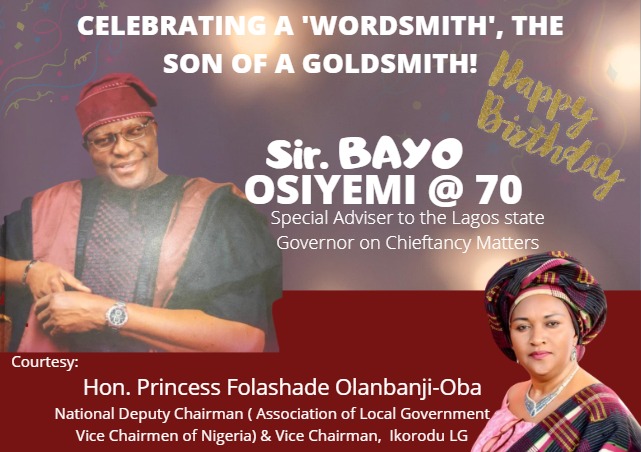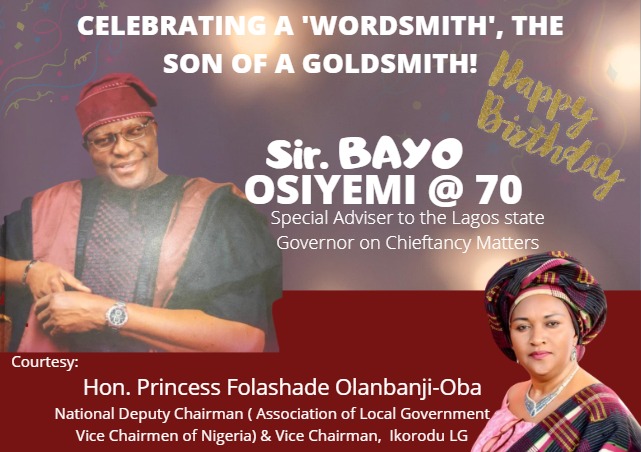 PRESS RELEASE
OFFICE OF THE NATIONAL DEPUTY CHAIRMAN ( ASSOCIATION OF LOCAL GOVERNMENT VICE CHAIRMEN IN NIGERIA)
OFFICE OF THE VICE CHAIRMAN, IKORODU LG
Honourable Princess Folashade Olabanji-Oba congratulates veteran journalist, Bayo Osiyemi as he clocks 70
Joining the world today, we wish to celebrate with renowned wordsmith, Bayo Osiyemi as he celebrates his 70th birthday today.
Throughout your life, you have been someone who commands respect, has a great presence that must be felt by everyone around.
You spent most of your life lived so far as a journalist and no doubt, even though you are not actively involved in it any longer, no one dares step into the 'shoe' you dropped because you were more one of those who ensured professionalism on all sides in the field.
Celebrating 70 is a great achievement for you and everyone connected to you one way or the other. It simply shows you have done so much for humanity and people like you are meant to stay on earth for a long time to ensure things remain in order.
Your efforts during the last election can never be forgotten so soon, little wonder you were appointed as special adviser to the governor.
As you celebrate, we ask that God crown your efforts.
Thank you for all you do for the progressives.
Signed
Hon. Princess Folashade Olabanji-Oba
National Deputy Chairman ( Association of Local Government Vice Chairmen of Nigeria)
&
Vice Chairman, Ikorodu LG