How Primate Ayodele Prophecies On Election Tribunals Are Coming To Pass By Ismail Bango, Bauchi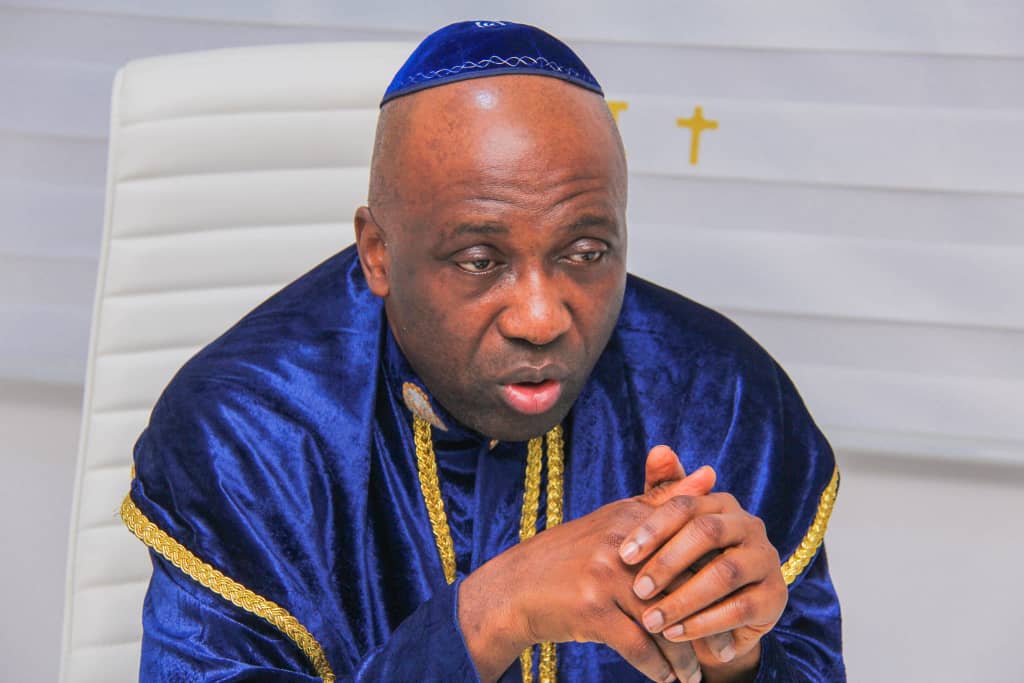 How Primate Ayodele Prophecies On Election Tribunals Are Coming To Pass
By Ismail Bango, Bauchi
As much as I hate to admit it because of my faith and religious affiliations, Primate Ayodele is one prophet who has continued to raise the bar in the prophetic realm. I can't answer if he is real or fake but one thing I am certain about is that his prophecies always come to pass.
Before now, I had always seen publications hailing Primate Ayodele daily for predicting an event that happened in different sectors and sincerely, I didn't buy it because I felt the prophet was the one sponsoring those publications but now that I know better, I think there are some truths in those publications.
The last presidential election was the turning point for me regarding Primate Ayodele, the outcome of the election in relation to his prophecies gave me an insight into the correctness and accuracy of his prophecies. I read in different publications how he warned the opposition parties of President Tinubu's readiness to win the election and how he gave them serious advice that could help them defeat the ruling party. He even went as far as declaring how the results would be in different states and surprisingly, they came to pass.
One thing that struck me immediately after the election was another prophecy of Primate Ayodele saying not all those who got elected would finish their tenure. I was a little bit inquisitive; what would happen to them? Will they die? Will they resign? Will they be sacked by the court? Sincerely, I thought this would not even be anytime soon, I felt it may be towards the end of their tenures or two years into their tenure because it was just too early to think anyone would be removed from his or her political office and of course, I have started building faith in the prophecies of Primate Ayodele so I patiently anticipated.
These were his words
''I have warned all Nigerian state governors that not all of them will finish in this government. Some will be incapacitated. I am telling you how it is that, not all the governors will end their term, not all the speakers of the house will end their term, not all the senators that were sworn in will end their term, not all the house of reps will end their terms, I am not wishing anybody bad but it is just a warning.''
https://vm.tiktok.com/ZMjhs3Gq2/
The first blow I got was the death of a lawmaker from Taraba state who was just elected, he died a few weeks after the election to my huge surprise. Immediately I heard the news of his death, I had a flashback to the prophecy of Primate Ayodele saying not all of those who were elected would finish their tenure. It was sad news but another confirmation of Primate Ayodele's credibility when it comes to prophecy.
Later on, Primate Ayodele made some prophecies regarding the election tribunals for the presidential, governorship, national assembly, and House of Representatives elections. For the president, the religious leader stated categorically that the opposition would not be able to get any favorable judgment. He made special reference to Peter Obi, stating that he could never be president of Nigeria through the court.
His prophecy divided political analysts and followers of the opposition candidates, they called him names but after the tribunal held and thrashed their cases, Primate Ayodele was vindicated.
Now speaking on the lawmakers' election, it's as though Primate Ayodele saw their removals from office when he first mentioned after the election that not all of the elected politicians will finish their tenures. Since the election tribunal started sitting, several lawmakers have been sacked, some elections were nullified and a rerun was ordered.
As we speak, nothing less than 15 elected political officers have been removed from elected offices by the election tribunal nationwide, and sadly, the number keeps on increasing as the day passes.
The governorship election tribunal is yet to start giving judgments but just as I believed the other prophecies of Primate Ayodele which have come to pass, I am hopeful that some governors will still be removed.
Till then, let's keep our fingers crossed.
Serie A: Oliseh advises Osimhen to quit Napoli over TikTok video
Serie A: Oliseh advises Osimhen to quit Napoli over TikTok video
Former Super Eagles head coach Sunday Oliseh has advised Victor Osimhen to leave Serie A champions Napoli.
Napoli mocked Osimhen in a TikTok video posted earlier this week after he missed a penalty in the 0-0 draw at Bologna.
The forward reacted by deleting all of Napoli's pictures and videos from his social media handles, with his agent threatening to take legal action against the club.
The 24-year-old snubbed a number of his teammates on his arrival at the team hotel ahead of Napoli's Serie A clash with Udinese on Wednesday.
Commenting on the issue, Oliseh wrote on his X handle:" Forever proud to be Nigerian; One must show personality, work hard & refuse to be intimidated. let Racists and ingrates talk! That's why they are eternal losers who secretly wish they were created like you! Osimhen needs to leave Napoli as soon as yesterday!!."
The forward has scored four goals in six league appearances for Rudi Garcia's side this season.
Top Gospel Singer, Mama Soni Set To Release Super Single, Sowaji
Top Gospel Singer, Mama Soni Set To Release Super Single, Sowaji
kemi Adeniyi-Babalola (KAB), popularly known as "Mama Sioni" or Segan mi D'ogo was born into the family of Elder and Deaconess Augustine and Lucia Adeniyi at Lawanson, Surulere – Lagos on May 1st, 1967.
As a Lagos-born Nigerian Soul, Highlife Gospel Singer, and Song Writer, she attended Municipal Primary School, Obele-Odan, Surulere, Doherty Memorial Grammar School, Ijero Ekiti, Lagos State Polytechnic, and University of Lagos respectively.
Her first debut DANSAKI RE, IN 1990 was a Hit, which got her signed into a EMI Record aka Ivory Music and Remdel Music for Ten Years, where she released DANSAKI RE, I HAVE JOY(another super hit), ROSE OF SHARON AND SHOUT IT LOUD. Shortly after completing her 10-year contract, she released another Great Hit titled Segan mi D'ogo which earned her that stage name. Another album followed in 2006 Sioni Npe Mi which was yet another super hit that changed her stage name once again to Mama Sioni.
Her other Albums include Ilekun Ayo, Eri Nla, Iwe Orin I & ll, Dara Funmi, My Halleluyah, and Sowaji ( heartbeat and Prayer for our dear Motherland).
KAB worked at different corporate offices before resigning to Music., but aside from music, she is an Evangelist of the Word and Marriage Counsellor.
She is happily married to Engr and Pastor Adeolu Babalola. She has three lovely children: Oluwanifemi, Oluwadabira, and ObabiOlorunkosi! (In case you find the names tongue-twisting, simply call them Precious, Promise & Praise😇)
KAB is a spirit-filled Gospel Maestro dedicated to song evangelism and pure Gospel music.
Kemi Adeniyi Babalola is set to release a single on the 1st of October 2023, Titled SOWAJI on Audiomac, Spotify, Boomplay and Youtube
Sam Larry Reveals Why He Attacked Mohbad
Sam Larry Reveals Why He Attacked Mohbad
One of the most wanted men in connection with the death of the late Nigerian artist Mohbad, Balogun Olamilekan Eletu aka Sam Larry is now in police custody. According to the Nigerian Police, they said: "He is currently assisting with the ongoing investigation."
He released the press statement earlier today.


'2 years ago, I gave Ileri N2m to perform at my mother's annual remembrance concert at Ikorodu, he boy never turned up, so I called him to ask why?, He then said he was not feeling well and when I asked for a refund, he said he lost his phone and money recently when the NDLEA raided his place in the process and since he was leaving Marlian Records, he is now broke, with no commitment to repay, then left, all for me to later hear that this same boy was having a musical video shoot the next door, practically next street to my house, so I went there to ask for my money again, we had an argument that lasted 5mins, even one of his friends insisted he was going pay the money, up till today one kobo they have not paid me, this was early last year. I have since then moved.


I traveled to Kenya to find a new African act that can be performed at my mother's concert this year. I have been away since August 20!, till now I don't know anything other than what was written in the blogs and press. I don't even know where he lives, I only know his former label boss and their house. I don't know any nurse or doctor or hospital, I don't know anything about his movement, I don't have that time, I have lost a lot more money than that before, you win some you lose some.

That is my story case close. I came here willingly and happily. I know nothing about how the musician died '"