How Saheed Osupa's Timely Intervention Saved My Life – Dr. Bee Reveals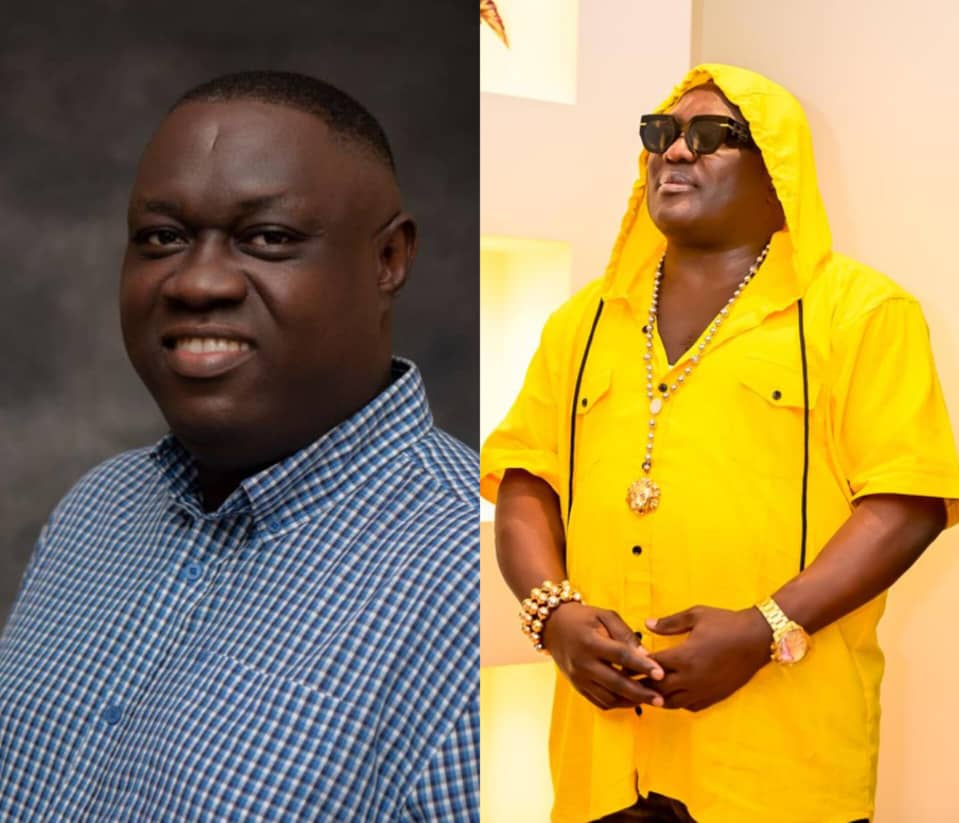 How Saheed Osupa's Timely Intervention Saved My Life – Dr. Bee Reveals
September 11, 2001, is a date etched into the memory of millions worldwide as a day of tragedy and terror. On that fateful morning, the United States witnessed o ne of the most devastating terrorist attacks in its history. Amidst the chaos and confusion that engulfed the nation, a remarkable story of timely intervention and providence emerged. Dr. Bee, a resident of Newark, New Jersey, was on his way to school in New York City when a phone call from his wife, intended to be a simple conversation, inadvertently turned into a lifesaving miracle, all thanks to the unexpected actions of the famous Nigerian musician Saheed Osupa.
Dr. Bee : A Visual Storyteller and Music Enthusiast
Dr. Bee, known for his work under the moniker Dr. Bee Visuals, is a visual storyteller deeply immersed in the world of music and artistic expression. His journey in visual storytelling has been profoundly influenced by the magic of music, and he is a passionate enthusiast of artistic creation.
The Lifesaving Call :
On the morning of September 11, 2001, Dr. Bee was following his usual routine, commuting from Newark to New York City for his studies at the New York Film Academy. It was during this journey that the intervention of Saheed Osupa proved to be pivotal.
Osupa's quick thinking and unwavering persistence played a crucial role in preventing a potential tragedy. Initially, Dr. Bee considered having Osupa relay a message to his wife that he would return her call later. However, Osupa declined and handed him the phone to speak with her immediately.
The Call That Changed Everything
Approximately 20 to 30 minutes into the conversation with his wife, the call abruptly dropped. Dr. Bee assumed that they had run out of airtime and decided to head to a nearby store to recharge. It was in that store that he received news of the devastating terrorist attacks on the World Trade Center.
As he walked into the store, he noticed everyone huddled around a television set, their eyes fixed on the unfolding horror. The news reported a plane crash at the World Trade Center, an iconic landmark visible from their location. Unbeknownst to Dr. Bee, a catastrophic terrorist attack was underway.
Dr. Bee, still unaware of the gravity of the situation, witnessed a second plane crashing into the towers. The shock and horror in the store were palpable. Realizing the enormity of the situation, Dr. Bee rushed back to his residence and turned on the television to follow the news.
Saheed Osupa's Unintended Heroism
It was at this moment that the full extent of Saheed Osupa's intervention became apparent. Had it not been for Osupa's insistence and quick thinking, Dr. Bee would have been at the World Trade Center during the time of the attacks, potentially becoming one of the countless victims of that tragic day.
Gratitude And Reflection
Dr. Bee reflects on the miraculous sequence of events that unfolded that day, stating, "I am grateful for Saheed Osupa as God used him to save my life. Because of him, I am glad I did speak to my wife that morning, as the casualties from the fatal incident could have also claimed my life."
The events of September 11, 2001, left an indelible mark on the world, with countless stories of tragedy and loss. Amidst the darkness, Saheed Osupa's unwitting heroism shines as a beacon of hope and providence. Dr. Bee's life was spared, and this incredible tale serves as a reminder that even in the midst of the most harrowing circumstances, acts of kindness and timely intervention can make all the difference.
As we celebrate this extraordinary story of survival, let us also be reminded of the unifying power of compassion, quick thinking, and timely action. This remarkable account highlights the value of human connection and the profound impact it can have, even in the face of unimaginable adversity.
AdeDimeji Lateef, Dele omo Woli , Bash , Other A-list Comedians storm ijebu for Mc Baffy's Ijebu Go Laugh '23 Edition*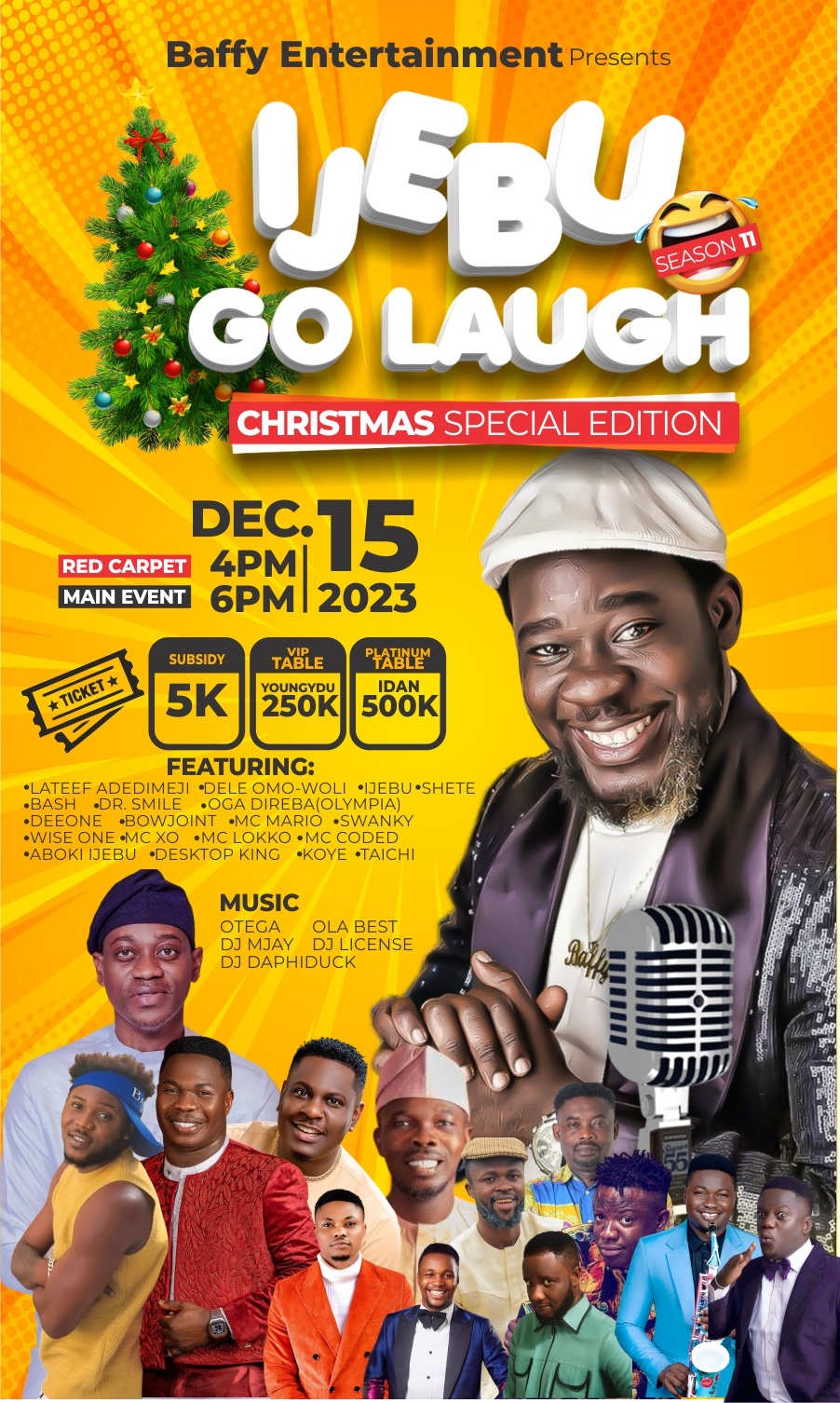 AdeDimeji Lateef, Dele omo Woli , Bash , Other A-list Comedians storm ijebu for Mc Baffy's Ijebu Go Laugh '23 Edition*
Fast-rising comedian and Master compere, Ayodeji Atanda prominently known around town as Baffy De Comedian will in few days time bring the AY Live experience to Ijebuland.
The grand event which promises to be a hit will hold on Friday, December 15, 2023 at the upscale Rolak Hotel and Suites, Imowo road, Ijebu Ode, Ogun state, starting from 4pm.
The annual comedy concert which has gathered momentum in recent years will have A-list comedians and artists like Lateef Adedimeji, Dele Omo-Woli, Ijebu, Dr Smile, Bash and Mc Mario in attendance.
Others music artistes and Nollywood celebrities expected are Olabest, Otega, Hephta, Koye, Shete, Mc Coded, Dj License and many others.
According to the convener of the award-winning programme, Mc Baffy, the comedy concert has been holding successfully in the last 11 years. We are out to thrill the audience with a breathtaking performance. I am bringing an AY LIVE experience to ijebu for ther first time and I am sure my people will be impressed.
DSS Raid: Igboho Denies Turning Into Cat To Escape Arrest
DSS Raid: Igboho Denies Turning Into Cat To Escape Arrest
Sunday Igboho, a Yoruba Nation activist, has finally spoken out about rumours that he transformed into a cat during a midnight raid on his home by the Department of State Services (DSS) in July 2021.
In an interview, Igboho refuted the report, saying that nothing like that occurred during the DSS raid.
He added that the DSS fired sporadically during the raid, killing multiple cats.
According to the activist, the DSS wanted to either kill or arrest him during the raid.
He said, "It is true that some cats were killed during the attack. Because the DSS just kept firing bullets in all directions. I was rearing cats as pets, and I had many of them in my house. So, anything or movement attracted sporadic gunshots.
"Their mission was to either kill me or arrest me and take me to an unknown destination, but the Almighty God is greater than anybody in this world, including the despotic ex-President Muhammadu Buhari."
Igboho added that he does not know whether the DSS brought three herbalists during the raid.
Yoruba Movie Gist Awards To Hold At RM Place Magodo Lagos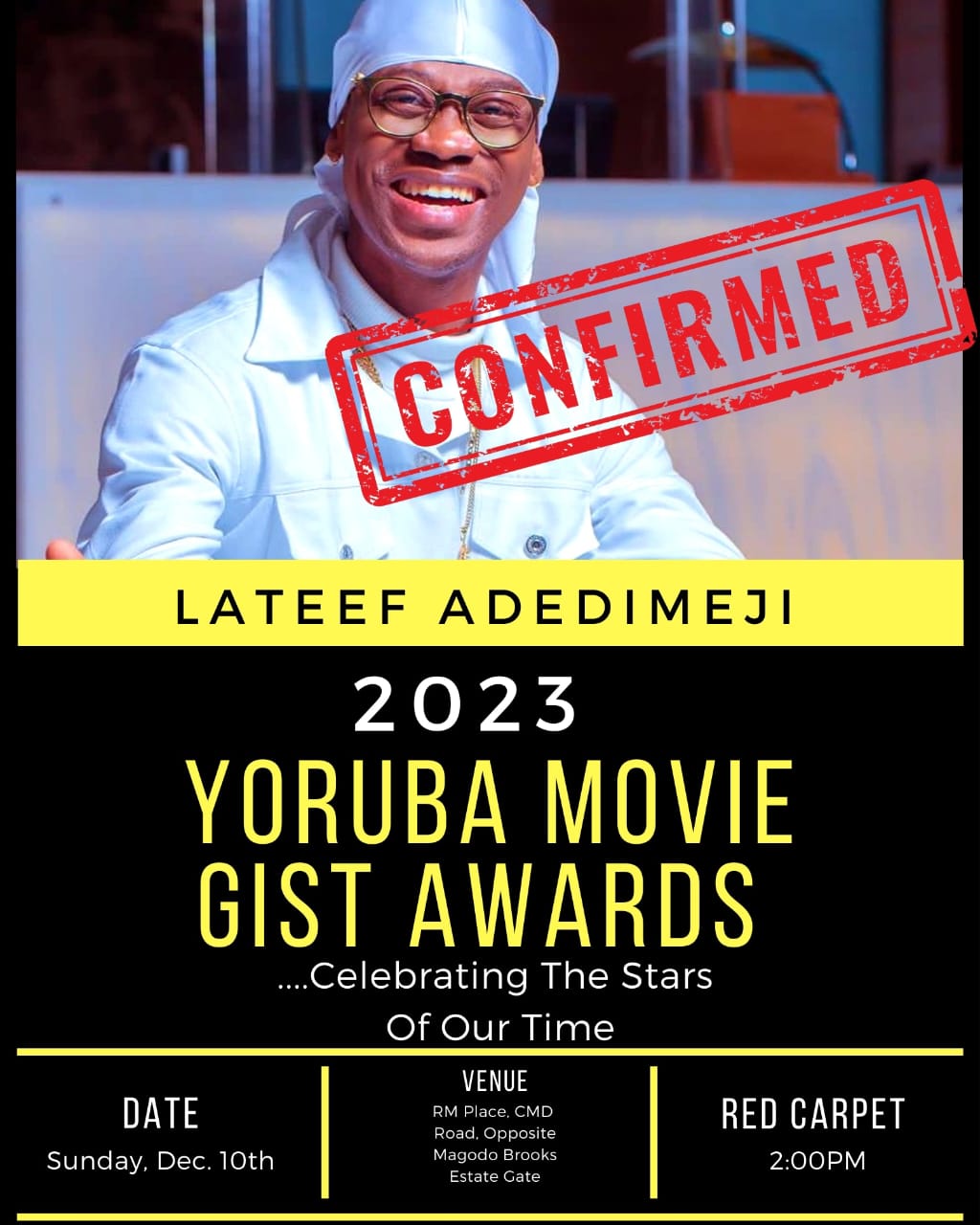 Yoruba Movie Gist Awards To Hold At RM Place Magodo Lagos
Olakiitan Adetutu Communications, spearheaded by Gbolahan Adetayo, the brains behind the esteemed Yoruba Movie Gist Awards, has disclosed RM Place, Opposite Brook Estate, CMD Road, Magodo, Lagos State, as the designated venue for the much-anticipated 2023 edition of the awards.
The prestigious ceremony is set to commence with a glamorous red carpet session at 2 pm, strictly adhering to a punctual schedule, and the main event will follow suit at 4 pm. The organizers emphasize a strict "No African time" policy, ensuring a timely and seamless experience for attendees.
This star-studded occasion promises the presence of top-tier Nollywood personalities, including the likes of Lateef Adedimeji, Ayo Olaiya, Yinka Salawu, Wumi Toriola, Omowunmi Ajiboye, Biodun Okeowo, and an array of other luminaries from the Yoruba movie industry.
Save the date, as the 2023 Yoruba Movie Gist Awards at RM Place, CMD Road, Magodo, Lagos, is destined to be an evening of glamour, recognition, and celebration within the vibrant landscape of Nollywood.