Jesus is alive every challenges is temporary,said Dr Oliver Methodist Church prelate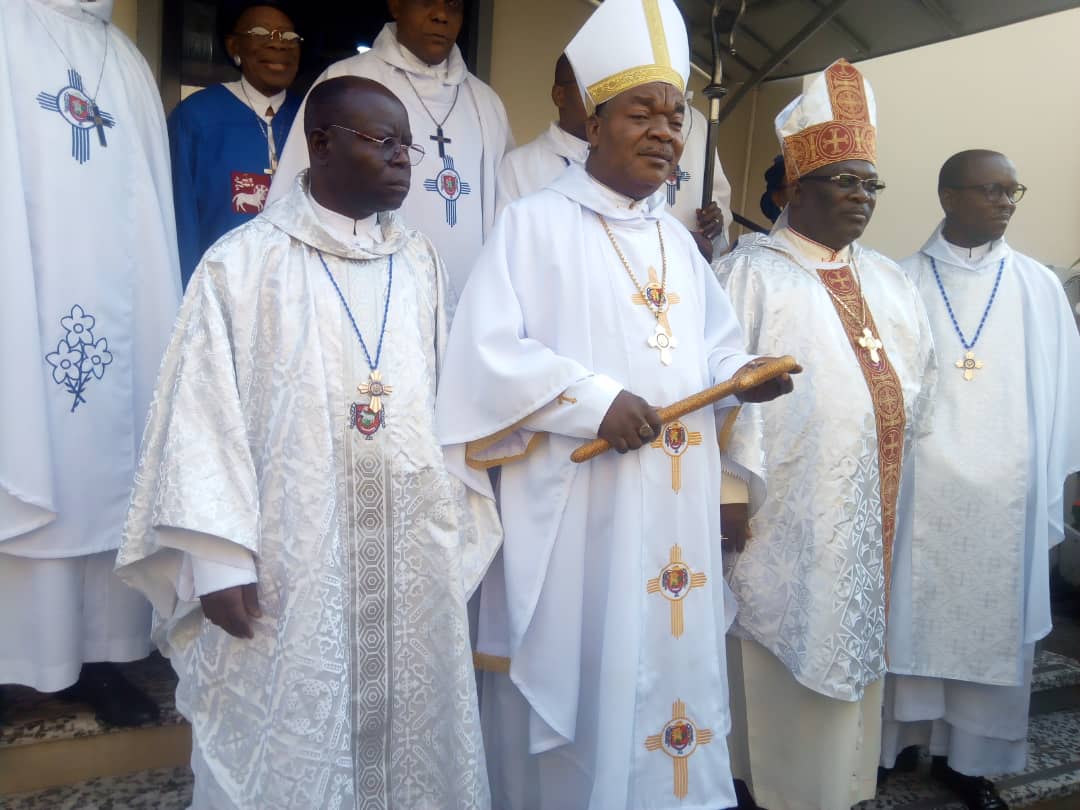 Jesus is alive every challenges is temporary,said Dr Oliver Methodist Church prelate
By Ifeoma Ikem
Sahara Weekly Reports That Prelate of Methodist Church Nigeria, His Eminence Dr Oliver Ali Aba has congratulate Nigerians on the celebration of the Christmas ,assuring that the nation will rise again.
Dr Oliver said this while speaking to pressmen at the church National Headquarters, Wesley House, Marina, that he strongly believed that there is hope for all of us as long as Jesus is alive every challenges is temporary.
He said a time shall come when all this shall come to an end because Jesus loves Nigeria and that is why the country is at this peace even at these level we are growing gradually.
According to him, my praying is that all our leaders may they all have fear of God and ever all of us who are they subjects may we too have fear of God and being faithful to every assignment giving to us.
"Let this country be our country, we have no any other country that we will called our own so all hands must be on deck,let no one blame nobody if you discover the way of success enter into it so that whatever it takes it will better Nigeria.
Dr Oliver point that our unborn children will praised us, congratulate us for good fathers and mothers in us,for doing what we have done neither in terms of developmental strife or economy improvement or whichever will featured us.
"We all must work together to produce better future for our yet unborn children because Christ has given us peace, life and joy at this level.
We were able to surmount all the problems since last year until now I'm strongly believe that yes the Lord will still do the same because he is alive, because he's alive everything around us shall speak well of us,he added.
He says there is hope for all of us as long as Jesus is alive every evil of life is temporarily a time shall come when all these in life shall come to an end
THE RADIATING CHURCH HOLDS ITS 2023 ANNUAL BUSINESS OUTLOOK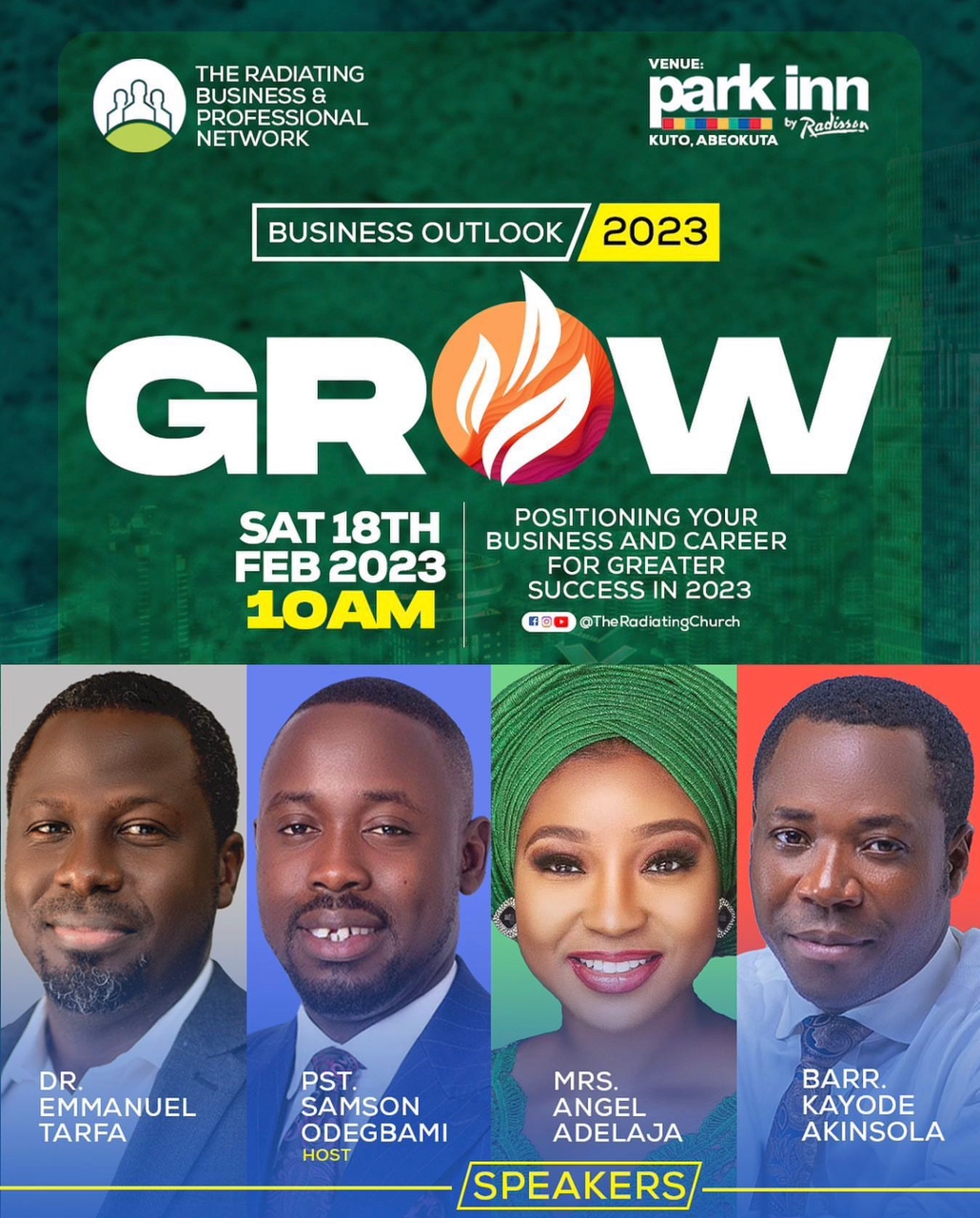 THE RADIATING CHURCH HOLDS ITS 2023 ANNUAL BUSINESS OUTLOOK
This year conference is billed to hold at the Park inn by Radisson blue, Kuto at Abeokuta, Nigeria and it is themed 'GROW'
The annual business outlook aims at developing the effectiveness of career attendees as well as sharing blue ocean strategies for young business owners.
According to the statement issued by the Cosmopolitan Pastor of the church who is also the host of the business conference, this year conference promises to have an array of speakers like Dr. Emmanuel Tafa, Barr. kayode Akinsola, a business lawyer, Dr. Angel Adelaja, a senior special assistant to the governor on agriculture among other speakers which are drawn from various sectors of the economy.
Grace Nation: God is not Rich, Wealthy nor Poor, but own Everything on Earth including Human Beings – Dr Chris Okafor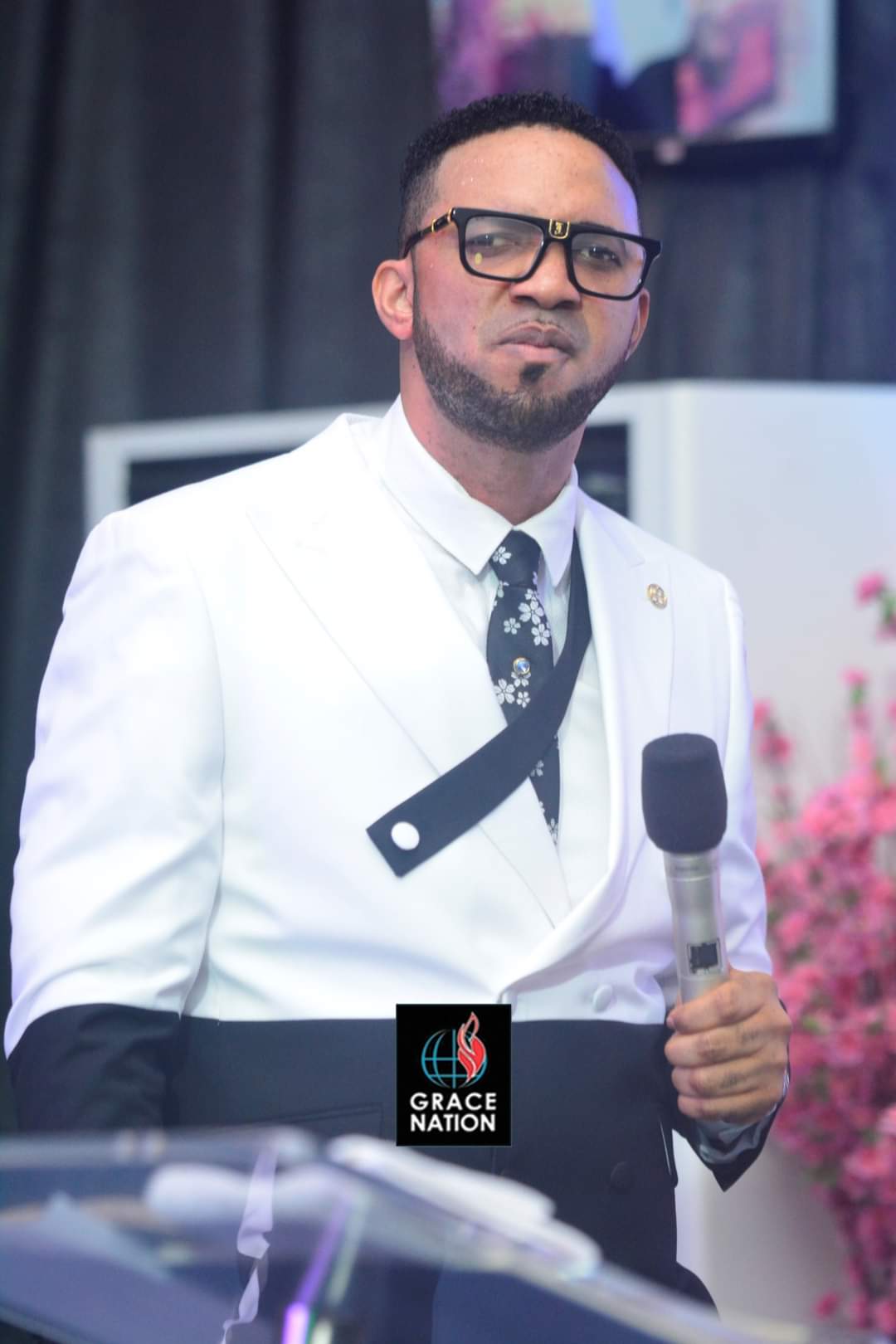 Grace Nation: God is not Rich, Wealthy nor Poor, but own Everything on Earth including Human Beings – Dr Chris Okafor
* Unfortunately today, what is called Honour has died in the Church….Okafor
GRACE NATION
-In the absence of Honour people will suffer, where there's no culture of Honour people will not prosper, and when you don't understand the Process of Honour, you can be in a place of plenty and remain stranded and poor for Life.
These and more are part of the teaching of the Lead Pastor of Grace Nation International aka Liberation city Dr Chris
Okafor
at the Sunday convenant day of wealth Transfer on 5th February 2023,at the International Headquarters of the church in Ojodu Berger Lagos Nigeria.
Teaching on the Topic "The Misery of First Fruit" taking from the Scripture Proverb 3:9,10, the Generational prophet of God Dr Chris Okafor emphasised that God says those that Honour me, he will Honour but those that dispersed him, they will suffer, unfortunately today in the church what is refer to Honour in the vineyard is dead, the Man of God continue that the kingdom of heaven is  a misery, it takes misery to demystified the Misery, therefore when you are knowledgeable to understand this misery, everything becomes good to you, it takes man of integrity to understand the misery behind the first fruit sacrifice, when you obey the instructions of first fruit everything you do throughout the remaining months and days of the year become a plus to your breakthrough and Success throughout the year.
The Generational prophet of God as he is fondly called Dr Chris Okafor Also remarked that God is the source of everything on this earth, everything belongs to him, so if there is anyone we must not play with is Almighty God, He is not Rich, nor Poor but everything on this earth Belong to him. If he directed that you must bring your first fruit to the vineyard, he know why he has given this instructions, if you Honour your God with your sustain, it trigger God to do more for you because he owns everything.
Earlier at the realms of Prophetic, God uses his Servant, the Generational prophet of God Dr Chris Okafor in a new dimensions, he was seen doing what he know how to do best, mentioning people's name accurate, describing roads to people's House in the village, exposing the acclaimed strong man behind people's predicament, He also exposes evil altars and the one serving them, depopulating the kingdom of darkness therefore making the kingdom of God Popular.
Miracle Babies were given to expectant mothers, while bloodline diseases and inherited battles give way. Also lawful captive were set free.
The Generational prophet of God Dr Chris Okafor also used the occasion to pray for the nation and for a successful General Election in Nigeria, as the man of God charges Nigerians to vote there conscience because that alone will guarantee a better Nation for all in the next 8 years, let's all Nigerian go out enmass come 25 February 2023 to vote for a leader that will bring back Nigeria lost Glory as the Giant of Africa, Dr Okafor remarked
Deeper Life Bible Church Sets to Commence Construction of Anchor University Permanent Campus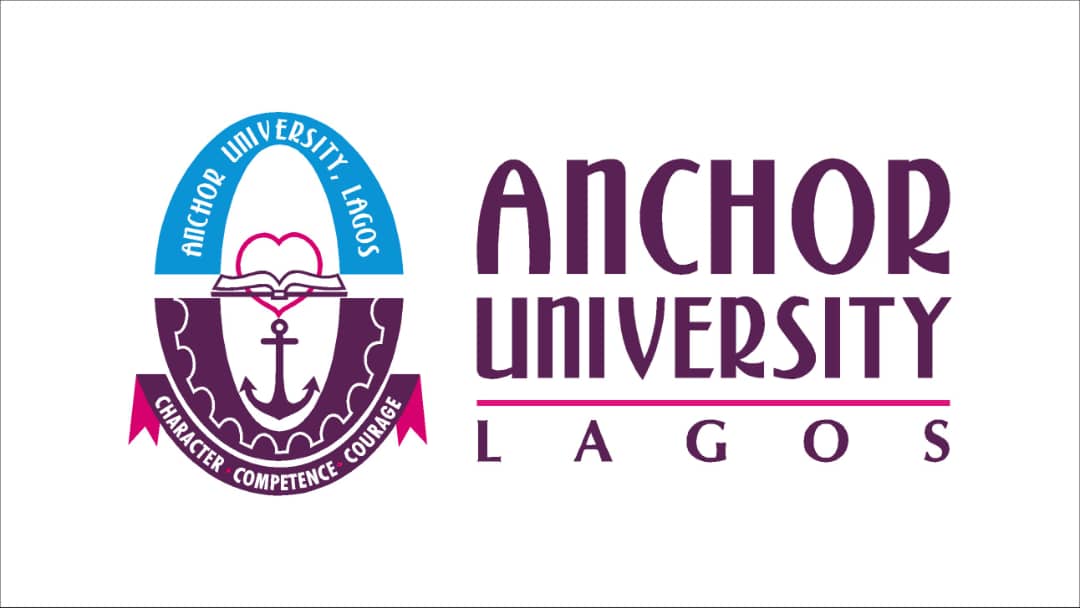 Deeper Life Bible Church Sets to Commence Construction of Anchor University Permanent Campus
…Warns Trespassers to vacate illegally Occupied Portion of Project Site Immediately
The Deeper Life Bible Church has announced plans to immediately commence the construction of the permanent campus of its Anchor University on the more than 20-hectare parcel of land earmarked for the project in Maba Town, along the Lagos-Ibadan Expressway. The project site is part of a large expanse of land belonging to the church and already housing several structures, notably the Deeper Life Camp among others.
To this end, the Church has directed that all illegal structures, machinery and other personal possessions on the concerned parcel of land be immediately removed by their owners, as failure to do so immediately could lead to their demolition.
At a recent media briefing in Lagos, the Church said the take-off of the project had been delayed by the need to give all illegal occupants of parts of the project site ample time to voluntarily vacate the land, even though the Ogun State High Court had granted it Order of Demolition to remove all such structures as far back as April 2022.
The Order of Demolition was granted by Justice Abiodun Akinyemi on April 4th, 2022 in pursuant of an earlier ruling by the same court on July 15th, 2016 in suit number AB/251/2008 wherein the church, as claimant, was granted declaration of title, damages for trespass and perpetual injuction, among other reliefs, in respect of the land in dispute. Also, following the subsisting 2016 ruling of the court, a warrant for possession to complete the process of right of legal possession of the said land by the church was granted on 8th May 2017 and executed via a writ of possession dated January 1st, 2018.
The Inspector General of Police had also directed the Ogun State Police Command, in a letter dated 21st June, 2022 with reference number CB:3594/IGP.SEC/ABJ/VOL.9/28, to provide the church with all police facilities required to aid the possession.
The IGP's directive followed a request made by the Church's legal representatives for police presence and supervision of the execution of the order of demolition granted by the honourable court. The request was made via a letter dated 20th June, 2022.
Addressing the media at the Church's Headquarters in Gbagada, Lagos, Chairman of the Church's Land & Building Committee, Pastor Alfred Oghene, noted that as a humanitarian organisation, the Church had acted responsibly in giving a long period of notice and waiting for an appreciable time for all trespassers on the land to voluntarily leave before its current decision to execute its court affirmed right to repossess the illegally converted portions of the land.
"There is no dispute on the land because the last appeal on the matter of ownership was filed and disposed of in the church's favour in 2017. In 2016, 2017 and even 2022, the rights of the church as the sole owner of the land have been affirmed by the court.
"As far back as 2018, the church has secured the Certificate of Occupancy on the land and has been discharging its financial obligations to the state government as spelt out in the C of O.
However, because of the kingdom attuned nature of our organisation, we have had to embrace a more conciliatory and pedestrian approach in driving off the illegal occupants on the land", he explained.
Pastor Oghene stated that the church could no longer afford delays in repossessing the land because the project for which it was meant now needs it urgently. He therefore restated the church's warning for all trespassers to immediately clear their illegal structures from the land or risk having them demolished.
According to him, "All the projects of the church for which the lands were foresightedly acquired are now at a stage that inform our need to repossess immediately. We have exhausted our patience and there is no time to waste again. So, we have resolved to move men and equipment to the sites to commence work. All structures or objects that have not been removed by their owners will not be spared".