NOLLYWOOD ACTRESS, EMPRESS ENE UNVEILS OWN FOUNDATION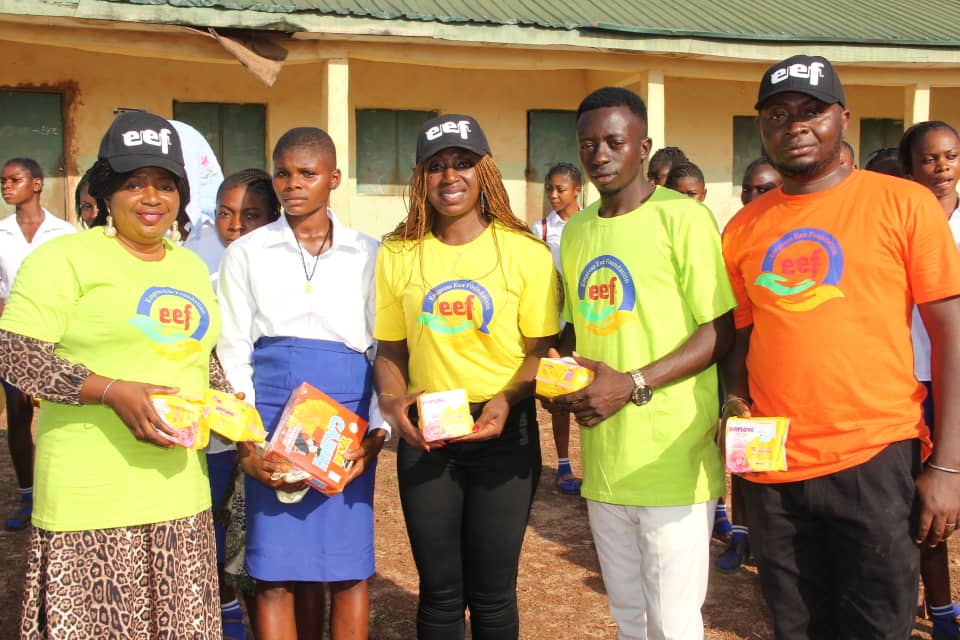 NOLLYWOOD ACTRESS, EMPRESS ENE UNVEILS OWN FOUNDATION, DISTRIBUTES SANITARY PADS TO SECONDARY SCHOOL STUDENTS IN BENUE
Sahara Weekly Reports That NOLLYWOOD ACTRESS, EMPRESS ENE UNVEILS OWN FOUNDATION. Senator representing Benue State  Central Senatorial District, Sen.Abba Patrick Moro sent a representative to support and encourage the charity outreach which held on  October  4, 2021.
The people of  Ekeh Olengbecho community of Okpkwu Local government Area of Benue state witnessed a large turnout of natives and outsiders at  the kick-off of the Empress Ene Foundation which held at the community in a grand style with the  distribution of Sanitary pads products to secondary schools girls in her community and other neighboring communities in conjunction with Deoch Concepts.
On this occasion of the launching of Empress Ene Foundation, more than 500 secondary school  female students and youths within and outside the community benefitted  and received sanitary pads products and were educated on how to observe healthy hygiene during their mensruations, how to use the pad during menstruationm.
Menstruation   as a normal circle in a female child of puberty age requires eating of fruits  during  and after  the period.
The Founder of the foundation Ms. Empress Ene Ikwumonu and the two speakers, Amb Allelu Raphael Ocheme CEO of Douche Concept jos and Hon Ocheme Helen  Supervisory Councilor for Health okpokwu LGA who graced the occasion charged the students and the youth to inhabit  good culture of neatness as neatness is next to Godliness.
The occasion attracted  prominent dignitaries, sons and daughters of the soil, including the great business man,  comrade Caleb Idoko ,  Mrs Maryanne Maryann Ene Nwankwo,  CEO,  GILAD foundation Nairobi, Kenya,  Ochefu Foundation High Level Makurdi, Benue state, Mrs Marie Ene orgah. Nollywoodactress, Sarauniya Maryam. Chief Uloko James. the Grand Patron, Sir Ejegwa, Mrs Onah Helen Onahi , Mr Grace Okpe  CEO,  Idoma Legend Award, Rev fr Peter Amodu, Holy ghost parish olengbecho. Mr Adah Akor. and MC Wowo
The birth of  EEF is all about female menstral  health hygiene management, among the female students and the entire populace of  the Ekeh Olengbecho Community of Okpokwu LGA and beyond.
At the end of the occasion, EEF organizing team, school students, principal, the Assistant Headmaster, teachers, the clergy, CYON President, and the youths, the host community, and Community members present expressed satisfaction for the wonderful programme.