NSC Seme gets new Controller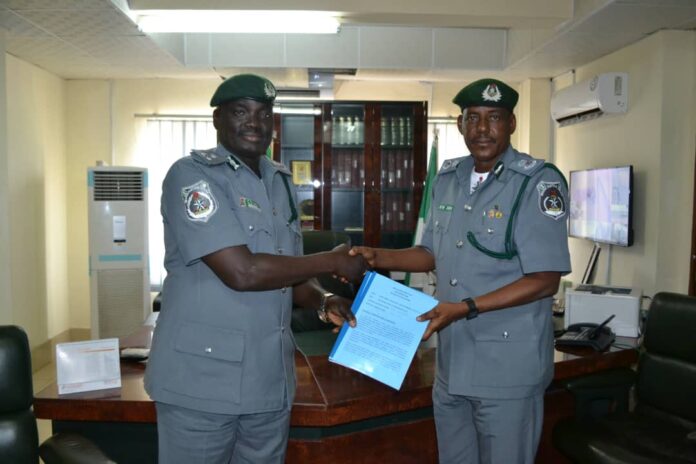 The Nigeria Customs Services (NCS), Seme Area Command witnessed change of baton, as the recent appointments and deployment of some higher ranking officers brings in Comptroller Bello Mohammed Jibo as the new Area Comptroller.
The Deputy Comptroller Chedi Dalha Wada,who acted briefed have handed over the mantle of leadership of the command to new Comptroller Bello Mohammed Jibo. in a brief ceremony that took place at the Area Controller's Office at Seme.
In his farewell address, Deputy Comptroller Chedi Wada thanked the Comptroller General of the Nigeria Customs services, and the entire Management team for the opportunity to serve as Area Controller in acting capacity.
He urged officers to accord the incoming Controller maximum support to effectively discharge the new responsibility bestowed upon him. He prayed for God's guidance and intervention for a successful tenure.
The new Seme Customs boss congratulated and commended the outgoing Acting Customs Area Controller for a successful tenure and wished him best of luck.
He disclosed that with the ongoing border drill exercise and Covid-19 lock down order, the task of effectively securing the border remained his utmost priority.
He solicited for the maximum support and cooperation of the officers and men of the command to effectively manage the affairs of the command towards suppression of smuggling and other trans-border crimes to the barest minimum.