OBASEKI AND THE POLITICAL BABELIANS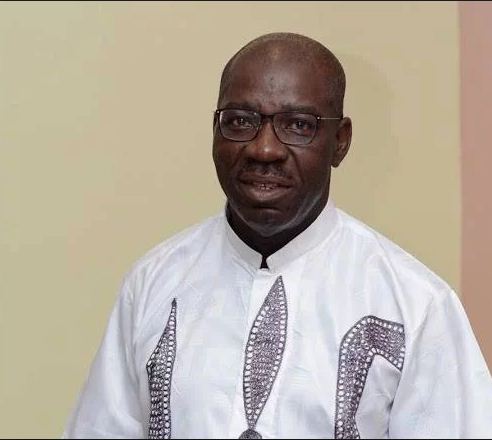 By Iwelunmor Patrick

As the processes leading to the Edo State gubernatorial elections gather momentum, it is expedient to put the records straight regarding the true state of things as per the politics of relevance among all those interested in occupying the most important office on Dennis Osadebe Avenue come November, 2020.

It will be irresponsible for any right thinking Edo (s) person to blind their eyes to the good work the Godwin Obaseki administration is doing across the state. For a man who has diligently rejigged the education sector in the state with the EdoBest concept which has taken basic education and e-learning to dynamic heights with the application of modern technology, what else do the people want that he has not done in that sector? The only people who are antagonistic to these heroics are those whose major interest lies in the squandering of the state's resources and such people must be avoided like a contagion, no matter how politically sweet-mouthed they are.Before now, the health sector in Edo State was lying comatose with decaying infrastructure and low morale on the side of health workers.
With his the Obaseki administration's strategic concepts which have led to the provision of modern equipment's and trained manpower to the state's public hospitals coupled with a mouth-watering insurance scheme that meets international standards, aberrations such as infant and maternal mortality rates as well as mental health deterioration have been brought to the barest minimum. What else do his political enemies want? Ailments like hypertension and diabetes which were indirectly liked to pension fraud has reduced since the Obaseki administration made it a matter of priority for pensioners to receive their dues at the appropriate time. Only demons will allow our old mothers and fathers queue endlessly and collapse under the scorching sun for their dues which they never eventually receive.Perhaps, one of the best achievements of the Obaseki administration is in the area of curbing human trafficking, illegal migration and international prostitution which have been considered the exclusive reserves of Edo people.
The energy and enthusiasm with which the Obaseki administration has tackled these monsters remain phenomenal. Both the European Union and the Italian government have commended his efforts in ensuring the repatriation and reintegration of Edo indigenes into the society with a multi-million naira agro-credit scheme after many wasted years in search of greener pastures that were never found. Today, the rate of involvement of Edo indigenes in these illicit activities has greatly reduced. Thanks to the focused intervention of the Godwin Obaseki administration.All those who have vowed to antagonise his second term ambition will surely meet their political waterloo. Only witches and wizards are known to oppose good things and the Holy Bible's position on witchcraft should be a great motivation for Obaseki. Your Excellency, suffer them not to leave. I can assure you that their case will be worse than that of the arrogant babelians who tried to build a tower to heaven and in the process, incurred the wrath of God. May God put confusion in their midst. May they end up fighting themselves. Let them continue to speak gibberish!

My dear Edo people, would you choose darkness over light? Would you allow people who have no track record to come and deceive you with political promises that end up in nothingness? Would you allow darkness shine over light? With what Obaseki and his team are doing, you can imagine where Edo State will be if you give him your votes for another four years. Let us all rally round our brother, a man who means well for us and generations unborn. Don't be deceived by those who think they can bamboozle an entire state with their strange kind of politics. Edo State is a land of intellect. We cannot be easily cowed.

I am not from Edo State but the Edo blood flows in my veins and I have decided to align with every progressive idea from the state based on personal conviction and because of Obaseki's bridge-building efforts in the South-South region. Vote Obaseki; vote light and be illuminated forever!
Iwelunmor Patrick, a Media and Public Relations Practitioner, writes from Lagos.
Naira Marley: I'm Not Responsible For DJ Splash's Mental Illness
Naira Marley: I'm Not Responsible For DJ Splash's Mental Illness
Embattled Nigerian singer and Marlian Records henchman, Azeez Fashola, popularly known as Naira Marley has denied claims that he is responsible for DJ Splash's mental instability.
Also, he cleared the air on rumours that he (DJ Splash) was once signed to Marlian Records.
The 'soapy' crooner has been tongue-lashed in recent times on different allegations since the death of his former signee, Mohbad.
Among such allegations was that DJ Splash ran mad after taking substances given to him by the Marlian team.
DJ Splash's mother, in a recent video shared by actress Iyabo Ojo during her visit, alleged that since her son left Naira Marley's house, he had been mentally unstable.
However, in an interview with Reno Omokri on Thursday, Marley denied all the allegations.
According to him, DJ Splash was never officially signed to his music label, and neither was he responsible for the DJ's mental instability.
He added that the DJ had parted ways with Marlian Records before his mental instability began.
He said, "DJ Splash was never signed to Marlian Music. I know him as a DJ, but he has never deejayed with me at shows or anything, it is not like he is my DJ. They just gave him the title because I took a picture with him.
He added that he did not know how the DJ's mental instability started, and neither was he (DJ Splash) still associated with Marlian Records at the time.
"When whatever happened to him, he was not at my house, and I do not understand where all this is coming from," he noted.
Real Reasons Glo Unveiled Kizz Daniel, Asake, And Chike As Brand Ambassadors
Real Reasons Glo Unveiled Kizz Daniel, Asake, And Chike As Brand Ambassadors
Three Nigerian music acts, described by Globacom as "role models who have gone through the grind to stand on the highest pedestal of their dreams", signed an agreement as Glo brand ambassadors at a colourful ceremony at the company's corporate headquarters in Lagos.
They include Ahmed Ololade, globally known by his brand name, Asake, is a graduate of the Obafemi Awolowo University, Ile Ife, Osun State, while Oluwatobiloba Daniel Anidugbe, the Buga exponent, generally known as Kizz Daniel, has a degree in Water Engineering from the Federal University of Agriculture, Abeokuta, Ogun State.
The third new Glo ambassador, Chike as he is called by his fans, was born as Chike Ezekpeazu Osebuka.
He is a graduate of Computer Engineering, from Covenant University, Ogun State.
The company, which marked its 20th anniversary in August stated that it "is celebrating this with the endorsement of these new ambassadors to project the power of youth and enterprise and how much they can achieve with the right focus, passion and dedication that can come from seeing others who have succeeded. This is very much part of our tradition as we believe the strength of a nation lies in the ability and potentials of its youth".
It explained that the engagement of the new brand icons "is meant to project the best Nigerians as models for younger people who are tirelessly aspiring to succeed. This is more important in an era where positive heroes and mentors are scarce and hard to come by. The intention is not just to promote the growth of music, Nollywood and sports where we have been very prominent, but also to encourage our teeming youths to aspire toward realizing their dreams by looking up to these ambassadors as mentors".
Globacom, which since inception has always sponsored major events and supported talented as well as enterprising young Nigerians by making them Glo ambassadors, explained that this innovation has become a practice for which Globacom has always led the way in Nigeria.
Congratulating them, Glo which stated that "having these stars as ambassadors of is our way of inspiring a whole generation of young people with vision who can do better and achieve more without losing hope along the way, even when confronted with challenges," pledged to continue to promote the sector as it held great prospects to promote Nigeria to the world and also transforming lives.
On their part, the new ambassadors promised to represent the Glo brand by projecting the ideals of the company at all times.
They thanked the founder and Chairman of Globacom, Dr Mike Adenuga Jr., for considering them worthy of being appointed as the company's brand ambassadors.
Serie A: Oliseh advises Osimhen to quit Napoli over TikTok video
Serie A: Oliseh advises Osimhen to quit Napoli over TikTok video
Former Super Eagles head coach Sunday Oliseh has advised Victor Osimhen to leave Serie A champions Napoli.
Napoli mocked Osimhen in a TikTok video posted earlier this week after he missed a penalty in the 0-0 draw at Bologna.
The forward reacted by deleting all of Napoli's pictures and videos from his social media handles, with his agent threatening to take legal action against the club.
The 24-year-old snubbed a number of his teammates on his arrival at the team hotel ahead of Napoli's Serie A clash with Udinese on Wednesday.
Commenting on the issue, Oliseh wrote on his X handle:" Forever proud to be Nigerian; One must show personality, work hard & refuse to be intimidated. let Racists and ingrates talk! That's why they are eternal losers who secretly wish they were created like you! Osimhen needs to leave Napoli as soon as yesterday!!."
The forward has scored four goals in six league appearances for Rudi Garcia's side this season.