Odegbami Clears Air on Controversial Interview, Says 'I Am Not A Polygamist'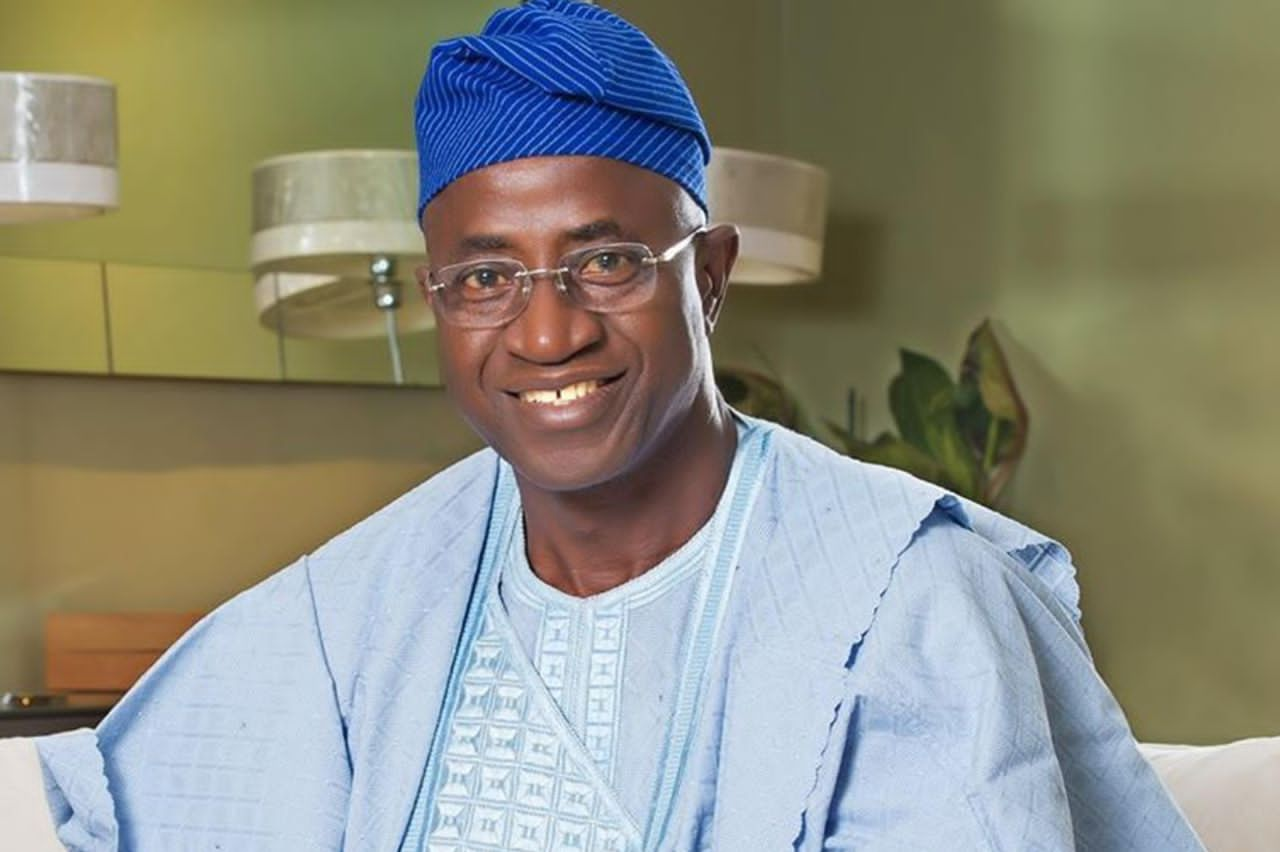 Odegbami Clears Air on Controversial Interview, Says 'I Am Not A Polygamist'
The owner of Eagle-7 Radio, Segun Odegbemi has clarified some information about the interview granted to The Nation newspaper and published on February 5, 2022 which presents aspects of misinterpretation.
The publication which was titled "I've no scandals, polygamy is part of Egbaman's life" gives the impression that the former Nigerian footballer who is from Egba, Ogun State consents to polygamy as a common practice of his people, "This is completely misleading, and it depicts a negative impression of the true state of affairs in my life, " he stated.
Mr. Segun Odegbami clearly indicates that the title was structured from his conversation between his father which explains the position of his father regarding how a family should be, "I had a discussion with my father 30 years ago on how I was living in Nigeria alone when my ex-wife and family were living abroad. He suggested it was not healthy and that I should either join them abroad, make them return, or marry another wife, it was his practical suggestion, what his Egba people would have done and I didn't follow the counsel."
The former candidate for governor in Ogun disapproved of the headline, indicating that he is not polygamous: "To put the records straight: I am not a polygamist. I don't practice it. I have nothing against those that do. I am a monogamist, " he said.
Mr. Odegbemi who is a former Super Eagles player and the winner of 1980 African Cup of Nation appealed to friends and family who are deeply shocked by the publication, "I have hurt sensibilities and sincerely apologize to my immediate family and to my Egba kinsmen for this unfortunate and erroneous misrepresentation."
Augustine Hat-Trick Puts TY Buratai Academy in Governor's Buni Swearing In Semi-Final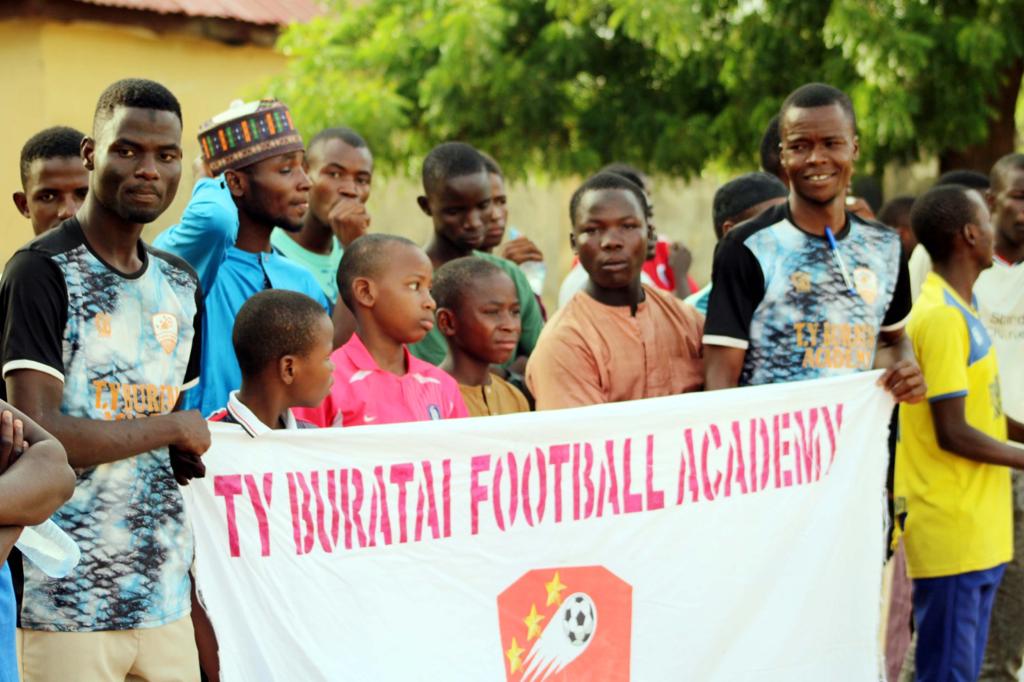 Augustine Hat-Trick Puts TY Buratai Academy in Governor's Buni Swearing In Semi-Final
Augustine scored a hat-trick to send TY Buratai Academy to Governor's Buni Swearing In semi-final with a 4-1 win over Bade Academy in the quarter-final at the Police Area Command Football Field Damaturu on Thursday.
TY Buratai Academy win came in the first half of the game.
In the 28th minute, Ukasha tied the game to give Buratai Academy a 1-0 lead, and later Augustine add the Second Goal in 46th Minutes in 73th minutes Augustine scored a brace to Extend the lead to 3-0 .
Bade United scored their first and only goal in the 80th minute of the game to make it 3-1 by Pires.
Augustine's decisive goal came in 82nd minutes it looks like it was from the offside position, and his third caused debate.
Bade continue the game with 10 men at 85th minutes after the officials sent off their defender for two yellow cards.
TY Buratai Awaits winner between Potuskum Academy and Nguru Academy which will be played tomorrow Friday.
The Two Nigerians On Forbes List Of World's Highest Paid Athletes 2023
The Two Nigerians On Forbes List Of World's Highest Paid Athletes 2023
FORBES– The cutoff for the top 50 this year is $45.2 million, up an astonishing 20% from the previous record of $37.6 million, set just last year. In all, the 50 athletes hauled in an estimated $3.44 billion over the last 12 months before taxes and agents' fees, up 16% from last year's record of $2.97 billion.
Of that new total, $2.36 billion came on the field in the form of salaries, bonuses and prize money—an all-time high, of course, smashing 2022's $1.91 billion thanks in part to the Middle Eastern money pouring into sports. The off-field figure of $1.08 billion—from athletes' endorsements, appearances, licensing and memorabilia income, and other business endeavors—is also a new high, edging 2022's $1.06 billion.
#11 Giannis Antetokounmpo $87.6M
Athlete, NBA
– In December 2020, Antetokounmpo signed a five-year, $228 million supermax extension with the Bucks, with an opt-out after the fourth year.
– Antetokounmpo was named the NBA's MVP for 2018-19 and 2019-20 and was also defensive player of the year for the latter season.
– The first MVP nod triggered huge bonuses from sponsors like Nike, which extended its deal with the Greek Freak in 2017.
– Nike released the Zoom Freak 1 in 2019; it was the largest initial signature shoe launch in Nike basketball history.
– Disney secured a deal in 2020 to develop a movie around Antetokounmpo's life, along the lines of "The Blind Side." The film, titled "Rise," was released on Disney+ in June 2022.
Sponsors
Amazon, Breitling, Come Ready Foods LLC, Epic Games, Google, JBL, Meta, Nike, Unilever
#28 Anthony Joshua
$53M
Athlete, Boxing
– Joshua won his first 22 pro fights and was a world heavyweight champion from 2016 to 2019, until a stunning loss to Andy Ruiz Jr.
– The Brit avenged the loss later in 2019 with a unanimous decision. He lost twice to Oleksandr Usyk in 2021 and 2022 but got back on track with a win over Jermaine Franklin in April 2023.
– He has a massive social media following, with 26 million followers across Instagram, Facebook and Twitter.
Players With Zero Red Card in Their Careers
Players With Zero Red Cards in Their Careers
Sahara Weekly Reports For different breaches of the flow of ball play on the pitch, referees have different punishments for players who are found flouting rules and these are usually in the form of card bookings.
However, concerning the fact that some players have never been given a red card in their careers despite the longevity of their careers, there are 12 players in mind:
The 2022 Ballon D'or Winner has never received a red card in his career despite his long days of playing at Real Madrid.
This is not surprising considering the kind of personality Iniesta is known for.
The Bayern Munich legendary player did not receive any red cards throughout his active playing career.
The Real Madrid legend didn't receive any red card booking in the entirety of his career.
Lineker is one of the few players who wasn't booked a red card in their careers.
The former Chelsea forward player wasn't booked red in his career.
The Italian Ballon D'or Winner's name can't be left out.
Sir Stanley Matthews
Stanley was one of the players in history not to have a red card booking.
Ryan Giggs
The English international I'd also not booked in his entire career as far as the red card is concerned.
Pepe
This is appearing as a surprise to many people looking at how aggressive the Portuguese defender is concerning tackling and other roles on the pitch.
Joao Moutinho
This is another surprising one looking at the position the midfielder is playing.
Damien Duff
The former Chelsea player was not booked red ever in his career
.