OPPO unveils new A78 with superior technological capabilities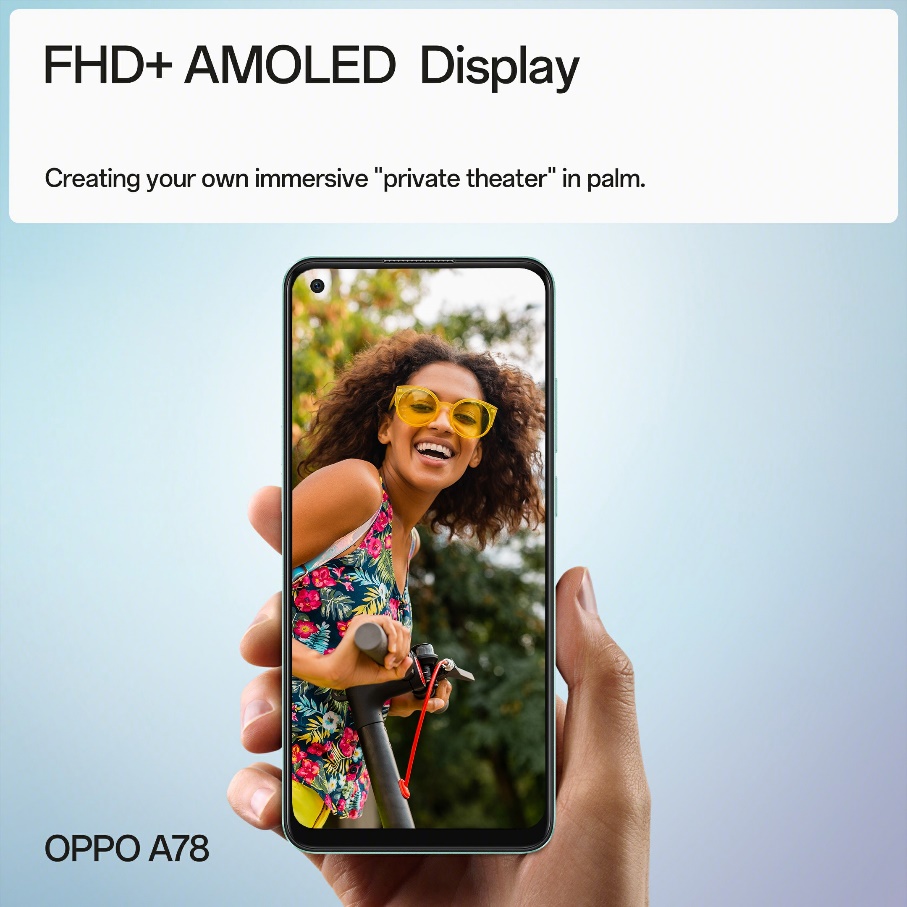 OPPO unveils new A78 with superior technological capabilities
OPPO today announced the launch of the new OPPO A78 in Nigeria. Featuring significant upgrades with its FHD+ AMOLED Display, Dual Stereo Speakers, lightning-fast 67W SUPERVOOCTM flash charge and long-lasting 5000mAh large battery, intelligent and secure ColorOS 13.1 and more. The A78 is built to deliver seamless and smooth performance for up to four years. Enhancing this exceptional performance is a visually stunning Ultra-Slim Retro Design with an industry-first Diamond Matrix Design on the back cover, making the phone an absolute standout in style and functionality.
Lightning-fast and reliable charging with a longer-lasting battery
With the composition of the super-fast 67W SUPERVOOCTM Flash Charge and a large 5000mAh battery, the OPPO A78 offers one of the fastest flash charging speeds on any smartphone in its price range. The A78 can be fully charged in just 44 minutes. With this incredible charging speed, it's even possible to charge the phone to last an entire flight with a quick, last-minute charge before boarding a plane. When fully charged, the long-lasting 5,000mAh battery can provide 27.4 days of standby (flight mode) or 16.37 hours of YouTube video, so it can easily last an entire day of average use.
OPPO has also introduced a series of exclusive technologies designed to enhance charging safety and reliability on the A78. OPPO's Battery Health Engine helps to extend the A78's battery lifespan to as many as 1,600 charge and discharge cycles, which is enough to keep the battery working in a good condition for up to four years. Optimized All-Day Charging intelligently learns users' daily charging habits and adjusts the charging speed accordingly. For office workers who often leave their phones connected to a charger throughout the day, Optimized All-Day Charging can automatically stop charging the battery when it reaches 80% capacity and then resume charging to 100% just in time for the end of work. This reduces constant charging of the battery to improve safety and overall battery longevity. On top of this, 5-Layer Charging Protection returns to the A78 to improve end-to-end safety across the entire charging process.
A more immersive audio-visual experience
The OPPO A78 is the first OPPO A series phone to feature an FHD+ AMOLED screen that can be rarely seen in its price range. The 6.4" screen has a 90Hz refresh rate and up to 180Hz touch sampling rate to provide enhanced smoothness and responsiveness. With up to 600 nits' overall brightness, the screen delivers incredible detail even in direct sunlight, while the smart adaptive backlight helps provide the most comfortable visual experience in different environments to reduce visual fatigue from prolonged viewing. The display also includes the first In-Display Fingerprint Unlock on a smartphone at this price range, offering a better balance between aesthetic design and efficiency.
Alongside the fantastic visual experience, the A78 provides more immersive and crystal-clear surround sound through its Dual Stereo Speakers and Real HD Sound 3.0, delivering optimal sound adjusted for different scenarios such as music, video, and gaming. For users who like to turn things up a notch, Ultra Volume Mode can boost sound volume by as much as 200%, making it easier to hear music or the phone ringing in even the noisiest of places. When making voice calls, the earpiece volume can be further increased by 3dB without impacting audio quality, so users can clearly hear their conversations at all times.
In terms of camera, the A78 is equipped with a camera system including a 50MP main camera and a series of new features that make it easier than ever to capture stunning photos and videos. For example, Dual-View Video can be used to shoot from both the front and rear cameras simultaneously and combine the footage into a single frame, unlocking new perspectives in shooting creative vlogs.
Stay smooth for up to four years
The A78 is powered by the Snapdragon® 680 Mobile Platform, delivering powerful performance with optimized power consumption built for everyday tasks. The phone features an 8GB RAM + 128/256GB ROM configuration with up to 1TB of additional storage through the SD card slot. It also includes OPPO's RAM Expansion technology, which can be used to temporarily convert free ROM space into a maximum of 8GB of RAM to keep the phone running smoothly during heavy-load scenarios.
At the system level, OPPO's self-developed Dynamic Computing Engine uses parallel computing technology to optimize the scheduling and recovery of computing resources to boost overall speed and stability. On the A78, the Dynamic Computing Engine can increase app opening speeds by as much as 1.42%. It also helps to keep up to 19 apps running in the background at the same time without any noticeable lag.
Thanks to all these optimizations, the A78 provides silky-smooth performance for up to four years, ensuring users can enjoy a longer-lasting smooth experience compared with other smartphones at a similar price point.
An enhanced Ultra-slim Retro body with industry-first Diamond Matrix Design
The A78 is available in two fresh, trendy color finishes – Aqua Green and Mist Black. Inspired by water, the Aqua Green A78 uses a double-layer process to superimpose an industry-first Diamond Matrix Design atop a water green base layer. The result is a vibrant, energetic color that sparkles like diamonds floating on a delicate surface of jade water to create a uniquely exquisite appearance. Mist Black meanwhile adds a touch of yellow-green to a pure black color base to introduce a sense of dimensionality to the phone.
The A78 inherits the same iconic Ultra-Slim Retro Design as previous models in the OPPO A series with the introduction of several new upgrades. The 2.5D right-angled middle frame and smoothed edges give the phone an integrated sleek and lightweight appearance while also making it more comfortable to hold. Even with its large 5000mAh battery, the A78 continues the same slim and lightweight design of the Reno series, measuring as little as 7.93 mm in thickness and weighing only 180 g to make it the thinnest phone with a 5000mAh battery in its price range.
Alongside these design upgrades, the A78 also features enhanced quality and durability. The phone has been put through some of the most rigorous durability tests in OPPO's lab to make sure that it is ready to stand up to the challenges of everyday life. It is also rated IP54 waterproof, meaning it won't be phased by regular splashes and spills.
A smarter and more private ColorOS 13.1
ColorOS 13.1 on the A78 is designed for enhanced convenience and privacy. Among the new features in the latest ColorOS is Screen Translate, which uses Google Lens to translate the content of an entire screen with just one click from the sidebar. With support for intelligent translation between 105 languages, Screen Translate can even be used to translate image-based text. Auto Pixelate can automatically recognize and pixelate sensitive information like profile photos and names on chat screenshots with just one click.
Further to this, ColorOS 13.1 includes an updated Private Safe that has been upgraded with the Advanced Encryption Standard (AES) to keep private files encrypted and stored in a private directory with a higher level of security. 5-Grade Access Control has also been added to give users complete control over who can see their data and when.
OPPO A78 device is available for purchase at authorized retail stores across the country from N188,000. OPPO A series has developed a reputation over the years for offering great features at accessible price points and this Qualcomm CPU-powered device is not different.
ZENITH BANK SIGNS MOU WITH CFA INSTITUTE TO DEVELOP FINANCE AND INVESTMENT PROFESSIONALS
ZENITH BANK SIGNS MOU WITH CFA INSTITUTE TO DEVELOP FINANCE AND INVESTMENT PROFESSIONALS
Zenith Bank Plc has signed a Memorandum of Understanding (MoU) with the Chartered Financial Analyst (CFA) Institute to promote efforts and activities that support the formation, training, and updating of human capital in finance and investment for the overall development of the Nigerian financial services sector. The MoU, was signed by the Group Managing Director/CEO of Zenith Bank Plc, Dr. Ebenezer Onyeagwu; the President/CEO of the CFA Institute, Margaret Franklin; and the President of CFA Society Nigeria, Ibukun Oyedeji on Tuesday, November 28, 2023.
Speaking at the MoU signing ceremony, the Group Managing Director/CEO of Zenith Bank Plc, Dr. Ebenezer Onyeagwu commended the CFA Institute and the CFA Society, Nigeria for their laudable programmes in developing finance and investment professionals in Nigeria. According to him, your Women in Investment Management Initiative, CFA Institute Research Challenge, CFA Society Nigeria Ethics Challenge and University Affiliation Program are very laudable, and Zenith Bank will continue to partner with the CFA Institute and the CFA Society Nigeria to ensure that young finance and investment professionals get the needed support for their career development. In his words, "As a good corporate citizen, Zenith Bank remains committed to furthering the economic, cultural and social development of the society. As such, we continue to support projects and initiatives that have long-term social and economic benefits for our various publics and stakeholders. Partnering with the CFA Institute and the CFA Society Nigeria is therefore a demonstration of our commitment to building professional excellence in the finance services industry in Nigeria".
At the CFA Institute Africa Investment Conference, during the 'Journey to the Top: A Discourse with CEOs' segment, Dr. Onyeagwu inspired future finance and investment professionals to uphold the highest standards of integrity. He stressed the importance of making difficult yet high-quality decisions, building robust networks, and dedicating themselves to hard work for career success. In his words, "as upcoming professionals, the opportunities are immense for you. Africa doesn't get bigger than Nigeria. There is scarcity of the right kind of people that have the talent, that have the character and the leadership to provide leadership in organizations. Make a decision to be one of those, make a decision to be different. You must be driven by your passion; you must delay gratification. In Zenith what is driving us is the strive for excellence. It is not about who you are and where you come from. We have the best class of talents you can think of anywhere in the world." He assured the young finance and investment professionals that Zenith Bank will offer immediate employment opportunity to CFA Charter Holders and those who qualify as Chartered Accountants.
Also speaking on the MoU, the President/CEO, CFA Institute, Margaret Franklin reiterated the Institute's commitment to the professional development of students and upcoming professionals. In her words, "there are many things that we do for students, we invest heavily in students and why is that? Because they are our future. The mission of the CFA Institute is to lead the investment industry with the highest standards of ethics, education and professional excellence for the ultimate benefit of society and that starts with our CFA programme". She commended Zenith Bank for its continued support to the CFA Society Nigeria and sponsorship of the CFA Institute Research Challenge over the years. She also commended the bank for being one of the top employers of CFA members in the country. She expressed her admiration of the culture of excellence in Zenith Bank. Also speaking at the MoU signing ceremony, the President of CFA Society Nigeria, Ibukun Oyedeji commended Zenith Bank for its partnership with CFA Society Nigeria and its commitment to the development of young finance professionals in the country.
The the CFA Institute Africa Investment Conference is being hosted by the CFA Institute and CFA Societies from Ghana, East Africa, South Africa and Mauritius. The conference has representatives from over 20 universities in Nigeria (members of their investment clubs being supported by CFA Society).
De-dollarisation: As Naira Trades Flat, Analyst Urges Ban On Dollar Transactions In Nigeria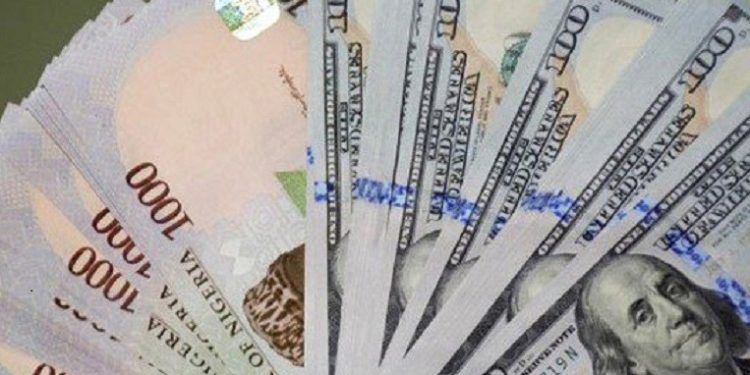 De-dollarisation: As Naira Trades Flat, Analyst Urges Ban On Dollar Transactions In Nigeria
In other to de-dollarise the nation's economy amid flutuation in the value of the naira against the United States dollar, an investment analyst, Adejumo Isaac, has called for ban on all foreign currency transaction in cash in the country.
In a statement, on Thursday, Isaac, advised the Central Bank of Nigeria (CBN) to declare cashless policy on forex, saying that would enable majority of forex cash domiciled in people's homes to automatically enter the banking system.
It could be recalled that the naira traded flat against the dollar, on Thursday, at N832.32/$1 in the Nigerian Autonomous Foreign Exchange Market (NAFEM), the country's official exchange rate window.
According to data from FMDQ Securities Exchange, a platform that oversees foreign exchange (FX) trading in Nigeria, the daily FX turnover is at $115.41million and that reflected increased FX inflow in the economy on Thursday, 30th November, 2023.
According to Data, the local currency, on Monday, hit an intra-day trading high of N1,137 and a low of N700.
However, speaking on how to shore up the value of the naira, Isaac, added that it should be a criminal offence with 6 months imprisonment for anybody to hold physical forex cash for any transaction in Nigeria.
He said, "All transactions involving use of forex should be done electronically via transfer or cheque payment that must pass through the bank account of payer and receiver.
"Give one month notice to anybody in Nigeria holding physical forex cash to deposit the same with commercial banks, thereafter, it becomes a criminal offence attracting jail terms of at least 6 months with no option of fine for anybody to hold physical forex cash for any transaction in Nigeria.
"In all fairness, dollars, pounds, Euro etc are not used to BUY petty food items or any retail items in the market that warrant exchange of physical forex cash.
"Generally, transactions that involve use of forex such as paying School fees, medical fees, importing raw materials for production, amongst others do not involve exchange of physical cash but they naturally pass through banks which is done electronically, therefore, there are no strong arguments to hold forex cash.
"By this policy, majority of forex cash domiciled in people's home will automatically enter the banking system and this will make forex liquidity robust for the good of the economy as availability will make stability of exchange rate possible thus reduce to the barest minimum volatility and unsubstantiated cum speculative demand as well as mop up of the available forex in the country by few privileged individuals for personal gains that inflicted more pains to the citizens.
"For the long-term solution is to increase our exports, firstly from increasing crude oil production volume to at least 2mbpd to boost dollar inflow into the economy (this volume was achieved and relatively stable for a number of years between 2012-2015), secondly to promote backward integration in terms of local sourcing of raw materials for production in order to reduce imports.
Ensuring petroleum products are refined in the country to save the volume of forex spent on importation of refined petroleum products which can thereafter be available for other uses."
Abbey Mortgage Bank Host Sustainability Workshop with Non-Profit Stakeholders in Abuja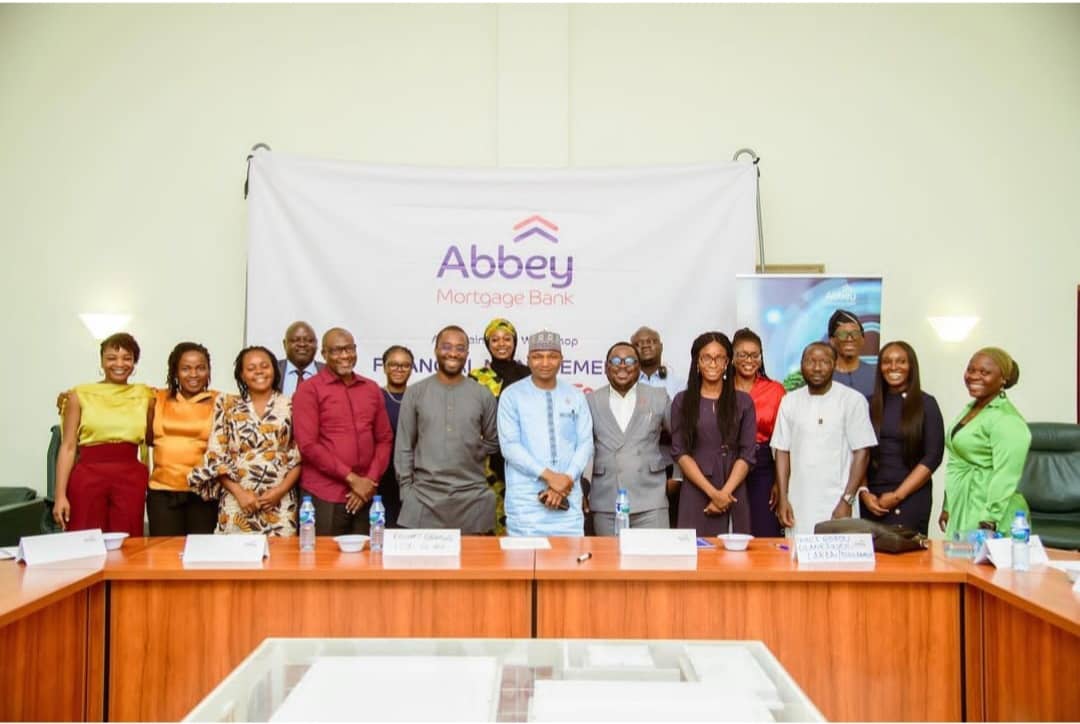 Abbey Mortgage Bank Host Sustainability Workshop with Non-Profit Stakeholders in Abuja
Geared towards boosting impactful investment opportunities for Non-profit organizations, a leading primary mortgage Bank in Nigeria, Abbey Mortgage Bank has organized a sustainable workshop for stakeholders of non-profit organizations to enhance financial sustainability and drive positive change within the civil society sector.
The event which was Tagged "Financial Management: A Sustainability Tool for Non-Profit Organizations" held on Wednesday 29th November 2023 in Abuja, is aimed at creating impactful investment opportunities to aid sustainability efforts in line with SDG 17 which supports the implementation and revitalization of Global Partnership for sustainable development in the civil society.
The workshop was attended by prominent guests including Jubril Shittu, CEO of PPDC; Dr. Ayodotun Olutola, CEO of CCCRN; Hamza Lawal, CEO of CODE; and Gideon Olanrewaju, CEO of AREAi among other guests.
Speaking at the event, The Group Head, Non-Profit Organizations at Abbey Mortgage Bank, Bukola Ewedairo, noted that, "Abbey Mortgage Bank is rightfully positioned to partner with institutions in the civil society by creating opportunities for long-term sustainable investment.
"We believe that Non-profit organizations need to be strengthened to achieve their mission and this workshop was our way of collaborating to ensure that they can thrive especially with the volatilities in our local economy." She stated.
Also speaking at the event, the Managing Director of Abbey Mortgage Bank and a key speaker at the event, Mobolaji Adewumi, noted that, " At Abbey, we are creating an ecosystem where non-profits can flourish, contribute meaningfully to society and drive sustainable change.
Adewumi further noted that "We are committed to helping individuals build wealth and attain financial empowerment and we are proud to collaborate with these distinguished leaders to make a lasting impact by supporting financial growth and empowerment" He stated.
The workshop had informative and interactive discussions, providing a forum for participants to share insights and explore collaborative opportunities. Attendees engaged in dynamic conversations, delving into strategies to enhance financial sustainability and drive positive change within the civil society sector.
Abbey Mortgage Bank reaffirms its commitment to fostering continued partnerships with NGOs, furthering its impact on the non-profit sector. The bank looks forward to ongoing collaboration, contributing to the achievement of sustainable development goals in Nigeria.