PRESIDENT TINUBU HAILS SCION OF AWOLOWO DYNASTY, SEGUN AWOLOWO, AT 60
PRESIDENT TINUBU HAILS SCION OF AWOLOWO DYNASTY, SEGUN AWOLOWO, AT 60
President Bola Tinubu joins Nigerians and well-wishers globally in celebrating the pioneer President of the National Promotion Organisations of the Economic Community of West African States and current Executive Secretary of the National Action Committee on AfCFTA, Mr. Segun Awolowo, as he turns 60 on September 27, 2023.
President Tinubu shares in the immense joy of this important milestone with the scion of Chief Obafemi Awolowo's family, while congratulating the former Chief Executive Officer of the Nigerian Export Promotion Council (NEPC) for sustaining the legacy of the family in public service.
The President recognizes the zeal, courage and wisdom that Mr. Segun Awolowo has brought into the positions of leadership he has previously held, with an admirable profile of working with every President of Nigeria since 1999, while leaving behind his trademark works of excellence at every stage.
As Mr. Awolowo clocks 60, President Tinubu appreciates the sacrifices of the legal practitioner, who accepted the call to serve the country at a young age, and continues to inspire younger generations to imbibe the virtues of excellence and patriotism in service.
The President prays for the well-being of Mr. Segun Awolowo and his family, while wishing him many more years in good health and quality service delivery in his present and future endeavours.
Chief Ajuri Ngelale
Special Adviser to the President
(Media & Publicity)
September 26, 2023
AdeDimeji Lateef, Dele omo Woli , Bash , Other A-list Comedians storm ijebu for Mc Baffy's Ijebu Go Laugh '23 Edition*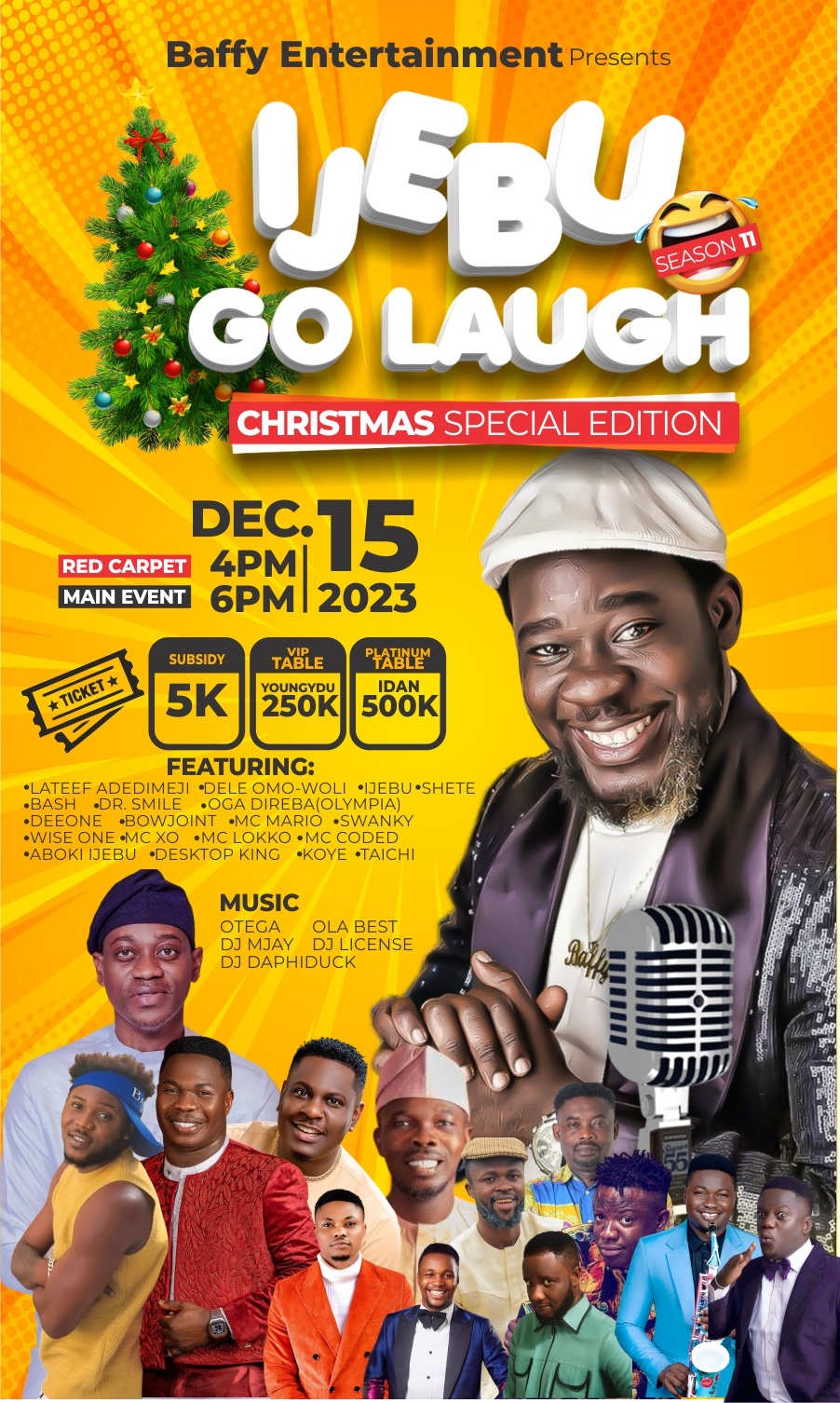 AdeDimeji Lateef, Dele omo Woli , Bash , Other A-list Comedians storm ijebu for Mc Baffy's Ijebu Go Laugh '23 Edition*
Fast-rising comedian and Master compere, Ayodeji Atanda prominently known around town as Baffy De Comedian will in few days time bring the AY Live experience to Ijebuland.
The grand event which promises to be a hit will hold on Friday, December 15, 2023 at the upscale Rolak Hotel and Suites, Imowo road, Ijebu Ode, Ogun state, starting from 4pm.
The annual comedy concert which has gathered momentum in recent years will have A-list comedians and artists like Lateef Adedimeji, Dele Omo-Woli, Ijebu, Dr Smile, Bash and Mc Mario in attendance.
Others music artistes and Nollywood celebrities expected are Olabest, Otega, Hephta, Koye, Shete, Mc Coded, Dj License and many others.
According to the convener of the award-winning programme, Mc Baffy, the comedy concert has been holding successfully in the last 11 years. We are out to thrill the audience with a breathtaking performance. I am bringing an AY LIVE experience to ijebu for ther first time and I am sure my people will be impressed.
DSS Raid: Igboho Denies Turning Into Cat To Escape Arrest
DSS Raid: Igboho Denies Turning Into Cat To Escape Arrest
Sunday Igboho, a Yoruba Nation activist, has finally spoken out about rumours that he transformed into a cat during a midnight raid on his home by the Department of State Services (DSS) in July 2021.
In an interview, Igboho refuted the report, saying that nothing like that occurred during the DSS raid.
He added that the DSS fired sporadically during the raid, killing multiple cats.
According to the activist, the DSS wanted to either kill or arrest him during the raid.
He said, "It is true that some cats were killed during the attack. Because the DSS just kept firing bullets in all directions. I was rearing cats as pets, and I had many of them in my house. So, anything or movement attracted sporadic gunshots.
"Their mission was to either kill me or arrest me and take me to an unknown destination, but the Almighty God is greater than anybody in this world, including the despotic ex-President Muhammadu Buhari."
Igboho added that he does not know whether the DSS brought three herbalists during the raid.
Yoruba Movie Gist Awards To Hold At RM Place Magodo Lagos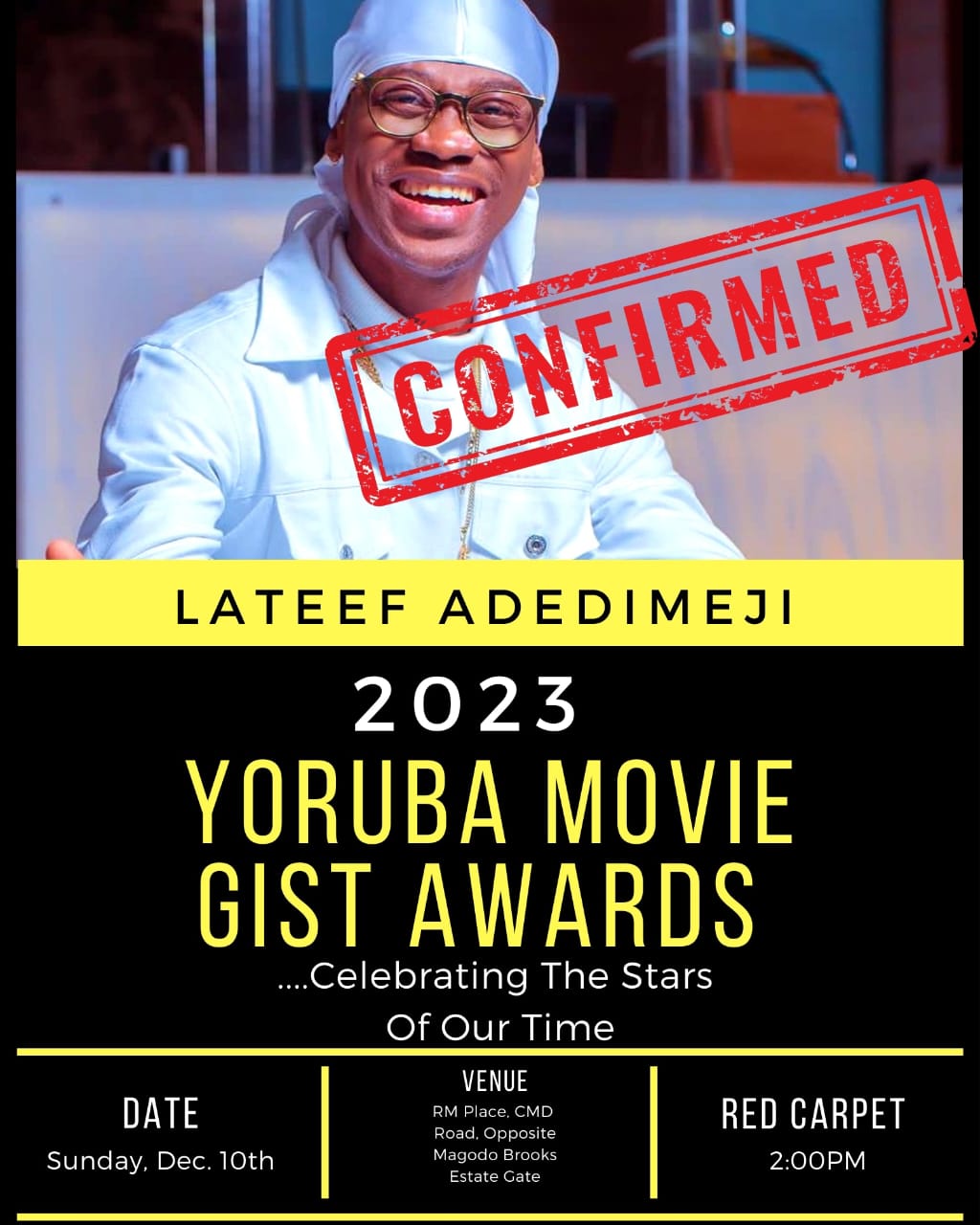 Yoruba Movie Gist Awards To Hold At RM Place Magodo Lagos
Olakiitan Adetutu Communications, spearheaded by Gbolahan Adetayo, the brains behind the esteemed Yoruba Movie Gist Awards, has disclosed RM Place, Opposite Brook Estate, CMD Road, Magodo, Lagos State, as the designated venue for the much-anticipated 2023 edition of the awards.
The prestigious ceremony is set to commence with a glamorous red carpet session at 2 pm, strictly adhering to a punctual schedule, and the main event will follow suit at 4 pm. The organizers emphasize a strict "No African time" policy, ensuring a timely and seamless experience for attendees.
This star-studded occasion promises the presence of top-tier Nollywood personalities, including the likes of Lateef Adedimeji, Ayo Olaiya, Yinka Salawu, Wumi Toriola, Omowunmi Ajiboye, Biodun Okeowo, and an array of other luminaries from the Yoruba movie industry.
Save the date, as the 2023 Yoruba Movie Gist Awards at RM Place, CMD Road, Magodo, Lagos, is destined to be an evening of glamour, recognition, and celebration within the vibrant landscape of Nollywood.