Primate Ayodele Releases Fresh Prophecies On Telecommunication, Sports, Others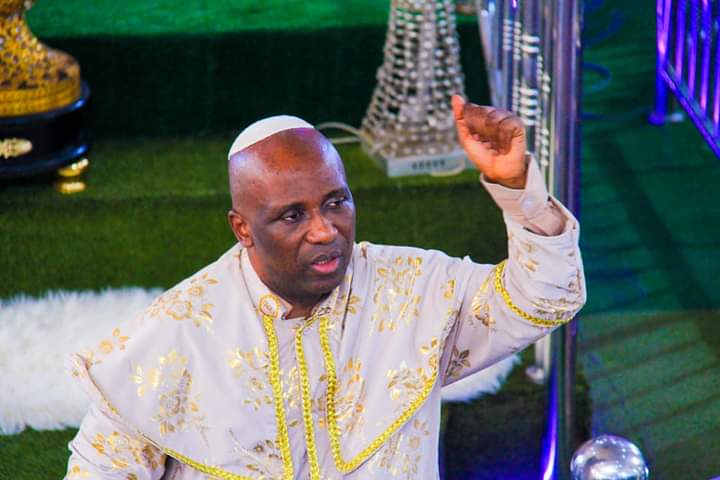 Primate Ayodele Releases Fresh Prophecies On Telecommunication, Sports, Others
By Olorunfemi Adejuyigbe
The Leader Of INRI Evangelical Spiritual Church, Primate Elijah Ayodele has released fresh prophecies on the telecommunication, sports and railway sectors in Nigeria and the African continent.
In a statement signed by his media aide, Osho Oluwatosin, Primate Ayodele warned the Nigerian communication commission (NCC) against taking steps that will run the telecommunication sector into serious crisis.
He revealed that he foresees another indigenous telecommunication company coming up from the northern region of the country but stated that Glo will always stay afloat among others.
Speaking on Glo, Primate Ayodele made it known that the company has God's backing and that no amount of scandals will be able to bring it down. He however advised them to stay focused and courageous as he foresees the company taking over several states in the country and the African continent.
''The Nigerian communication commission must not take a step that will run telecommunication into crisis or troubles, they should be mindful against increment of VAT on telecommunication, It will not be suitable.''
''I am seeing another indigenous telecommunication company from a northerner but among all, Glo will still be a leading telecommunication company in Nigeria and Africa. It will have an unusually perfect network service despite the fact that there will be scandals against the company. They should stay focused and firm because God is behind them. Glo will employ more workers. Through Glo, the economy of Nigeria will be transformed. Glo will take over so many states in the country, I see the talking drum symbol everywhere. God has promised the chairman of Glo his protection, no matter the attacks of the enemies, I see Glo soaring.''
On other telecommunication companies, Primate Ayodele warned MTN against taking wrong steps, Airtel against getting new device that won't be favourable and 9mobile against indictment.
''MTN must be watchful against steps that will back fire against the company. I see mass retention and inferno, the company should pray.''
''9mobile will have problems in September and October, and they must pray not to be bereaved. Some of their staffers will be indicted''
''Airtel is working on a new device, i don't see it becoming favourable for them.''
On Sports, Primate Ayodele warned the current NFF president, Amaju Pinnick not to be tempted to contest for a third term in office because it will kill the Nigerian football. He went ahead to mention that God has ordained Alh Ibrahim Gusau to become the next NFF president and that during his tenure, Nigeria will lift the African cup of nations.
Continuing, He asked Nigerians to pray against the death of a Nigerian footballer and death in the glass house.
''Amaju Pinnick should not go for a third term, if he goes, Nigerian football will die. The only person God has ordained to lead the NFF is Alh Ibrahim Gusau, he is the best man for the job that can take Nigerian football to glory. If we have Gusau as the NFF president, Nigeria will lift the Nations cup in 2023. ''
''Let's pray not to lose a Nigerian footballer in the field of playing. Let us pray so there won't be death in Glass house, a former player will die.''
Furthermore, the man of God warned the Nigeria railway corporation that he foresees a railway derailment and protest, asking them to be watchful and prayerful.
''I see another railway derailment and there will be protest by railway workers in Nigeria, NRC should be watchful and prayerful.''
Christians should wake up, produce who the public will vote for -Stakeholders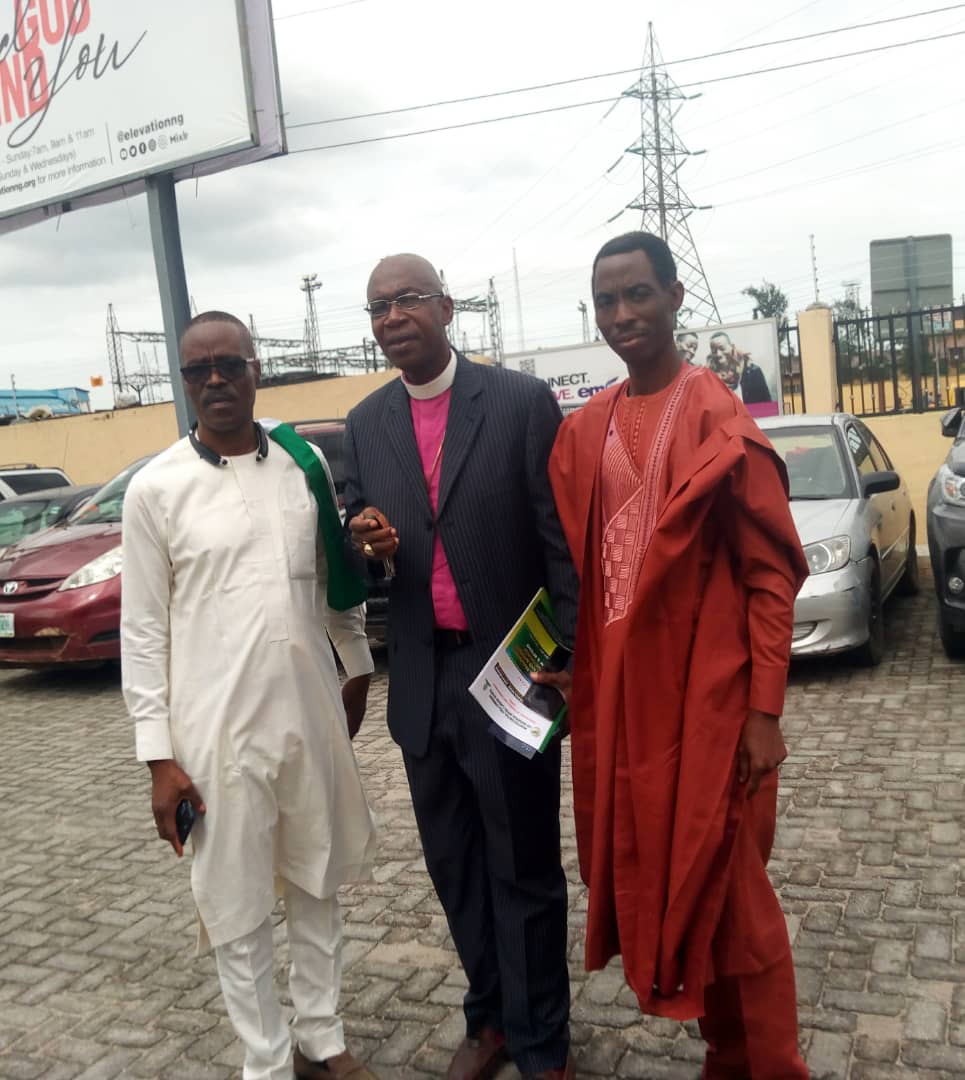 Christians should wake up, produce who the public will vote for -Stakeholders
By Ifeoma Ikem
Leading ministers of God and stakeholders in the Pentecostal Fellowship of Nigeria have called on christian bodies to wake up to ensure they all participate fully in the up coming 2023 general election in Nigeria and beyond.
This recommendation was made at the Political Stakeholders Conference and Inauguration of Directorate of Politics and Governance,(DPG) organised by the Lagos branch of the Pentecostal Fellowship of Nigeria (PFN) at Pistis Hub, Elevation Church Maryland, Lagos.
The theme of the event was, 'The Political Realignment, Relevance And Authority of The Church- Now and Beyond
The Directorate of Politics and Governance, National Chairman, Rev Femi Emmanuel, said that until the Christian bodies become the body that produce who the public will vote for they have not started.
Emmanuel urged Christians to take up their voters card and see which one of these candidate represent the Bible character.
"It's a necessity for everyone to go and get their voters card so we live by example.
"Both the Methodist, Anglicans and every one that governs the church,we are all one and together.
"We should strive with the same passion and zeal in asking people to register with political parties because the real power lies at the grassroot, the real power to determine those who will lead us".
According to him, the ward level is one of the products of the grassroot politics and they should open their eyes to see that where the power lies is to choose worthy leader starting from the ward level.
"Church should not wait for voter's card and election day but church should be the body that heads it, that is when Nigeria can have direction because as it is now Nigerian electorate have no choice, the choice has been made for them by the political Godfathers.
"Democracy in Nigeria is only on papers, it's supposed to be a government by the people and for the people. In Nigeria parties are owned, certain people own political parties, you can't become anything except you are one of them.
Emmanuel pointed out that in Nigeria, voters are treated like disposables, 'when you finish using tissue papers you throw it at the trash bin, in other climes voters are the Kings but not here.
"In 2023 it will be collaboration by his grace in 2027 it will be ownership, we the church will own it".
One of the speakers, Pastor George Babafemi noted that the church have fasted but politics is a marathon and we must be ready to stay there until it changes and it's not going to happen overnight.
"I started my journey from the grassroots, I was surprised to see a man who was a counselor who could not even speak correct English so also the national chairman had the opportunity to speak only to find out that he was a semi illiterate.
"Politics has no limitations, you have to start from the grassroots because I became popular during the ward Congress for the things that I had been doing ,the elders had to buy form on my behalf.
"The future is ahead of us and God has given us a platform and structure. It's a marathon and it's going to require not just spiritual resources but financial resources as well, politics is expensive so let's not pretend that speaking in tongues alone is going to shift things for us, it will not.
" It requires us putting our money and savings, I believe strongly in my heart that there is a new Nigeria in the horizon.
"I say it whenever I hear of bloodshed and all other vices that when the Messiah was born the enemy killed children In the horizon, when moses was born pharaoh also killed people so there's killing means salvation is approaching.
"So I know for sure that this is a new beginning of a new Nigeria.
People are counting on us and we are to put ourselves into action", he said.
Another Apostle Dr, Bolaji Akinyemi, said that people should note the fact that the Lord is a God of knowledge and by him actions are weighed.
He asked that if actions are placed in the balance against the knowledge we have, would there be a balance?
"I want you to understand that we are dealing with a God who understands the measure of knowledge an individual carries per time.
According to him, they are men who don't know all the things that we know as the church who are ahead of us basically because of the actions that they are putting into what they believe in.
"This also came from a woman who understood what number is. Hannah was with her husband with no issue before God visited her, she had Samuel and after Samuel seven sons, it wasn't like that at the beginning but God turned it around,there was an action that necessitated God's intervention on behalf of Hannah.
"She decided to separate herself that she's not going to be a part of it until God settled her and she was now after divine visitation sang a song of Thanksgiving and appreciation to God and I believe that if you put action to everything that we have said, if we allow that knowledge to determine our action and with God on our side, victory is sure.
"This is not the time for prayers, God has answered our prayers, one of the answers that God has given to our prayers is DPG: divine plan of God. God has given us a divine plan it is now left for us to put action to it and see what is left.
"God will judge our actions to determine what will be the action of 2023", he added.
Pastor Ituah Ighodalo said Nigeria was designed to fail, but it won't fail for too long, too many of us have been in ignorance, darkness, lack of understanding, backwardness, fear, anxiety amongst others.
"The greatest level of our ignorance is our environment, society, politics and governance of the church.
" Is it only by praying, fasting, and receiving prophecies that thing will work out, it can never happen that way, God is always looking for men who will hear, obey him and do what needs to be done.
"It is only in Nigeria that you plant yam and another will harvest and import them and you will still order for the same thing you produced to your house to eat.
" We don't open our eyes and smell the danger's ahead, enough is enough, the church must rise up and take their place.
"The British had established Nigeria for their own good and benefit ,they designed Nigeria to fail and determined that Nigeria will not survive but God will put them to shame.
"Nigeria is waking up, the church is beginning to rise, they are beginning to understand,compared to what they would have done 60years ago.
The convener ,Bishop Dr Taiwo Ajose ,Lagos state director, Directorate of Politics and Governance, (DPG) said,he wants every church to join this course so that we all can start speaking as one.
Ajose notes that the aims and purpose of the event is to provides platforms for collaboration and cooperation between different actors of politics, Christian faith and voting public.
Also it will improves political awareness of Christians and extension of voting in public by providing up to date and relevant information about governance, citizenship and public policy issues.
" At the center of all this, Christ rules the church, you see, it's not peripheral to world; the world peripheral to the church. The church is Christ's body, in which he speaks and acts, by which he fills everything with his presence ". Eph1.22-23,he added.
See Dr Chris Okafor Prophecy for the Month of July: Expectations will turns into Manifestation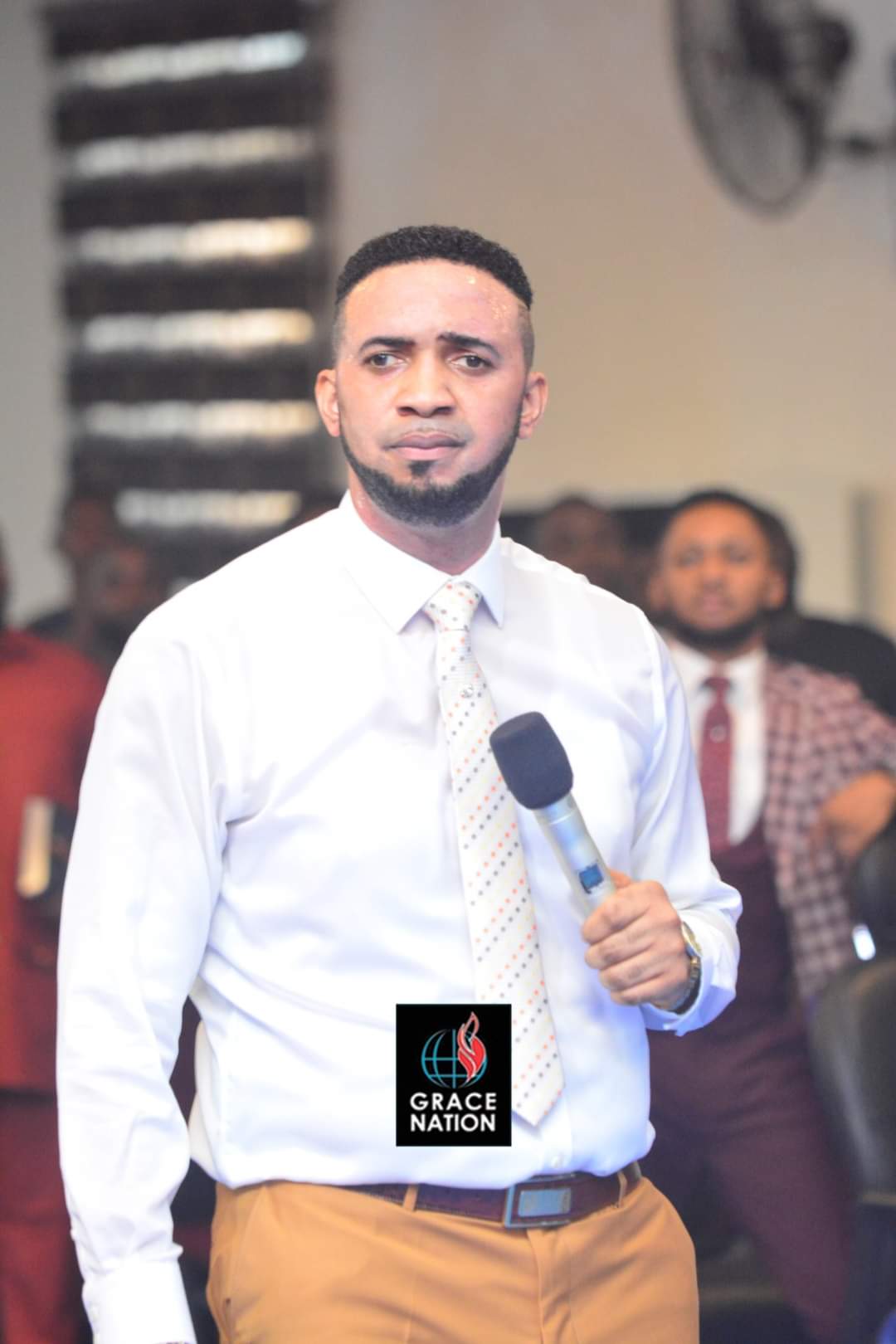 See Dr Chris Okafor Prophecy for the Month of July: Expectations will turns into Manifestation
By Olorunfemi Adejuyigbe
Global Renowned ClergyMan and Senior Pastor of Grace Nation International Dr Chris Okafor has given his Prophecy for the Month of July 2022
While Praying for all Christians across the globe through his Online Platforms, the Generational Prophet of God as he is fondly called said the month of july is a month of rest and supernatural turn around remarked that God is God and the Number 7 have a strong spiritual undertone, he said according to The Book of 2 king 7:1- end and also book of Genesis, God rest on the 7th day, therefore for all who is serving God in truths and Spirit God will give them rest at all side in the month of July
The popular Global Televangelist also pray for people across the world that this second half of the year will bring Peace and unity across the world, he said children of God will experience rest from the strong hand that have been keeping them because all there expectations will turn into Manifestation the Month the oracle of God Dr Chris Okafor Concluded
ILEYA GROOVE: SOULWYNER, OTHER ARTISTES SET TO DAZZLE @ ROSEVIEW COURT HOTEL AND APARTMENT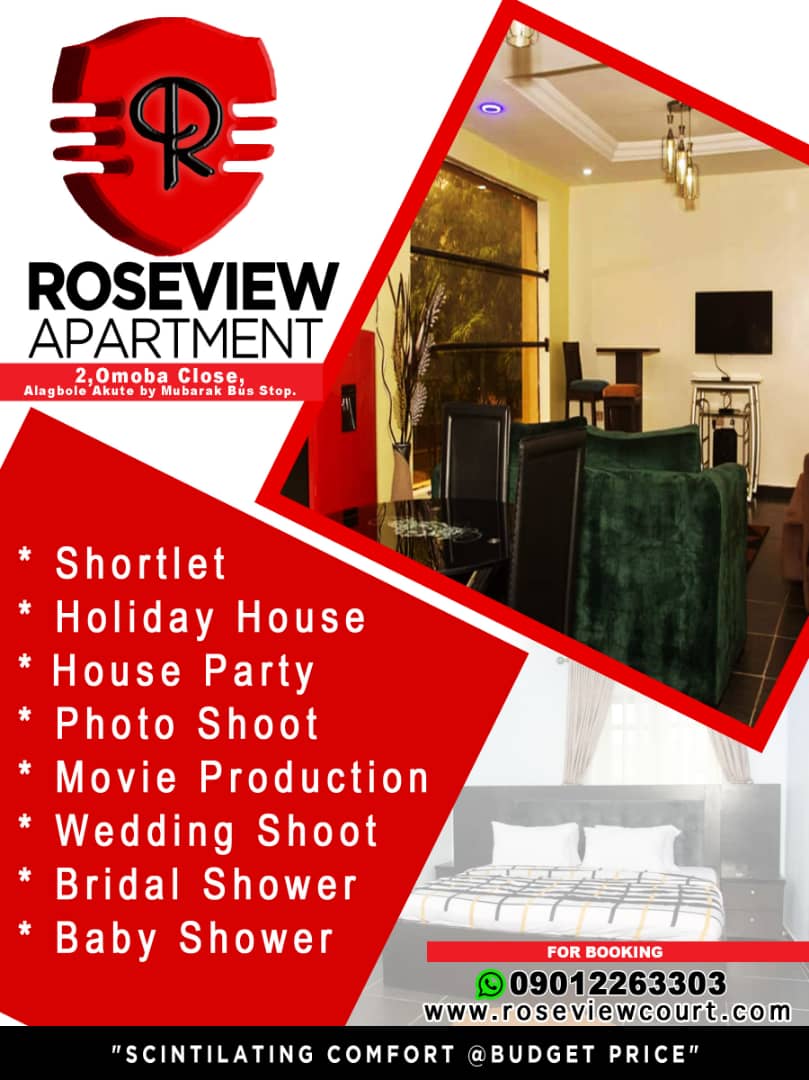 ILEYA GROOVE: SOULWYNER, OTHER ARTISTES SET TO DAZZLE @ ROSEVIEW COURT HOTEL AND APARTMENT
Famous juju Musician Soulwyner and some notable artiste have been billed to thrill customers and Friends of popular Hospitality outlet Roseview Court Hotel and Apartment situated at 2 Omoba close by Mubarak bus stop Alagbole-Akute Road Ogun state for the Ileya Celebrations
According to the Management of the Hotel, this years Ileya festival will be unique considering we want to celebrate with our muslim faithfuls and give back to our ever growing clientele and friends within and outside for their patronage and belief in our delivering of top notch hospitality services at budget price.
We want to use this years celebration to give our teeming customers the best of entertainment and hospitality with the star act SOULWYNER an outstanding renowned personality in the Entertainment industry on the bandstand to reel out good juju highlife tunes, along side some notable artiste,our in house celebrity Hypeman/ DJ Whyte with a crescendo for the after party till dawn.
While addressing the Press on activities for the event Business Manager Apostle Oke said, Roseview remains the best place to get Quality hospitality Services that we have been rendering for about 12 years now, this Ileya celebration is not left out with so much lined up to give our customers and their families world class hospitality services at budget price in a serene scintillating well secured environment.
Our kitchen, Gym, Assorted chilled drinks,games, cosy Rooms and self catering apartment are all ready to host our customers to a memorable 2022 ileya Celebration, he remarked.
The Special Ileya Celebration Groove will come up on 8th july 2022, at Roseview Court and apartment, 2 Omoba close by Mubarak bus stop, Alagbole Akute Road maximum security guarantee.
See you then to enjoy our trademark "Hospitality Unspeakable".