Princess Folashade to contest for Ikorodu Local Government Area Chairmanship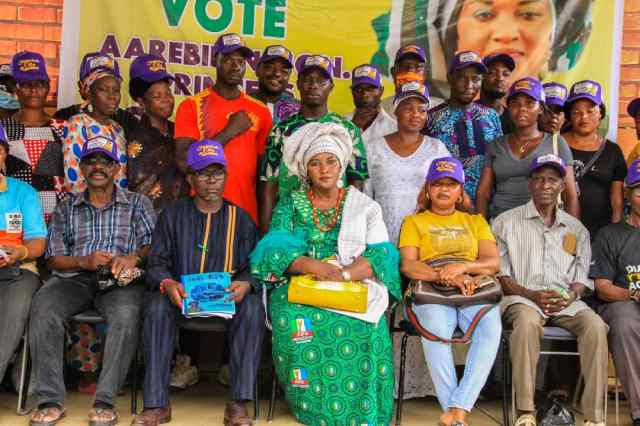 Princess Folashade to contest for Ikorodu Local Government Area Chairmanship
By Ifeoma Ikem
Hon. Princess Folashade Olabanji-Oba, the National Deputy Chairman of Association of Local Government Areas of Nigeria and Vice Chairman of Ikorodu Local Government, has officially declared her intentions to contest for the post of the chairman of Ikorodu Local Government Area.
At the event held in Ikorodu had in attendance massive group of supporters of the influential politician.
Folashade during the declaration presented a 14-page document that contained her manifesto, the reason behind her ambition to become the next local government chairman and some of the works she has done for the community since inception of her political career .
According to her, 'my vision is to make Ikorodu a clean, secure and more prosperous with a robust economy built on service, equity and justice.
"Everything in life is a process, I am still in the business of giving the best to my community, it is a job I will never quit which is a life time project.
"I am a committed party person, I believe in my people.
"I am passionate about them, my community is part of the nation, I will make Ikorodu a new face of Nigeria beacuse they believe in me and I believe in them," she noted.
She said that her aspiration was not borne out of desperation but love for the good people of Ikorodu adding that she is ready to serve in that capacity with courage, forthrightness, clarity of purpose, integrity and dedication.
"I will develop Ikorodu to become a tourist center with all the necessary facilities that will make Ikorodu one of the most welcoming places for tourists.
"It will attract foreigners and also help in economic growth and development".
Folashade pointed out that her mission to serve is one of the visions of the all progressive congress (APC) which represents positive change.
"I will bring remarkable changes to Ikorodu Local Government including improved infrastructure, security and service.
" I will continue to ensure peaceful co-existence among the people of Ikorodu communities in all ramifications, and make it an example for other communities to emulate".
She added that her government will provide education, medical care, agriculture, tourism, culture, sports, pursue a fully integrated transport management system, provide infrastructures, and ensure all agencies and parastatals uphold the rule of law.
"I use this medium to plead with the good people of Ikorodu to support me in this race which is solely about Ikorodu Local Government and its massive development," she pleaded.