REMEMBERING GBENGA ADEBOYE, 17 YEARS AFTER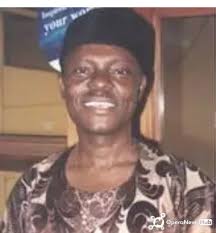 He remains the everlasting colossus of the Yoruba comedy cum general entertainment industry and even at death exactly 17 years ago, his legacies in the area of Yoruba rib- cracking jokes, folklore, music, acting and all round entertainment still linger on in the hearts of his listeners, fans and business associates. Oluwagbenga Elijah Adeboye was indeed a prophet, a professional entertainer and an astute businessman whose passion for humanity and act of selfless philanthropic gestures can never be quantified.
Call him Funwontan, Jengbetiele, Abefe, Alhaji Pastor Oluwo etc and other hilarious nicknames. Gbenga Afeboye was a phenomenal and a 'monster' in the Nigerian entertainment sector putting smiles into the faces of thousand of listeners and watchers of his programmes.
During his lifetime, he performed for the highs and nighties while also embarked on several foreign tours to project the image of the Yoruba race positively. The creator of Funwontan and Gbenga Adeboye in The Mix was a man of many parts as far as comedy is concerned. His God-given talents were obvious in his mimicking of hard and very diabolic characters like Itu Baba Ita and Lasisi Abesupinle. These two characters were indeed outlaws as they go scot free with whatever they do, good or evil. However, one thing that surprised listeners of these two albums was that Gbenga Adeboye himself acted all the characters in each album.

For instance, in Itu Baba Ita, he was Baba Itu the lead character, Baba Ijebu (Itu's Landlord), his wife Rafa Oloyin Igan, his numerous thugs, his son Ejire, his own mother, Baba Ijesha, the policemen and others. Additionally, he single handedly voiced the Lasisi Abesupinle track. He was the major character, Lasisi the wicked but cunning diabolical old man and every other voices. The albums sold expansively alongside all his other previous and latest efforts before he gave up the ghost. He was a multi-tongued artiste who could mimic any indigenous languages.The sad news of Gbenga Adeboye's death on the 30th of April, 2003 came as a terrible shock to not only his family and fans but to all lovers of talent and creativity. Amongst all his Yoruba comedy contemporaries, Gbenga Adeboye remains and will remain the most uniquely talented and no doubt, the king of them all.
Ever since he passed to eternal glory, it has never been easy to erase his memories in the minds of everyone that love his deliveries. Till date, his fans still kept faith with all the albums he dropped while alive. His wife, Lara and Hus five children all miss him so dearly, his siblings still felt like seeing his face once more while the people of Gbangan and Ode Omu still enscript the image of dear son in their hearts. The Nigerian entertainment industry missed him so much, most especially the Yoruba genre who lost a rare and uncommon mentor, role model and a free giver. Keep resting in the blossom of hour creator, Abefe Okin, Jengbetiele Oluwagbenga Adeboye till we meet to part no more.
Written by Bunmi Orija