Rev Esther Ajayi Responds To Prophet Oladele Genesis Allegations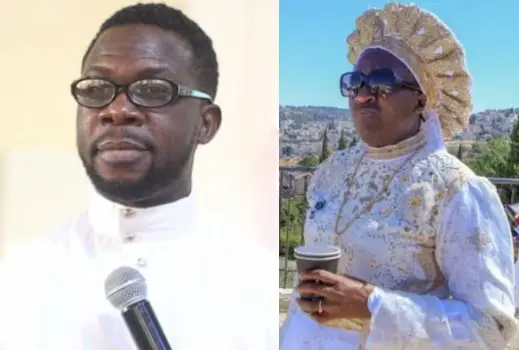 Rev Esther Ajayi Responds To Prophet Oladele Genesis Allegations
Popular Woman of God Rev. Mother Esther Abimbola Ajayi has reacted to a trending video released by rising preacher, Prophet Israel Ogundipe aka Genesis where he accused her of abandonment.
Speaking at a media parley today, Rev. Mother Ajayi said Prophet Ogundipe was her spiritual son and she holds no bitterness against him. She stated that Prophet Ogundipe has done a lot for the vineyard of the Lord and she cannot disparage him, rather, she has asked members of her church and all those within her sphere of influence to pray for him.
According to her " I have no bitterness in my heart towards Prophet Genesis or any other human "He is my spiritual son, I will continue to pray of him".
She revealed that her church, Love of Christ Generation Church (C& S), The Glory of God Shines will be having a double celebration: Its 15th Anniversary and first anniversary of the opening of its Cathedral in Victoria Island, Lagos.
According to her, Nigeria's former President, Chief Olusegun Obasanjo, Ooni of Ife, HIM Oba Adeyeye Enitan Ogunwusi, former Minister of Industry, Chief (Mrs.) Nike Akande and Hajia Hafsat Balewa Oduwole are among the dignitaries expected to attend the ceremonies.
She stated that the celebrations will begin on Friday, September 2, 2022 with a special 9- hour of programme titled : "Testimonial Praise" and it will feature many music ministers such as: Mike Abdul, Big Bolaji, Peterson Okopi, Bidemi Olaoba, Prince Goke Bajowa, Wemimo Taiwo, Psalmos, Radical Praise, Tony Sax and Segun Praise.
The anointed woman of God also revealed that the celebration will be rounded off with a Thanksgiving Service on Sunday September 4, 2022 where former President, Chief Olusegun Obasanjo will deliver the day's sermon. The Royal Father of the day will be Ooni of Ife, His Imperial Majesty Oba Adeyeye Enitan Ogubwusi while the guests of honours are Chief (Mrs) Nike Akande, OON and Hajia Hafsat Balewa Oduwole, Chairman, Ogun Guangdong Free Trade Zone and China Africa.
Rev. Mother Ajayi also used the opportunity to appeal to the Federal Government and the Academic Staff Union of Universities (ASUU) to sheath their swords, make compromises and urgently reach an agreement because the future of many Nigerian children are at stake.
She said that because it is commonly said that "an idle mind is the devil's workshop", it is healthy for university students to be out of school for as long as six months. " It was as a result of this that we had a Youth Programme that engaged the youths for 12 weeks, they planned and executed it themselves and so I am appealing and will keep praying for the resolution of this crisis"
On the state of insecurity in the country, Rev. Ajayi said the only role the church can play is that of consistent prayer and also spreading the word, she said that the more people who hear the word and abide by them , the more people will stop engaging in evil acts.
Concerning the 2023 elections and INEC's ban of campaigns in places of worship, she said the ban was in order because the pulpit should not be turned to a campaign arena but she noted that the church was open to all candidates, and to people of all faiths.
She said INEC's directive does not mean that politicians should not attend churches or mosques because that will be against their freedom of association and religion, noting that her church fondly called LOC is open to all.
She said her prayer ahead of the election is that God's will be done and that God would give Nigeria leaders that are selfless and have the progress and development of the country at heart.
In her view, when God-fearing leaders are in charge, they will not steal the nation's resources and would always remember that they are holding the position in trust for the people and God Almighty, she advised politicians to look at the bigger picture when they occupy political officers as that would help them work for higher ideals and not short time benefits.
AdeDimeji Lateef, Dele omo Woli , Bash , Other A-list Comedians storm ijebu for Mc Baffy's Ijebu Go Laugh '23 Edition*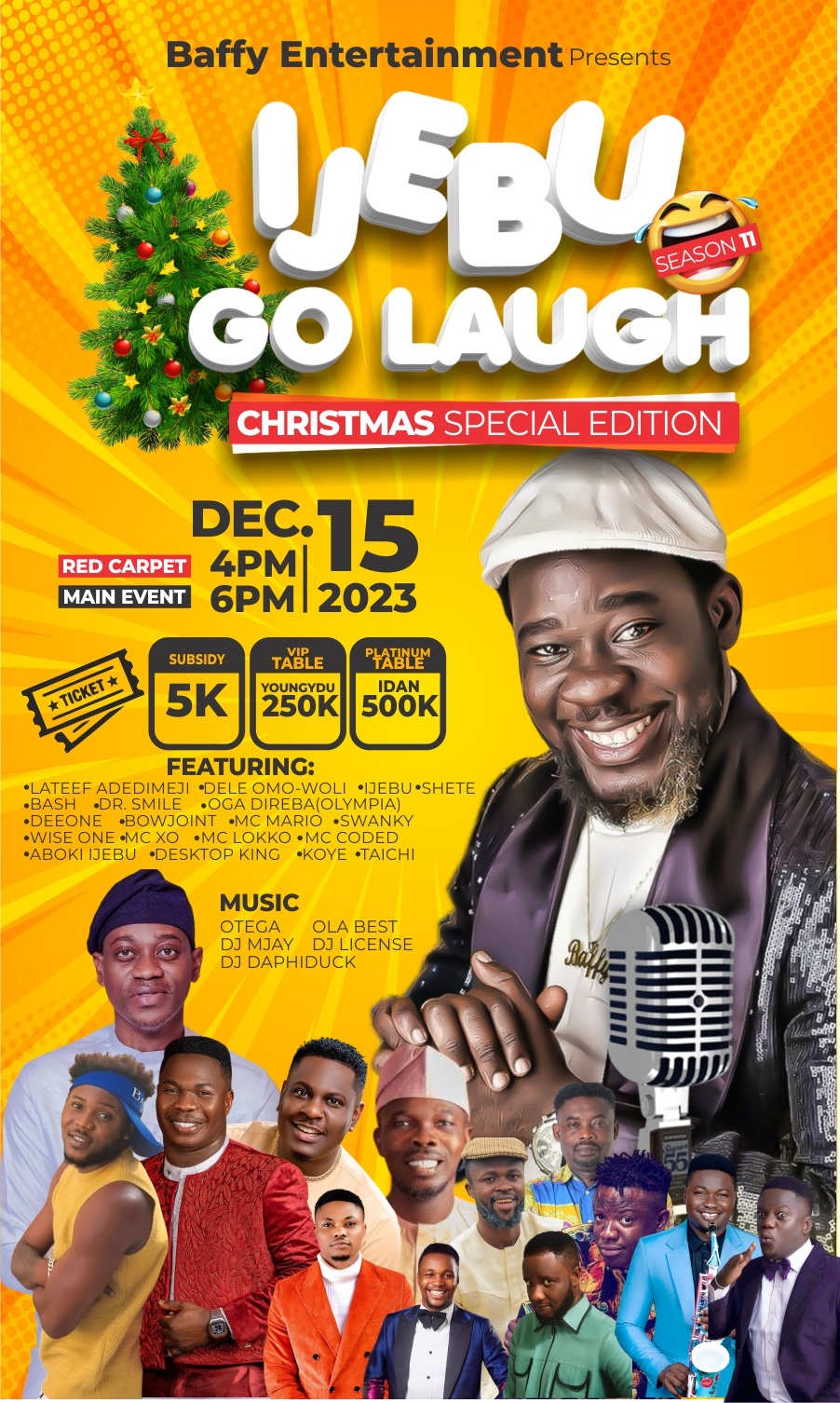 AdeDimeji Lateef, Dele omo Woli , Bash , Other A-list Comedians storm ijebu for Mc Baffy's Ijebu Go Laugh '23 Edition*
Fast-rising comedian and Master compere, Ayodeji Atanda prominently known around town as Baffy De Comedian will in few days time bring the AY Live experience to Ijebuland.
The grand event which promises to be a hit will hold on Friday, December 15, 2023 at the upscale Rolak Hotel and Suites, Imowo road, Ijebu Ode, Ogun state, starting from 4pm.
The annual comedy concert which has gathered momentum in recent years will have A-list comedians and artists like Lateef Adedimeji, Dele Omo-Woli, Ijebu, Dr Smile, Bash and Mc Mario in attendance.
Others music artistes and Nollywood celebrities expected are Olabest, Otega, Hephta, Koye, Shete, Mc Coded, Dj License and many others.
According to the convener of the award-winning programme, Mc Baffy, the comedy concert has been holding successfully in the last 11 years. We are out to thrill the audience with a breathtaking performance. I am bringing an AY LIVE experience to ijebu for ther first time and I am sure my people will be impressed.
DSS Raid: Igboho Denies Turning Into Cat To Escape Arrest
DSS Raid: Igboho Denies Turning Into Cat To Escape Arrest
Sunday Igboho, a Yoruba Nation activist, has finally spoken out about rumours that he transformed into a cat during a midnight raid on his home by the Department of State Services (DSS) in July 2021.
In an interview, Igboho refuted the report, saying that nothing like that occurred during the DSS raid.
He added that the DSS fired sporadically during the raid, killing multiple cats.
According to the activist, the DSS wanted to either kill or arrest him during the raid.
He said, "It is true that some cats were killed during the attack. Because the DSS just kept firing bullets in all directions. I was rearing cats as pets, and I had many of them in my house. So, anything or movement attracted sporadic gunshots.
"Their mission was to either kill me or arrest me and take me to an unknown destination, but the Almighty God is greater than anybody in this world, including the despotic ex-President Muhammadu Buhari."
Igboho added that he does not know whether the DSS brought three herbalists during the raid.
Yoruba Movie Gist Awards To Hold At RM Place Magodo Lagos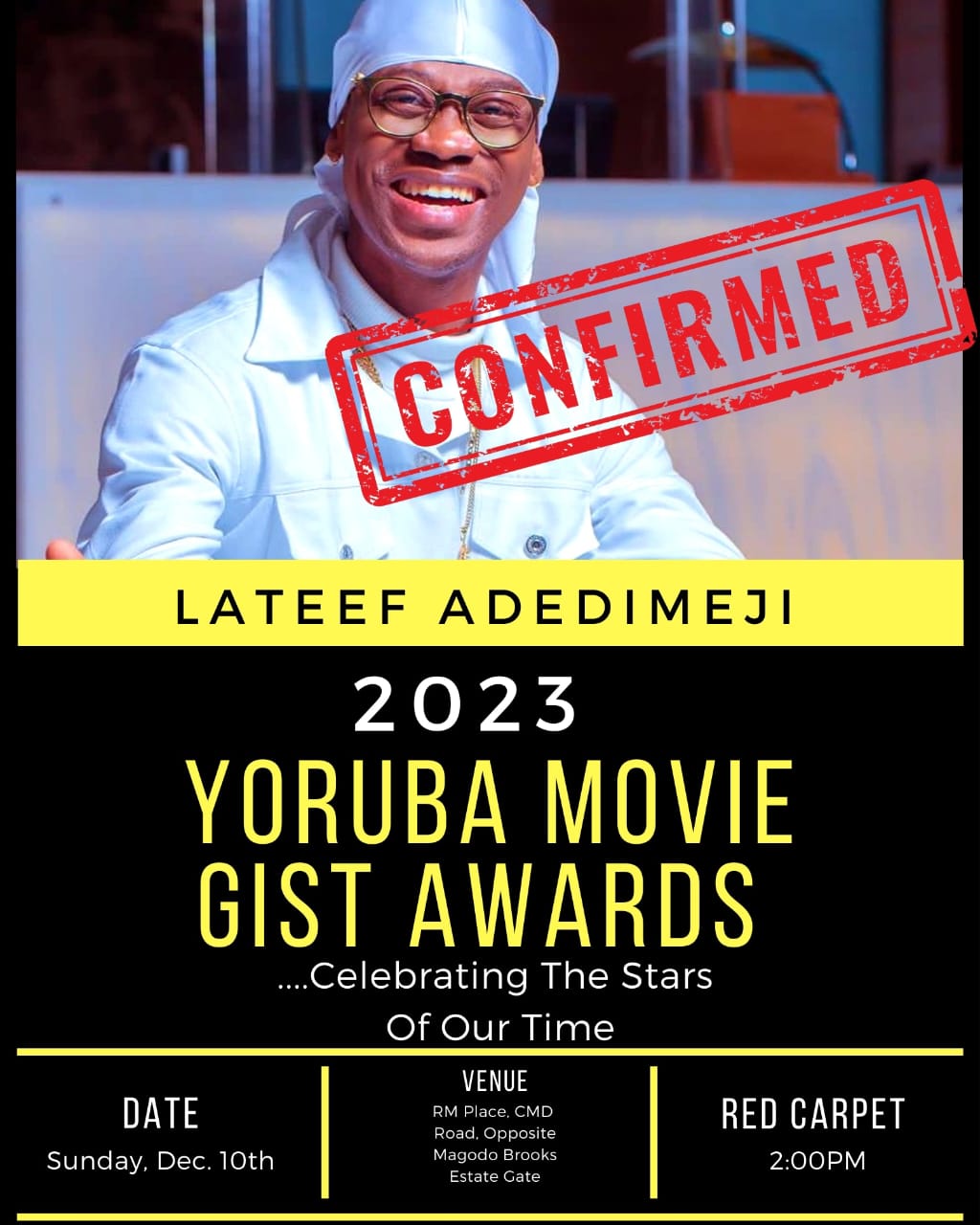 Yoruba Movie Gist Awards To Hold At RM Place Magodo Lagos
Olakiitan Adetutu Communications, spearheaded by Gbolahan Adetayo, the brains behind the esteemed Yoruba Movie Gist Awards, has disclosed RM Place, Opposite Brook Estate, CMD Road, Magodo, Lagos State, as the designated venue for the much-anticipated 2023 edition of the awards.
The prestigious ceremony is set to commence with a glamorous red carpet session at 2 pm, strictly adhering to a punctual schedule, and the main event will follow suit at 4 pm. The organizers emphasize a strict "No African time" policy, ensuring a timely and seamless experience for attendees.
This star-studded occasion promises the presence of top-tier Nollywood personalities, including the likes of Lateef Adedimeji, Ayo Olaiya, Yinka Salawu, Wumi Toriola, Omowunmi Ajiboye, Biodun Okeowo, and an array of other luminaries from the Yoruba movie industry.
Save the date, as the 2023 Yoruba Movie Gist Awards at RM Place, CMD Road, Magodo, Lagos, is destined to be an evening of glamour, recognition, and celebration within the vibrant landscape of Nollywood.