See TB Joshua's Message Today After Several Weeks On the Mountain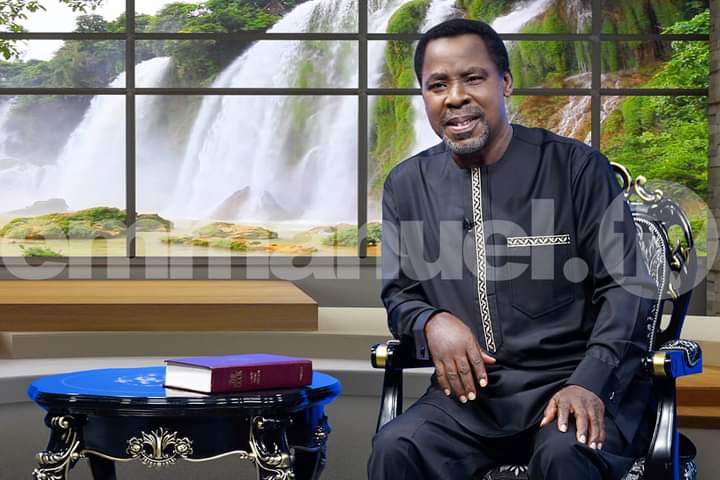 Finally, after several weeks on the mountain, the senior prophet of Synagogue Church Of All Nations, T.B Joshua was live in today's Sunday service.
In a special broadcast during the Sunday service, he ministered on amessage titled "PRAYER IS NOT SAYING WORDS".
According to him, Prayer is the master key to loose and to bind. Prayer is not saying words. It is reality. It is not talking off into space. You hear from God in the measure to which you live, do and practise His Word.
Noting that God is with us in the Living Word, Prophet T.B. Joshua says: "Acting on the Word makes Jesus vitally real to the believer." He adds: "It is acting on the Word that builds faith in the believer. It is not only reading the Bible and committing it to memory, which is valuable, which is good, but it is also letting that Word we are reading become an integral part of our being."
On the crucial role of faith and the heart in receiving from God, Prophet T.B. Joshua says: "Faith is of man's heart. Our heart is a landing point, a contact point for the Holy Spirit."
"There are three main spirits in the world: God's Spirit, satan's spirit and your spirit. We are free moral agents; we can yield ourselves to either God's Spirit or the other spirits. Whoever we choose to obey, that is whose servant we are" – (Romans 6:16).
Prophet T.B. Joshua further explains: "If we do not pray to God, who is Spirit, in the Spirit, we will be led by our emotions or intellect – I mean, what we read, what we see, what we hear, how we feel and what our circumstances look like. If we do not worship God, who is a Spirit, in the Spirit, can we hope to hear or receive from Him?"
"If we do not worship God in spirit, that does not mean we cannot give a powerful message, even quote the Bible from Genesis to Revelation flawlessly, but without the required power, authority and legitimacy. Such was the case of the seven sons of Sceva in Acts 19:11-16."
"We pray in spirit and truth when every purpose and passion of our heart, as well as every act of our worship – singing, dancing, counselling, preaching, teaching, offering, prayer – is guided and regulated by the Word of God. We take Jesus into our day when we take the Living Word. So, let us reverence our Spiritual Head – Jesus – in our prayer, in our worship, in everything we do. The Spirit of God introduces us into God's family."
"The Spirit of God opens our heart to prayer – to what to say [Romans 8:26-27]. That makes prayer the key to loose and to bind. Whatever you loose here on earth shall be loosed in Heaven. The Spirit of God reconciles us with the Father and renews our life – a new direction, a new way, a new focus. He helps us remain faithful, obedient to Christ."
"No one can be humble, faithful, obedient without the Spirit of God. The Spirit of God helps us remain faithful to Christ, even in trials and suffering. He is the Word on our lips: In the name of Jesus! The Spirit of God is the Word on our lips" – (1 Corinthians 12:3)"Oh Holy Spirit, think through us 'til Your ideas become our ideas, in Jesus' name! Think through us 'til Your ideas become our ideas, in Jesus' name! Act in us, oh Holy Spirit, that our work may be holy! Draw our heart that we may love what is holy, in Jesus Christ's name! Strengthen us that we may defend what is holy, in Jesus Christ's name! Amen! Guide us that we may remain holy. In Jesus Christ's name we pray! Amen!"