Segun Odunmbaku: A Man On Mission To Transform Ojodu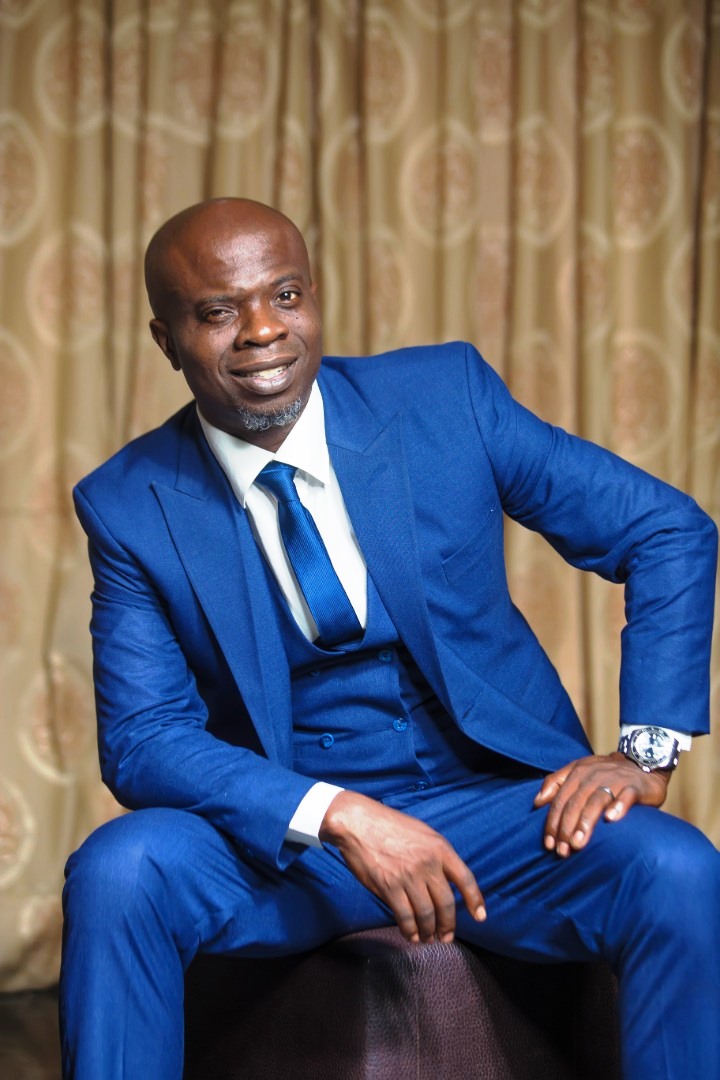 By Fiyinfoluwa Nelson
Hon David Oluwasegun Odunmbaku has officially threw his hat in the ring to contest for the chairmanship of the Ojodu Local Council Development Area (LCDA) of Lagos State in the forthcoming Local Government elections in the state slated for July 24, 2021.
With a first and second degree in Business and Information Technology from Dublin Business School, Ireland and a Masters in Computer and Information systems from Liverpool John Moorse University, United Kingdom in 2008, still not done with his quest for educational excellence, Odunmbaku proceeded to the prestigious Havard University School of Government, Boston USA for a programme in Public Financial Management. He also has in his educational kitty an Executive Masters Certificate in Project Management as well as a Certificate in Entrepreneurial Management from Pan Atlantic University, Victoria Island, Lagos. This impressive academic feat is sure worthy of mention.
As a past Secretary to Ikeja Local Government and current Secretary to Ojodu Local Government Development Authority, he is poised to bring this over a decade experience to improve on governance and service to the people. What makes this more interesting is that he was raised in Ojodu and has remained there in the last 42 years of his life, outside of educational pursuit.
A son of a chieftain of All Progressives Congress (APC), Cardinal James Omolaja Odunmbaku, popularly known as Baba Eto, who is a prolific politician and God's servant, one can conveniently and safely conclude that Odunmbaku is adequately equipped for a time like this.
When asked of what sets him apart from other aspirants jostling for the chairmanship position, Odunmbaku simply retorted: "My experience in governance at the local government level, being the Secretary at Ikeja Local Government and currently at Ojodu LCDA. Apart from that, my passion and love for the people which runs in my family and obviously, I have the right foundation both in terms of educational trajectory and experience to take on the challenges of modern day governance."
On some of the current issues affecting the council, Odunmbaku said: "Just like everything Post Covid, lives and businesses have been impacted. We need to adopt the new normal and become more creative by deploying technology to tackle developmental issues, youth and women empowerment, job creation, low IGR to mention a few.
In terms of specific plans for the council, he said: "I was born and brought up in Ojodu and so the whole area is a familiar turf for me. I have the passion and desire to build on the fantastic job that the current chairman has done. I want to build and expand the legacies for the betterment of our people in the area of access to basics – health and education and empowerment. Our Agenda would also focus on building the local economy in the LCDA
"At the moment, a statutory 70 per cent of the budget goes to capital projects. There are already plans to scale up social intervention programmes designed to meet the specific needs of our people in Ojodu, especially the elderly, the youths, women, entrepreneurs, and even those that are employed and want to acquire additional skills. This category of persons will heavily benefit from our social intervention initiatives.
"We will aggressively pursue capacity building and job creation. As we are building the competences of the people, we will also put in a programme to link those who have acquired skills with people who needs their services within the locality. I will strive as a youth and member of the younger generation to ensure that the gap between capacity building and absorption for job creation is reduced significantly by calling on businesses within the locality to see themselves as stakeholders and through various CSR initiatives, create employment programmes for our people.
"We plan to invest heavily on social investment programmes that are visible. When people see their money working for them, they will be motivated to pay their taxes. We will improve our health centres and markets. We will seek support on our inner roads, street lights, access to clean drinking water, create prograammes for the less privileged, assist those in the informal sector with palliatives, small loans, as well as train and retrain our youths. In this area, the plan is that our ICT centres must be properly accredited. Being the engine room of growth and development, we will focus on the informal sector in terms of helping them and assisting them to remain in business and grow."
Odunmbaku, who attended the recent unveiling of a 5-Year Agricultural and Food Systems Roadmap (2021-2025) by Governor Babajide Sanwo-Olu, said his administration would go into partnership with the state government to scale up agriculture and food production.
For clarity, the Roadmap focuses on the development of agricultural value chains where the State has competitive and comparative advantages in order to ensure that the State's self-sufficiency in food production moves from 18% to 40% in the next five years.
The initiative is also expected to boost food production and drastically reduce post-harvest losses thus encouraging private sector investments that would trigger agricultural transformation in the South-Western States following the examples of countries such as Kenya, Malawi, China among others who, within a 10-year period, made a significant reduction in the poverty level through Agricultural development.
According to Odunmbaku, "In terms of agriculture, post covid, Agriculture is the way to go by ensuring modern farming methods, grants, capacity building, market access and linkages are vigorously pursued to get our youths interested. Now, a lot of our youths are constantly on their mobile phones. With that, we can get our youths interested by providing revolving funds/cooperatives or we can have like Farmers Mart concept where Agricultural products can be gotten at wholesale prices, opened on designated days just like in Europe.
"We will provide off-takers for the famers in Ojodu so that when they are doing their farming, they are assured that somebody somewhere will pick it up. This will help to increase commercial activities. Therefore, we will take advantage of the newly launched 5-year Agricultural and Food Systems Roadmap for the benefit of our people."
Specifically in terms of healthcare delivery, Odunmbaku said plans have been firmed up and awaiting implementation for the Primary Healthcare Centre (PHCs) in the LCDA to function optimally and 24-hours daily.
"We will seek to provide alternative source of energy for them to function optimally. It may not be but we will ensure at least there one or two especially in areas with large concentration of people," he said.
Another area of focus for Odunmbaku is to take advantage of the geographical location of Ojodu as one of the main gateways to Lagos by developing local economy around the Berger transport hub.
"As you know, Ojodu Berger has a major transport hub and as such, I want to create a local economy around the transport hub. We will seek the support and partnership of the state government in this regard. We want to create a lot of facilities such as shops, food courts, among others and in that way, we ensure that money circulates around Ojodu, thereby adding value to the people who are there and also developing the local economy.
"The plan is to transform Ojodu Berger to be like London King's Cross Station. From King's Cross Station, you can get to France, Birmingham and other locations in Europe. So also from Ojodu Berger, you can get a bus to any part of the state and anywhere in the country.
"So, I want to make Berger like King's Cross Station in collaboration with Lagos State Ministry of Transportation. We have three hubs in Ojodu Berger, Grammar School and Ogba. We want to build on what has been done to create local economy around the parks by pushing people to the three clusters," Odunmbaku said.
On education, it is a fact that primary school education, enrolment and teachers' salaries are part of the functions of the local government. Therefore, the plan of Odunmbaku is to put measures in place to facilitate more enrolment of pupils.
"We want more primary schools; we want to double the enrolment of children in schools and in so doing, we are going to ensure that the children have all it takes to be interested in schooling. No one will be left behind especially in public school enrolment. We will continue to encourage parents in this regard. Also, primary school teachers' salaries have been increased, however, as local council, we hope to do more in terms of providing better learning environment," he said.
In linking health with environment, Odunmbaku said:  "The THEMES Agenda of BABAJIDE SANWO-OLU administration has already set the tone in its Pillar 2 Health and Environment. While thanking LAWMA and the Office of Environment, we will ride on this and continue to ensure that the environment and issue of waste management will be taken seriously and properly coordinated but there is nexus between health and the environment. Yorubas say ilera loro. Ojodu is a special local government being the first point of contact to people coming from neighboring communities such as Alagbole, Akute, Ibafo, among other areas. A lot of people from these communities daily come to our health facilities to access medical care. We will continuously put measures and programmes in place to ensure no one is left behind in the LCDA.
"Health and environment are intertwined and as such we will do all possible to manage our environment in line with the policies of the state government to safeguard the health of residents. We will work on better roads, more schools, more public health facilities, and so on and so forth. I mean, the infrastructure in Ojodu must be topnotch so that the council becomes a reference point for people coming from outside," he said.
On sports development, Odunmbaku has this to say: "We don't have a recreation centre in Ojodu at the moment. We will work to create one. This will be one of the key priorities of our administration to engage our youths. We will also create inter-ward and inter-local government competition. Our youths will be encouraged to actively participate and this will also serve as a platform to discover talents."