THE APC PRESIDENTIAL CAMPAIGN COUNCIL ON THE OFFENSIVE VIDEO BY MR. PETER OBI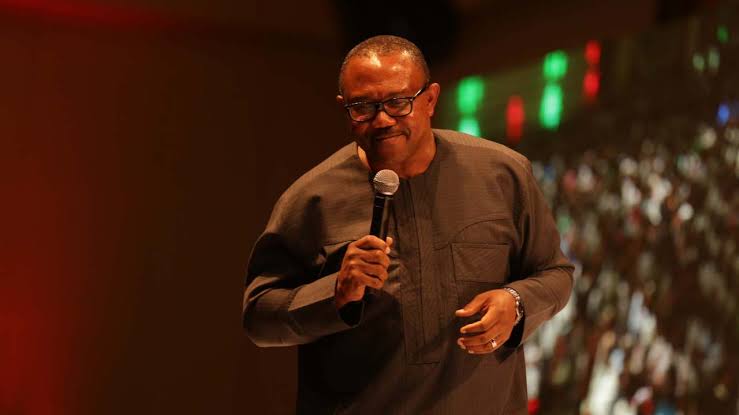 THE APC PRESIDENTIAL CAMPAIGN COUNCIL ON THE OFFENSIVE VIDEO BY MR. PETER OBI
Our attention has been drawn to an offensive, hate-filled video made and circulated by the Presidential Candidate of the Labour Party, Mr. Peter Obi, in which he accused an amorphous and non-existent "Tinubu's Group" of spreading a Whatsapp message calling on the Yoruba not to vote for him. The purported message, according to Mr. Obi, forewarned the Yoruba that a vote for Peter Obi would be a vote for a seaport in South/South and South/East.
For the avoidance of doubt, this is a transcript of the so-called message as relayed by Mr. Peter Obi:
"Yoruba shine your eyes o, if you vote for Peter Obi, it is automatically voting for seaports in South South and South East. The Igbos will stop coming to Lagos State to invest, rather they will go to Delta and Rivers States, they may even stop building houses in Lagos. It will affect a lot of Yorubas. Yoruba ro nu o."
Firstly, we vehemently deny the existence of any of such "Tinubu group" that made and circulated such a message. All groups supporting the APC Presidential Candidate and his running-mate have clear designations with well-known promoters. In addition, it is only messages released by the APC Presidential Campaign Council that are officially authorized and for which we take responsibility.
We challenge Mr. Peter Obi to reveal the source and name(s) behind that nebulous Whatsapp message.
We wish to state that it is obvious Mr. Peter Obi deliberately concocted that message and circulated that offensive video himself as a campaign strategy in order to come across as a victim of some kind of ethnic agenda, whereas in truth, he is the real agent provocateur of an ethnic agenda.
As the take-off date for campaigns draw closer, Mr. Peter Obi has suddenly realised that Nigerians are beginning to burst his bubbles as his messages are bereft of ideas, depth and clear-cut solutions to our challenges. His messages are only full of false data and highfalutin jargons in what is clearly a disingenuous ruse to distract a scrutiny of his empty records as a Governor of Anambra State and nothing else, hence his easy recourse to playing ethnic card and fanning the ember of hate.
We have it on good authority that part of the "U.S Strategy" (just like the failed "Dubai Strategy" his former boss and himself adopted in 2019) was to return to the country and spread ethnic hatred amongst the voters and cause chaos, then pose as the victim. They have just kick-started that plot by orchestrating and circulating the said video.
We find it utterly disgusting, demeaning and insulting to the sensitivities and sensibilities of Nigerians for a Presidential Candidate of the ilk of Peter Obi to make such a video parroting a spurious, unverified and sham message that has the potential of deepening our faultlines as a nation and further promoting ethnic tensions. This is completely unbecoming of a Presidential Candidate that hopes to unite this country. Again, we note that Mr. Obi's latest stunt is consistent with what is now widely perceived as his adoption of hate as campaign strategy, having consistently failed to rein in his known and identifiable supporters, mostly domiciled on social media, threatening political opponents with violence and death.
Moreover, here is a man known as a sectional irredentist, with public records showing him expelling Nigerians from a section of the country from Anambra State while he was Governor and has decidedly resorted to ethno-religious card in his activities and messaging thus far, now accusing his better of being an ethnic champion. What a supreme irony!
We are also aware that plans are afoot by Mr. Peter Obi to fake an assassination attempt on himself and hire Labour Party boys dressed in APC caps and T-shirts to attack some Labour Party offices. It is all part of the "U.S Plan". It is the first in a series of incendiary actions planned by this ill-prepared but desperate candidate.
We call on all well-meaning Nigerians, irrespective of ethnic origins or political divides, to rise up and condemn this tactless tactics and cheap manoeuver by a desperate non-starter of a presidential candidate who has decided to resort to crude revisionism, ethnic jingoism and crass insensitivity with a view to whipping up undeserved sentiment to fuel his faltering ambition that is nothing but a flash in a pan.
Our advice to Mr. Peter Obi is to quit the race if he has nothing more to tell Nigerians.
N.B:
We also wish to use this medium to debunk the false and misleading posts on various social media handles of supporters of Mr. Peter Obi that Asiwaju Bola Ahmed Tinubu is withdrawing from the race on health grounds. This is nothing but a figment of their warped imaginations. Our candidate is strong, healthy and fit enough for the coming campaigns. The opposition will hear loud and clear from him soon.
Thank you.
TINUBU RECEIVES PRESIDENT PATRICE TALON OF BENIN REPUBLIC, SAYS COOPERATION IMPERATIVE FOR ECONOMIC PROSPERITY IN WEST AFRICA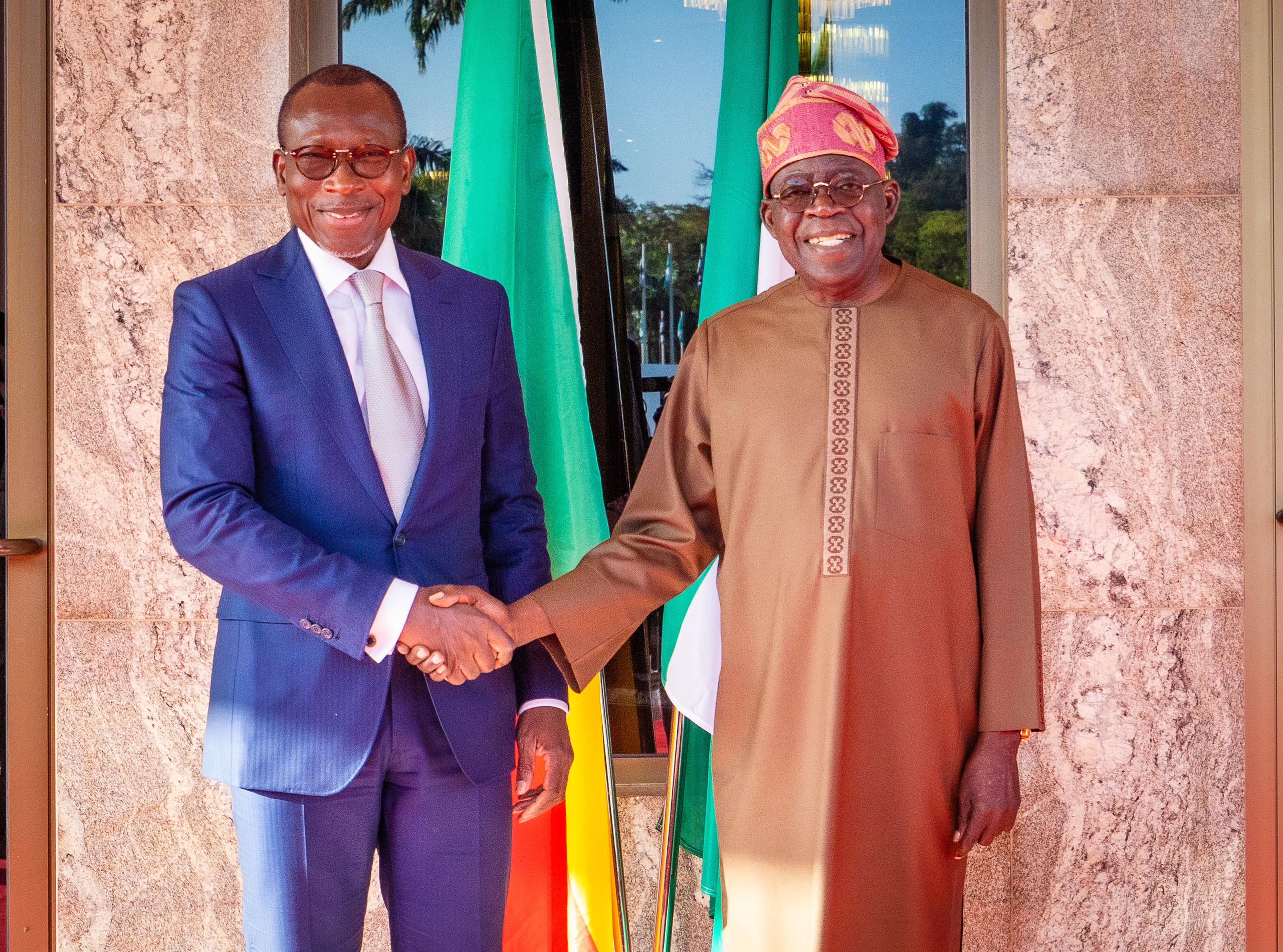 TINUBU RECEIVES PRESIDENT PATRICE TALON OF BENIN REPUBLIC, SAYS COOPERATION IMPERATIVE FOR ECONOMIC PROSPERITY IN WEST AFRICA
President Bola Tinubu says cooperation is imperative for economic prosperity in West Africa, noting that a lack of synergy between Nigeria and Benin Republic has been an encumbrance to mutual development.
Speaking when he received President Patrice Talon of Benin Republic at the State House in Abuja, on Wednesday, President Tinubu said Nigeria and Benin Republic share a lot in common, describing both countries as conjoined twins held together at the hip.
"We are one. No other nation like ours should be worried. What is affecting us is a lack of synergy. We have not developed the necessary economic synergy that will develop our two nations. We must have common economic principles and priorities. The economic programme you are developing through inter-ministerial collaboration is welcomed by me.
"We will support all of our private sector interests to facilitate prosperity in both of our important countries. I appreciate the urgency of your approach, and we welcome this. Leadership is sometimes defined by urgent action. Thank you for your quality leadership. We are together. I am not a backward looking person. I look forward. This is how I avoid missing steps," the President said.
President Talon, who was at the State House to seek the support of President Tinubu on improving trade relations, ahead of the Economic Community of West African States (ECOWAS) Summit, described the relationship between his country and Nigeria as crucial.
He said Benin Republic is seeking stronger trade ties with Nigeria, emphasizing the free movement of people and goods between both countries.
"Benin has started implementing a national development plan which includes enhanced integration between Nigeria and Benin Republic. Our development plan includes taking into account what investments are required in Benin to enhance our integration with Nigeria in trade terms. It is true that many agreements have been signed to push our integration forward, but they have not been implemented.
"At the level of ECOWAS, we embrace free movement and integration, and at the African level, AfCFTA envisages this; so we need to move urgently to make this a reality.
"Our investment programme must be revised to factor in all factors of the Nigerian economy. We seek to set up an inter-ministerial technical committee that will jointly prepare a draft document for our legislatures. I am ready to sign an executive order to appoint members of the council to advance mutually beneficial cooperation across sectors.
"There have been difficulties bilaterally on the issue of smuggling. We will work hard to coordinate and ensure that your interests are protected as we integrate our economies. I want us to make history together," President Talon said.
Chief Ajuri Ngelale
Special Adviser to the President
(Media and Publicity)
December 6, 2023
Edo 2024: Obaseki Reveals Why He Won't Support His Deputy
Edo 2024: Obaseki Reveals Why He Won't Support His Deputy
Governor Godwin Obaseki has vowed not to support what is not fair and just, following the declaration of interest in the gubernatorial election by the Edo State Deputy Governor, Philip Shaibu.
Obaseki spoke in an interview with BBC Pidgin, on him supporting Shaibu to become his successor in 2024.
The governor reiterated his earlier assertion that the people of the state would determine Shaibu's fate.
According to Obaseki; "E declare for himself now, no be me go decide whether my deputy, na Edo people go sit down and decide. Dem go say, this deputy, e get wetin e take to run the state?
"Let's look at his background, antecedents if he has maybe and if he doesn't have and in any case, the Edo people would decide how we would do the governorship whether it would be turn by turn or it will be based on equity, fairness and justice. To say okay, this people have done before.
"As a leader, I will sit down and supervise. What is not fair, just and will help Edo unite, my hands are not there."
Commenting on godfatherism in politics, Obaseki said: "Everybody needs nurturing and mentoring but not to the extent of teleguiding you. He can support and help you to make your decisions but ultimately at the end of the day it is for democracy – the people must decide who will lead them."
Edo 2024: APC Have Being Vindicated – Peter Uwadiae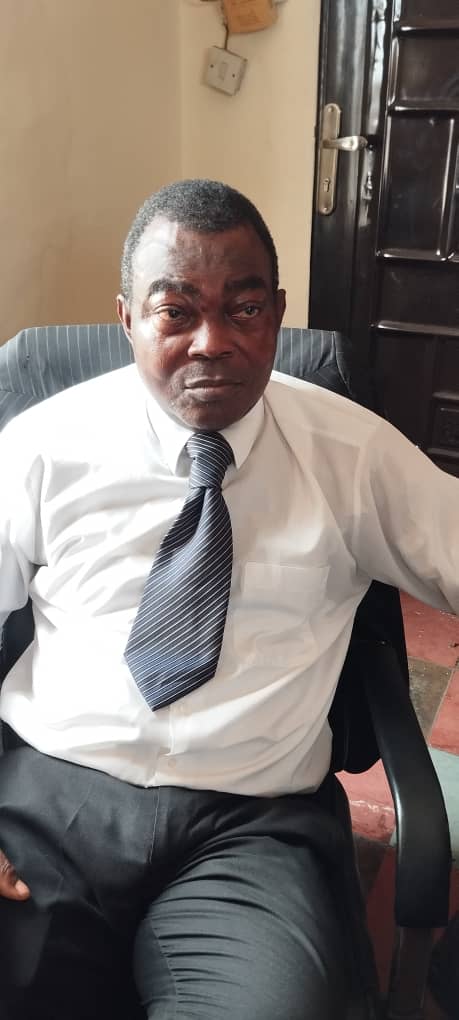 Edo 2024: APC Have Being Vindicated – Peter Uwadiae
By Elvis Omoregie
Ahead of the much talked about Edo 2024 Governorship Election billed to hold September 21th 2024, there have been series of political activities in Edo State including the recent declaration by the deputy governor of the Comrade Philip Shaibu, "against all odds", to contest the forthcoming election.
As the announcement by the deputy governor continue to elicit reactions couple with his recent interview with journalists in Abuja, where he said: "With the 2024 Edo governorship election fast approaching, the State can not afford to experiment again with someone who does not understand the politics of the State or the needs of the people.
"Edo people need practical governance and you cannot experiment again with somebody that do not understand the politics of a good State and the needs of the people.
"You cannot know the need of the people when you don't live with them. So for me, competence and experience should be the watchword as we go into election in 2024.
"Who is competent? Who is more experienced? Who will hit the ground running from day one?
"Are we going to experiment with a new person again? And the person will spend the first four years learning on the job and he will spend another four years trying to embezzle, set up his businesses in the name of consolidating on the gains of the first term?"
In a swift response, the leading opposition Party in Edo state, the All Progressives Congress (APC) through its Media Publicity Secretary, Peter Enosoregbe Uwadiae Igbinigie Esq told journalists last week in Benin that the deputy Governor's comments were only affirmation of the position of the Party about the poor performance of the Obaseki's led Peoples Democratic Party (PDP) administration in Edo in the last 7years.
Here we bring you the full response, and comments on other issues!
We; the APC have been vindicated by the comments of the deputy Governor, Philip Shaibu particularly as it relates to the capacity of the Governor, himself.
From the horses mouth; the deputy Governor has said Edo State cannot afford to experiment again for another eight years.
The import of that statement is that Edo State has been experimenting in the past seven and half years and if someone or any Government is experimenting, it therefore means the best cannot come from an experimentation!
It means that the Governor is still learning or there are lot of things he is learning to do or he ought to do and he did not do.
And governance should not be a learning ground and the APC have consistently maintained that the Governor has fallen short of the capacity which is required to manage a State as complex as Edo.
Looking back, what has the Governor been able to bring to the table? All we have seen in the past seven years; is nothing but obvious distortion of the smooth sail of governance from that glorious era of Senator Adams Oshiomhole, to what Edo people desired but which he couldn't provide.
When Oshiomhole was Governor in Edo, there were whole lot of things he did; in terms of massive infrastructural development, human capital development, social welfare amongst many others.
He gave Edo State a face lift and made us understand the true meaning of dividends of democracy thus laying the foundation of good governance.
Unfortunately after his departure, all these beautiful legacies were pulled down instead of them being improved upon by the Governor.
The Edo library, and Central hospital were demolished, Edo liaison offices in Port Harcourt, Lagos and Abuja were sold out.
Now, private sector driven projects are taking over; all serving as conduit pipe to drain the collective scarce resources of the people.
Can the Governor tell us the State's equity shares in these investments? We don't have!
Now, what has happened to the red roof revolution of the Adams Oshiomhole's era in the education sector?
I watched on television few weeks ago where school children were still lying on the ground to write, no furniture; a true reflection of the state of affairs in our schools against Obaseki's propaganda of Edobest.
The APC is glad that Edo people have begun to hear the true report of the performance of the Obaseki's administration from the man who is number two in ranking.
If the next in command can speak in that manner, it shows that Edo State has lost it!
If my deputy say I am experimenting, it shows that he even knows it more than myself.
Now, how has Governor Obaseki impacted on the market women? When he came on board, he promised to eliminate all forms of ticketing and touts but today the situation is worst.
The funny thing is that suppose the money collected is being used for the development of the State, it would have been a different thing.
But these monies are collected and goes into private pockets.
You drain these people, you double tax them, and the resources is not used to better their lives.
Well, we have gotten to that level wherein Edo people have to take the APC seriously.
It is absurd that a Government will be experimenting with the lives of its people and in the PDP today, the news is rife that the Governor also wants to bring a successor who will continue with the experimentation. That is why we hear the deputy Governor shouting and saying that experimentation should not be allowed again.
In any event, APC has become the beautiful bride in Edo; the Party to beat!
We have demonstrated it and we want to sustain that momentum. At the senatorial level first time in the history of politics in Edo, PDP could not even get a senator to represent them at the national Assembly.
Also, at the House of Representatives, out of the total nine available slots; the APC has six, Labour Party has two and PDP only one.
Be that as it may; it is a reflection of the acceptability of the APC in Edo State and beyond that in the State House of Assembly election, the APC has nine out of the 24 seats.
It is a good showing for a political Party that is in the opposition.
And what is again most worrisome, the PDP State secretary has often times condemned the attitude, and methodology of governance of the Obaseki's administration.
He said the Governor has not done well, and he wants to also impose a candidate on them; an attempt the Party would resist!
Also, Leaders of the PDP are crying that this is the first time since 1999 they have gotten the worst Governor in Obaseki.
Hence they would not want a repeat of this anymore.
The discerning conclusion from that scenario is that if the Governor is allowed to perpetrate his experimentation on Edo people by bringing in someone to take over governance from him, we are going to be in another eight years of doldrum, we are going to be in imprisonment.
So, we have an alternative that will positively change the negative narrative in Edo and that is the APC because experimentation should stop in the State.
Going into 2024, Edo people expect a better approach to governance and Government.
In that respect, the APC will present its best to drive its programs and we can assure that our Party will conduct its primary in the most transparent manner, that will usher in a candidate who will be generally accepted, a man who will represent the common interest of Edo people.