Tin Can: Customs reject N50m Offer from Shipper of 2 Containers Laden With Illicit Drugs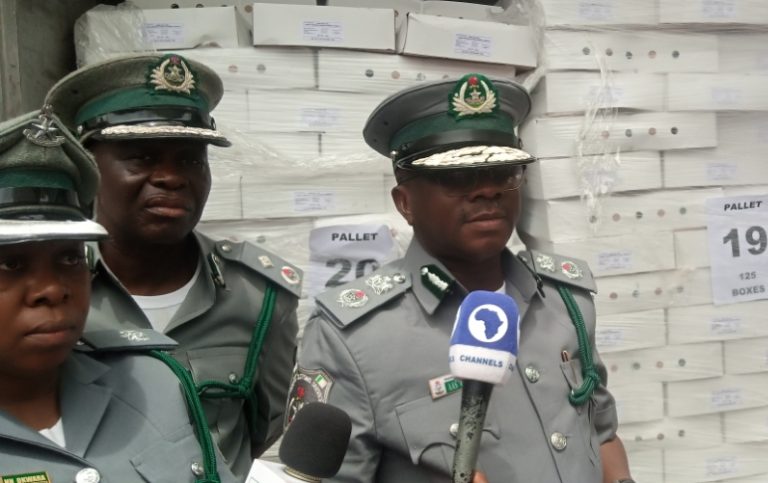 Tin Can: Customs reject N50m Offer from Shipper of 2 Containers Laden With Illicit Drugs
By Ifeoma Ikem
Nigeria Customs Service operatives, Tin Can Island Command said that they rejected N50 million bribe offer from a suspect arrested in connection with two containers of unregistered imported drugs at Tin Can Island Container Terminals (TICT).
Addressing pressmen in Lagos, Comptroller Adekunle Oloyede,the area commander said the suspect who is a freight forwarder, one Mr. Boniface Ike reportedly said he was the owner of the two intercepted containers, offered the huge sum money to the officers in order to be left out of the hook.
According to him, the contents of the two containers were revealed after physical examinations were conducted on both containers by the Enforcement officers, Customs Intelligence operatives, Customs Police and Examination officers of the terminal on Tuesday, 22nd August, 2023.
According to him,i instructed the officers to play along with the suspect when he said,he want to discuss privately with the OC Enforcement, Deputy Controller G I Aliyu, Team leader, CIU, Assistant Comptroller H. Abubakar.
Comptroller Oloyede noted that the unregistered pharmaceutical products intercepted are regulated products by the National Agency for Food and Drugs Administration Control (NAFDAC) and did not have the required permit and certificates for importation in which the documents are to ascertain the safety of the products to Nigerians, hence the concealment by the importers.
He added that the shipper had declared in the Bill of Lading of the first container that it contained One Thousand and Sixteen (1,016) packages containing electrical goods ceiling fans, 36 jewel (cooper) and chilly cutters (stainless steel + plastic) but was found to contain five cartons of Timaking, 120 Tapentadil cartons containing 50 rolls, each roll contains 5 packets, each packet 200 tablets.
Eighty-four (84) cartons of Gastro Resistant Omeprazole capsule BP 200mg. Each carton contains 50 packets, each packet contains 10 capsules.
Eight Hundred and Seventy Six (876) cartons of CSMIX cough syrup containing Codeine, each carton containing 200 bottles.
Meanwhile,the second container after the Bill of Lading, stated that it contains One Thousand and Twenty One packages containing Electrical goods, ceiling fans,, 36 jewel and chilly cutter was revealed through physical examination thet it actually contained ten cartons of Super Royal 225 (Tramadol). Each carton has in it, 50 rolls containing 20.packets with each packet containing 10 tablets.
Others include; One Hundred and Five cartons of Omeprazolr Capsule BP 200mg, Seven Hundred and Fifty Four cartons of Barcadin with Codeine, 70 pieces of Fifty cartons of Manual Grater Machine and One carton of Compo Ceiling Fan as means of concealment.
Continuing, the Customs top brass said following an intensive surveillance operation on a routine examination carried out at the command, a container was found to contain frozen poultry products.
He added that the Single Goods Declaration (SGD), other supporting documents (Form M and PAAR) stated Tangerines but was used to conceal imported frozen food products.
"The goods were falsely declared as they are under the import prohibition items. The container has been seized for contravention of Section 233 of the Nigeria Customs Service Acts 2023.
"The persistent fraudulent nature of importers and agents drives us to be more innovative in putting methods and measures to combat smuggling activities, ensure no leakage of revenue to the government and the safety of Nigeria.
Oloyede said the Nigeria Customs Service will not be a part to nefarious acts which jeopardize the safety of lives of the citizens of our dear country, Nigeria. Any fraudulent importer or agent who tries to perpetrate such acts, will be prosecuted accordingly.
The Duty Paid Value of the seizures, amount to Five Hundred and Fifty Million, Two Hundred and Sixty Five Thousand, Sox Hundred and Sixty Nine Naira (N550,265,669.00) only.
MOTOPOL CSP Oriyomi rewards hardworking traffic officers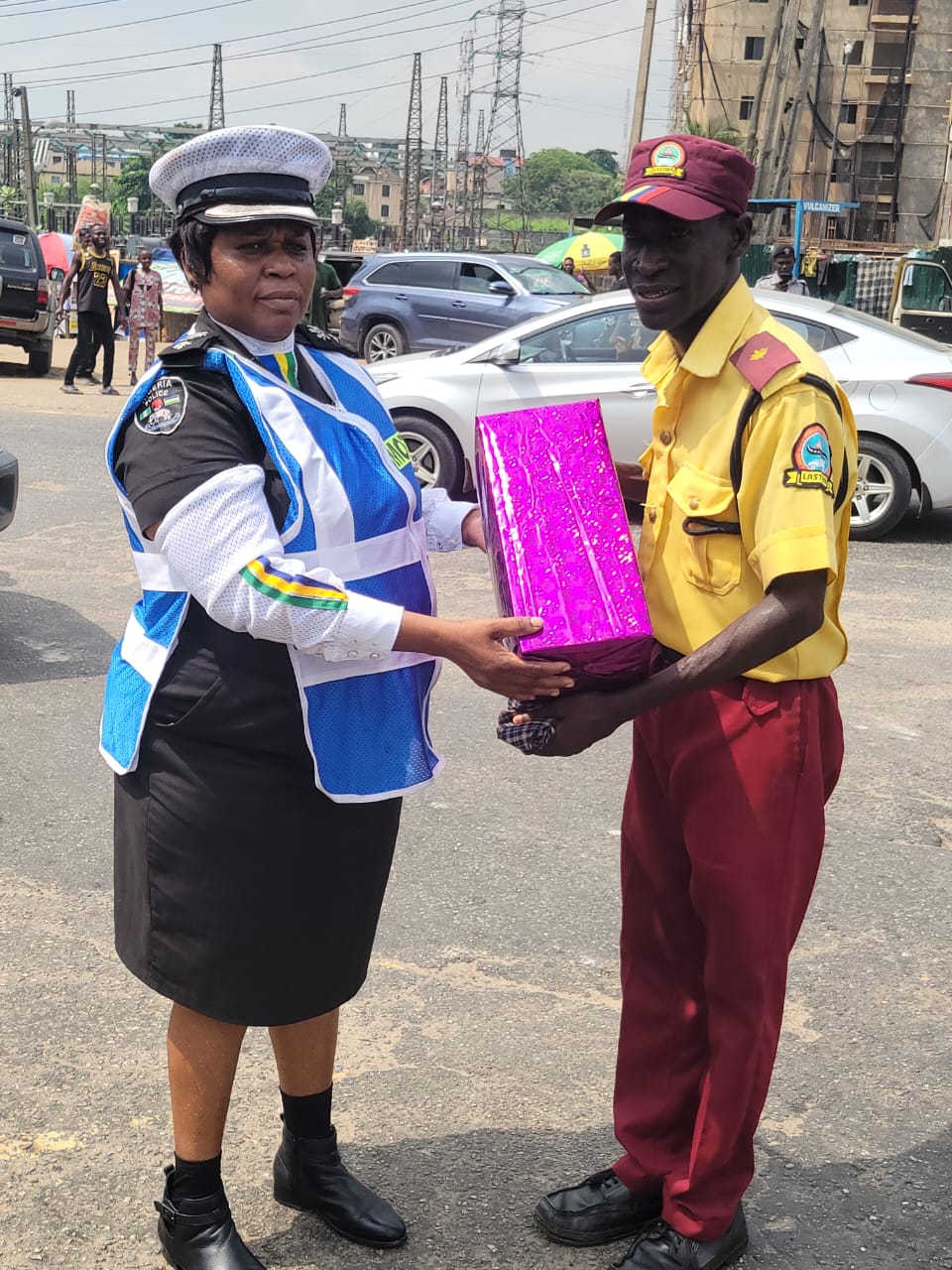 MOTOPOL CSP Oriyomi rewards hardworking traffic officers
Sahara Weekly Reports That Lagos State Police Traffic Officer ( MOTOPOL)CSP Oriyomi Titilayo Oluwasami, on Wednesday, surprised two hard working traffic officers in Lagos, when she singled them out and rewarded their hard works with gifts.
The two lucky officer are: Inspector Adeniyi Opeoluwa, Motopol monitor 75 Ejigbo division, and an Official of the Lagos State Traffic Management Authority ( LATSMA),Adefolaolu Timothy.
Oriyomi said the gift items may not be much, but stand as a moral booster and encouragement to the receivers, while it will motivate others to do more.
" It is regular practice for me to go round the city of Lagos and monitor those who are helping me to control traffic.
I give gifts always to people who are exceptional in their duties.
For instance, the LASTMA official is know by people who pass through Alausa, he is always stationed at Radio junction. He is referred to as dancing LATSMA official. People are talking about him, because you will always see him dancing and smiling while controlling traffic.
He is not a policeman,but he is doing wonderfully well in his duty of traffic control . He is making my job easier.
" I still have some traffic officers that I will still reward for their hard work. It is a continuous exercise. I will not stop. I am proud of anyone who makes my work easier. I am happy that some of my best officers are being nominated for Awards.
On December 7, two of my officers will be receiving Awards at a special event, put together by the Crime Reporters Association of Nigeria ( CRAN). I will also be rewarded. I am happy that people are noticing us . I am so happy that people are really recorgnizing what we are doing .
The Award is a very big challenge. The Award is encouraging us to do more for the society. I will continue to make traffic move. Lagos must move forward ".
Breaking: GAPOSA Alumni Declares State of emergency on security in Remo North, Demands Curfew To Curb Robberies, Attacks on students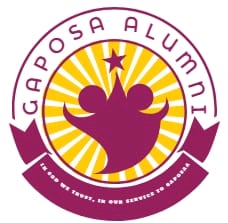 Breaking: GAPOSA Alumni Declares State of emergency on security in Remo North, Demands Curfew To Curb Robberies, Attacks on students
"The best security against the future is to act in the present''
Sahara Weekly Reports That The Gateway ICT Polytechnic Saapade Alumni Association has declared state of emergency on security, declared curfew from 6am to 7pm around Remo North local government in Ogun state.
The National president of the Alumni Association, Amb. Ajala Olumide T. according rdto the press release made available to Amebo Newspapers NG totally frown and expressed his great dissatisfactions over the volatile security situations around the school communities, which has resulted into incessant robberies, attacks, loss of properties and loss of lives among the student's populace.
According to him: "The level of the insecurity around the institution calls for a sober reflection and urgent attentions from the school management, leaders of our three major communities, local government, necessary stakeholders and the state government."
"Education is the best weapon to liberate the world but it is so disheartening that the state government led by His Excellency Prince Dapo Abiodun has turned a deaf ear to the incessant robberies, attacks, loss of lives and properties facing the students of Gateway ICT Polytechnic Saapade which is the best polytechnic in the state and the fastest growing polytechnic in the country." He said.
He listed the association demands which are declaring state of emergency in the security situation of Remo North Local Government and Declaration of curfew from 6am-7pm.
The Alumni Association appealed to the students of Gateway ICT Polytechnic Saapade to remain Vigilant and be peaceful as he promised to lead from the front in ensuring normalcy is returned to the school environments by engaging the school management, community leaders, local government, necessary stakeholders and the state government.
Also, he challenged the community leaders of Ode, Isara and Ipara to ensure the safety of the student in their respective community as the students of Gateway ICT polytechnic Saapade has been a catalyst for a positive development in Remo North Local government and ultimately deserves a safe haven and conducive environment for their learning..
In the same vein, he seized the medium to appeal to the state government under the able leadership His Excellency Prince Dapo Abiodun to Rescue the students of Gateway ICT Polytechnic Saapade from incessant robberies, attacks, loss of lives and properties.
How Juwon Lawal Is Changing The World Through Business Entrepreneurship *as Africent Group bags fresh award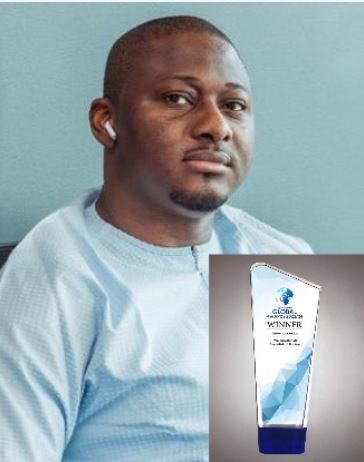 How Juwon Lawal Is Changing The World Through Business Entrepreneurship
*as Africent Group bags fresh award
It takes some severe business savvy to become the first in one's field. An emerging world business leader finds an unserved corner of the market and serves it; no one better exemplifies this than Juwon Lawal Razaq, the Chief Executive Officer of Africent Group of Companies Limited, a conglomerate with diverse business interests.
A few years ago, Lawal Razaq developed his business brand that was directly targeted at developing and transforming the maritime and the oil sectors. As soon as his brand took off, oil trading and production quickly became an item and his approach has since managed to redesign operations in the maritime industry. Singleness of purpose is one of the chief essentials for success in life, no matter what may be one's aim. Juwon set out with a purpose to model his business style off of the successful business leaders from decades gone by who changed the world in one way or another, and he is determined to repeat history.
With its subsidiaries like Africent Industries Limited, AfricentOCL & Commodities Company Limited, Eleven Ocean Limited and AfricentOCL UK Limited, Juwon Lawal Razaq has proven that having a person with great business leadership knowhow is something that all investors, consumers; a reputable business professional with high levels of expertise in his field of expertise.
Africent Group of Companies Limited, a global business firm providing solutions to problems that had previously been unsolved in oil and gas, technology services and agribusiness, represents business leadership driven on innovation and strategy with upshots that meet the consumer needs. This is one of the qualities that keep the company's goal-oriented CEO, Lawal Razaq at the top of his game. Adding to its list of laurels, AfricentOCL UK Ltd has just won the CorporateLiveWire Global Awards as 'Mining Materials Specialists of the Year 2023″.
"At Africent Group of Companies Limited, we are leaders because we take time to address opportunities and challenges and we lay out our goals and solutions clearly. Also, we engage in active listening to gain valuable feedback," says Juwon, a former Senior Trader at one of the top South East Asia oil trading company, Winson Oil Group Pte, Singapore.
Juwon Lawal Razaq, no doubt, possesses some of the qualities that set famous business leaders apart. He is one of the few emerging industry leaders who are stepping into the unknown and embracing risk. Lawal Razaq says his business model is encouraged by watching influential business leaders whose actions inspire him; how they do their thing, and who they are.
A member of the Forbes Business Council and alumni of Saed Business School, Oxford University, member and Global Ambassador of the Commonwealth Entrepreneurs Club, London, 44 years old Lawal Razaq's everyday visions remain to change the world for the better through entrepreneurship.