TINUBU TO INVESTORS: NIGERIANS ARE THE GREATEST ASSET AND ADVANTAGE WE HAVE OVER OTHER NATIONS
TINUBU TO INVESTORS: NIGERIANS ARE THE GREATEST ASSET AND ADVANTAGE WE HAVE OVER OTHER NATIONS
President Bola Tinubu, on Monday, in Berlin, Germany, told international investors that beyond Nigeria's natural resources, the people of Nigeria, who are highly educated, highly skilled, and naturally industrious are the primary asset and advantage the country wields over other nations in the global race for new investments.
The President spoke at a panel discussion titled, "Fostering local value chains and investments in Africa – The role of the German private sector" at the G20 Compact with Africa Economic Conference, hosted by German Chancellor Olaf Scholz.
The President noted that while promoting the rule of law is crucial for attracting foreign investments, Nigeria's energetic youth population and well-educated populace represent the greatest incentive provided to investors toward the mutually-beneficial replication of China's economic resurgence.
o
"We are dogged in our pursuit of natural gas development today, in tandem with hydrogen production for tomorrow. The world knows Nigeria as a leader in the energy sector. Our vast gas deposits and business-friendly environment make us an attractive investment destination. But we are going a step further now. We are creating fiscal responsibility and tax reforms as we reform our financial institutions to expeditiously accommodate foreign investments.
"We are eager and ready to partner with you. We have the youngest, largest, and most vibrant youth population in Africa. Equally, we have every ingredient required in the making of a modern economy: a well-educated population, a massive market, and the political will to bring it all together under my leadership.
"Africa has moved beyond the false past notions of business disincentivization and poor adherence to the rule of law. We now fully recognize the nexus between the inflow of investor money and the sanctity of contracts. We want to partner on the basis of who we are and what we do, rather than on the basis of long-held misconception," the President stated.
President Tinubu apprised the summit of the country's intentional move toward developing labour-intensive sectors of the Nigerian economy for massive job creation as well as a new emphasis on technological progress and new opportunities in Nigeria's rapidly expanding information and communications technology space.
The President assured potential investors that Nigeria has moved beyond restrictive policies, and today, capital can be moved in and out of the country freely, providing flexibility for investors.
"Nigeria has consolidated on its democracy with several consecutive handovers of power. There is stability and predictability in the socio-political development of our country, which provides a conducive atmosphere for business operations and investment. Your money is safe. Since I assumed office in May 2023, we have embarked on transformative changes, removing all obstacles hindering businesses. We are reforming the economy based on the principle and philosophy of good governance," the President confidently affirmed.
While persuading German automobile firms to establish manufacturing plants in Nigeria, he invited German businesses to take advantage of investment opportunities in multiple sectors following the successful visit of the German Chancellor to Nigeria in October.
Speaking earlier, German Chancellor Olaf Scholz noted the dynamic and evolving nature of economic relations between the developed and developing nations of the world as he positions Germany to enhance partnership with Nigeria and Africa on a mutually-beneficial basis.
"To be clear, this is not about traditional development aid with donor-recipient schemes. Instead, we now focus on investments that yield benefits for both parties. In Germany, as we strive for climate neutrality by 2045, we anticipate a substantial demand for green hydrogen, a considerable portion of which we plan to import, including from Africa.
"Many African countries possess larger potentials for renewable energy and competitive hydrogen production than we do. I am convinced that there are fantastic opportunities for expanding cooperation between German and African companies in this context.
"I highlighted this during my visit to Nigeria, where we already operate a hydrogen office and aspire to be a partner in the ambitious expansion of renewable energies," the Chancellor stated.
Other panelists at the discussion were the German Federal Chancellor, Olaf Scholz; President Alassane Ouattara of Côte d'Ivoire; Prime Minister Aziz Akhannouch of Morocco; President Macky Sall of Senegal; Sabine Dall'Omo, Chairperson of Afrika-Verein (German-African Business Association); and CEO of Sub-Saharan Africa, Siemens AG.
President Bola Tinubu hosts notable German Business Chief Executives at a Nigeria-Germany Business Roundtable in Berlin, Germany, on Tuesday.
Chief Ajuri Ngelale
Special Adviser to the President
(Media & Publicity)
November 20, 2023
Why You Should Patronize dElite Couture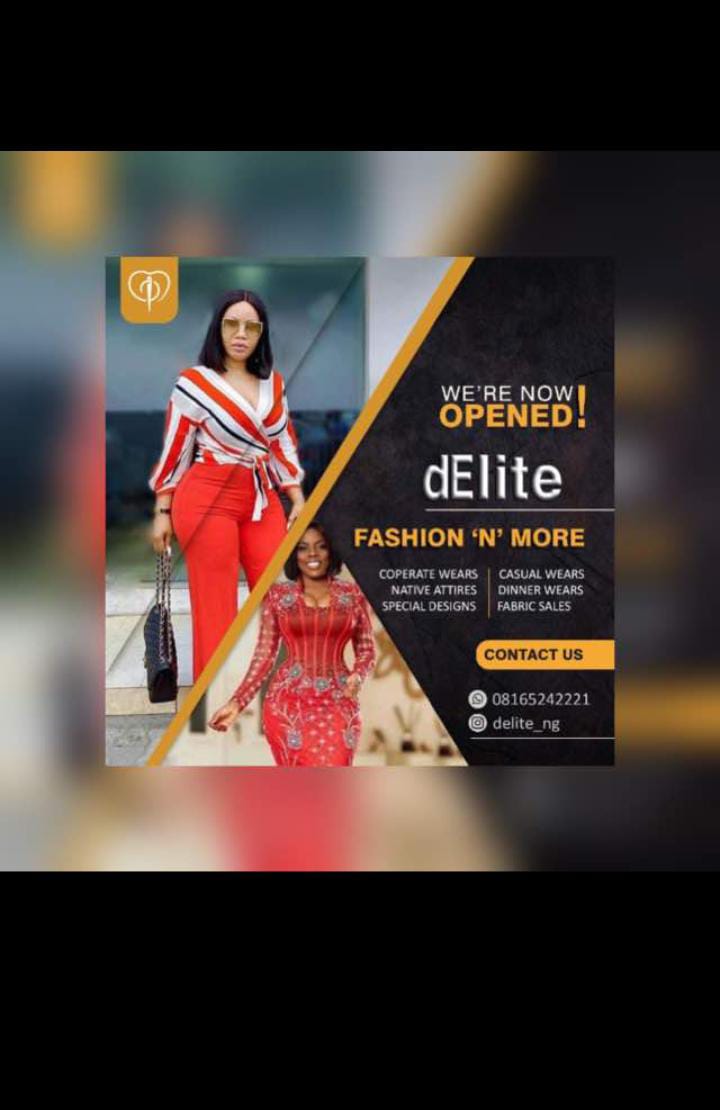 Why You Should Patronize dElite Couture
Arguably, one of the leading Couture in Nigeria is dElite Couture. Owned by delectable Oluwatosin Afeniforo, its a haven of fashion and more.
Known for trendy styles and quality services, celebrities and dignitaries are finding dElite as the place to be for top-notch fashion styles.
A trial is enough to convince anybody that dElite couture is the place to be where fashion is concerned.
Naira Recovers Against Dollar, Sells At N806.73/$1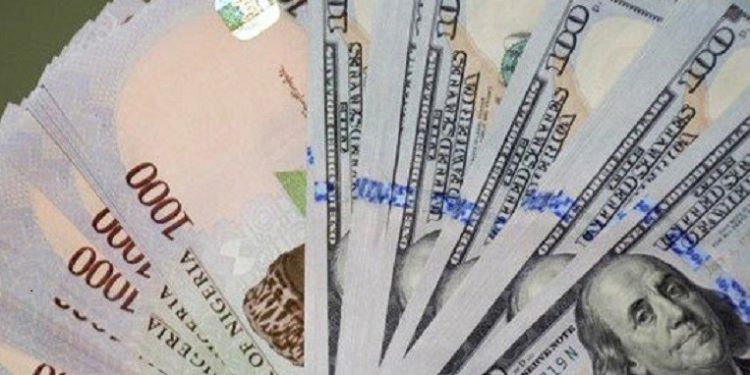 Naira Recovers Against Dollar, Sells At N806.73/$1
For the second time this week, the naira appreciated significantly against the United States dollar at the Nigerian Autonomous Foreign Exchange Market (NAFEM), the country's official exchange rate window.
The naira recovered from N837.77/$1, on Monday, to N806.73/$1, on Tuesday, after it slumped to N927.19/$1 on Friday, December 1, 2023 at the official market.
According to Data from FMDQ Securities Exchange, a platform that oversees foreign exchange (FX) trading in Nigeria, the rate recovered from the N830.90/$1 it opened on Tuesday to close N806.73/$1, thereby, gaining by N24.
The recovery was against the report of the National Bureau of Statistics 'Foreign Trade in Goods Statistics (Q3 2023),' report that Nigeria's foreign trade in the third quarter of 2023 rose by 53.16 per cent year-on-year to N 18.80tn.
According to the report, crude oil revenue surged by 83.23 per cent to N8.54tn in the quarter under review. In the third quarter of 2022, total crude oil sales amounted to N4.66tn.
Buoyed by an increase in trade activities in the period, total exports increased by 60.78 per cent to N10.35tn.
The report, released on Monday, read in part, "Nigeria's total merchandise trade stood at N18.80tn in Q3, 2023. The value indicates an increase of 54.62 per cent over the amount recorded in Q2, 2023 as well as by 53.16 per cent when compared to the value recorded in Q3 2022.
"Total exports accounted for 55.02 per cent of total trade in the reviewed quarter with a value of N10.35tn, showing an increase of 60.78 per cent and 74.36 per cent over the value recorded in the preceding and corresponding quarters respectively.
"Exports trade in the third quarter of 2023 was dominated by crude oil exports valued at N8,535.61 billion representing 82.50 per cent of total exports while the value of non-crude oil exports stood at N1.81tn accounting for 17.50 per cent of total exports; of which non-oil products contributed N677.57bn or 6.55 per cent of total exports.
"On the other hand, the share of total imports accounted for 44.98 per cent of total trade in the third quarter of 2023 with the value of imports amounting to N8.46tn in Q3, 2023. This value indicates an increase of 47.70 per cent and 33.33 per cent respectively over the value (N5.73tn) and (N6.34tn) recorded in the preceding and the corresponding quarters of 2022."
Lagos Task Force dislodges Ikorodu roadside traders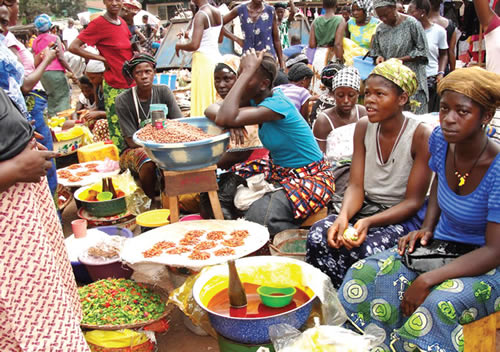 Lagos Task Force dislodges Ikorodu roadside traders
In its continuous efforts to rid the state of the menace of street trading, operatives of the Lagos Environmental Sanitation Corps and the Kick Against Indiscipline, on Tuesday, dislodged roadside traders around Aunty Kenny in the Agric area of Ikorodu.
A statement by the Lagos State Ministry of the Environment and Water Resources said the dislodgement was part of measures to sustain zero tolerance for street trading in the state.
It read, "Operatives from the LAGESC/KAI on Tuesday dislodged recalcitrant street traders on the kerb at Aunty Kenny Agric on lkorodu Road as part of measures to sustain the zero tolerance for street trading."
Similar enforcements were carried out on Monday at Oshodi-Mushin Road, Ojuelegba Road, Yaba-Muritala Muhammed Way, Oyingbo under the newly constructed bridge, inner and outer Marina-CMS, Victoria lsland and Lekki areas of the state, following directives of the Commissioner in the ministry, Tokunbo Wahab.
According to a statement, many of the defaulters were arrested in the course of enforcement and taken to the LAGESC/KAI headquarters where they were handed over to the appropriate section for interrogation and prosecution.
The commissioner also gave directives to operatives of LAGESC/KAI and other related agencies to sustain the dislodgment and ensure that the traders do not return to the areas
@Punchng