Tribute to Moomi Beatrice Olayemi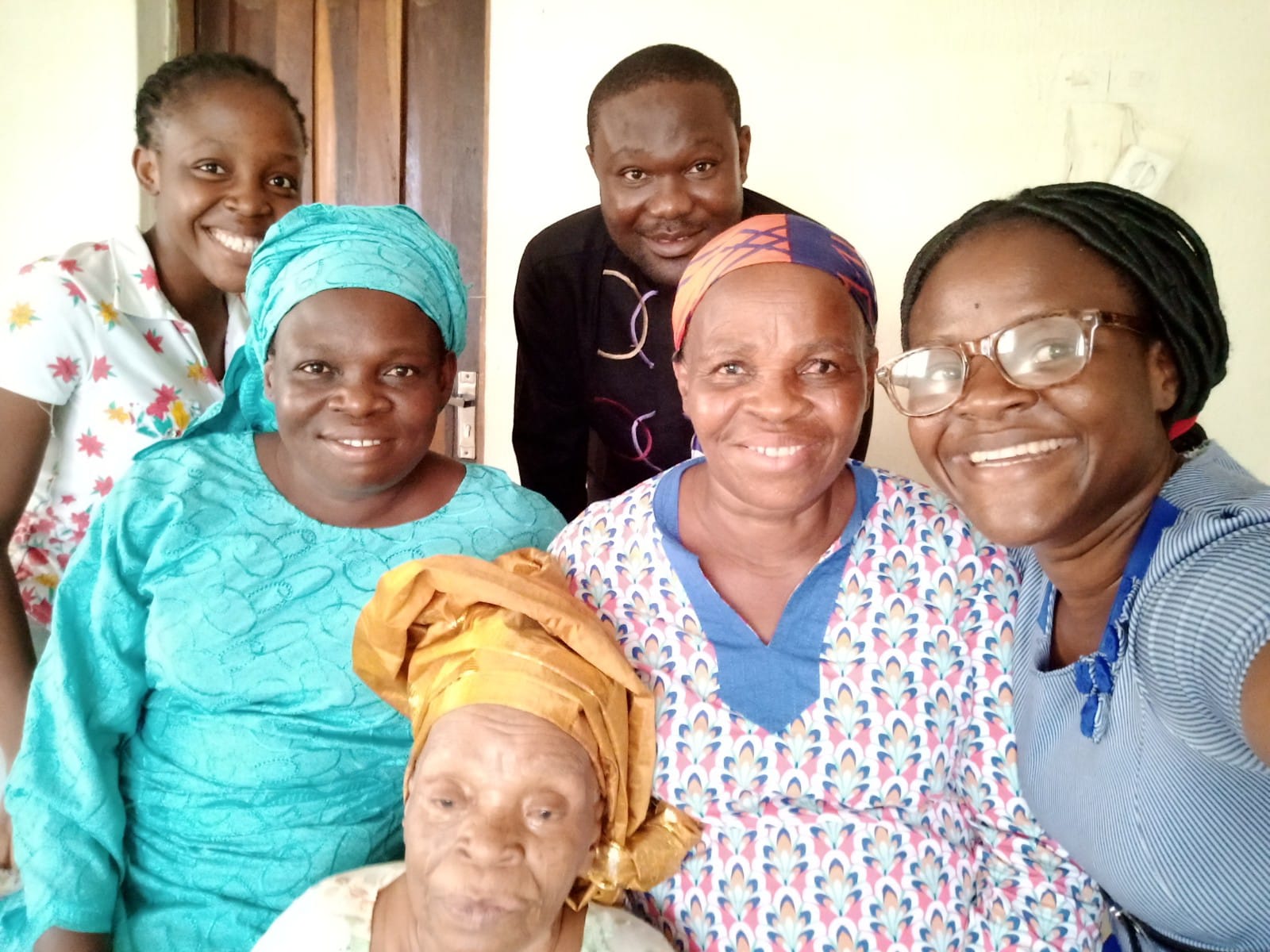 Biography Of Moomi Beatrice Olayemi
My grandmother by the name Beatrice Olayemi was born around 1926 to the family of Papa Adeosun and Mama Oserin at Oke Iloro street of Okemesi Ekiti.  A young beautiful girl who grew up to be very well behaved that at the age of eight years she left her parents in Okemesi for Ilawe Ekiti on foot to go stay with her elder sister, Madam Otoola Osuntokun, the matriarch of the Osuntokun family from where we have the first CMD of UCH Professor Benjamin Osuntokun and former Ambassador of Nigeria to Germany, Professor Akinjide Osuntokun to mention but a few.
She stayed at Ilawe Ekiti for years and grew to become a very beautiful lady, the toast of many young men of that time but only one photographer caught her fancy, Adeoti who would later ask for her hand in marriage. As it was a custom then and being a virtuous lady who believed that  a wife is meant to be a support system for her husband. So, she traveled back to Okemesi in order to work for a while so as to acquire enough to be able to stand on her feet and not become a liability to any man. She eventually married Samuel Adeoti Odedeji in 1950.
Tragedy struck. The young wife, fondly called Bia, began to give birth and lose the children. She gave birth to twin children and lost them, losing nine children in total, the most painful was Soji, who she lost the same period I was born leaving her with only Aduke and Sola, two daughters who stood with her through thick and thin.
My grandmother lived a very devoted life to God and her children. She loved the Lord with all her heart till she died. She equally loved people of God and she was a very virtuous woman. She left a legacy of love and sacrifice to God and humanity.
Tola Bolaji
Tributes to Moomi Beatrice Olayemi
My mother who sat and watched my infant head. You are a mother in a million. You suffered so much for me and my siblings. You were a virtuous woman and you imparted in me good virtues. Good night my loving mother till we meet at Jesus feet.
Aduke Bolaji
(Daughter)
Iya mi Asabi, ómó alara moko. Mama mi oninure, o feran ebi, omo, arale, o tun feran alejo. O laanu, olooto eniyan. Mama mi onigbagbo otito. Sun re o!
Sola Oladepo
(Daughter)
I thank God for the life mama lived and how God was good to her.
Mama was a hardworking woman.
She was a devoted woman and always went to church.
Since my mom died, she has always been with her brother. I remember the time I took my Dad to Lagos,  she will always sit down in front of the house until I brought her brother back to Okemesi. So they loved each other.
Despite all that happened, you stood strong, Mama keep resting in the Lord.
Good night " Omo alara moko luji, omo akara keji sinu agbada tire ni ikoko lona ijoka, omo ori suwaju udi tele, omo alara Isa, o da ro o, o tun di oju ala
Deac. Esther Olufunke Omilabu (JP)
NIECE
Words fail me. You lost your only son when I was born. It was a gaping hole you filled with the way you loved us. You are a pillar of hope and support to your children and us. You laid the foundation that we now build upon. You're the reason we can run, the wind behind our sail and the wings on our eagle's soar. You really made the world a better place by your kindness. Thank you for loving us with all you have. We are your legacies touching the world.
Tola Bolaji
(Grand Son)
Iya rere, abiyamo tooto, fimu finaa lati ran mo lo sukuru. I miss you soooo much moomi mi, as I fondly called you. You will always be in my heart. Ariro re mi n semi lu gbogbo ugba. Sunre laya Olodumare to fé o ju bi a se fé o lo.
Ajike Awe
(Grand Daughter)
"It is not length of life, but depth of life". – Ralph Waldo Emerson
Moomi had an opportunity to live a long life. But her most profound impact is the depth of her life.
The Depth of life that showed in her devotion to her husband, her children,  her grandchildren, and her great-grandchildren.
The Depth of her life in her selflessness to her families-Nuclear and extended, her friends both far and near.
The Depth of her life in that she replicated such quality of humility, devotion and altruism in her children, her grandchildren and her great grandchildren.
Thank you Moomi for paving that path for us through the length and the depth of your life
Paul Bolaji
(Grand Son)
Moomi was an amazing grandmother who cared for everyone. Many of my friends wished she could be their grandmother but it's a blessing she was mine.
Sade Azeez
(Grand Daughter)
Grandma was a godly woman who lived an exemplary life. A woman of neat words and exceptional character, oh I cherish her! .
Bisola Ajilore
(Grand Daughter)
Moomi Asabi was a great grandmother. She was honest, devoted and committed to God and humanity. I thank God for the life she lived before passing on. An embodiment of grace; a good role model and blessing to the family and this generation. It shouldn't be a surprise that she birthed god-fearing, selfless and unwavering-in-faith women that made me her granddaughter. I love you grandma! You're superb!
Bimbo Oladepo
(Grand Daughter)
In loving memory of our dear Grandma, who graced this world for an incredible 97 years. Her life was a testament to strength, prayer, wisdom, and boundless love. She left an indelible mark on our hearts, nurturing us with her warmth, guidance, and cherished family traditions. Her laughter and kindness were a constant source of inspiration, and her presence illuminated our lives. Though she has departed this world, her legacy lives on in our hearts, as we continue to share the love, prayers and stories she gifted us. Rest in peace, dear Grandma, your memory will forever be a guiding light in our lives.
Olawale Awe, PhD.
(Grand Son In-Law)
The departure of a great heroine. Your prayers enticed me. Your smiles and kind gestures drew me to you. You were a super encourager 'A mother'. Those soft but instructive words still ring in my ears. Glaringly, the peaceable life you lived made you remain beautiful, fresh and shiny even in old age.
Moomi, I believe heroes don't die. They are forever with us, in the deepest of our hearts.
Rest on dearest mama.
Nike Bolaji
(Grand Daughter In-Law)
You truly were a special woman! You may have passed on, but your memories would always live on within your children and those you touched. Thank you for your sacrifices, your care and concern, your love and everything that you have done. Wherever you are, I know you are in a much better place.
Adebola Bolaji
(Grand Daughter In-Law)
Moomi, we miss you so much and we know that you are there in heaven guiding and watching us from above, We will never forget your smiles and your love.
Esther, Ella, Eunice, Elizabeth.
(Great Grandchildren)
Moomi, we love you and we know that you're watching us from above. Moomi we will always remember you. (Nifemi) and we also know that you will always love us and take care of us.(Femi) Moomi, we love you. (Feranmi)
(Great Grandchildren)
Great grandma.We will miss you.
Thank you for what you have done for grandma,Daddy and us your great-grand children.
Michelle and Michael Bolaji
(Great Grandchildren)
Lagos House Demolition: 9 Things to Know Before Buying or Building in Lagos by Dennis Isong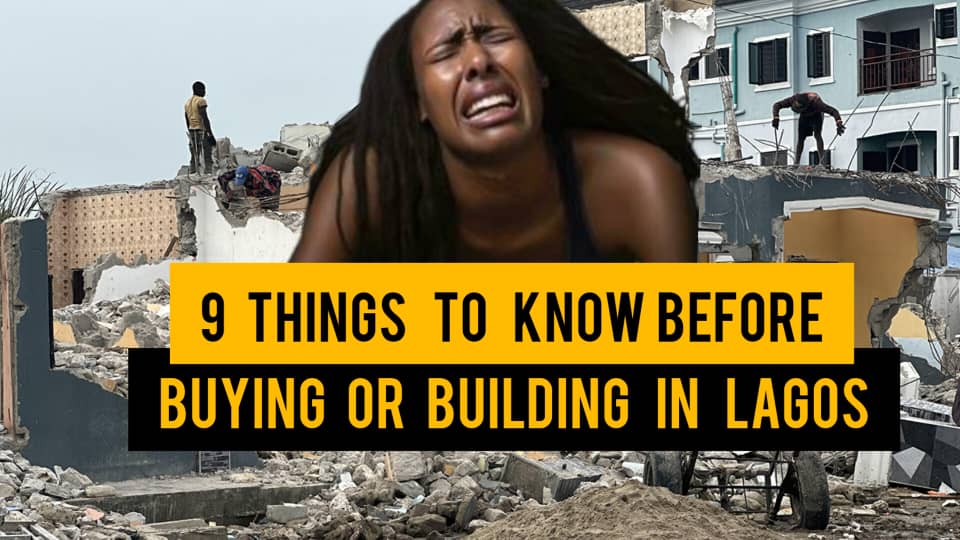 Lagos House Demolition: 9 Things to Know Before Buying or Building in Lagos by Dennis Isong
Sahara Weekly Reports That When embarking on the journey of purchasing land in Lagos, Nigeria, it is crucial to navigate the process with diligence and awareness. Acquiring the necessary certificates is a pivotal step to ensure a secure and lawful transaction. Here are some important certificates you should possess during the land-buying process in Lagos:
1. Certificate of Occupancy (C of O):
The Certificate of Occupancy is a primary document issued by the Lagos State Government that confirms the legal ownership and right to use a particular land. It outlines the terms and conditions under which the land is held and can be obtained through the state's land registry.
2. Survey Plan:
-A Survey Plan is essential for defining and delineating the boundaries of the land. It provides an accurate representation of the property's dimensions, shape, and geographical features. A licensed surveyor must prepare this document, and it should be approved by the Office of the Surveyor General.
3. Deed of Assignment:
This legal document serves as evidence of the transfer of ownership rights from the seller to the buyer. The Deed of Assignment should be drafted by a legal professional and registered at the Land Registry to make it legally binding.
4. Governor's Consent:
If the land has a Certificate of Occupancy, obtaining the Governor's Consent is necessary for the transfer of ownership. It involves an application to the state governor, and upon approval, the consent is endorsed on the Deed of Assignment.
5. Excision:
An Excision signifies the release of a portion of land from government acquisition. It is especially crucial for lands situated in areas that were previously marked as government-owned. A valid Excision grants legitimacy to the land title and should be confirmed with the relevant authorities.
6. Approved Building Plan:
Before any construction activities commence, it is mandatory to have an approved building plan from the appropriate government agency. This ensures that the proposed structure complies with urban planning regulations and standards.
7. Tax Clearance Certificate:
A Tax Clearance Certificate from the seller is necessary to verify that all property taxes have been paid. It is a requirement for the processing of some land-related documents and helps ensure a clean and legal transaction.
8. Environmental Impact Assessment (EIA):
In some cases, an Environmental Impact Assessment may be required, particularly for large-scale developments. This assessment ensures that the proposed project complies with environmental regulations and mitigates potential negative impacts.
9. Receipts of Payment:
Retain all receipts of payments made during the transaction. This includes payments for the land, survey, legal fees, and any other associated costs. These receipts serve as proof of transaction and can be crucial in case of any disputes.
Dennis Isong is a TOP REALTOR IN LAGOS.He Helps Nigerians in Diaspora to Own Property In Lagos Nigeria STRESS-FREE. For Questions WhatsApp/Call 2348164741041
Grace Nation @20 Day 2: The Spirit of God Guarantee Liberty and Abundance – Dr Chris Okafor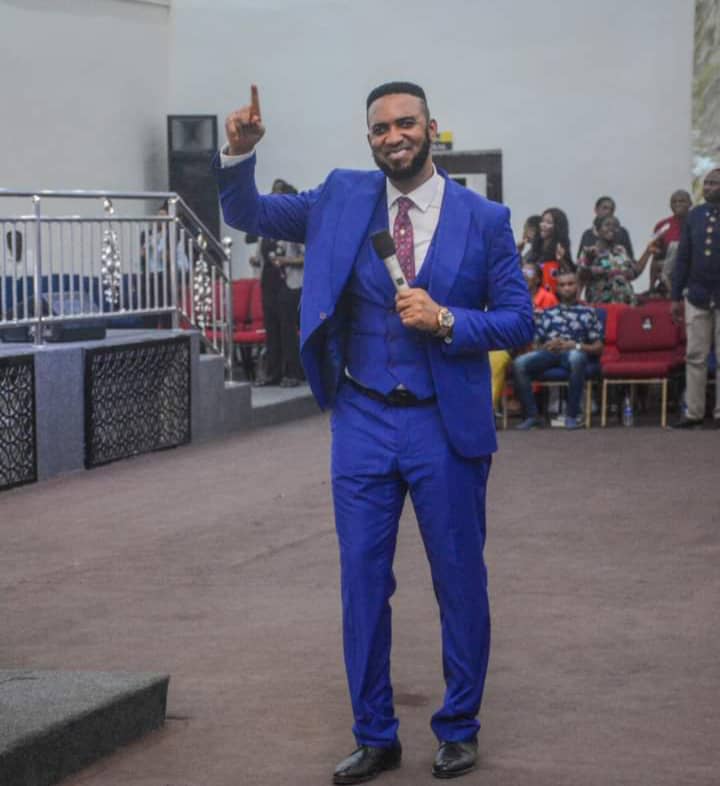 Grace Nation @20 Day 2: The Spirit of God Guarantee Liberty and Abundance – Dr Chris Okafor
If you want to experience total Liberty and Abundance in life ,you need the Presence of the Holy Spirit of God. Breakthrough comes when you take to instructions given by God through his servant, your spiritual father's.
In his words of exaltation at the Day 2 of the ongoing 20th Anniversary Celebration of Grace Nation international aka Liberation City, The Senior Pastor Grace Nation world-wide Dr Chris okafor said if you did not listen to the Holy spirit, you can never benefits from his Blessings.
The Generational Prophet of God who was speaking on the Theme of the Anniversary, Higher Life Dimension, with case study "The Person of The Holy spirit" emphasized that Holy Ghost makes you encounter Liberty, Freedom from affliction and sicknesses,empowers you to make wealth among many others.
The Man of God also remarks that there are also people that have the Holy Ghost but No Liberty. but by the help of the Holy Ghost you can come into Liberty in all area of your life.
The Generational Prophet of God However continue that when you understand what the Holy Ghost teaches, you come into the manifestation of your blessings and it will last for eternity. There is a Spirit that teaches, and when you learn what the Spirit teaches you, your life will witness higher life Dimension.The Holy ghost is a teacher, and when he teaches you, he show you a secret that will change your life forever, the Apostle of altars remarked.
Restoration at all side in the life of the participants at the program highlighted the Day 2 of the ongoing 20 Anniversary Celebration of the Church. Deliverance from bloodline sickness and heredictory family diseases, breakout from evil family patterns and altars among other were resolved at the service, while womb kept in the evil coven received light to carry Miracle babies at the program.
The 20th Anniversary Celebration Special thanksgiving service coming up on December 3rd 2023 at the international Headquarters of Grace Nation world-wide in Ojodu Berger Lagos Nigeria. This will climax the 20th Anniversary celebration of the church where all Grace Nation Citizens across the Globe will gather in Millions to celebrate the Faithfulness of God and his favour over the Commission since inception….
How Primate Ayodele Foretold Guinea Bissau Crisis, NAF Aircraft Crash (VIDEOS)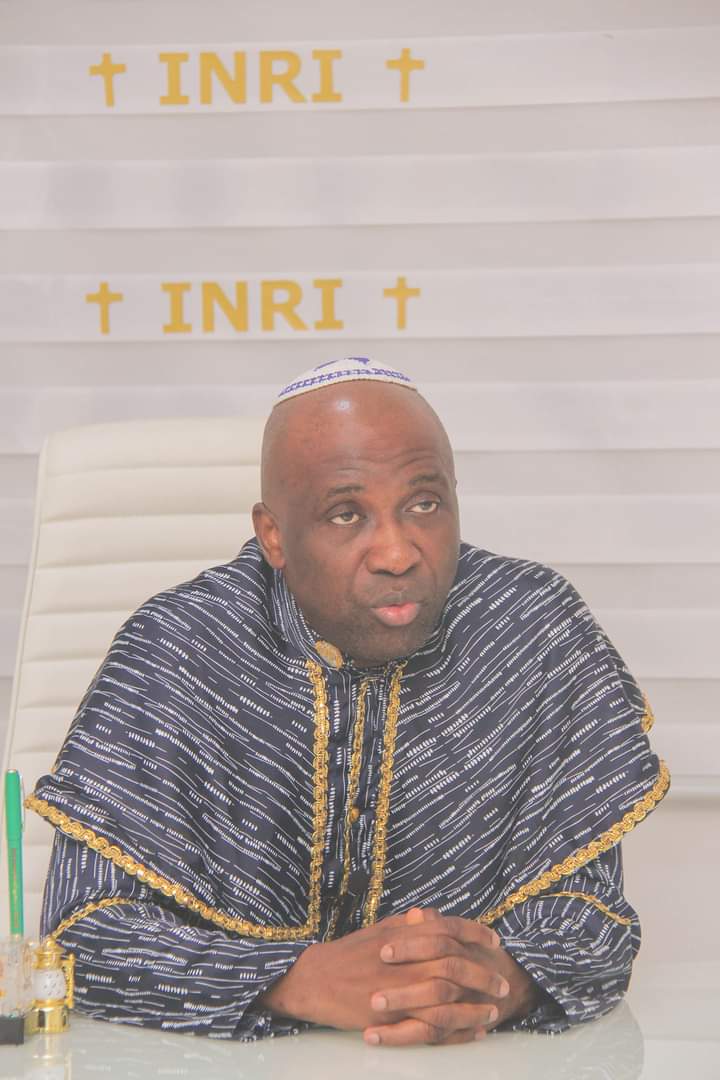 How Primate Ayodele Foretold Guinea Bissau Crisis, NAF Aircraft Crash (VIDEOS)
Gunfire broke out near Guinea-Bissau's presidential palace overnight and continued on Friday morning after soldiers freed a minister from the main opposition party detained for suspected misuse of public funds, Reuters reporters and a police source said.
Military vehicles were on the streets on Friday morning as residents commuted to work and school. Gunshots could still be heard but were less frequent than during the night. Another reporter heard gunshots not far from the presidential palace.aaaaaaaa
The gunfire was between soldiers in the Guard and special forces.
This development has fulfilled the prophecy of Nigeria prophet, Primate Ayodele which he shared concerning the country sometime in October.
He shared then that there will be a tough moment as he sees danger in the country. He stated that the country will be unstable and there is need to be watchful against another coup.
These were his words:
'There is going to be a very tough moment in Guinea. Let's be careful of another coup that can come up in Guinea. The country will be unstable, it's shaking. The leaders should be focused because there is danger ahead of the country''
In the same vein, tragedy was averted this morning after an aircraft belonging to the Nigeria Air Force crashed and exploded in Port-Harcourt.
It would be recalled that in 2022, Primate Ayodele warned the Air Force to be careful of aircraft crashes. This particular prophecy has continued to come to pass because the NAF has experienced crashes at different times this year.