Union Bank of Nigeria Plc Group Audited Financial Statements for the Year Ended December 31, 2022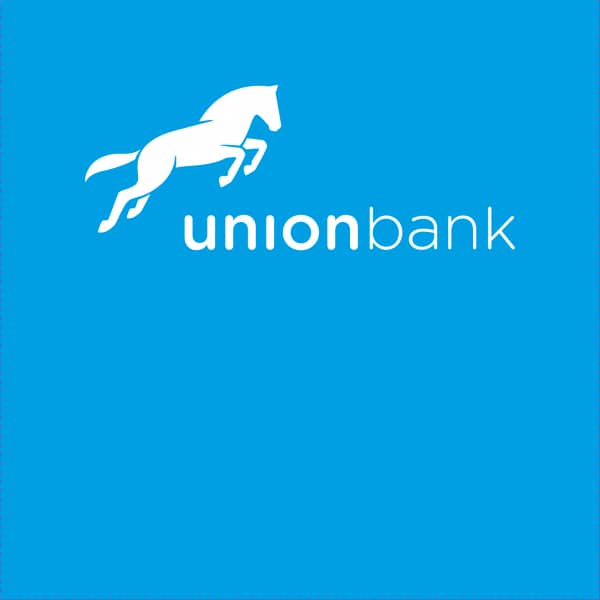 Union Bank of Nigeria Plc
Group Audited Financial Statements for the Year Ended December 31, 2022
Strong revenue growth driven by core business deepening
Union Bank has announced the release of its audited financial statements for the year ended 31st December 2022, which reflects strong financial performance despite macroeconomic headwinds.
Union Bank maintained consistent success due to the disciplined execution of its go-to-market strategy focused on deepening its core business while exploring new areas of opportunity to acquire, engage, and retain customers.
Bank Financial Highlights:
● Gross Earnings: up 19% to ₦208.2 billion (₦175.0 billion in 2021), driven by strong
growth in Net Interest Income.
● Net Interest Income: up 33% to ₦59.1 billion (₦44.3 billion in 2021) driven by growth in earning assets.
● Net Operating Income after impairments: up 10% to ₦110 billion (₦99.7 billion in 2021).
● Profit before Tax: up by 47% to ₦30.2 billion (₦20.5 billion in 2021).
● Operating Expenses: marginally grew by 0.4% to ₦79.4 billion (₦79.2 billion in 2021), reflecting tight cost control despite inflationary pressures.
● Gross Loans: up 11% at ₦1.0 trillion (₦899.1 billion in December 2021) as we expand our lending to vital economic sectors of opportunity.
● Customer Deposits: up 9% at ₦1.48 trillion (₦1.36 trillion in December 2021) as we expand our product base and digital channels.
Key Operational Highlights:
Retail & Digital
Digital
• Channels & Platforms: Union Bank in 2022 invested in strengthening its technology architecture to drive key processes and serve more customers through digital and agent channels. Consequently, active users on UnionMobile increased by 15.7% to 3.8 million users, and active UnionDirect Agents grew by 62.7% to 51,737. This led to an increase in transaction value and volume on UnionMobile by 121% and 20.4%, respectively.
In 2022, we launched a chatbot that enabled real-time interactions with customers. The chatbot has resolved 1.3 million customer complaints, demonstrating its effectiveness in streamlining the complaints resolution process. In addition, we have made several other investments to enhance our customers' experience. As a result, we have seen significant improvements in the efficiency and efficacy of our customer complaints resolution.
• Digital Propositions: Our priority has been to venture into unexplored avenues within the digital space to generate fresh revenue streams for the Bank. As part of this strategy, we have broadened the usage of our personal finance and lifestyle investment application, M36, which was first introduced in 2021. M36 empowers customers to grow, manage and invest their wealth in high-yield instruments through the self-service platform.
Retail Offerings
The Bank grew its retail deposits by 14% to N675.8 billion from N594.9 billion in 2021. Some of the initiatives which contributed to this growth include:
• Save & Win Palli Promo 2: We rolled out the campaign's second edition and rewarded over 611 customers with a combined sum of ₦55.5 million. The promo aims to generate low-cost deposits.
• Target Savings Campaign: In time for the World Cup, we rewarded 596 customers with ₦26 million in our flagship target savings campaign and closed out our five-year Target Savings Product (TSP) – UnionKorrect Qatar. Ten customers were rewarded with cash prices of ₦5 million, and 375 customers with sports jerseys.
• Workplace Banking: We re-launched Workplace Banking, our exclusive proposition designed to offer employees convenience while providing support to achieve their goals and aspirations.
Citizenship, Sustainability, and Innovation
• In 2022, we prioritised inclusion and sustainability while focusing on business growth. In doing so, we impacted our employees, customers, and the communities we serve while contributing towards the United Nations Sustainable Development Goals.
― UnionCares: As a yearly tradition, we extend our assistance to the community by providing food boxes to those in need. In 2022, our staff
contributed to this cause by distributing over 1,700 food packages to families all over Nigeria. Furthermore, we extended our support to 15 Non-Governmental Organisations (NGOs), such as the Chess in Slums Foundation and the Special Olympics Nigeria, by providing donations to supplement their commendable efforts.
―Quality Education:We partnered with impactful organisations, including Give Girls a Chance and Child Lifeline, to provide full scholarships to twenty
girls and ten boys in Abuja and Lagos. As part of our Financial Literacy Day and World Savings Day activities, we engaged with more than 4000 students and their teachers.
― Youth Empowerment and Development: In July 2022, we successfully graduated 52 new 'Techies' from our first-ever Tech Job Boot camp. This recruitment and training program has significantly contributed to accelerating our go-to-market strategy and further consolidating our position as a formidable player in the financial sector.
Union Bank has been a long-standing supporter of LEAP Africa since 2013, enabling them to empower and equip 170 young social innovators and entrepreneurs to scale their community-changing ideas sustainably over the years. Moreover, our sponsorship of the 2022 Leadership, Empowerment, Achievement, and Development (LEAD) Camp by Junior Achievement Nigeria has empowered more than 300 young girls with critical thinking skills. Through this initiative, we have impacted more than 700 girls over the past eight years.
― Employee Volunteering: Our employees have shown unwavering compassion towards communities and social causes. In 2022, over 265 of our
employees devoted nearly 1000 hours to volunteering for various bank- sponsored initiatives. These initiatives included mentoring sessions with the Women's Technology Empowerment Centre (WTEC), which aims to promote women's participation in Science, Technology, Engineering, and Mathematics (STEM), financial literacy drives, SME workshop clinics with social innovators, and visits to orphanages to extend their support.
Commenting on the results, Mudassir Amray, MD/CEO, said:
"Despite the macroeconomic headwinds of 2022, we recorded strong performance across key financial and operational indicators. We were focused on our strategy of deepening our core business segments whilst enhancing our digital channels and service propositions to customers. On the back of this, we are increasing our customer acquisition and engagement, translating into higher revenues across our regions.
The Bank's gross earnings grew by 19% to N208.1 billion from N175 billion in 2021. Whilst non-interest income declined marginally by 1.0%. Net interest income after impairment grew 26.1% to N55.8 billion from N44.2 billion in 2021 on the back of increasing responsible risk assets. Profit before tax closed at N30.2 billion, representing a growth of 47.1% from N20.5 billion recorded in 2021.
In 2023, we will remain focused on executing our strategic initiatives, which are centred on pursuing additional opportunities to diversify our revenue sources while strengthening our core business. We also look forward to completing the merger of Union Bank of Nigeria and Titan Trust Bank, which began in 2022. The transition has gone smoothly, and I am confident that the combination will make us more formidable and well-positioned to capitalise on market opportunities.
As we progress into 2023, I have no doubts that we will scale through all the macroeconomic pressures and sustain this growth momentum with continued support from the new core investors and board and continued trust from our customers to serve them."
Speaking on the FY 2022 numbers, Chief Financial Officer Joe Mbulu said:
"Our financial performance is a testament to the disciplined execution of our plans for the year and resilience against all odds. While pursuing liability generation and responsible risk assets, we maintained operational efficiency, managing cost drivers and avoiding wastage.
Operating expenses increased marginally by 0.43% due to increased non-discretionary regulatory costs. Our cost-to-income ratio dropped to 72.5% from 79.4% in 2021 due to cost- control measures implemented during the year.
The Bank's balance sheet remains strong, with total assets increasing by 8.8% to N2.79 trillion due to growing loans and advances to customers. We expanded our net loan book by 11.5% from N868.8 billion in 2021 to N968.9 billion in 2022. In addition, customer deposits increased by 8.8% to N 1.48 trillion.
While we seek to grow our risk assets, maintaining quality assets remains a key priority. As a result, our NPL ratio reduced from 4.3% to 4.0%, and the capital adequacy ratio remained within regulatory limits at 14.4%.
Financial Summary
Balance Sheet (in billions of Naira) Total Assets
Gross Loans & Advances
Customer Deposits
Shareholders' Funds
Ratios
Coverage Ratio (incl. regulatory risk reserves)
Average Liquidity Ratio (regulatory minimum – 30%)
Non-Performing Loan Ratio Net Asset Value per share Capital Adequacy
The Big Break Moment Splashes Amazing  Rewards Worth Over 30 Million naira for Season 2 Reality Show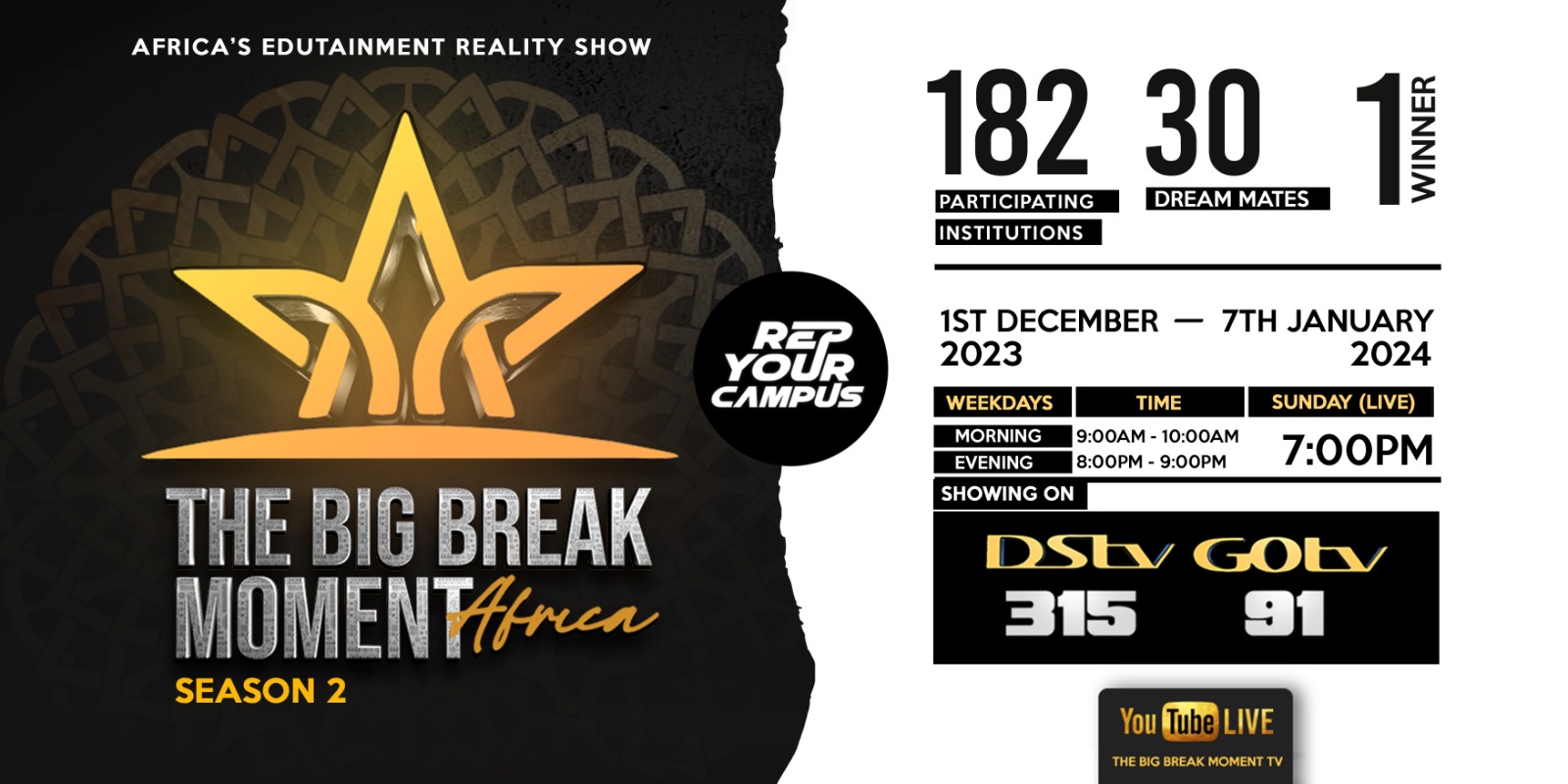 *The Big Break Moment Splashes Amazing  Rewards Worth Over 30 Million naira for Season 2 Reality Show
The Big Break Moment, a leading talent search platform, has announced an extraordinary array of prizes for this year's edition, valued at over 30 million naira, featuring a coveted New car-CS 35 Changan SUV along with a multitude of enticing rewards.
Scheduled to air from December 1st, 2023, to January 7th, 2024, the televised program will be broadcasted on DSTV channel 315 and GoTv channel 91, captivating audiences across the nation.
However, there will be 182 Participating Institutions, 30 Dream mates, 1 Winner. and the winner of the SUV will claim the prestigious first prize, while runners-up will be bestowed with a myriad of consolation prizes. This remarkable unveiling emphasizes the show's journey and its dedication to acknowledging the exceptional talents and creativity of Nigerian youth.
Tayo Folorunsho, the visionary convener and founder, highlighted the platform's primary goal of bridging the gap between conventional education and the dynamic entertainment industry. The Big Break Moment stands at the forefront of talent discovery by providing a global platform for students to showcase their extraordinary abilities.
The forthcoming season promises to be a sensational event, culminating in a grand finale held in Abuja, where the deserving winner will drive away in a brand-new car. Additionally, runners-up will receive enticing prizes and valuable endorsements from esteemed corporate partners.
This year's edition aims to uncover and showcase the exceptional talents of university students, focusing specifically on singing, acting, and dancing.
Importantly, the Executive Producer, Barr Orbby Agwuncha aka Boss Lady Law has confirmed the readiness of students from all selected schools.
The Big Break Moment ensures that all participants are generously rewarded, emphasizing a commitment to acknowledging talent at every level and sharing the limelight.
The platform takes immense pride in collaborating with undergraduates nationwide, furthering its mission to expand knowledge and create opportunities for emerging talents.
The Big Break Moment is a dynamic talent search platform dedicated to discovering and nurturing the next generation of stars. Committed to bridging the gap between education and entertainment, the platform offers a transformative space for students to showcase their skills and talents on a grand scale.
Business Networking Event: Nigerians In UK Excited As Pelican Valley CEO Lands In London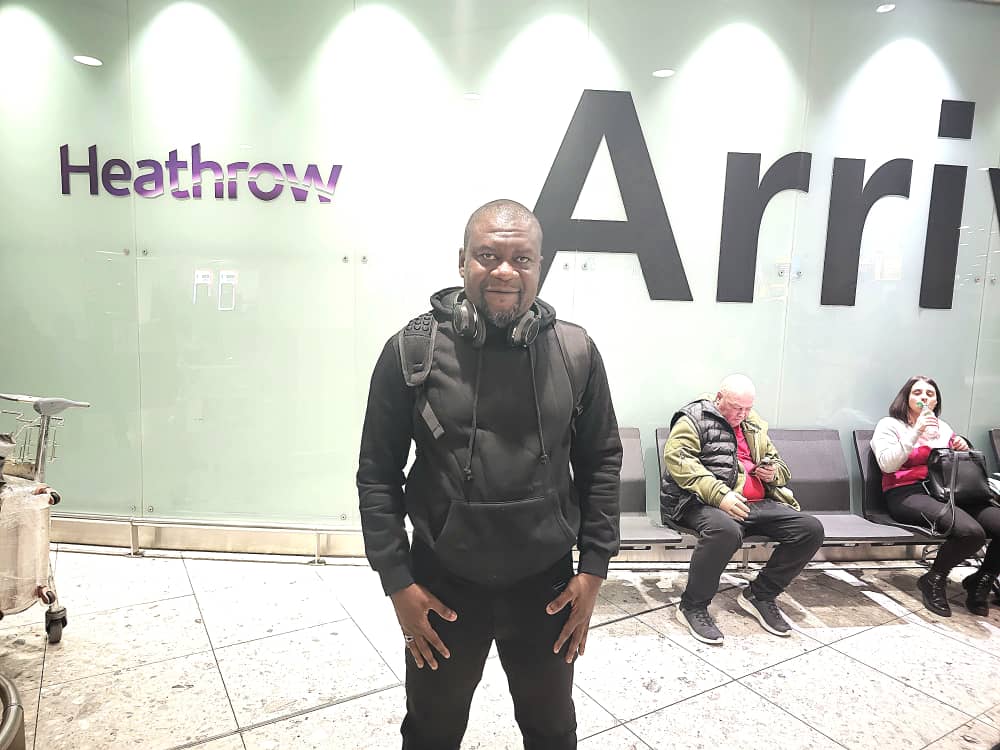 Business Networking Event: Nigerians In UK Excited As Pelican Valley CEO Lands In London
…Expected To Attract Over £2Million Investment To Ogun
Ground swells of enthusiasm and expectation have remained high among Nigerians living in the United Kingdom as the Pelican Valley CEO, Ambassador Babatunde Adeyemo landed in London – ahead of the Avenue Impact Winter Ball slated for December 3rd at the Crown Plaza Hotel, London.
The Chairman of the Nigeria Diaspora Commissioner, Hon. Abike Dabiri – Erewa will grace the exclusive networking event as a Special guest of honour while Realtor Adeyemo will use the avenue to connect with other project professionals, Nigerians in the UK and enlighten them about investment opportunities, particularly in the real estate industry back home in Nigeria.
Adeyemo who is the brain behind the Pelican Valley Estate , where unusual homes happen, Pelican Brief Estate, where he sets to ignite a smartcity, Pelican's Ecostay Apartments, where nature meets luxury and Pelican Valley Greenish Acres Farm Estate, where investors farm to fortune at Kobape – Masa corridor of Ogun State – and few metres away from Professor Wole Soyinka Train Station Abeokuta, stormed London Avenue Impact Winter Ball with a range of Pelican Valley real estate products for the diasporas, who have all been eagre to meet the tested and trusted real estate brand and developer.
Speaking to The Daily Crucible about the event, Adeyemo, who vouched for the integrity of the organiser, assured of his readiness to help Nigerians living abroad to benefit from the Pelican Valley's many products, which he said were designed to suit their taste and peculiar needs.
He explained that he would specifically guide them on the prospects in the real estate business and where to invest for assured ROI; drawing from his over a decade of practical experience in the Nigeria's real estate industry.
Receiving the real Estate poster boy at the Heathrow Airport, London, the convener and Director of the Avenue Impact Limited ,Funso Akinwunmi, expressed delight over the arrival of the multiple award winning real developer and anti curruption ambassador.
He said all is set for the prospects to embrace the once in a lifetime investment opportunity.
Aside Adeyemo, Mr. Smart Kemiki will also give property portfolio insights at the event while live performance will be done by Paul Play Dairo.
In a related development, Ambassador Adeyemo will also embark on another business trip to Canada for the forthcoming Canada Trade Mission '24 slated for early next year in the North American country.
Earlier in July 2023, The Daily Crucible reported that an estimated over half a billion dollar investment is expected to come to Ogun State, particularly Abeokuta, the state capital, next year to boost income, create jobs and further drive the socioeconomic fortune of the Egba people to the next level.
Cumulatively, the investments are expected to come from Nigerians living in Canada, United States, Europe and other parts of the world who are desirous of laying a solid foundation back home by way of investments preparatory to their 'Japada.'
And the vehicle to drive the investments is the planned 'Canada Trade Mission 2024,' a trade show and exhibitions, which is an initiative of the Solteque Group to bring Nigerians in diaspora together for a sensitization fair on the opportunities available to explore back home in the real estate sector, Adire, Isanyan, Aso Oke and other local fabrics business that are synonymous with the Egbas of Ogun State.
Also, the Pre – conference session of it was held in October in Nigeria at the June 12 Cultural Centre Kuto – Abeokuta which witnessed former President Olusegun Obasanjo, Governor Dapo Abiodun and the Chief Executive Officer (CEO) of Pelican Valley Nigeria Limited, Realtor Adeyemo, the Permanent Secretary, Ogun State Ministry of Culture & Tourism, Mrs Oluwatosin Oloko and Special Adviser to the Governor on Job & Employment Creation, Mr. Abiola Odetola galvanized the youths, artisans, local talents, and the economy in diverse sectors for exposure to the global market of consumers and investors in Canada as well as other parts of the world.
On the Canada Trade Exhibitions, the multi – award winning realtor assured that he would personally guide those eager to Japada on how to invest hard earned savings lest they fall into the wrong hands and lose their money.
Ogun Set To Sign MoU With OPS On Olokola Deep Seaport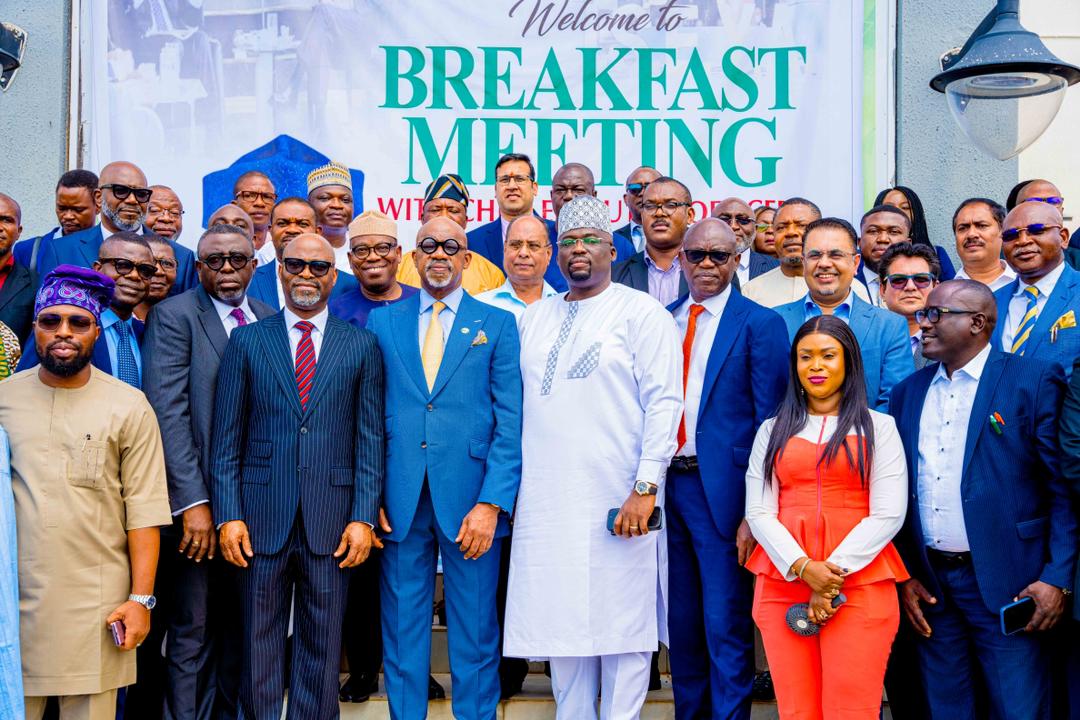 Ogun Set To Sign MoU With OPS On Olokola Deep Seaport
The Ogun State Government and the Organised Private Sector (OPS) have concluded plans to sign a Memorandum of Understanding (MoU) on the construction of the Olokola Deep Seaport located in Ogun Waterside Local Government Area of the state.
Governor Dapo Abiodun made this known during a breakfast meeting with Chief Executive Officers of the OPS in Abeokuta, the state capital, on Wednesday.
Governor Abiodun noted that the construction of the Olokola seaport would provide another opportunity for companies in the state to move their goods and equipment in addition to the Gateway Agro-Cargo International Airport, which is almost on completion stage, and the planned Dry port to be located at Kajola, an outskirt of the state capital.
Prince Abiodun said: "I want to share with you the fact that whilst we are talking about our road, rail and air transport, we will be signing very soon a Memorandum of Understanding with the private sector players for the construction of our seaport in Olokola.
"This is another giant step to ensure that we enable businesses to continue to thrive in our state."
The governor said that his administration is working towards putting an end to the multiplicity of taxes in the state, adding that the reforms already put in place by the Ogun State Inland Revenue Service would definitely put pay to the issue.
He also urged businesses to patronize government whenever they are in need of land, saying that all land belonged to the government.
"On the harmonization of taxes, we have put in a lot of reforms on our Inland Revenue Service.
"Be rest assured, be patient with me, slowly and surely, we will remove all these multiplicities of taxes.
"We are also concerned about our physical planning as well. The lands department and physical planning are now working collaboratively to ensure that all the problems we have had in the past are resolved.
"All lands belong to the government. My advice to you is that if you want to buy land, come to the state. We have ensured that any land to be sold to you is properly enumerated and compensated.
"So, please, I want to discourage all of us to desist from buying land from land speculators," he said.
Abiodun said that his administration would be distributing 5,000 Certificates of Occupancy (CofO) this Friday.
According to him, the state is now at a vantage position to continue to issue out Certificate of Occupancy to subscribers with a newly acquired equipment that can sign 1000 CofOs daily.
Abiodun called on the OPS in the state to give back to their various host communities by either taking advantage of the state government adopt a school or primary health care center project.
The governor spoke on the importance of businesses imbibing the culture of technology transfer, which would further assist the country to move forward technologically.
He reiterated the commitment of his administration to ensure steady and uninterrupted power supply soon through the Ogun Light Up Project.
The governor noted that his administration deliberately laid a lot of emphasis on reconstructing roads that connect the Ogun with other states of the country, especially Lagos, the economic capital of the country.
While commending the OPS for joining hands with his administration at repositioning its security architecture through the rejigging of the Ogun State Security Trust Fund, Governor Abiodun added that his administration would continue to do all it can to make the state the safest place to live, work or play.
Earlier in his address, Commissioner for Industry, Trade and Investment, Mr Adebola Sofela assured that the state government would continue to create an enabling environment for businesses to thrive.
He said the present administration would continue to partner with industries in the state with a view of propelling the common interest of both the government and industries to greater heights
Also speaking, Ogun State Chairman of the Manufacturers Association of Nigeria (MAN), Chief George Onafowokan, acknowledged the position of the state as the best place for industries to thrive.
He, however, called on the state government to continue to work towards ensuring that the enablers for businesses to thrive are readily made available in the state.
Speaking on behalf of the Agbara Cluster, the Director of African Industry Group, Chief Sohan Baghla disclosed that they have being able to provide over ten thousand jobs for the people of the state, adding that a greater percentage of their investments are in steel production and processing, aluminium production and processing, glass, chemicals, steel rolling mills, all situated in the Agbara business cluster.