Wagner's Video: Why Putin Should Listen To Pro. Kingsley's Prophetic warning
Wagner's Video: Why Putin Should Listen To Pro. Kingsley's Prophetic Warning
Strangely, a newly released video of Yevgeny Prigozhin purports to show the Wagner group boss in Africa addressing rumours about his well-being and threats to his life, just days before his death.
"For everyone discussing whether I'm alive or not and how I'm doing. It's currently a weekend in the second half of August 2023. I'm in Africa," Prigozhin says in the short video published by the Grey Zone Telegram channel that is linked to the Wagner group.
"So for those who like to speculate about my liquidation, my private life, my work there, or anything else: everything's fine," Prigozhin says.
This newly released video suggests he might be alive and it was his double body who was killed. Is this not a warning to Putin to listen to the prophetic voice of Prophet Kingsley Aitafo?
In his prophetic release this year he said Putin needs prayers because he hears a very big sound of drum and the beat is bad…
Prigozhin's camouflage outfit and hat in the clip released on Thursday matched his appearance from a separate video released on 21 August, which he also claimed was filmed in Africa.
His "weekend in the second half of August" reference suggests the latest clip must have been made on 19 or 20 August, a few days before his death.
Prigozhin died when his business jet crashed on 23 August, two months after he staged an aborted mutiny against Russian military commanders in which his Wagner mercenary troops briefly took control of the southern city of Rostov and advanced towards Moscow.
Weeks before he died, Prigozhin appeared to be in a struggle with Russia's defence ministry over the future of his business empire in Africa.
His comments in the video suggest he was aware of the risks to his life.
The warlord was known to be preoccupied with his safety, frequently using body doubles and disguises to avoid possible attempts on his life.
The Kremlin has denied killing Prigozhin, calling Western intelligence assessments of Vladimir Putin's involvement "an absolute lie". The Russian authorities said they were investigating the cause of the crash but have yet to offer a possible version of the incident. Earlier this week, Moscow said the crash would not be investigated under international rules.
AdeDimeji Lateef, Dele omo Woli , Bash , Other A-list Comedians storm ijebu for Mc Baffy's Ijebu Go Laugh '23 Edition*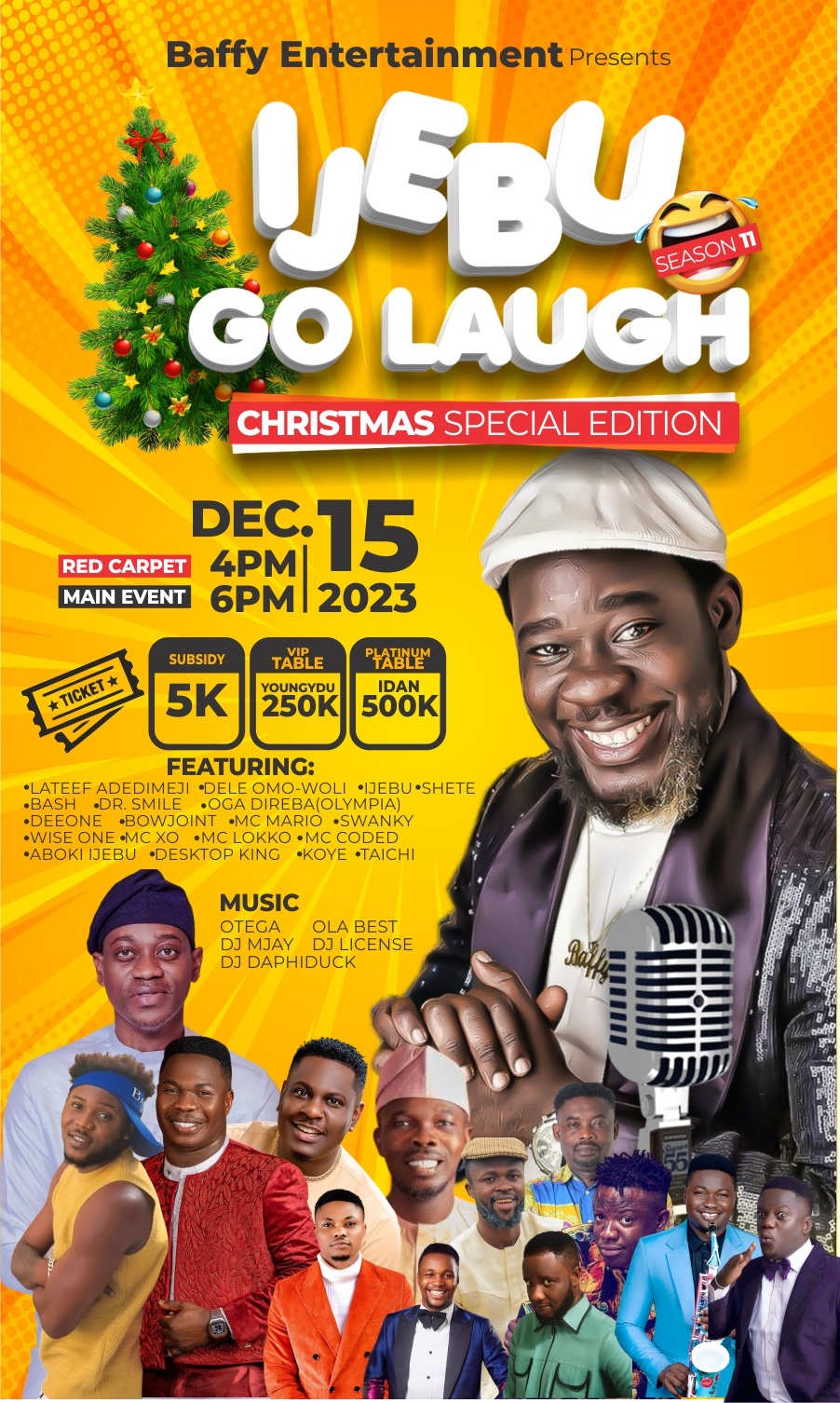 AdeDimeji Lateef, Dele omo Woli , Bash , Other A-list Comedians storm ijebu for Mc Baffy's Ijebu Go Laugh '23 Edition*
Fast-rising comedian and Master compere, Ayodeji Atanda prominently known around town as Baffy De Comedian will in few days time bring the AY Live experience to Ijebuland.
The grand event which promises to be a hit will hold on Friday, December 15, 2023 at the upscale Rolak Hotel and Suites, Imowo road, Ijebu Ode, Ogun state, starting from 4pm.
The annual comedy concert which has gathered momentum in recent years will have A-list comedians and artists like Lateef Adedimeji, Dele Omo-Woli, Ijebu, Dr Smile, Bash and Mc Mario in attendance.
Others music artistes and Nollywood celebrities expected are Olabest, Otega, Hephta, Koye, Shete, Mc Coded, Dj License and many others.
According to the convener of the award-winning programme, Mc Baffy, the comedy concert has been holding successfully in the last 11 years. We are out to thrill the audience with a breathtaking performance. I am bringing an AY LIVE experience to ijebu for ther first time and I am sure my people will be impressed.
DSS Raid: Igboho Denies Turning Into Cat To Escape Arrest
DSS Raid: Igboho Denies Turning Into Cat To Escape Arrest
Sunday Igboho, a Yoruba Nation activist, has finally spoken out about rumours that he transformed into a cat during a midnight raid on his home by the Department of State Services (DSS) in July 2021.
In an interview, Igboho refuted the report, saying that nothing like that occurred during the DSS raid.
He added that the DSS fired sporadically during the raid, killing multiple cats.
According to the activist, the DSS wanted to either kill or arrest him during the raid.
He said, "It is true that some cats were killed during the attack. Because the DSS just kept firing bullets in all directions. I was rearing cats as pets, and I had many of them in my house. So, anything or movement attracted sporadic gunshots.
"Their mission was to either kill me or arrest me and take me to an unknown destination, but the Almighty God is greater than anybody in this world, including the despotic ex-President Muhammadu Buhari."
Igboho added that he does not know whether the DSS brought three herbalists during the raid.
Yoruba Movie Gist Awards To Hold At RM Place Magodo Lagos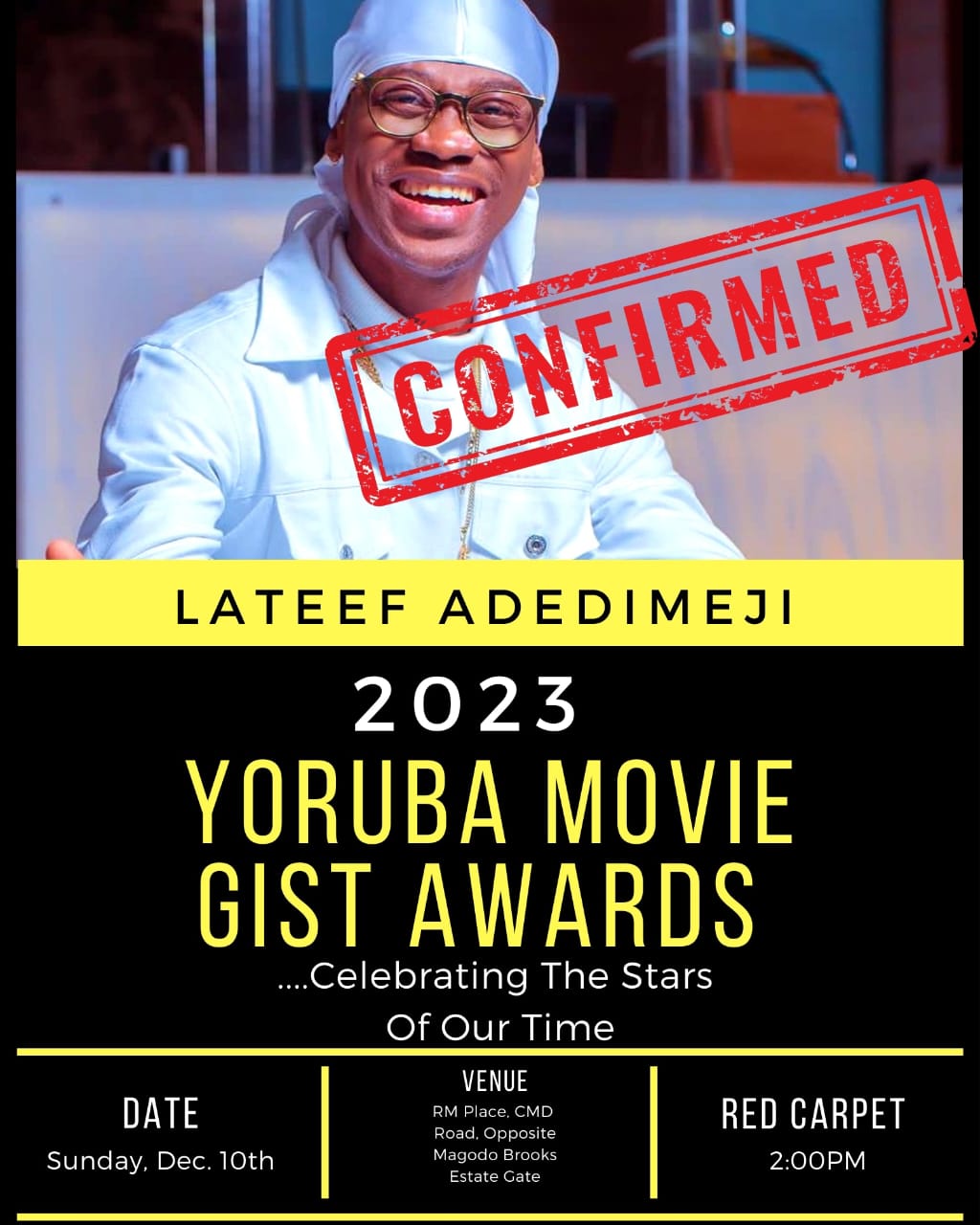 Yoruba Movie Gist Awards To Hold At RM Place Magodo Lagos
Olakiitan Adetutu Communications, spearheaded by Gbolahan Adetayo, the brains behind the esteemed Yoruba Movie Gist Awards, has disclosed RM Place, Opposite Brook Estate, CMD Road, Magodo, Lagos State, as the designated venue for the much-anticipated 2023 edition of the awards.
The prestigious ceremony is set to commence with a glamorous red carpet session at 2 pm, strictly adhering to a punctual schedule, and the main event will follow suit at 4 pm. The organizers emphasize a strict "No African time" policy, ensuring a timely and seamless experience for attendees.
This star-studded occasion promises the presence of top-tier Nollywood personalities, including the likes of Lateef Adedimeji, Ayo Olaiya, Yinka Salawu, Wumi Toriola, Omowunmi Ajiboye, Biodun Okeowo, and an array of other luminaries from the Yoruba movie industry.
Save the date, as the 2023 Yoruba Movie Gist Awards at RM Place, CMD Road, Magodo, Lagos, is destined to be an evening of glamour, recognition, and celebration within the vibrant landscape of Nollywood.