What happened to the soul of Alabama football?
What happened to the soul of Alabama football?
An argument could have been made before its 17-3 loss to Alabama  Football on Saturday that South Florida was the worst team in the country.
That's not a low blow or anything. There was compelling evidence.
A review of the sacrificial Bulls:
The last time South Florida defeated an FBS opponent was two seasons ago.
I
n 2022, the Bulls' only victory of the season was against Howard. In 2021, South Florida went 2-11 with victories against Florida A&M and Temple. In 2020, South Florida was 1-8 with a win against The Citadel.
South Florida opened this season with a 41-24 loss to Western Kentucky and then struggled last week in a victory against Florida A&M.
That's five total victories since the pandemic and three of them were against teams in a lower division. In ancient days, when the Greeks sacrificed oxen to the gods, South Florida's football program might have been described as a hecatomb of the horrendous.
Alabama was tied with that team 3-3 at halftime.
If you came here looking for answers to explain exactly what's wrong with Alabama football these days, then I got nothing for you. There is no way to explain this mess in rational words. Someone please find the thief who stole Alabama's soul this offseason. Alabama is supposed to have more blue chip NFL prospects than any team in the country. This team's offense looks helpless and confused like someone who took the bus to work and then forgot where they parked at the end of the day.
I'll just go ahead and say the thing out loud that everyone is thinking. It's starting to look like the beginning of the end for Nick Saban's time at Alabama. He'll go out on his own terms, surely, but for the first time since he's been back in college Saban's team resembles one of the joyless groups of pros he coached in Miami.
It's like the players in college are finally being paid like professionals and suddenly Saban is the clumsy magician unable to fool the children. In the end, Saban's retirement will be the price college football pays for finally allowing the players to make money.
Saban noted after that game that he was proud of the way his players competed. In an odd way, that notion seems somehow discouraging after the game I just watched.
Maybe I'm being too cynical. Hopefully that's the case. Certainly, though, something needs to change before next week's home game against Lane Kiffin's Ole Miss. We all know that Kiffin has been dreaming of knocking Saban off his throne ever since Saban fired Kiffin before the 2017 national championship game.
Coincidentally, the 2017 title game was at the same venue where Alabama struggled against South Florida. Here's a suggestion to Alabama's schedule makers. Make every attempt to avoid that place in the future. For the Tampa Bay Buccaneers, it's a fun stadium with a pirate ship. For the Crimson Tide, Raymond James Stadium feels like cursed pirate treasure.
There will be questions about Alabama's quarterback position going into the game against Ole Miss. From what we've seen, Jalen Milroe is clearly the best option going into conference play. At least Milroe moved the ball in the loss to Texas. Alabama's offense against South Florida was nonexistent and quarterbacks Tyler Buchner and Ty Simpson felt like they were one hit away from a serious injury. Why is Alabama's offensive line performing so badly? It's inexplicable.
How bad was Alabama's offense against South Florida? Buchner and Simpson combined to throw for 107 yards. Keep in mind that South Florida's defense allowed Florida A&M quarterback Jeremy Moussa to throw for 374 yards last week.
Saban's decision to bench Milroe for Buchner made a lot of sense. Now was the time to see the other quarterbacks in action. Either Buchner was the answer, or he wasn't. Saban pulled the cord on the parachute pretty quick.
Next up was former third-string quarterback Simpson. Why was Simpson the second choice this week? Saban said at halftime that "Ty was the guy who practiced the best as a backup quarterback."
That comment suggests that Milroe was dogging it in practice after his uneven performance against Texas. If so, add that concerning problem to the growing pile of all the rest.
This is no national champion contender. At least that much is clear three weeks into the season. Alabama was supposed to be angry about what happened in 2022, but I don't even know if this team is good enough to make a bowl game. Saban's team started the season ranked No.4 in the AP Poll. It was all based on reputation. The Tide then dropped to No.10 after the loss to Texas. It should drop out of the Top 25 after the game against South Florida.
It was a win in name only. It was showing up to sacrifice a bull and instead catching a horn to the heart.
Serie A: Oliseh advises Osimhen to quit Napoli over TikTok video
Serie A: Oliseh advises Osimhen to quit Napoli over TikTok video
Former Super Eagles head coach Sunday Oliseh has advised Victor Osimhen to leave Serie A champions Napoli.
Napoli mocked Osimhen in a TikTok video posted earlier this week after he missed a penalty in the 0-0 draw at Bologna.
The forward reacted by deleting all of Napoli's pictures and videos from his social media handles, with his agent threatening to take legal action against the club.
The 24-year-old snubbed a number of his teammates on his arrival at the team hotel ahead of Napoli's Serie A clash with Udinese on Wednesday.
Commenting on the issue, Oliseh wrote on his X handle:" Forever proud to be Nigerian; One must show personality, work hard & refuse to be intimidated. let Racists and ingrates talk! That's why they are eternal losers who secretly wish they were created like you! Osimhen needs to leave Napoli as soon as yesterday!!."
The forward has scored four goals in six league appearances for Rudi Garcia's side this season.
BREAKING: Ogun wins first medal in Asaba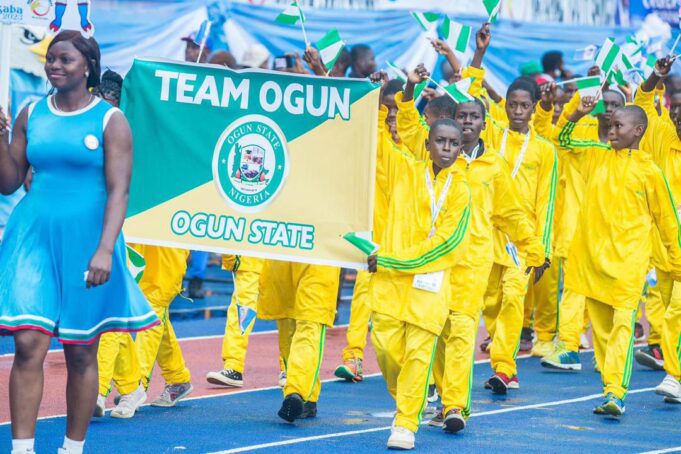 BREAKING: Ogun wins first medal in Asaba
Team Ogun has recorded its first medal at the ongoing National Sports Festival in Asaba, Delta State.
Mojeed Rilwan won Bronze in the 40kg Boys after a very hard-fought encounter against his rugged Edo State opponent.
A fight of 3 minutes for junior categories couldn't end until 34 minutes in a straight fight without any break.
#Asaba2023 #NationalYouthGames #TeamOgun #BuildingOurFutureTogether #ISEYA #DapoAbiodun
Megan Rapinoe's X account still active, claim of Elon Musk ban is false | Fact check
Megan Rapinoe's X account still active, claim of Elon Musk ban is false | Fact check
The claim: Elon Musk banned Megan Rapinoe from X
A Sept. 15 Facebook post claims an outspoken female athlete was banned from a popular social media platform.
"Breaking: Elon Musk Banned Megan Rapinoe From Twitter," reads the post. "Full story in the first comment."
It was shared more than 50 times in six days.
Our rating: False
Rapinoe's account on X, formerly Twitter, was still up as of Sept. 21. The story in the comment below the post claims the supposed ban happened after a back-and-forth exchange between Musk and Rapinoe on X, but there are no records of any such interaction.
No evidence of any X interactions between Rapinoe, Musk
Rapinoe's X account, a formerly verified account under the handle @MPinoe, was still accessible as of Sept. 21.
A review of archived screenshots of the account did not indicate it had recently been banned.
Though the article linked in the comments claims a ban came after an argument between Rapinoe and Musk on X, there is no evidence of any such exchange. A search of both Musk and Rapinoe's X accounts found no posts about or to the other.
Fact check: No, CNN did not announce EU citizens no longer need to work; it's a deep fake
Rapinoe is an outspoken advocate for various issues, including race, gender equality and LGBTQ rights. She has referred to herself as a "walking protest" and has knelt during the U.S. national anthem in protest of police brutality, as reported by CNN.
In various X posts, Musk has decried what he calls the "woke mind virus" that he claims is infiltrating institutions such as higher education and the media. He has also criticized what he described as an "anti-American self-destructive element in … elite circles within the U.S.," Fox News reported.
Musk has banned various users since buying the social media platform in October 2022. They include journalists who tweeted or reported on Musk's ownership of the company, comedian Kathy Griffin and Kanye West. The accounts have since been reinstated.
USA TODAY has previously debunked claims that Rapinoe stomped on an American flag, that Musk admitted to being a flat earther and that Musk intends to buy Meta.
USA TODAY reached out to the user who shared the post for comment but did not immediately receive a response.
Our fact-check sources:
Thank you for supporting our journalism. You can subscribe to our print edition, ad-free app or e-newspaper here.
Our fact-check work is supported in part by a grant from Facebook.