5 LASTMA Officers sacked, 14 demoted over extortion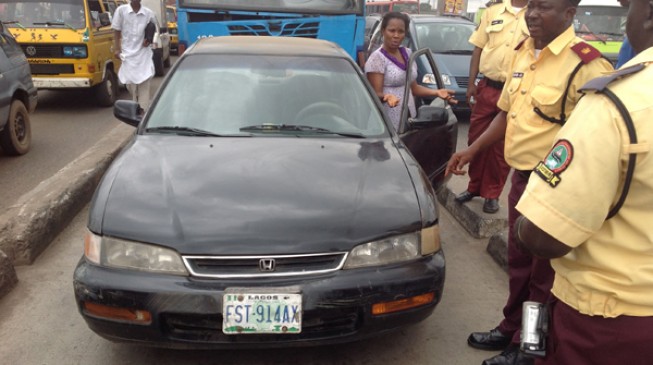 The Lagos State Government has sacked five officials of the Lagos State Traffic Management Authority, LASTMA, for various forms of offenses ranging from extortion, harassment and violation of Lagos State Public Service Rules.
General Manager, LASTMA, Olawale Musa disclosed this on Thursday, saying that the agency recommended five of the unruly officials for dismissal and demote 14 others, adding that 15 others were issued letters of warning, while three were exonerated after careful investigation.
"The affected officers appeared in the month of April before the Personal Management Board (discipline) to defend and make presentation on various actions that bothered on indiscipline against them," the agency said. Besides, Musa condemned incessant attacks of traffic officials by motorists, especially commercial drivers, saying the officials were on the roads to ensure motorists and commuters get to their destinations without stress and discomfort.
"It was disheartening, callous and barbaric seeing a LASTMA official, Olanrewaju Yusuf stabbed on duty at Onipanu last week Wednesday while performing a lawful duty, by a driver of commercial yellow bus with registration number EPE 714 XP for picking passengers at undesignated place and conductor hanging at the door. I like to use this medium to call on motorists to always report erring officials to the agency and not adopt self help as anybody caught attacking officials of the agency would face full wrath of the law," Musa said.
He also appealed to motorists plying routes where major construction works were ongoing to bear with the state government and comply with traffic directive, saying concerted efforts have been put in place to deliver the projects on schedule. Musa, who spoke after monitoring flow of traffic along Lagos-Abeokuta and Apapa- Oshodi Expressway, said the road projects across the State were being implemented by the State Government to ultimately achieve free flow of traffic within the metropolis, and thereby boost economy and commerce.
The State Government is currently working on major road projects including Lagos – Abeokuta Expressway, Oshodi- Apapa Expressway, Murtala Muhammed International Airport Road, Agege Pen Cinema, among other massive roads reconstruction across the State.  Musa said necessary engineering research and traffic count had been done before the construction of Bus Rapid Transit (BRT) corridor on the Lagos-Abeokuta Expressway, just as he dispelled insinuation that the project would make the road to be smaller in length.  "Let me appeal to motorists plying the routes where construction activities are ongoing to bear with us and comply with instruction by traffic personnel on the roads.
The projects will ultimately contribute to free flow of traffic as well as boost economy and commerce.  "Also, the construction of the BRT corridor along the Lagos-Abeokuta Expressway will not narrow the road size as being anticipated by some motorists, but it would rather enhance the road capacity to accommodate more vehicles and improve free flow of traffic at completion," Musa said.
Specifically, the LASTMA boss appealed to members of the public using roads under construction to exercise patience in the meantime, adding that the projects, upon completion, would make traffic congestion being experienced on the roads to become a thing of the past.  While assuring that motorists and commuters would soon heave a sigh of relief, Musa urged them to continue to obey traffic rules and regulations and cooperate with the LASTMA officials who, according to him, are on the road to ensure free flow of traffic.
He commended motorists for their patience and perseverance since the commencement of the projects, and appealed to them to bear with the government as the road construction works and diversions were designed to ensure the safety of motorists and free flow of traffic.  "All the measures put in place to control traffic are in the interest of public and the State Government is doing its best to ensure that the projects are completed within the stipulated period," he said.
Blame Judiciary for crime increase in Lagos – CP Idowu Owohunwa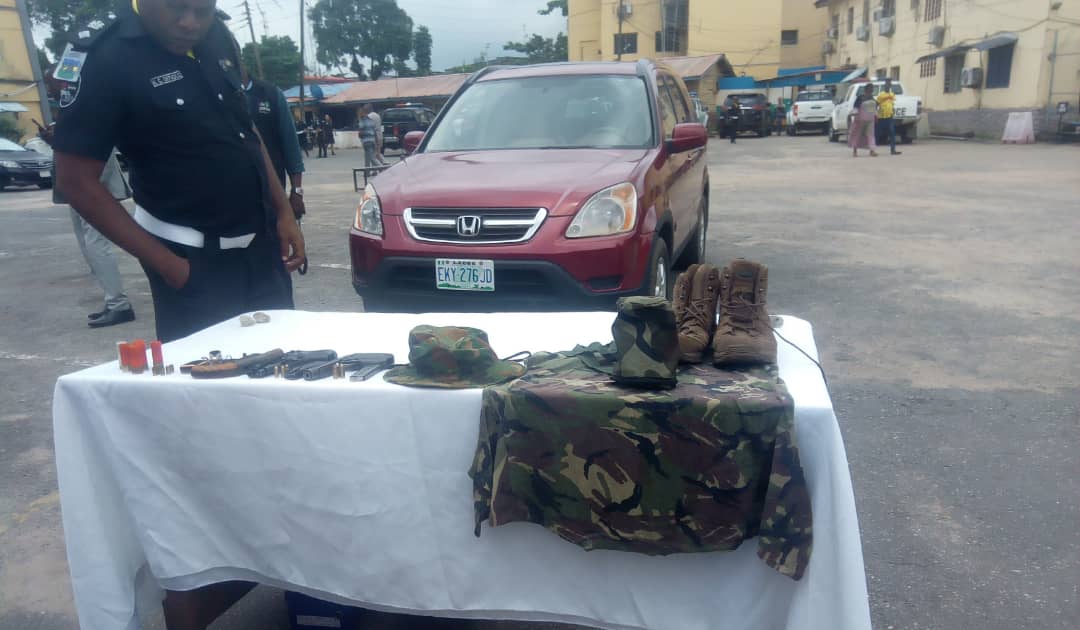 Blame Judiciary for crime increase in Lagos – CP Idowu Owohunwa
By Ifeoma Ikem
Sahara Weekly Reports That The Lagos state Commissioner of Police, CP Idowu Owohunwa says the judiciary should be blamed for the increase of crime in the state.
The police boss made the disclosure at the State Police Command Headquarters, Ikeja while parading the three suspects arrested in connection with the killing of Adeniyi Sanni, an aide to the Senator representing Ogun West; Solomon Adeola (a.k.a. Yayi).
While briefing journalists on the painstaking efforts made by officers and men of the Lagos Command in tracking down the three men, Owohunwa bemoaned the emerging trend of giving light sentences or freeing such suspects arrested and prosecuted in the past by the judiciary.
"Through painstaking intelligence and investigative activities, we have succeeded in arresting the syndicate of the robbery and murder. The three suspects directly involved in the robbery and murder were arrested with three firearms including the killer's weapon were recovered."
The suspects Fred Azeez Okuno, 43-year-old Lagosian; Lucky Idudu Michael, 33-year-old from Delta State, and Adedigba Segun, 26-year-old from Oyo State.
Owohunwa said investigation so far revealed that the three suspects were directly involved in the robbery and murder of Sanni.
He said that on multiple occasions the security agencies have tried their possible best to reduce crime and the activity of criminals across the state metropolis but that after they had been processed through the judicial system and they always found a way to remain a menace to the society.
"As much as we are interested in advancing the process of justice, it is expedient that we also appeal for the process to strike a balance between Justice administration, criminal Justice delivery and overriding internet security situations across the country.
"It will lessen the load in terms of dealing with recycled criminals which is the major problem we're facing in Lagos.
He noted that there have been instances where the judiciary neglected the gravity of the crime committed and chose to give soft landing to such criminal elements who in turn come back to perpetrate more vicious crimes like in the case of the three paraded suspects whom he described as "jail birds."
"Investigations revealed that the three suspects had at one time or the other been arrested, tried and jailed over criminal offences and their years in correctional centres had only helped to harden them".
In their confessions to journalists, the suspects who were masked by police to avoid being accused of human rights violation during the parade said they did not intend to kill Sanni whose identity they did not initially know.
They had stopped him presenting themselves as security agents wearing army uniforms with intention to rob him of his vehicle which had no plate number yet.
"It was a tokunbo Camry car, black in colour. We only rob tokunbo cars which we normally take to Alhaji in Republic Benin to sale," said one of the suspects.
According to their confession, Sanni was shot when he raised alarm seeking help from people when he noticed that they might not be genuine military men after they had checked his vehicle documents and yet refused to free him.
After shooting him repeatedly with pistol, they dumped his body at the booth of the vehicle but when they noticed he was still alive, they stabbed him to death and subsequently dumped his corpse on the way. When they drove near Nigeria's border with Republic of Benin, they called Alhaji to come and take delivery of the vehicle.
The police commissioner also bemoaned the lapses going on in Nigeria Correctional Service facilities as confessions made by the paraded suspects revealed that their gang was formed while they were serving jail sentences.
One of the suspects, Lucky Idubu told journalists that it was in the correctional centre (prison) that someone gave him the phone number of one Alhaji he could work with on completion of his earlier sentence.
The three of them meet in prison and built their network, they were connected to the Alhaji and up till now still have some elements in custody operating from the center.
He that the Alhaji was incidentally the one behind activities of the gang soon after they were released from their earlier sentences.
The Alhaji (name with-held) currently at large is said to be a Nigerian but resident in Republic of Benin from where he coordinated the car robbery and murder gang.
The suspects confessed that they negotiated with Alhaji to pay them N3million which he promised to remit soon after he must have sold the vehicle.
According to them, Alhaji had requested them to come with another vehicle when coming for their N3million, but they became unfortunate as police arrested them before they could embark on the second mission.
During their arrest, police recovered one brand new pistol with three live ammunition, one Baretta pistol with three live ammunition, one locally made pistol with six live cartridges, six expended cartridges, military gear comprising a military camouflage vest, jungle hat, pistol hose and a red Honda CRV from the suspects.
According to the police commissioner, investigation has revealed that the gang members were on narcotics as at the time they carried the act.
He has raised alarm on the growing trend of criminals impersonating military personnel wondering where they procure the uniforms and other accoutrements. "This portends great danger as members of the public might not easily know who is a genuine military personnel or not."
At the parade were representatives of the Nigerian Army from 9th Brigade who were there to observe and listen to the confessions of the suspects and possibly fashion out how best to form synergy with the police in curbing crimes.
The CP said that the parade event has also established that the security agencies have in their hands a high notorious criminal international network and unfortunately most of their transporting equipment are transported from Nigeria to Cotonou.
"This is a very high possibility that they will be recycled back into the Nigerian market and buyer who fall victim of such purchase stand the risk of being brought to Justice
"We have activated our unique Interpol's and network to break the trans border components of these crimes.
"I can assure you that in due course success will be achieved and the so called alhaji will be brought to Justice".
The CP said that the component problems is the inpersonation of the military in order to perfect these crimes.
"when it first occurred there was a wild concern that military men are now involved but today through the painstaking intelligence activities of the police we've been able to prove that the brain behind these crimes only took advantage by acquiring the military kit in order to deceive members of the public and perfect their crimes.
The Senator's aide Adeniyi Sanni was killed on August 5, 2023 when he was stopped by 'fake security' agents wearing Nigerian Army uniform at a checkpoint in Ojodu Berger area on his way to his home in Isheri, Lagos.
102-year-old WWII veteran Breaks Records at Great North Run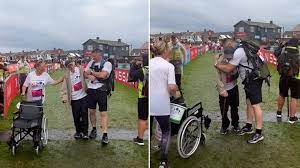 102-year-old WWII veteran Breaks Records at Great North Run
A 102-year-old veteran of World War II has become the oldest man to complete a half marathon after finishing the Great North Run.
Bill Cooksey, who served in the RAF between 1941 and 1951, covered the 13.1-mile course from Newcastle to South Shields with the aid of walking companion Gavin Iceton in five hours and 41 minutes.
The centenarian had previously completed 10 miles a day for 10 days for his 100th birthday and cycled 1,000 miles for his 101st birthday, and took on the challenge to support the County Durham and Darlington NHS Trust.
"I've always wanted to do it," MR Cooksey told ITV ahead of the event. "I've been up here 30 years and always walked, and when I heard about the Great North Run I thought 'I'll be able to do that surely,' because there's the additional impetus of the NHS.
"Actually I don't think I would have done it if it wasn't of benefit to the NHS."
A true inspiration. 💙

At 102 years old, Bill Cooksey has crossed the AJ Bell #GreatNorthRun! 👏

Huge congratulations, Bill! 🙌 pic.twitter.com/Ssu1cShr6e

— Great Run (@Great_Run) September 10, 2023
The Great North run was hit by torrential downpours after a week of heat in the United Kingdom.
Some runners were forced to walk home after flash flooding hit roads and the Tyne and Wear Metro system.
Mr Cooksey, though, managed to survive the conditions to complete his challenge and raise more money for the NHS. "I am glad I have done it," he said to the Daily Mail. "I wish we didn't have to go through all that rain – but we did it."
Pat Chambers, charity development manager at the trust, added: "What a hero Bill Cooksey is.
"He continued walking through a thunderstorm to become a record breaker completing it in just over five hours 40 minutes. We are so proud of him."
Favour Oladele: Prophet, Owolabi Sentenced To Death Over Murder Of LASU Student
Favour Oladele: Prophet, Owolabi Sentenced To Death Over Murder Of LASU Student
Mother jailed for eating human flesh
An Osun State High Court sitting in Ikire, headquarters of Irewole Local Government, on Monday, sentenced 42-year-old Prophet Philip Segun and Adeeko Owolabi (23) to death over the murder of a 400-level Sociology department student of Lagos State University (LASU), Favour Oladele.
The mother of Owolabi, Adeeko Bola (46), was also sentenced to two years imprisonment for eating human flesh cooked for her.
Prophet Segun was the owner of Cherubim and Seraphim Church, Solution Chapel, Ikoyi-Ile, where Owolabi and his mother went to seek wealth on 8th December 2019.
The convicts were arraigned on 15th November 2021 on two counts charge of conspiracy and murder contrary to sections 324 and 319(1) of the Criminal Code Cap. 34 Laws of Osun, 2002.
Led by the Solicitor General and Permanent Secretary, Adekemi Bello, the prosecution team from the state Ministry of Justice told the court that Owolabi lured the victim, killed her, while her heart was cooked and other parts of the victim were used to make 'victory soap' for Bola.
The prosecution called nine witnesses and tendered exhibits, while the convicts, who had no witnesses, testified before the court and Owolabi confessed that he used his girlfriend to prepare a ritual meal for money ritual.
The presiding Judge, Justice Christiana Obadina, agreed that prosecuting counsel has proven her case beyond a reasonable doubt and found the convicts guilty as charged.
Counsel to the convicts, Adeshina Olaniyan, urged the court to temper justice with mercy in passing her judgment.
The court, thereby, sentenced prophet Segun and Owolabi to death by hanging for murder and 14 years imprisonment for conspiracy.
Justice Obadina also sentenced Bola to two years imprisonment for eating human flesh.