AFRIKA SHRINE REPRESENTS CULTURE, STRENGTH, MUSIC OF THE CONTINENT- MACRON …Visit Will Open New Vista Of Cooperation Between France And Lagos- Ambode …Insists State Remains Undeniable Destination For Business, Pleasure In Africa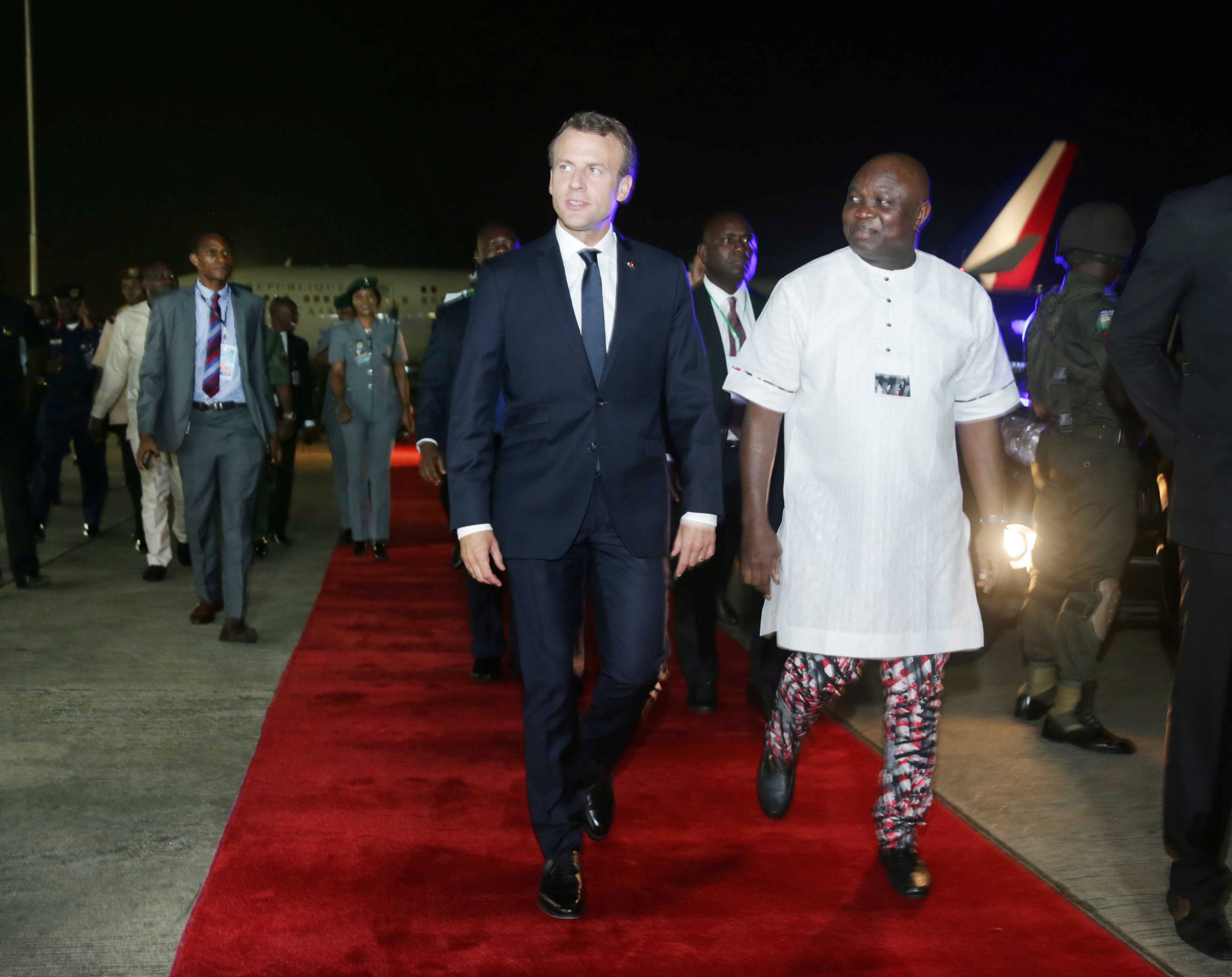 President of France, Mr. Emmanuel Macron on Tuesday night made a historic visit to the Afrika Shrine, home of the late Afrobeat legend, Fela Anikulapo Kuti, describing it as an iconic centre for the propagation of African culture, strength and music.
Macron, who spoke at the New Afrika Shrine in Agidingbi, Ikeja, Lagos, at an event tagged 'Celebration of African Culture' to inaugurate the African Cultural Season 2020, said he was glad to be back to the Afrika Shrine, adding that he still holds fond memories of the place since his first visit back in 2002.
"I discovered Nigeria and a lot of my friends are here. I discovered Nigeria and I discovered Lagos and I discovered the shrine. This place is an iconic place and it is a place where the best of music is given. I have to say my main memories about this place are friends, proud people, proud of their culture, proud of their art and music. I have a very different view of Africa than a lot of other people in Europe," he said.
Macron stressed the need for Africa and Europe, especially France to build a new commonality, adding that "this new commonality is not based on what is important for Europeans but what is important for Africa, about their culture, how they build their culture and promote the culture and which places are important for them about their culture. Being here, I do recognize their culture and respect their views. This place is important for Africa and their culture and that is why I am here."
He also disclosed plans to host the African Cultural Season 2020 in France, which he said, would be about promoting African culture in Europe, adding that the event was going to be for Africa and by African artistes.
"It will include people with fashion, African movies, new generation of artistes will be coming from Africa and it will be organized by them to show Europe and France" the real culture of Africa.
"The event will be financed by African leaders. It will not be sponsored by France or European businesses, but by African businesses, it is brand new. This season is a unique one and it will be the new face of Africa in Europe organize by Africans, providing what you like and what you have here," he said.
At the official unveiling of Alliance Francaise, a French Cultural Centre in Lagos on Wednesday, Macron said the development was part of the measures to scale up the relationship between France and Nigeria, while also specifically offering the commitment of the government and people of France to development of infrastructural projects in Lagos.
"Thanks very much for being here; thanks very much for making this possible and to Mr Governor, we spoke yesterday and this morning together in the car. Going to shrine together yesterday and going to French Alliance now. It's much more quite, much more calm and reasonable but at the end of the day, I think both of us (Governor Ambode and I) did share the same views that we can do tremendous things together.
"Your State – Lagos, is one of the main challenges of not just Nigeria but the whole of Africa. I mean this huge city, there is tremendous challenge about how to make people living together in peace, in a better place and I want France to be part of this story and I do want my country and my people being part of this experience. It means belonging same values, sharing cultures, languages, literatures, music, movies, building together projects, having common economic projects and so on, and this eco system will be not just possible but stronger staying in this place," Macron said.
Earlier, Lagos State Governor, Mr. Akinwunmi Ambode while welcoming President Macron to the State, expressed optimism that the historic visit will go a long way to break any barriers between Nigeria and France as well as foster greater collaboration for economic, social and cultural growth.
The Governor said the State Government was delighted to host Macron, a well respected global leader, adding that it would also signal a new era between both countries, especially for Lagos where talents in the arts and creative industry abound.   
"On behalf of the government and good people of Lagos State, I welcome His Excellency, President Emmanuel Macron, President of France, to the commercial and cultural capital of Nigeria and indeed West Africa.
"We are delighted and honoured to be hosting a President of one of the world's Super Powers; a permanent member of the United Nation's Security Council with veto rights, a prominent member of the G8 and the World Trade Organisation and a champion of Global Climate Change.
The Governor said he was particularly delighted that Macron's visit to Lagos began on a cultural and entertainment note, adding that the French Cultural Centre and Alliance Française based in the State had always been an asset to its cultural landscape in the same way that Trace Television had also become an invaluable addition to its music and entertainment sphere.
Governor Ambode said he was very optimistic Macron's visit and activities would boost the State's quest to become the culture and entertainment capital of Africa, just as he said that the State Government would seek to establish collaborations with France and play an integral part of the Year 2020 African Cultural Season in Paris as envisioned by President Macron.
"With the exceptional characteristics of our State as the most populous, vibrant and indeed the fifth richest economy on the African continent, Lagos is the undeniable destination for business and pleasure in Africa. The new Lagos experience is being enhanced daily as we continue to create an enduring infrastructural and security architecture for the business of tourism and cultural arts to thrive. This also creates a platform for our local talents to feel a sense of belonging and encouragement.
"Mr. President, this momentous State Visit shall signal the dawn of a new era between France and Nigeria especially for the myriad of talents that have made Lagos their home," the Governor said.
He said Macron's emergence as the President of France has inspired many youths in Nigeria, who constitute 60 percent of the country's population, adding that Lagos was providing avenues for youths to explore their creativity and talents.
There were also Art Exhibition, Fashion Show, display of Nollywood scenes, presentation of a painting of Fela to Macron by Governor Ambode as well as pencil frame artwork of Macron done by 11-old old Kareem Olamilekan drawn within two hours.
Highpoints of the night include sterling performances by dance group, Footprints of David, music artistes, Yemi Alade, Charlotte Dipanda from Kenya and a scintillating performance by Femi Kuti to bring the event to a close.
SIGNED
HABIB ARUNA
CHIEF PRESS SECRETARY
JULY 4, 2018
AdeDimeji Lateef, Dele omo Woli , Bash , Other A-list Comedians storm ijebu for Mc Baffy's Ijebu Go Laugh '23 Edition*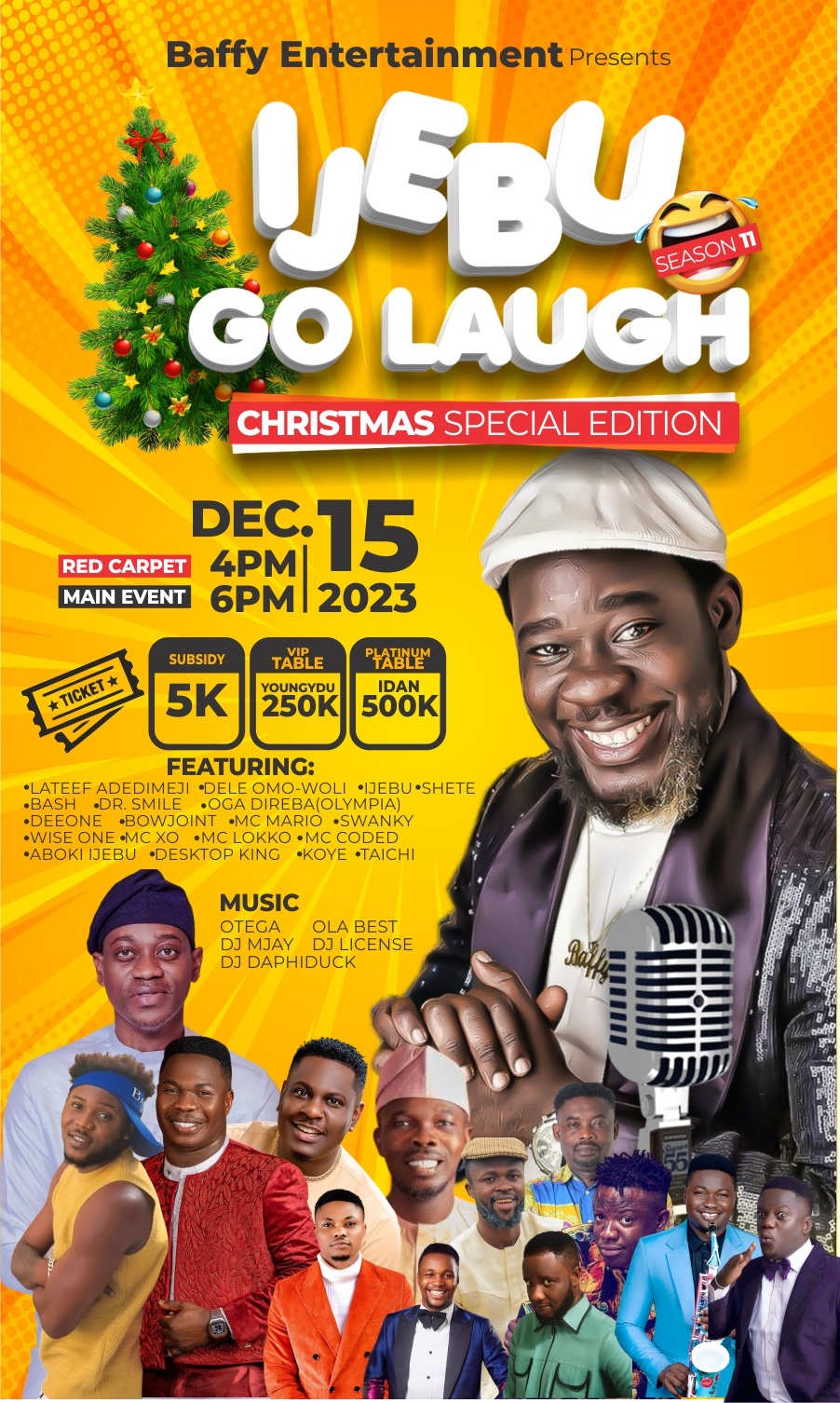 AdeDimeji Lateef, Dele omo Woli , Bash , Other A-list Comedians storm ijebu for Mc Baffy's Ijebu Go Laugh '23 Edition*
Fast-rising comedian and Master compere, Ayodeji Atanda prominently known around town as Baffy De Comedian will in few days time bring the AY Live experience to Ijebuland.
The grand event which promises to be a hit will hold on Friday, December 15, 2023 at the upscale Rolak Hotel and Suites, Imowo road, Ijebu Ode, Ogun state, starting from 4pm.
The annual comedy concert which has gathered momentum in recent years will have A-list comedians and artists like Lateef Adedimeji, Dele Omo-Woli, Ijebu, Dr Smile, Bash and Mc Mario in attendance.
Others music artistes and Nollywood celebrities expected are Olabest, Otega, Hephta, Koye, Shete, Mc Coded, Dj License and many others.
According to the convener of the award-winning programme, Mc Baffy, the comedy concert has been holding successfully in the last 11 years. We are out to thrill the audience with a breathtaking performance. I am bringing an AY LIVE experience to ijebu for ther first time and I am sure my people will be impressed.
DSS Raid: Igboho Denies Turning Into Cat To Escape Arrest
DSS Raid: Igboho Denies Turning Into Cat To Escape Arrest
Sunday Igboho, a Yoruba Nation activist, has finally spoken out about rumours that he transformed into a cat during a midnight raid on his home by the Department of State Services (DSS) in July 2021.
In an interview, Igboho refuted the report, saying that nothing like that occurred during the DSS raid.
He added that the DSS fired sporadically during the raid, killing multiple cats.
According to the activist, the DSS wanted to either kill or arrest him during the raid.
He said, "It is true that some cats were killed during the attack. Because the DSS just kept firing bullets in all directions. I was rearing cats as pets, and I had many of them in my house. So, anything or movement attracted sporadic gunshots.
"Their mission was to either kill me or arrest me and take me to an unknown destination, but the Almighty God is greater than anybody in this world, including the despotic ex-President Muhammadu Buhari."
Igboho added that he does not know whether the DSS brought three herbalists during the raid.
Yoruba Movie Gist Awards To Hold At RM Place Magodo Lagos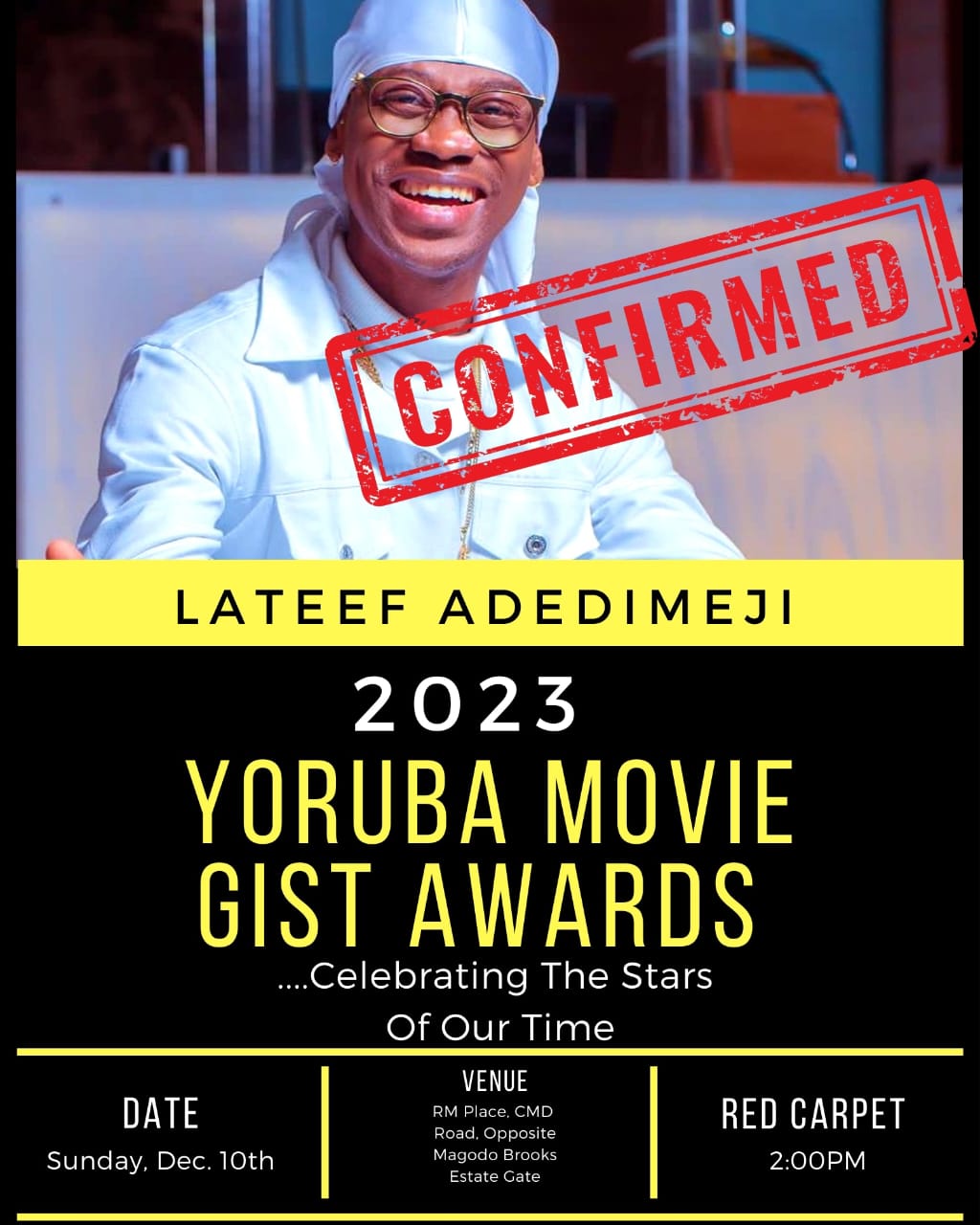 Yoruba Movie Gist Awards To Hold At RM Place Magodo Lagos
Olakiitan Adetutu Communications, spearheaded by Gbolahan Adetayo, the brains behind the esteemed Yoruba Movie Gist Awards, has disclosed RM Place, Opposite Brook Estate, CMD Road, Magodo, Lagos State, as the designated venue for the much-anticipated 2023 edition of the awards.
The prestigious ceremony is set to commence with a glamorous red carpet session at 2 pm, strictly adhering to a punctual schedule, and the main event will follow suit at 4 pm. The organizers emphasize a strict "No African time" policy, ensuring a timely and seamless experience for attendees.
This star-studded occasion promises the presence of top-tier Nollywood personalities, including the likes of Lateef Adedimeji, Ayo Olaiya, Yinka Salawu, Wumi Toriola, Omowunmi Ajiboye, Biodun Okeowo, and an array of other luminaries from the Yoruba movie industry.
Save the date, as the 2023 Yoruba Movie Gist Awards at RM Place, CMD Road, Magodo, Lagos, is destined to be an evening of glamour, recognition, and celebration within the vibrant landscape of Nollywood.