Alleged extortion of N22m Bitcoin: More victims petition IGP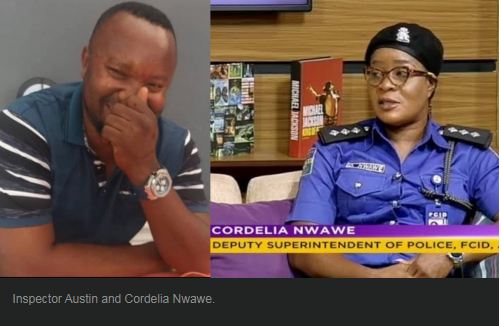 Alleged extortion of N22m Bitcoin: More victims petition IGP of extortion by indicted DSP Cordelia
They extorted N2m from me ,a Nigerian in Diaspora alleges
By Ifeoma Ikem
The end may not have been heard of the indictment of a female Police officer, DSP Cordelia Nwawe and members of her team,attached to the Force Criminal Investigation and Intelligence Department, FCIID, Alagbon,Lagos,who were alleged to have extorted N22 million worth of bitcoin from two young Nigerians in July 2021.
This followed petitions by some Nigerians who claimed to have fallen victims of same fate as the two real estate developers identified: Morakinyo Peter and Yusuf Samson,to the Special Investigation panel instituted by the Inspector-General of Police, IGP Alkali Usman Baba,to investigate the allegation of extortion by the police officers.
It was gathered that some of the petitions were written by Nigerians who based abroad,some of whom recounted their ordeals during visits to their home country.
One of the petitions by a London- based Nigerian,Tosin Enikuomehin,alleged that DSP Cordelia and her team forced him to cough out N2 million to bail himself, three years ago.
Enikuomehin, in the petition, said, " I had just arrived into Nigeria from London,to set up my business and further create employment for the people of my neighborhood in Lekki Lagos state.
On September 2,2019, I went to the bank to deposit some money into my GTB account in Victoria Island,when I noticed some men were staring at me strangely. I ignored them as I was in the banking hall and felt a bit safe.
"As I was walking out of the banking hall towards my car, I noticed the men were following me. I got into my car and drove off as fast as I could. On reaching LekkiToll gate,they jumped out from a van, banged on my glass violently and demanded that I scroll down my glass. I was shouting from inside my car, demanding to know who they were.
" One of them showed me an Identity card which read FCIID with his picture and name on it. I calmed down a little bit and scrolled down, speaking to them. But one of them pushed my window down forcefully, opened my car door to allow his colleagues in. They seized my phone and started yelling at me ,saying I was into illegal dealings.
" I laughed and showed the person that earlier introduced himself to me,(Austin) my work details,my business information and also a CAC certificate to start operations in Nigeria. They told me to get to the back of my car, they handcuffed me and seized my phones.
"When I got to the police station, they demanded N20 million for bail, which I thought was insane. They started making threats at me with their guns pointed at me, saying things like if I don't cooperate they would put a placard on my neck and label me a fraudster and also parade me on television. They even threatened to shoot my ankle.
" At that point I started pleading with them to give me my phone so I can speak with my lawyer and a family member. They refused and said I would only get my phone if I was calling to ask for money for them, otherwise I would be locked up.
"I demanded to speak to their superior who at that time was DSP Cordelia. She also showed no remorse towards me or handled my matter professionally. Instead,she ordered them to lock me up if I didn't pay. By then it was getting dark. They decided I was to be locked up in the cell with a bunch of suspected criminals.
While in the cell, I started thinking of what could happen if I didn't cooperate with them. The next morning when they came to the cells, I told them that I would pay and they said my bail money was N2 million,I agreed out of fear of uncertainty.
One of the officers drove me to the bank where I withdrew N2 million cash and gave to them.
The following day after I was set free, I started feeling sick and subsequently got diagnosed with malaria. A few days later I flew out of Nigeria to regain sanity.
"Seeing the spotlight being put on these police officers is a major step forward in fighting corruption and also weeding out criminal elements within the police force.
Officer Austin is a short light skinned officer and DSP Cordelia, the lady who apparently schooled in the UK with such a bad example.
"I have the receipts of the forceful withdrawal made from my bank account and also a video evidence of me in Alagbon. I have Austin's phone number and his colleague's, Kenny,who equally harassed and extorted me. I also have a lot of alibis in case this is needed in bringing these policemen to justice".
Moves to truncate investigation
Meanwhile, there are reportedly moves by some Nigerians to truncate ongoing investigation into the alleged extortion of N22 million bitcoin. Some of these moves, as reliably gathered, are from relatives and friends of top police officers, said to be prevailing on members of the Special Investigation Panel instituted by the IGP to carry out discreet investigations.
Already, DSP Cordelia and the other Police personnel allegedly indicted in the report, had been ordered to report to the Special Investigation Panel, Force Headquarters, Abuja, since December 21,2021 to answer the allegations against them.
The Police High command in a statement signed by its Force Public Relations Officer, CP Frank Mba, stated categorically that " the alleged actions of the Police Officers in question do not represent the standards and practices of the Nigeria Police Force and as such any officer found wanting will be visited with the full wrath of the law. Members of the public are enjoined to remain calm as the Force will provide timely updates and make the outcome of the investigation public".
PRESIDENT BUHARI MOURNS THE DEAD, CONDOLES WITH ONDO STATE GOVT AND PEOPLE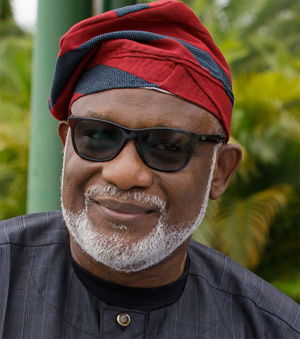 PRESIDENT BUHARI MOURNS THE DEAD, CONDOLES WITH ONDO STATE GOVT AND PEOPLE
President Muhammadu Buhari has condemned the heinous killing of worshippers Sunday at the St Francis Catholic Church, Owa-luwa Street, Owo Kingdom, in Ondo State.
The President says only fiends from the nether region could have conceived and carried out such dastardly act, adding that eternal sorrow awaits them both on earth here, and ultimately in the hereafter.
President Buhari mourns the dead, condoles with their families, the Catholic Church, and the Government of Ondo State, charging emergency agencies to swing into action, and bring succor to the wounded.
"No matter what, this country shall never give in to evil and wicked people, and darkness will never overcome light. Nigeria will eventually win," the President says.
*Femi Adesina*
Special Adviser to the President
Media and Publicity
June 5, 2022
Zamfara State Commissioner of Information, Ibrahim Dosara, Mourns Brother In- Law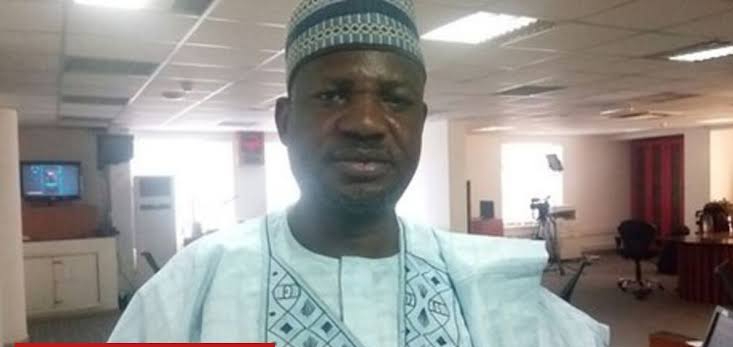 Zamfara State Commissioner of Information, Ibrahim Dosara, Mourns Brother In- Law
Zamfara State Commissioner for Information, Ibrahim Dosara, has announced the death of his bother-in-law, Ibrahim Abubakar (Gandi) who died at the early hours of today friday June 6th, 2022 after a protracted illness.
In a statement released to newsmen today and made available to our Medium, Honorable Dosara said, "With heavy heart, deep sorrow and total submission to the will of Allah (SWT), I announce the demise of my younger brother in- law Ibrahim Abubakar (Gandi) who died at the early hours of today friday June 6th, 2022 after a protracted illness."
"The deceased who is a younger brother to my first wife Hajiya Rabi Abubakar Danmaliki, died at the Usmanu Dan Fodiyo University Teaching Hospital (UDUTH) Sokoto and has since been buried according to islamic tradition."
The funeral prayer which was performed at the family house of former Chief Judge of Sokoto state, Justice Bello Abbas Gidadawa at about 10 am this morning, was attended by a large crowd of family members and sympathizers, comprising prominent personalities within and outside Sokoto metropolitan.
He was survived by one wife and six children.
May the Almighty Allah grant his gentle soul Jannatil Firdausi and the family the fortitude to bear the irreparrable loss. Amen.
Nigerian Political Parties Lack Ideology" – Joko, Mindshift Convener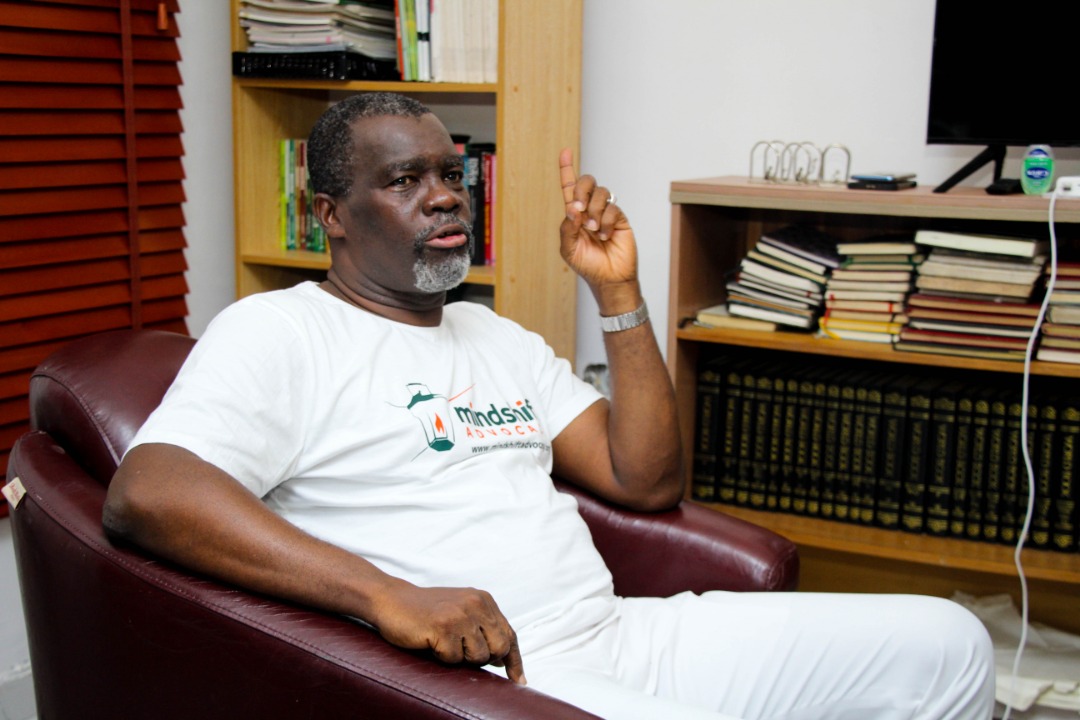 "Nigerian Political Parties Lack Ideology" – Joko, Mindshift Convener
The Convener, Mindshift Advocacy for Development Initiative, Mr. Joko Okupe, has indicted Nigerian political parties for lack of ideological direction. Mr. Okupe made this declaration in a media interaction held recently at the Mindshift corporate office in Ikeja, Lagos.
Fielding questions from the press the Mindshift Convener argues that none of the parties in Nigeria contending and jostling for political power come 2023 is driven on the wheels of ideology. What directs the life and operations of a political party in a democracy, he said, is ideology. Ideology is the bulwark of the party's culture. It stands tall as the oil or blood that runs the engine of the party and directs the actions of both the party officials and the membership.
According to Mr. Okupe, "Ideology consists of the common beliefs, values, and norms of the party directed at defining the kind of society a party plans to build. It comes from a common vision designed by the party as a roadmap to the society in view. Ideology forms the operating framework from where the political parties draw their inspirations and strategies which are encapsulated into manifestoes and agendas and subsequently communicated to the public through their campaign communications. But can we say the parties have any ideological direction? How, for instance, can you distinguish APC from PDP. Because the parties lack ideology, so there are no distinctions in their manifestoes. Every party appears to be saying the same thing about: building infrastructure, providing youth employment, providing good health care and good education. But we know it is the same thing they have been saying since 1999".
Speaking further about the Nigerian state and the type of leader Nigerians will expect come 2023 he said, "There is no political party in Nigeria today you can say is a shining example of what a political party should be. They all lack ideology. We are in a Nigerian state variously described by political scientists as predatory, prebendal, parasitic, patrimonial, neo-patrimonial, crony, kleptocratic, venal, greedy, etc., that has created a crop of leaders who in themselves are selfish and do not understand their own historical mission. Under this situation he posited that we need a certain kind of leader. "We need a leader who is sufficiently knowledgeable about the task ahead, and understands the context behind Nigeria's current historical trajectory, and would be ready to tackle it headlong. We need a leader who is bold, brave, and courageous – who can break the bounds of our stranglehold. A leader who understands the need to build cohesion in a multiethnic and multicultural society. We need someone who can confront orthodoxy and demolish our fault lines without diminishing our disparate cultural and ethnic values. Such a leader needs to have a clarity of his vision and how he wants to achieve it. I have not seen much of that in the present crop of party contenders for the post of the president in 2023."
Speaking on the solution to the Nigerian leadership problem, he said that Nigeria needs an upgrade in the reformulation of the state, the leadership class, and the citizens. The state is malfunctioning because of its hackneyed structure which tilts towards centrality and unitary-federalism. That is an aberration in a multiethnic and multicultural state. The leaders are selfish and visionless, attracted only by the fancy of their kleptomaniac tendencies. They do not understand the very purpose of life, and hence can hardly understand the essence of leadership. The followers are famished and lack the understanding of what liberal democracy is all about. In the most part, they lack enough knowledge to appreciate that they are actually the king while the politicians are their servants. They mistake the concept of leadership in a political setting with the concept of kingship in a traditional setting; and this makes them subservient to the politicians who should be accountable to them. This contradiction makes democracy difficult to practice in Nigeria. Under this scenario the politicians weaponize poverty as an instrument of domination against the citizens.

Following this, Mr. Okupe advocates for the mass enlightenment of the political class and the citizens. For him, both the political class and the citizens are under bondage, and need to be enlightened so that they can be liberated to develop the country, without which Nigeria remains undeveloped for eve. This is the reason he convened the Mindshift movement.

Explaining further, Mr. Okupe said that, "Mindshift Advocacy Initiative for Development was created out of the vision and understanding that our response to whatever situation we find ourselves, either in our individual terrain, group terrain or national terrain, is directly a result of how we think. The bible says, as a man thinks in his heart so he is or becomes. So, if we understand that, we will all push for a Mindshift or a change of how we think. That is what will actually move us away from where we are now. So, the Mindshift movement is actually focused on shifting mind-sets from negative to positive. It is a non-governmental and non-partisan organization. It is focused on redirecting the mind-set of Nigerians from the route of destruction in every area of lives. "If a man wants to be destructive or disruptive, it is through the power of his mind."
"There is so much capacity in the power of the mind that the way and manner that the mind is directed determines a man's outcome. Even for us, as a lesson, other nations of the world are doing incredibly well is due to the different mind-sets that they have. The average Nigerian mindset is anti-progress and anti-development. How can we have progress and development without working on the re-orientations of the mindset we have?   Even when government decides to run a campaign on changing attitudes, the success will depend on how people think." We must have that clear understanding. That essentially is the mandate of the Mindshift advocacy.
Joko Okupe who is a brand management and marketing communications expert of about 35 years, and who has consulted for many globally reckoned organisations, is set to bring that knowledge and experience to the front burner in the management of the Mindshift advocacy, with the sole aim of galvanizing the Nigerian people to a new way of thinking and reasoning that will lift this country from one milestone of development to a higher milestone of development.