AquaMatters, Others Commend Buhari on Directive to Control Flooding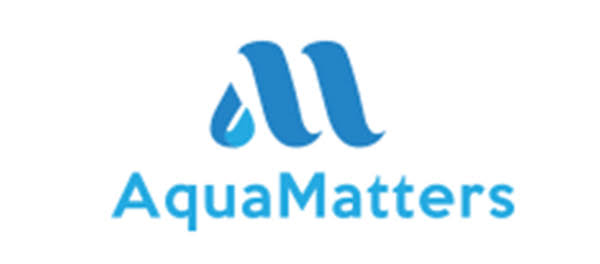 AquaMatters, Others Commend Buhari on Directive to Control Flooding

A South Africa based Company, AquaMatters (Pty) Ltd, her partners, Sensatec of Germany, and TCarta Marine LLC of United States have commended President Muhammadu Buhari on his directive to the Minister of Water Resources, Engineer Suleiman Adamu to develop a plan towards the control of flooding situation in the country.
AquaMatters and its partners have over 30 years technical experience in flooding control and dams construction.
In a press release issued at the weekend and signed by Engr. Tomás Person, the Chief Executive Officer of AquaMatters and Mr. Corey Goodrich, Chief Executive officer of TCarta, the companies commended Buhari for his good initiative aiming at preventing future loss of lives and properties through flooding.
lt would be recalled President Buhari has directed Minister of Water Resources, Engr. Suleiman Adamu, to develop within 90 days a comprehensive plan of action for the prevention of flood disaster in Nigeria.
According to the President's directive, the minister is to collaborate with the Ministries of Environment and Transportation as well as state governments to develop a lasting and sustainable plan towards curtailing flood in the country.
AquaMatters and its partners described the President's directive as a welcome development and a departure from previous emergency plan.
They said the first culprit of flooding is always the big word 'Climate Change', which is basically the changing weather patterns associated with global warming.
" It is obvious that the climatic conditions are changing; however, there are many related, natural, and man made factors that contribute to flooding.To forestall further threats to food security, the companies are willing to work with the Ministry of Water Resources to find the lasting solution to flooding in Nigeria.
Without doubt government must begin to act pro – actively by utilising geographical information systems and metrological data to improve their early warning systems and reduce people's exposure to flood risk, this is area of specialisation of our company", Goodrich said on behalf of the group .
He further said that TCarta, has the capacity to provide geospatial dáta products and software solutions for geospatial applications from Engineering monitoring to hydrographic charting and geospatial intelligence.
He said : The Nigerian government must begin to consider the construction of a buffer dam to accommodate excess water from the Lagdo Dam in Cameroon. This is very critical given that aside from dam absorbing excess water, a buffer dam will provide irrigation for thousands of hectares of land, stimulate fishing, and most likely support the generation of electricity.
"The government must also invest in the dredging of the major rivers to accommodate high volume of water, promote inland waterways as well as capture fishing. Finally, the government must build, reactivate, and maintain the urban drainage systems, and prevent people from erecting structures on waterways".
According to Goodrich, Tcarta has a leveraging long history of providing bathymetric data and seafloor mapping for marine applications, the offer inland, coastal and offshore hydrospatial and geospatial mapping systems and solutions for geospatial remote sensing intelligence, coastal engineering, environmental and coastal monitoring, and global mapping applications.
" The Company has worked in the coastal waters throughout the globe and with large scale surveying initiatives in the Pacific, Caribbean and Indian Oceans and specific focus on remote island nations and challenging environments in the Middle East and Arctic regions"he said .
The release further stressed the importance of dams, adding that, Nigeria need more dams and that with adequate dams, flood which is seen as a disaster would be of great economic importance to the country if properly managed and channeled to the agricultural sector and hydropower plants creation.
Gov Abiodun Honours Adron Homes GMD Aare Adetola Emmanuelking For His Unrelenting Efforts To Promote Peace In Ogun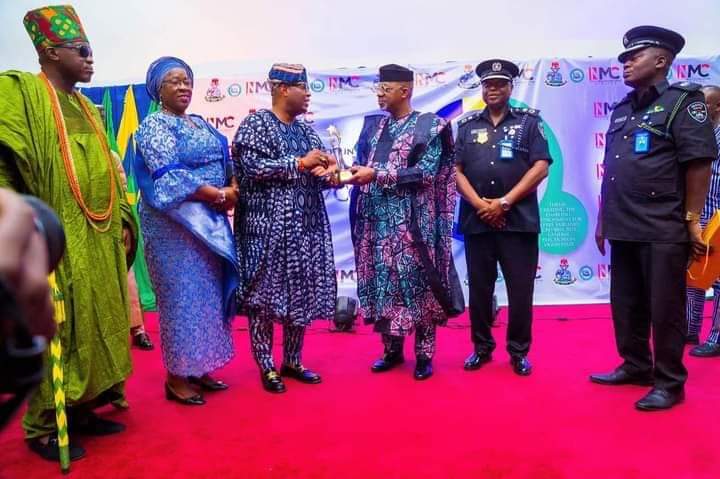 The executive governor of Ogun state, His Excellency Prince Dapo Abiodun mfr. has honoured Aare Adetola Olaniyi EmmanuelKing, The Group Managing Director, Adron Homes and Properties for his unrlenting efforts to improve security architecture in Nigeria.
Gov Abiodun presented the awards to Aare Adetola EmmanuelKing during Nigeria Police Retreat held in the state to appreciate his kind gesture to his immediate environment and to charge others to participate in the uplifting and development of Ogun state.
The Inspector General of Police, Alkali Baba was ably represented by the Assistant Inspector General of Police, IGP in charge of Zone 2 Onikan alongside the commissioner of police in Ogun, CP Lanre Bankole.
Meanwhile, Aare Adetola Emmanuelking in 2020 through Police Community Relations Committee, PCRC donated patrol vehicles to the police in Zone 2 Onikan, PCRC and divisional stations in Ilisan area to assist their movement towards quality service delivery.
Governor Abiodun described Aare Adetola Olaniyi EmmanuelKing as a rare breed in the country, saying it is not common among the rich people to support the Nigeria Police Force individually, through building of modern police station with sophisticated equipment to meet international standard.
He charged well meaning Nigerians to emulate Aare Adetola EmmanuelKing by contributing immensely towards the growth and development of Nigeria.
IBIJOKE SANWOOLU TABLE TENNIS FINAL TO HOLD DECEMBER 3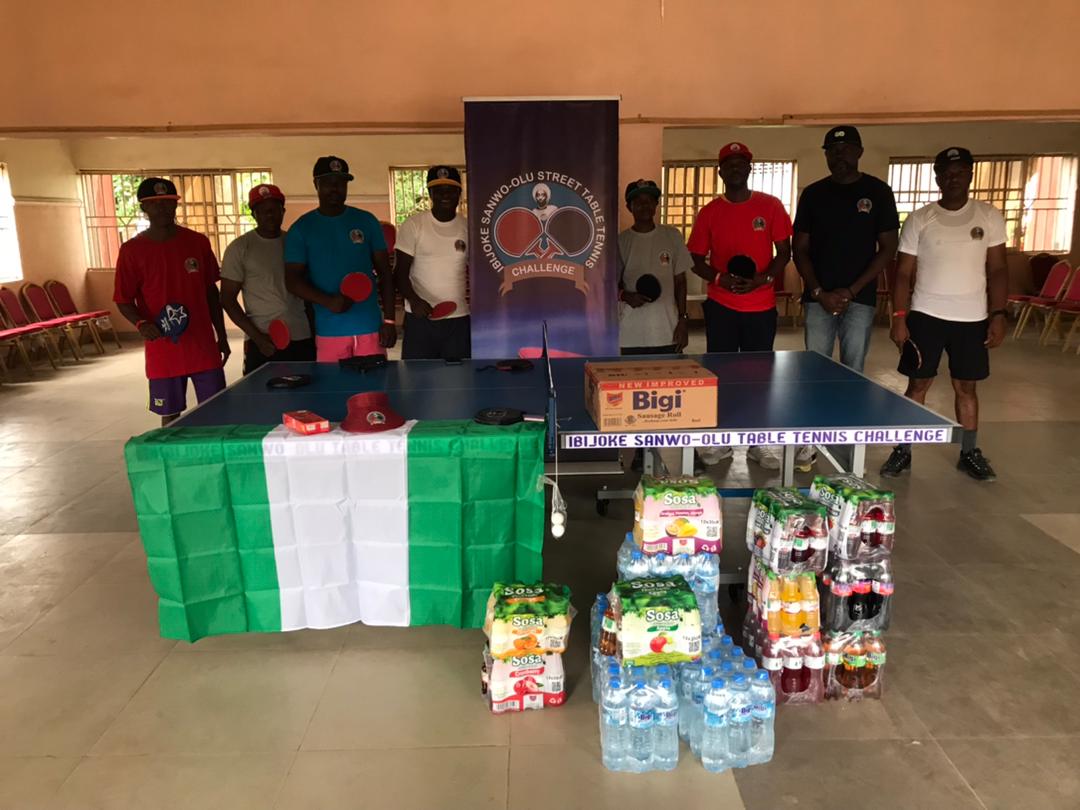 IBIJOKE SANWOOLU TABLE TENNIS FINAL TO HOLD DECEMBER 3
Sahara Weekly Reports That The final match of the Ibijoke Sanwoolu Street Table Tennis Challenge will come up this Saturday, December 3, 2022 at the council hall of the Igando/ Idimu Local Council Development Area of Lagos State.
The table tennis tournament which kicked off on Friday, November 18, 2022 had players drawn from Alimosho area squaring up against themselves to determine the champion that will go on to represent the area in the state championship slated for the first quarter of 2023.
In the final match of the competition, Omotoyinbo Tolulope will be battling Joseph Jesubomi popularly called Atorise by his teeming supporters. While Tolulope had to go through a hard fought fixture against Raimi Saka, Atorise emerged winner in his semi final fixture by defeating Ameen Mustapha in straight sets.
The semi final matches had in attendance the chairman of Igando/ Idimu LCDA, Comrade Ayinde Akinsanya and the leader of the house in the council, Hon. Prince Dauda Gbadamosi along with other executive committee members of the council as well as the supporters of the players.
The final match, scheduled for 12pm on Saturday is expected to witness a large turnout of the supporters of the two gladiators who are pitched against each other for the ultimate honor in the game of table tennis in their zone.
The Ibijoke Sanwoolu Street Table Tennis Challenge is a competition being initiated to return the glory days of table tennis to Lagos and to discover and nurture the large number of talents we have in our great state.
The competition is being supported by Peace ANYIAM-Osigwe's Africa Film Academy, Rite Foods, Tecno Phones and some private individuals who have deep interest in the game of table tennis. According to the co-coordinator of the initiative, Mr. Victor Ganzallo, the next stop for the competition is Eti-Osa Local Government, and will be powered by King Saheed Elegushi Foundation.
Power of Prayer as Apostle Suleman Raises Boy from Dead in Benin City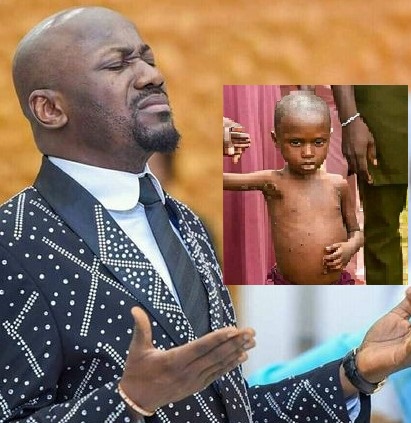 Power of Prayer as Apostle Suleman Raises Boy from Dead in Benin City
Sahara Weekly Reports That Few days ago, another shocking testimony of God's healing power was made in Benin City, Edo State, Nigeria. Popular servant of God, Apostle Johnson Suleman, prayed life into the unconscious body of a five years old boy.
Judging from the two-day 'Mighty Turnaround' crusade, the manifestation inspired believers. Normally, when a person has been declared dead for half an hour, doctors give up. But, according to the Scriptures, that was just when Jeremiah was called to pray. Jeremiah prayed and the lifeless man's heart began to beat and he came back from the dead. That was the lot of the lucky boy, whose life Apostle Suleman spoke to and revived.
So, how did he make that happen? 'It is the power of prayer," the 'Restoration Apostle' enthused in his sermon. He continued; "It's really as simple as that. And we have a testimony that the miraculous experience is having great effects on believers, it has raised people's faith levels."
Sources from the Benin City crusade said that the experience really raised people's expectations "because they saw God move".
According to Apostle Suleman in one of his recorded prayer services, "the power of prayer seeking God's intervention in human's affairs was seen most dramatically when God raised Christ from the dead. The resurrection was something the earliest followers of Jesus experienced as a real, historical event. This shows that the very power that raised Jesus from the dead is still available to us and we get it when we ask God in prayer. We ask Him and He helps us with power that exceeds our comprehension and expectations."
The Benin experience was not Apostle Suleman's first, but it has continued to stay on the front burner, given the surge of testimonies that followed the service.