Attempts To Blackmail Genesis Global, Prophet Israel Oladele By Contaminated Obi Virus Uncovered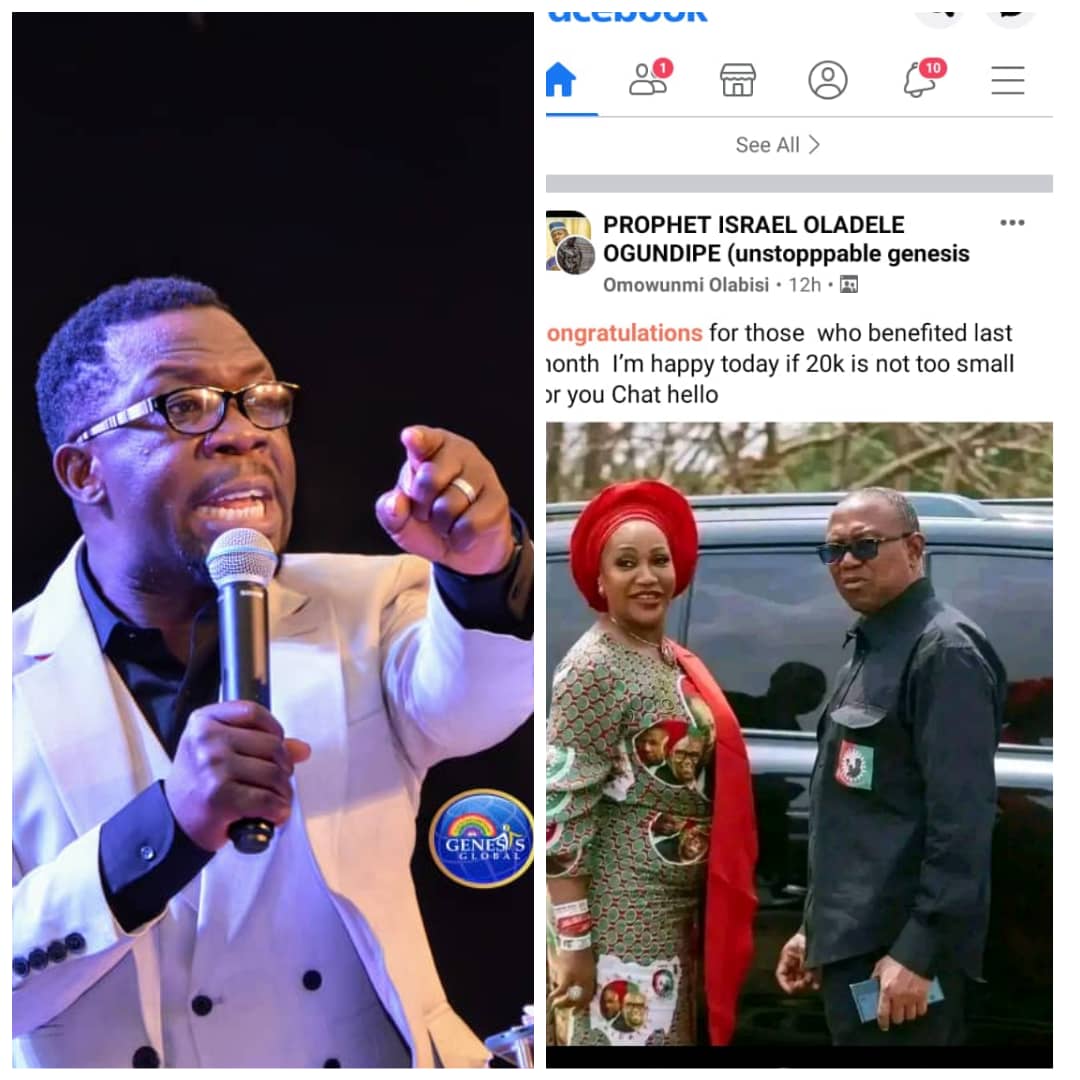 Attempts To Blackmail Genesis Global, Prophet Israel Oladele By Contaminated Obi Virus Uncovered
The attention of media aide to prophet Israel Oladele, Genesis Global has been drawn to plans by some miscreants, whom we refer to as "Obi contaminated virus has been trying to extort and blackmail the global televangelist, easygoing prophet of God, who's popularly known as 'Genesis Global' with spurious allegations, and cooked up documents attached to his social media handle tagged"congratulations for those who benefited last month I'm happy today if 20k is not too small for you chat hello" this is nothing but an evil minded people masquerading round to used the good name of the prophet of God to dupe their gullible.
It is a known fact as one rises, detractors will try to pull one down. But God says in the holy Bible "they plot and plan, and God too plans; but the best of planners is God."
The small but mighty prophet Israel has truly proven that indeed, God's anointed servants can work relentlessly and tirelessly, and any attempt to ridicule him will fail , as good will always triumph over evil.
The evil plans by the so-called obedient and their increasing cohorts , will definitely fail, and Prophet Israel Oladele Genesis has never met Peter Obi let a lone his co travelers at this juncture; the prophet of God will not succumb to any form of blackmail from obedient bigotries.
SIGNED .
Fabiyi Oluwaseun
Media aide to prophet Israel Oladele ogundipe. 'Genesis'
8th Mach., 2023.
Prophet Kingsley Aitafo Releases Fresh prophetic warning on Tinubu,Obi and others 
Prophet Kingsley Aitafo Releases Fresh prophetic warning on Tinubu,Obi and others
Prophet Kingsley Aitafo
, shepherd in charge of Oneness in Christ ministry has rolled out fresh prophetic warning today.
The fiery clergy with accurate prophetic mantle revealed Gods mind concerning the newly elected president of Nigeria, Bola
Tinubu
, Peter Obi and many others.
Here are the new prophetic alerts as received today:
I saw presidents waving the earth goodbye .  I didn't see it clearly if they were ex president or sitting president .  But they were buried in a great honor of a president .
I saw that many actress and actors need prayers .  Especially the female ones because of strange illness that can lead to death.
And we should pray for churches in Nigeria especially those with old age founders and those the founders have gone to be with the lord because of the gang up betrayals that want to spring up and cause division in the churches .
And we should pray very well for a Nigeria top general overseer , a very vibrant one that is rounding up to leave for home but if he still want to stay he can ask for grace .
This government will Favour Nigeria and many will be surprised, ex governor Peter obi should be helped with prayers between now and when he is 64.  Tinubu will be sworn in and there won't be any war in Nigeria .
Many strange judgements is coming on churches using diabolical powers and they will be seriously disgraced .  Apostle sulieman should continue asking God for mercy concerning what is ahead of him .
We should keep praying against flood in Nigeria and some part of the world .  I mean massive flood .
And I see a new leader spring up in one of the most popular white garment church in Africa .
The coming of Jesus Christ is getting nearer day by day .   And some messy secrets of some young preachers will be exposed and many will be surprised .
Ogun: Abiodun receives Certificate of Return, says mandate call to renewed hope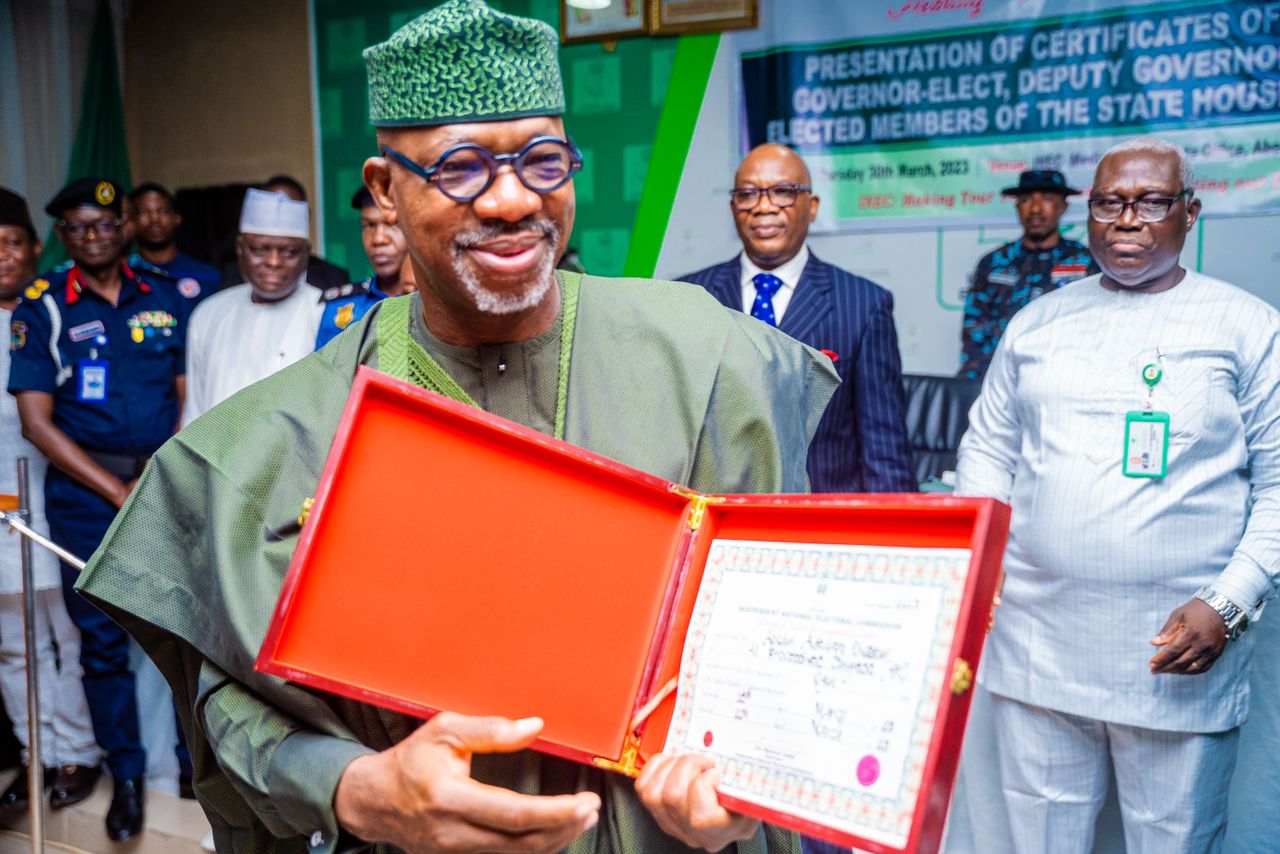 Ogun: Abiodun receives Certificate of Return, says mandate call to renewed hope
Ogun State governor, Dapo Abiodun, on Thursday, received his Certificate of Return from the Independent National Electoral Commission (INEC) and attributed his victory at the March 18 governorship election to the Almighty God and the benevolence of the people of the state.
Abiodun, who alongside his deputy, Mrs. Noimot Salako-Oyedele and 25 winners in the House Assembly elections, equally lauded President Muhammadu Buhari for providing the enabling environment for free, fair, credible and transparent elections in the country.
Speaking further during the presentation ceremony held inside the INEC Media Centre, Magbon, Abeokuta, the governor said "this mandate is a call to a renewed hope not just for Ogun State, but the entire nation. I will continue with the people's oriented programmes that will make life abundant to our people".
He added that his administration would work towards consolidating the gains made in the first term just as new ideas that would benefit the people would be injected into the system.
"Now that elections have come and gone, I call on all my opponents to come and join hands with our administration to build the future of this state we call our own together", he enthused
He thanked the security agencies and staff of the electoral commission for working tirelessly to ensure peaceful conduct of the elections in the state.
In his remarks, the INEC National Electoral Commissioner in charge of Ogun, Osun and Ondo states, Prof. Adekunle Ajayi, said the presentation was in accordance with the provision of the Electoral Act 72, Section 1, which stipulated that certificates should be issued to winners within 14 days after elections.
He said the elections were highly anticipated and the electoral body made use of technology to improve the process, adding that the elections saw a high number of people, especially the youths, taking part.
While stressing that the lessons learnt in the course of conducting the elections, would be turned into a working document to serve as a standard for subsequent elections, the INEC National Commissioner said "this will make the electoral body to be one of the best electoral umpires in the world".
Prof. Ajayi thanked the people of the state for the peaceful manner they conducted themselves during the elections, declaring that the security agencies, the Nigeria Peace Committee, development partners, the media and all relevant stakeholders, all worked towards the success of the elections.
CRAN' Felicitates with Ag AIG Alabi CPs Ali, Mba, DCP Disu
CRAN' Felicitates with Ag AIG Alabi CPs Ali, Mba, DCP Disu
Crime Reporters Association of Nigeria, (CRAN) congratulates Acting Assistant Inspector General of Police , Sylvester Alabi , Commissioners of Police: Ari Mohammed Ali and Frank Mba for their promotion to the rank of Assistant Inspector General of Police by the Police Service Commission.
It also joins well wishers to felicitate with the Commander, Intelligence Response Team, IRT, DCP Tunji Disu, on his elevation to the rank of Commissioner of Police.
Having followed the trajectory of these fine senior police officers as an association, their inclusion in the list of officers promoted , as announced by the Police Service Commission, could not have come at a better time than now, when their professionalism and expertise are needed to fill the vacant positions orchestrated by the recent retirement of some senior police officers.
AIG Alabi has over the years demonstrated a rare professionalism and dedication to the Nigeria Police Force .
For the Delta State Police Commissioner, CP Ali, now AIG, his operational maneuvers brought the reign of various robbery and kidnap gangs to an end , with the arrest of hundreds of suspects and recovery of several arms ,ammunition and other exhibits to show for his operational dexterity.
In the same vein, the antecedents of the former Force spokesman, Frank Mba , who was recently deployed to the Ogun State Police Command as the Commissioner of Police , are also there to speak for him. His feats in less than two months of his stay in Ogun are startlingly beyond expectations.
Though the promotion of the Commander IRT, CP Disu, is long overdue, it is imperative to note that this erudite , operational and sagacious cop has never failed to police with a human face.
These attributes have not only enhanced the team's intelligence gathering, it has also helped to project the Nigeria Police in a positive light.
To whom much is given, much is expected, thus, CRAN hereby urges these senior officers to see their elevation to the next ranks as a call for more professionalism and commitment towards aligning the paths of their subordinates for democratic values, human rights and the rule of law.