BILLIONAIRE BUSINESS TYCOON CHIEF RASAK OKOYA IS SET TO CELEBRATE 80TH BIRTHDAY IN GRAND STYLE.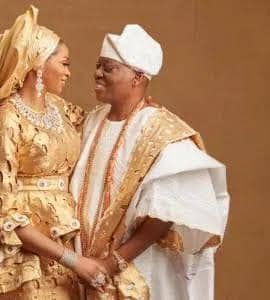 Nigerian billionaire business tycoon and philanthropist, chief Razak Okoya turns 80.
The Aare of the "state of excellence" Lagos, has declared Sunday the 12th of January as his D Day at THE OLUWANISOLA MANSION, Ajah, lekki, lagos. Chief Eleganza as his admirers call him and his damsel chief mrs Folasade Okoya have consulted party experts to ensure a classy and top-notch 80th birthday party celebration for the Okoyas, their families, associates, friends, foreign guests and diplomats.
In his words "God has blessed me with everything I wanted in life, family, long life and prosperity especially my adorable wife Sade and children" he concluded.
Nwachukwu Sidney, editor Sahara weekly online and the entire crew, wishes you a happy 80th birthday celebrations!!!!!!!!