Brace up for rainy season, Ogun advises residents
Brace up for rainy season, Ogun advises residents
cheap jerseys
nfl jersey for sale
best nfl jerseys
cowboys jerseys
cheap jerseys nfl
nfl jersey sales
nfl shop promo code
san francisco 49ers jersey
best nfl jerseys
nfl shop eagles
nfl superbowl
Kansas City Chiefs
the best football team in the nfl
nfl shop
shop nfl
best nfl uniforms
custom jersey
nfl jerseys for sale
nfl team shop
nfl jerseys
buffalo bills football
cowboys jersey
nfl pro shop
cowboys jerseys
Chicago Bears
rose sex toy
sex toy shops
adult sex toys com
adam and eve sex toy
lesbian sex toys
where to buy sex toys online
sex toys for men
silicone sex toys
buy sex toys online
wholesale sex toys
best sex toy for men
lovense sex toys
homemade male sex toy
male sex toys
how to use sex toys
best male sex toys
Sahara Weekly Reports That In order to prevent flooding and associated calamities during the rainy season, Ogun State Government has advised its residents to prepare for the approaching wet period and support the state government in its efforts to keep the Gateway state free of flood.
The advice was coming on the heels of a prediction by the Nigeria Meteorological Agency (NIMET) and the Hydrological Services Agency (NIHSA), that there would two seasons of rainfall between April and December 2022.
The federal agencies had predicted that Ogun, being a coastal State, will experience prolonged rainfall that may be accompanied with flash floods in most part of the State, especially between June and July while the coastal flooding may be compounded with the release of water from Oyan dam, that is always accompanied with high tide in the lagoon.
Giving the advice on behalf of the state government, the Special Adviser to the Governor on Environment, Engineer Ola Oresanya, said rainfall should not be seen as a curse but a blessing, hence, the need to be adequately prepared for the season and tap into its opportunities.
Advising farmers and others inhabitants to be properly aware of the periodic weather, Oresanya charged them to take advantage of the season and also guide against any unfortunate occurrence.
He further implore those in the habit of dumping refuse on the road and in drainage channels to desist while appealing to residents in the flood-prone areas to take adequate steps in safeguarding the vulnerable members in their communities, such as children, the elderly and the handicapped.
The governor's aide however encouraged Community Development Associations (CDA) to educate their members on the need to always and properly evacuate their drainages in order to remove properties constituting restrictions to drainage channels.
The statement further reads: "following these predictions, there is need for the general public, especially residents of the State to prepare for the likely impact of this year's weather pattern.
"Consequently, residents in wetlands areas with low rainfall infiltration such as lsheri, Akute, Warewa, Oke-afa,Owa and Yemule Riverbanks in Ijebu-ode, Onihale in Ifo, Ogun Waterside, Ebute-Kimobi in Ijebu-East and those living near flood plains of Sokori, Arakanga and Onikoko-River in Abeokuta, Eruwuru in Sagamu, Ijamido, Isaka Owode-Yewa in Ado- Odo Ota Local Government are advised to take precautionary measures during its season.
"While reiterating the commitment to protection of lives and properties of residents of the State through various activities, the State Government has taken measures to control problem of flood Statewide.
"Farmers, especially along the coastal areas and riverbanks are implored to take advantage of the weather outlook and plan the planting and harvest properly to prevent damages to their crop and livestocks.
"Motorists and pedestrians are implored to be mindful of the peculiarities of the season and be safety conscious while commuting during this period.
"Furthermore, His Excellency, Prince (Dr) Dapo Abiodun MFR, has directed that the Flood Emergency Management Unit, FEMU be decentralized into all the Local Government Areas of the State for faster response to emergency calls during the raining season.
"Ogun State as an agrarian State, looks forward delightfully to the season of rainfall to support our investment in Agriculture, Afforestation and Climate Change Adaptation Programs.
"The need for effective collaboration with the Government to prevent devastation of improperly managed rainfall and consequences of flooding is therefore compelling.
"The season of rainfall is not a curse but a blessing. Please support the State government to keep our State free of flood", Oresanya pleaded.
TY Buratai Foundation Condole Families, Borno State Government over Demise of Qadi Kaka Shehu Imam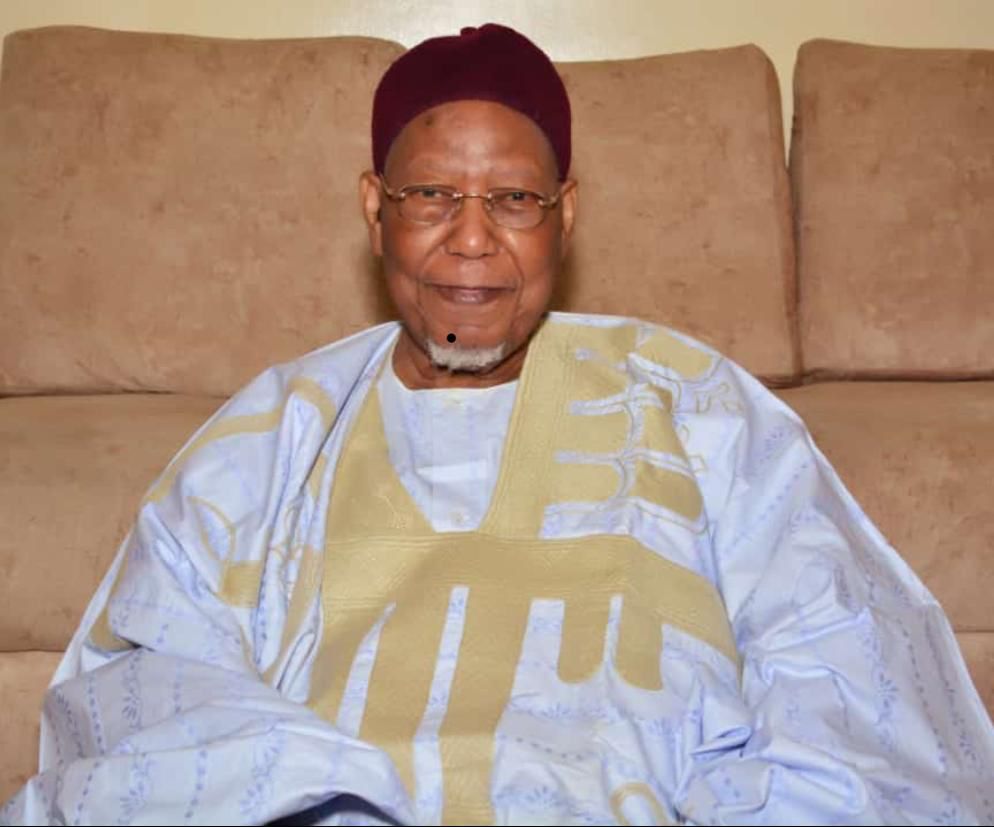 TY Buratai Foundation Condole Families, Borno State Government over Demise of Qadi Kaka Shehu Imam
Innalillahi Wa Inna Ilaihi Rajiun In a heartfelt gesture of sympathy, the
Humanity Care Foundation has extended its condolences to the families of Qadi Kaka Shehu Imam, a retired judge and elder statesman of Borno state, as well as the Borno State Government. The foundation, through a statement signed by its Chairman, Ibrahim Dahiru Danfulani Sadaukin Garkuwan Keffi, expressed deep sorrow over the demise of Qadi Kaka Shehu Imam.
Qadi Kaka Shehu Imam, who passed away on Monday, 25th September 2023, at the remarkable age of over 110, was laid to rest in accordance with Islamic rites. He was a prominent figure in the state and a member of the prestigious Limanti family. Until his passing, he held the distinction of being one of the oldest members of his family.
The news of Qadi Kaka Shehu Imam's demise has deeply touched the heart of His Excellency, Amb (Lt Gen Rtd) Tukur Yusufu Buratai CFR Betaran Biu, Garkuwan Keffi, the Grand Patron of the TY Buratai Humanity Care Foundation. He held Qadi Kaka Shehu Imam in high esteem as a father and elder statesman. The foundation acknowledges that his loss is not only felt by Borno state but also by the entire nation of Nigeria.
The TY Buratai Humanity Care Foundation, known for its philanthropic activities and commitment to the welfare of the people, stands in solidarity with the families of Qadi Kaka Shehu Imam and the Borno State Government during this difficult time. The foundation hopes that their sorrow will be eased by the outpouring of support and love from the community.
This condolence message serves as a reminder of the immense impact Qadi Kaka Shehu Imam had on the lives of many. His contributions to the judiciary and his role as an elder statesman will forever be cherished.
May the soul of Qadi Kaka Shehu Imam rest in eternal peace, and may his family find solace in the memories and legacy he leaves behind.
Housing shortage in Nigeria: Firm pledges 300,000 units of affordable housing across 18 LGA of Edo State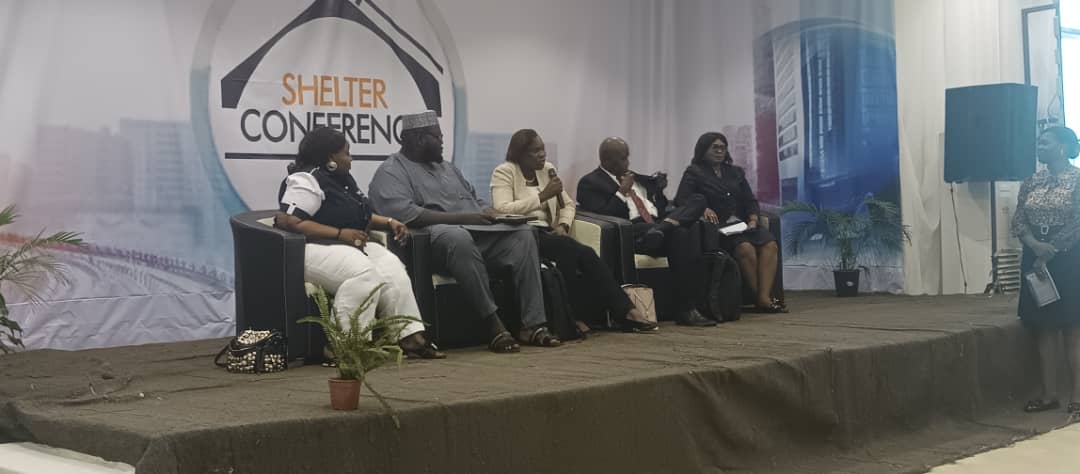 Housing shortage in Nigeria: Firm pledges 300,000 units of affordable housing across 18 LGA of Edo State
By Elvis Omoregie
Sahara Weekly Reports That In a bid to mitigate the impact of housing shortage on residents, citizenry, a Firm, "Neighborhood turn key project" has committed to providing 300,000 affordable housing units in 18 local government areas in Edo State.
The company said the initiative which is a pilot project in the State expressed concern that recent studies have shown that 28 million Nigerians need homes.
The Chief Executive Officer (CEO), Arc. (Mrs.) Cecilia Ovuarukpo Atohengbe disclosed this during the ongoing shelter conference in Benin City, Edo State capital.
Cecilia who is also the convener of the conference said participants would discuss housing, examine and profer solutions for the average citizens.
She stated: "Government over the years have come up with several projects to try and meet these housing needs of people leaving in shanties and slums".
Continuing on the "turn key projects", Arch. Cecilia said housing is key to reduce citizens desperation, corruption and criminality.
"And as a company, we have designed a solution to enable anyone who earns #40,000 to own a home within 12 months roads, water, light and other amenities are all included in the plan.
"Besides, aspiring house owners doesn't necessarily need to be a civil servant or own a bank account. He or she moves into the house and start paying- it's a rent own scheme", she added.
FG Aims to Grow Creative Economy to $100 Billion by 2030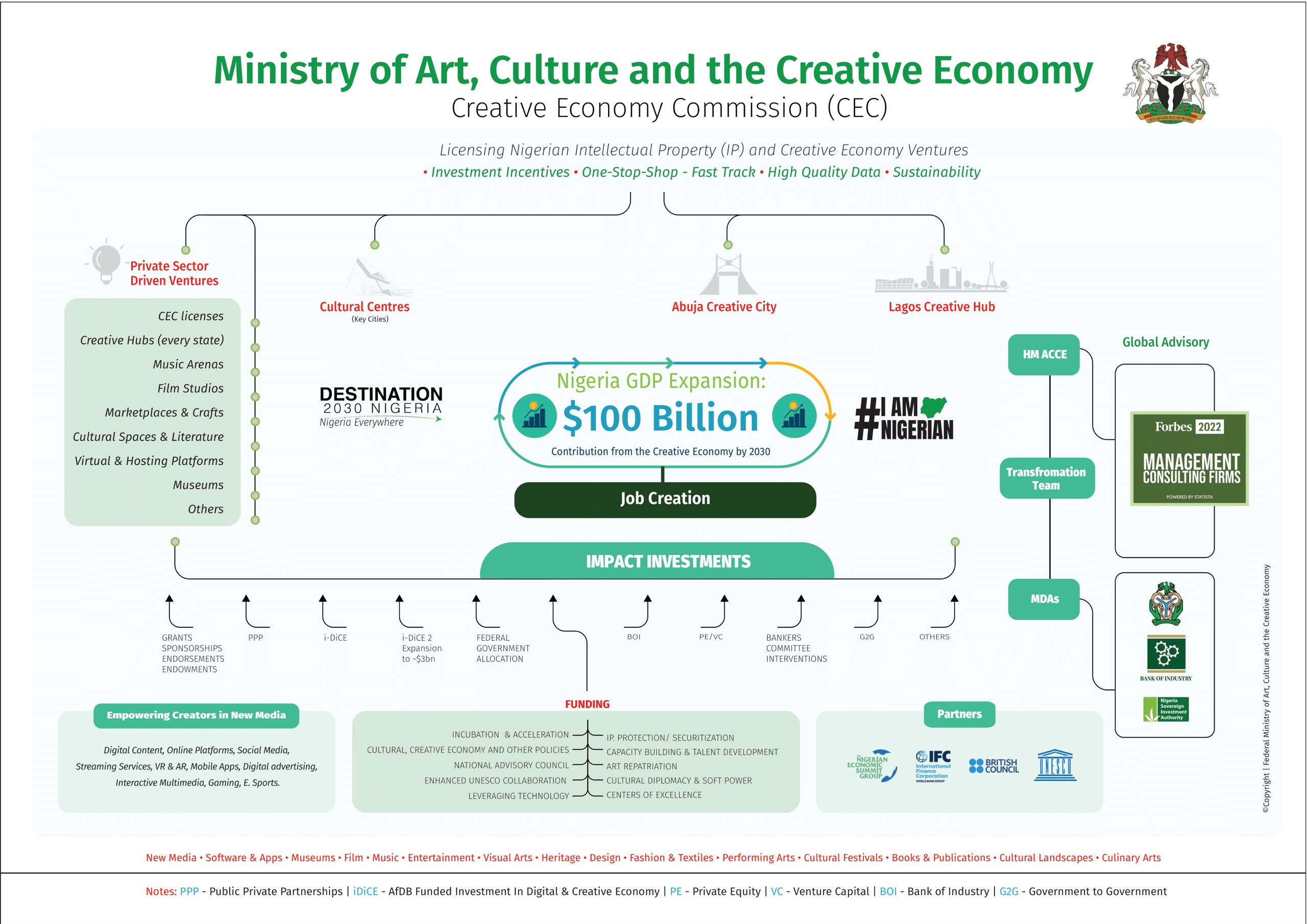 FG Aims to Grow Creative Economy to $100 Billion by 2030
Sahara Weekly Reports That The Federal Ministry of Art, Culture and the Creative Economy (FMACCE) in Nigeria has unveiled a strategic roadmap to grow the country's creative economy to $100 billion in GDP contribution by 2030.
The plan focuses on key sectors like music, film, software, museums, fashion, festivals, and the culinary arts. It aims to create jobs, empower creators, drive exports, and boost Nigeria's cultural influence globally.
Major initiatives involve setting up creative hubs and cultural centers in cities like Lagos and Abuja to serve as incubators for Nigerian talent.
Funding will come from government allocations, public-private partnerships, investment funds, sponsorships, and other sources.