Buratai Canvass support for Tinubu As Forum Of Ex-Councillors Presents Him Leadership Philanthropist Per Excellence Award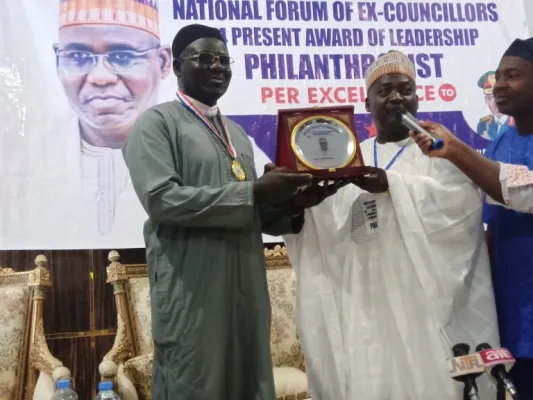 Buratai Canvass support for Tinubu As Forum Of Ex-Councillors Awards Him Leadership Philanthropist Per Excellence
Internationally acclaimed legend and former Chief of Army Staff, Amb. Lt Gen. Tukur Yusufu Buratai (CFR) has urged support for his great party, All Progressives Congress, and their Presidential Candidate, Ashiwaju Ahmed Bola Tinubu.
Buratai made the call on Thursday, November 24th, 2022 while receiving a prestigious Award of  'Philanthropy per Excellence' from the National Forum of Ex- Councilors of Nigeria in Gora, Keffi Local Government Area of Nasarawa.
He said the call was premised on the achievements of President Muhammadu Buhari's administration in different fronts, adding that there was need for continuity to make Nigeria great.
Buratai said  the recent discovery and commitment of drilling of oil in the North East and redesigning of  the Naira notes were some of the commendable achievements of the administration.
He said there was need to have the right leadership that would continue with the transformational legacy of Buhari's administration, adding that the administration had also done well in the area of infrastructure and security.
"This is a political season. The time for nominations and other pre-election activities have been conducted and now is time for campaign and I know you come from different political parties, not a single party.
"But you know where the country is heading to, you know what President  Buhari has done for  this country,  especially the successes we have achieved from  2015 to date.
"The  President has been instrumental to the strong leadership and his commitment and the will to see that the country is secured, free from corruption and also develop and progress in terms of its economic development."
According to him,  the political terrain is still very much dynamic and as such,  we ensure that we have the right people in leadership  to be able to come into power and get our country the better footing as we grow.
"Well, you know my standing. President Buhari who has been a great mentor, who has brought me to limelight, belongs to a particular party, the APC.
"So, I will not shy away from saying that that is the party to go and I believe things will be better for the foundation that  Buhari has laid and will be sustained.
"We have received assurances from Tinubu. So by and large, I believe Nigeria has a  great future and will do a lot to ensure that we continue to support the present government and the next government that will be coming.
"For now, we have a course as we move to the  2023 general elections to get the right party, the right candidates for them to be in power,  that will be a continuation of what the President has left," he said.
The former army chief and former ambassador thanked the forum for recognising his efforts while in service and  pledged to continue to support the vulnerable and the less privileged in the society which he has been doing even before he became the Chief of Army Staff.
He said that a lot had been done to uplift the living conditions of people at the grassroots and still continuing, saying the award was a true reflection of what Buratai is and what he stood for.
According to him, It is a great honor to him and his family and to the military in general, including the defence correspondents that were with him in the fields as army chief.
The President of the forum, Mr Awwal Hassan said it was the first time they would be giving out such award to a former service chief, adding that Buratai earned the award because of his achievements in office, leading  the counter-insurgency war from the front.
Hassan said  the former COAS also stood out among his contemporaries in the area of philanthropy for helping a lot of vulnerable people in the society in the area of empowerment and education support.
The Vice President of the forum, Mr Ismaila Mumin said the forum of ex-councilors is a non-governmental organisation floated and organised by some concerned youth activists to foster unity in diversity and cordial understanding among the teaming youth in the country.
He said the organisation has vibrant and functional structures in the 774 local government areas  of Nigeria to sensitise and mobilise the youth to promote peace and peaceful co- existence in their respective areas among others.
He said the governing body of the forum  decided to give the prestigious award of Excellence as philanthropist per excellence for  2022 to Butatai on the basis of his many records of achievements.
"Our decision in this respect is in line with the teaching in our national anthem that the efforts of our heroes should not be allowed to go in vain," he said.
He urged Buratai to be ready to vie for political office in future, saying the nation was in need of his experience and patriotism.
2023: 'One Day Governors' Urge Nigerians To Vote For Asiwaju Tinubu As Nigerian President Under APC
2023: 'One Day Governors' Urge Nigerians To Vote For Asiwaju Tinubu As Nigerian President Under APC
With the 2023 General Elections around the corner, Nigerians have been urged to vote for the Presidential Candidate of the All Progressives Congress (APC), Asiwaju Bola Ahmed Tinubu.
Addressing journalists at a press conference via zoom on Sunday, December 4, 2022, some past Lagos State "One Day Governors" stated that "there is no better candidate than our father, Asiwaju Bola Ahmed Tinubu, former Governor of Lagos State as President of the Federal Republic of Nigeria."
Five of the past "One Day Governors" who spoke at the conference, and who are successful in their various endeavours, attributed their successes to Asiwaju Bola Tinubu and have promised to mobilize the youths to go out enmasse and cast their votes for the former governor of Lagos State.
They urged fellow youths "to use our example and experience to liberate themselves from the campaign of calumny of those who had a similar opportunity to show love, to give care and to make effort to give youths in their states self-confidence and a secured future, but failed woefully to do so.
"A Tinubu presidency will give youths real sense of belonging and integrated participation."
They emphasised that there is no doubt that Nigerians are preparing to set up a new democratic dispensation in February 2023, adding that elections are held every four years in line with the Nigerian Constitution to elect new representatives for the executive and legislative arms of government.
"This conforms with the principle of popular sovereignty which says the citizens must determine those to represent them.
"For power to come from the people and not, as we have had in our tragic military period, the barrel of the gun, the exercise of franchise by voting has been established as the global standard.
"We commend the Independent National Electoral Commission, INEC for putting in place policies and processes which have enabled the youths to register to vote.
For the first time since the return of democracy in 1999, INEC has released figures to show that majority of voters in the new register are voters," they said.
According to them, as expected, not less than 18 parties have put forward candidates for the offices at House of Assembly, Governorship, House of Representatives, Senate and the Presidency.
"Campaigns have also started in earnest as candidates sell their track records and manifesto of their vision to the Nigerian people.
"A boy or girl is the product of his or her experience. We are Nigerian youths. Our experience has made it an obligation to come forward at this time to address this press conference.
"The condition and aspiration of students in Lagos State primary and secondary schools went through a revolution in 2001 when, for the first time, mentoring youths and nurturing them to imbibe values of achievement took a radical dimension with the introduction of the Spelling Bee competition.
"It was the pet project of Senator Mrs Oluremi Tinubu. Her husband, our father, Senator Bola Ahmed Tinubu was the governor.
"Every child who has demonstrated some proficiency in the English Language was invited by school managers to compete so that the school could present it's the best candidate in the inter-school competition," they said.
They stated that the competition moved from local government education districts to state districts to the finals, adding that the best candidate to spell won.
"What values did we learn?
First, that your achievement in life is ultimately determined by your effort, not by the wealth or poverty of your parents.
"Second, the acquisition of knowledge and skills is critical to your success.
"Third, only leadership that cares for the youths and facilitates their development is serious about sincerely ensuring that the youths will be the leaders if tomorrow.
"Fourth, that performance is not determined by your tribe or religion or class. It is determined by how you use your talents and skills.
"Finally, we were taught to see ourselves as products of the investment of public resources and such must imbibe patriotism, enterprise and be our brothers and sisters' keepers," they said.
It was emphasized that "without any fear of contradiction, I wish to say, each and every one of us who emerged One Day Governors and our fellow winners who were deputy governors, speakers and commissioners have gone into the world and we are excelling.
"We wish to thank our father, Senator Bola Ahmed Tinubu, who, despite the fact that we were just teenagers, showed the highest example of love and humility for vacating his office for us to perform our role as One Day Governors.
"It also showed the huge respect he has for the womenfolk and our mother, Senator Oluremi Tinubu in particular, for not saying women could only function in the kitchen and not rejecting an idea that has transformed our lives
The above testimony leads us to a logical conclusion.
Some of the "One Day Governors," who are successful in their endeavours, include Chukwuebuka Anisiobi, winner of the 2001 edition.
Anisiobi attended Maryland Comprehensive Secondary School and graduated in 2001. He later went to the
Obafemi Awolowo University, Ile Ife, Osun State, where he graduated in 2007 having read Computer Engineering, and graduated 2007. He later went to GE Oil & Gas University, Florence and got a degree in Oil and Gas Management in 2015. He is currently a Drilling Operations Engineer with Oando Energy Services, and he is married with one child.
Otiti Jasmine, who won the 2002 edition, has a Bachelor's degree in English from the State University of New York (SUNY) Brockport and currently works as a copywriter.
Emmanuel Oluwambepelumi Aiyenitaju, who won the 2003 edition, finished from
CMS Grammar School, Bariga, Lagos
He later graduated with a Bachelor's degree in Pure and Applied Chemistry (First Class Honours), from the University of Lagos, Akoka in 2008.
He currently works with Akintola Williams Deloitte as Audit Senior in the Energy & Resources Department.
Tade Ajao, who won the competition in
2005 at the age of 14, and studied Medicine at the Obafemi Awolowo University, Ile Ife, Osun State.
Ikechukwu Abundance Nlemadim won the 2006 edition of One Day Governor.
Nlemadim attended Ire-Akari Grammar School, Okota-Isolo, Lagos.
He holds Bachelor's degree in Mechanical Engineering from the University of Lagos, Akoka.
He worked as a Graduate Technical sales Engineer with Richardson Oil and Gas. He
later joined PZ Cussons Ltd as a Category and Innovations Manager.
He is currently working with Diageo Nigeria as a commercial graduate and he is married to Itunu Bello and they are still expecting their first child.
Maryam Busari-Obadina was One Day Governor in 2007 at the age of 16.
She is a Legal Practitioner and currently works as State Counsel with the Lagos State Ministry of Justice.
Daniel Osunbor was One Day Governor in 2008. He graduated with Bachelor's degree in Microbiology from the University of Benin (UNIBEN) in 2014.
Olaide Adesopo won the Spelling Bee in 2009 at age of 16. She holds Bachelor's Degree in International Relations from the Obafemi Awolowo University, Ile Ife.
She later underwent her Youth Service with the Petroleum Products Pricing Regulatory Agency (PPPRA).
Oluwatoyin Adeosun was One Day Governor in 2010. She later proceeded
to The Federal University Of Agriculture, Abeokuta. She later did her Industrial Training (IT) at the Ministry of Economic Planning and Budget.
Akpakpan Iniodu Jones was One Day Governor in 2011.
He attended Baptist Senior High School, Obanikoro, and won at the at of 17.
He currently studying law at the University of Ibadan, Oyo State.
Lilian Ogbuefi won the competition
in 2012. She attended Lagos State Model College Kankon. She studied at Senior at Fisk University, Nashville TN with double Major in Business Administration and English.
Primate Ayodele's Prophecy On South Africa's President, Cyril Ramaphosa Comes To Pass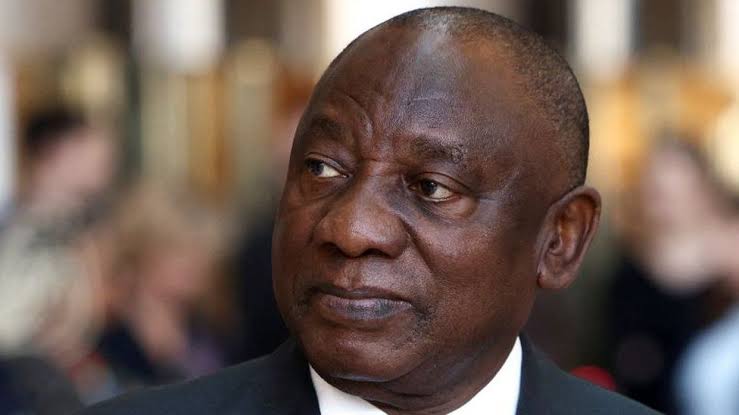 Primate Ayodele's Prophecy On South Africa's President, Cyril Ramaphosa Comes To Pass
The president of South Africa, Cyril Ramaphosa is currently involved in the toughest season of his administration as he has been proposed for impeachment by the parliament. He was accused of serious misconduct by an independent panel appointed by the country's parliament.
This has made him run from post to post because his future as the president of the country isn't certain, especially for the fact that he will be seeking another term in office in 2024. This allegation and impeachment threat have rendered his political future uncertain.
Meanwhile, one man that has been warning Cyril Ramaphosa against this kind of crisis is Nigerian prophet, Primate Elijah Ayodele, who is the leader of INRI Evangelical Spiritual Church.
Primate Ayodele is known for his prophecies to world leaders at different times. His Nigerian citizenship didn't limit his prophetic reach, He speaks concerning nations beyond the African continent and it's always mysterious how they always come to pass accurately as he put them.
Primate Ayodele warned the president of South Africa, Cyril Ramaphosa in different publications both online and in his annual book of prophecy titled Warnings To The Nations. The prophecy book contains prophetic revelation concerning nations, presidents, prime ministers, individuals, corporate organizations, to mention a few.
In the 2022/2023 edition of WTN which was released earlier this year, Primate Ayodele spoke extensively on what will befall the nation of South Africa and the trouble President Ramaphosa will face in the coming days. Some of the highlights of his revelations include workers going on strike, political tension in the country, and the president being accused of wrong doings.
These were his exact words
''….I foresee the country will face serious political tension as the president will take a wrong political step that will cause problems. The country needs a lot of prayers because of killings. Let us pray against bomb scare in the country and pray not to lose a king and a prominent person. The president will be accused of some wrongdoings and his party will create problems for him. The country needs a lot of prayers to succeed and the country should pray not to lose a prominent lawyer, educationist, judge and also pray against fire outbreaks especially in government quarters. Let South Africa pray against racism even as there will be police brutality in the country. The country needs to take care and be watchful to avert any serious backlash. There will be flooding, fire outbreaks and black out in the country. The country will witness trade crisis.''
Apart from this, in an online publication in August, Primate Ayodele called the attention of President Ramophosa and said he foresees people rising up against him. The man of God also mentioned that his political party will kick against him and those he never expected will rise up against him.
These were his exact words
"South Africa president, Cyril Ramaphosa will face several challenges in his party, they will kick against him within his party and those he never expected will rise against him. He will cause political tension in South Africa, I see killings, troubles, and disorderliness in the country. The president must pray against antagonists. There will be rowdy session in the house because there will be moves against him even as he will come up with unpopular policy that will affect his government.'' (https://theeagleonline.com.ng/primate-ayodele-sends-warnings-to-libya-egypt-sierra-leone-benin-republic-ghana-others/)
With the issues presently facing President Ramophosa and South Africa as a nation, there is no doubt that the prophecy of Primate Ayodele has come to pass.
MEET THE 25 ARTISTS THAT ARE ABOUT TO CHANGE THE GLOBAL GOSPEL INDUSTRY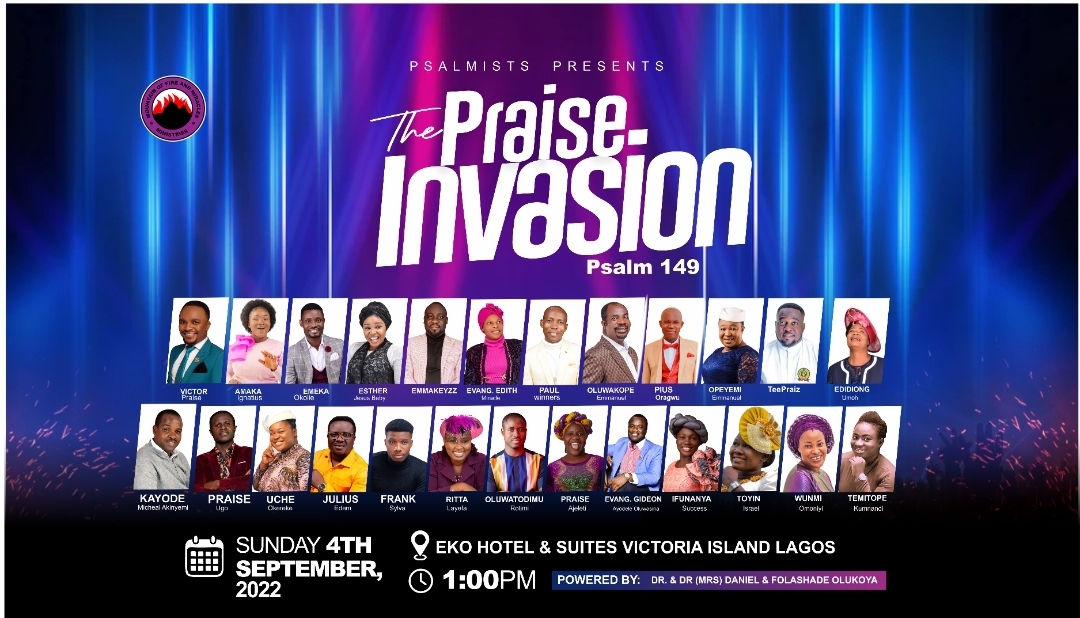 MEET THE 25 ARTISTS THAT ARE ABOUT TO CHANGE THE GLOBAL GOSPEL INDUSTRY
All Journeys Lead to the EKO Hotel and Suites as we celebrate this epoch-making moment.
For the first time in the music industry, 25 artists will be launched into the scene to shake the devil's camp and bring joy to the world's people.
LETS EXPERIENECE THIS ONE OF A KIND MOMENT, SO WE CAN TELL THE STORY IN DUE TIME.
1 UCHE OKEREKE
2 PAUL WINNERS
3 EMEKA OKOLIE
4 EMMAKEYZZ
5 OLUWATODIMU ROTIMI
6 IFUNANYA SUCCESS
7 EDIDIONG UMOH
8 WUNMI OMONIYI
9 TEMITOPE KUMNANDI
10 KAYODE MICHAEL AKINYEMI
11 TOYIN ISREAL
12 JULIUS EDEM
13 FRANK SYLVA
14 EVANGELIST EDITH MIRACLE
15 EVANGELIST AYODELE GIDEON OLUWASINA
16 ESTHER JESUS BABY
17 TOYIN ISREAL
18 OPEYEMI EMMANUEL
19 PIUS ORAGWU
20 PRAISE AJELETI
21 TEEPRAIZE
22 PRAISE UGO
23 AMAKA IGNATIUS
24 RITTA LAYEFA
25 OLUWAKOPE EMMANUEL